Kingfisher Inn's
Archived Fly Fishing Report #2


Back to Archived Reports
5/8/04 The last two days were supposed to be "partly cloudy." Yesterday, the forecast was half right -- that is, it was cloudy (completely!). And today, it was correct until about noon. It was then that my clients -- John Gatto from Slippery Rock, Pennsylvania, and his buddy Dan Demeis from Dallas -- and I slipped through the fingers of one thunderstorm only to get hammered by another that
was hidden from us in the haze. We finally made it back to Kingfisher about 1:00, soaked to the skin, and happy to be raw (as opposed to fried). Only meteorologists and psychotherapists (like myself) get paid so much just for guessing.
Joe and Debbie MacKay from Austin arrived at the dock just before we did. Although the day ended sooner than we all expected it to, we still had plenty to good fishing stories to tell.

Yesterday, I hoped to find redfish working under gulls along the west shoreline. Sure enough, we found a few
pods tailing under birds, and heading upwind, chasing shrimp. The guys were unaccustomed to the action, and it took them a while to realize that the fish were moving so rapidly. After a couple of missed opportunities, we looped upwind in the Curlew and intercepted the fish for a second try. John finally got his VIP in the tails and hooked up on his first red. Then, he and I coached Dan as his waded into a huge pod that was tailing only 30 feet from him. Just before Dan was surely going to score a strike, the pod surged and swam toward him -- as they are prone to do, for no apparent reason. Dan came back to the boat with that stunned "what the hell was that!?" look on his face.
Once the podding action ended, we did the only thing we could do in the cloudy and windy conditions: The guys blind casted poppers in an area where we've been finding a concentration of redfish and trout. John caught two nice trout, lost a red, and covorted with several ladyfish before we headed for other areas. But the lack of sunshine made John and Dan's first day on the Lower Laguna a challenging one.
While Dan came up fishless on his first encounter with a pod of tailing reds, it doesn't take long before the Mother Lagoon and its residents will teach you what you need to know. Twenty four hours later, it was deja vu for Dan. We headed south to another podding venue, and before it was over, Dan stood face to face with a school that was
sweeping toward him. This time, the angler seized the moment, and one of the lead redfish took the pink VIP -- almost on the drop.
We found tailing pods and schools in two different west-side venues, yesterday and today. Indeed, this morning we found redfish stacked along a shoreline, in several groups of 10-50 fish. Meanwhile, Joe and Debby found tailing reds in twos and threes, "in every direction, as far we could see." The spring podding action continues unabated, and I expect we'll continue to get early morning and late aafternoon podding on the west side until the tides fall in June. For a guide like myself, the spring and autumn podding action is a "saver" on windy and cloudy days.

4/27/04 The past week has been one of the best weeks of fly fishing we've had in a long time. I'll pick up where I left off below.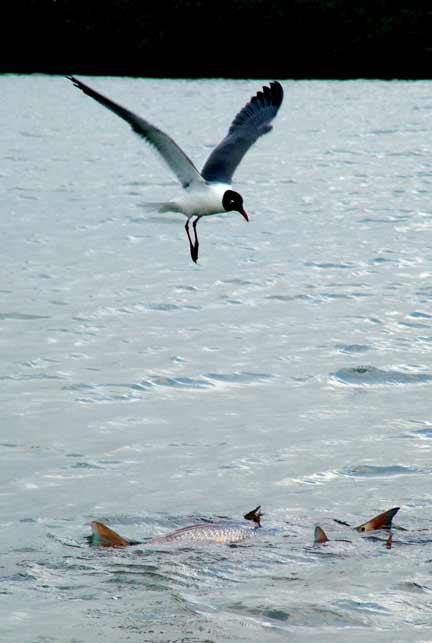 Skipper Ray guided our two clients, Roger Flynn and Dave Scheff while Kathy and I tended to our respective school duties at UT Pan American. The tides were still low on Monday, and coming up on Tuesday. Monday was a poor catching day, but on Tuesday, the guys caught quite a few ladyfish and a few reds blind casting in one of the drilling channels. On Wednesday, we had cloudy conditions early, but the tides were climbing to their usual springtime levels. I expected the redfish to return to podding activity along the west shoreline. Kathy guided two other guests -- Terry and Gaye Mackey from Colorado Springs -- and she opted to start off along the Intracoastal where Skipper had located some podding reds the day before.

I started off on a west-side venue that had been too low to fish for about three weeks. It was
cloudy and windy, so I poled downwind to take a look. The bay was full of reds! Spotting a few tails breaking through the roughed-up surface, I suggested that the guys get off the boat and wade downwind, casting VIPs to anything that moved. Roger took off on his own, and I stayed close to Dave, helping him spot the subtle signs of tails. It wasn't long before Roger hooked up on the first of four sizeable reds that were tailing upwind. Dave wasn't successful on his first wade, so we went back to the boat, and poled downwind, using the intermittent sunshine to show us the fish. Every time the sun peeked out, Dave would get a couple of shots, because the fish were all over.

Later, we went to the white sand where Kathy joined us with her clients. The sun had burned off the clouds, and the fish were right up against the Padre Island shoreline. For about two hours, the four fly fishers waded downwind, getting a few quality shots apiece.
Terry caught his first red on a fly, and Dave hooked two and landed one. Roger, meanwhile, pulled the fly out of the mouths of two big reds. We ended up the day blind casting on the same channel that Skipper had taken them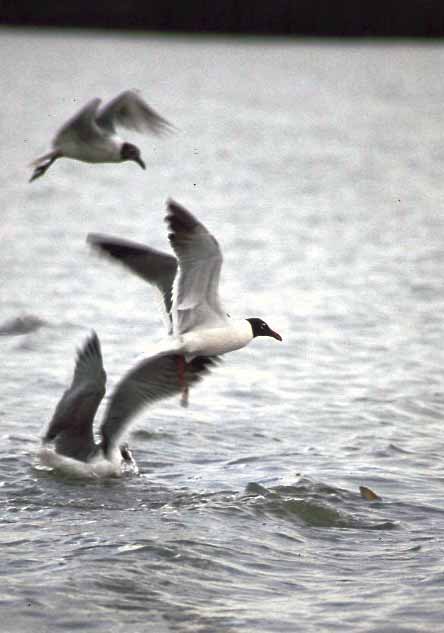 to the day before. Again, numerous ladyfish were caught, along with three more reds.

Thursday proved to be a banner day. Kathy and I took our clients to a shoreline where I'd hoped to find podding redfish. As soon as we came off plane, I could see pods sweeping upwind, and birds following. So I urged the guys to get off the boat and intercept the fish. Kathy anchored just behind us, and coached the Mackeys on how to score with these aggressively feeding, fast-moving pods.

Before we left the area at 11, Roger had landed eight reds and Dave had caught four -- all on pink and yellow VIPs. Gradually, the pods dispersed (I wonder why!); but everyone had seen some amazing action. Terry had caught his second red, and Gaye had hooked two.

I moved my guys several miles south, where I'd found podding reds a couple of days earlier. We planed into the area, and moved a school of redfish toward a shoreline. So we hopped of the boat, and followed the laughing gulls into a cove where the school continued to feed. Dave stalked three fish that were off on their own, and snagged the largest fish of the day -- a 29-30" red -- on a VIP. At day's end, the guys had landed 14 reds from 24-30 inches long. Needless to say, they were stoked! (The photos of the largest fish were taken on slide film, and hence weren't processed in time for this report.)

Skipper joined us on the water on Friday, guiding Drs. Jim Burkholder and Steve Shephard, along with two of their buddies. We all headed for the same area, where Skipper's guys proceeded to catch over a dozen reds wading and casting VIPs -- and Skipper's variation that he calls the "super" VIP, which resembles a small floating jeep, in my opinion :) My guys landed 8 more reds, half on top and half on Mother's Day flies. The pods were broken up, so it was different fishing, and most of the fish were caught late in the day -- singles that were tailing on a shallow, grassy flat, providing classic, precision sight-casting opportunities.

Henry Bone and Jeff Ferguson were fishing on Henry's HPX, and they headed south where Dave had caught that big red the day before. They found the area full of podding fish, and caught quite a few reds. As the tides continued rising, the west shoreline of the LLM was attracting more and more redfish. It was hard to believe that it could get any better, but Saturday and Sunday were "mythic" days, with so many redfish gathering on the west side during the evening high tide that it simply hard to believe.

Roger and Dave ended up fishing only a half day on Saturday, and landed a couple of reds before we had to head in. But as we left, I could see that the redfish were coming into the area from the north -- a classic pattern that culminates in "storybook" afternoon fishing. As we left, Jeff and Henry came into the area. A few hours later, they came in at dusk. They looked stunned, and said that they'd never seen so many redfish podding and tailing in their lives. I'm not sure how many they landed, but I believe it was a double-digit day for both of them.

On Sunday, Kathy and saw all of our guests off -- all ten of them. We worked on schoolwork until late afternoon. The wind died down, and I suggested that we fish for a couple of hours before dark. Needless to say, we headed for the same area where we'd been fishing. Noticing that the tides were higher than they'd been in three weeks, I said, "I'll bet every redfish in the bay in on the west shoreline feeding on shrimp."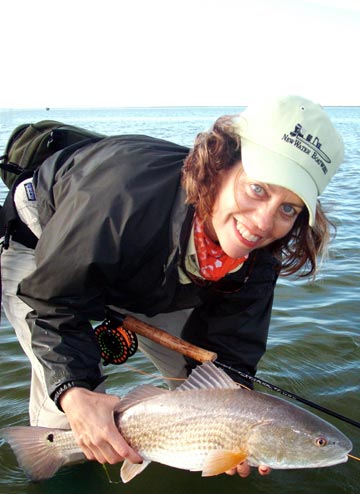 A few minutes later, we entered the area. Pods and small schools surged away from the intruding boat, so we stopped and drifted downwind into...the most incredible podding action that we'd seen in...well...since the last time we fished together. Pods and small schools were everywhere you looked. Using a 5-weight TICRx -- a new rod designed by Temple Fork -- I caught eight reds on a pink VIP in an hour up to 28 inches. I stopped fishing for a while so I could get some photos of the big fish before releasing it. Meanwhile, Kathy had pinched her barb down, but doesn't blame that for missing about six reds in a row (I would have!). She landed only one, but spent most of her time fishing upwind -- a challenging approach in any venue, but expecially when the casts are over 40 feet. Our dog Lilly had two romps across the flats, putting down every redfish within 100 yards, but just as soon as Lilly was back on the boat, the fish and the birds began working the shrimp again. It was one of those truly beautiful evenings on the LLM.

4/18/04 Kathy and I had the pleasure of guiding Jane and Dennis Aebersold from Norman, Oklahoma from Wednesday afternoon through Friday. Having never fly fished in salt water, the Aebersolds weren't sure what to expect, but after three days, they are veterans of the Lower Laguna, and vowed to return upon their departure on Saturday. Since the tides are as low as I've ever seen them in April, we weren't able to fish some of our favorite podding action
venues. Even so, we were able to show them some pretty good action in areas where a low tide is an advantage, like southeast of the mouth of the Arroyo, South Cullens Bay, and the white sand near east of Three Islands. Indeed, on Wednesday afternoon, we stumbled into the motherload of redfish up on the white sand, but it was so late in the day that they were hard to see.
Dennis insisted on using a beautiful bamboo rod he'd crafted himself. I was concerned that he was handcapping himself in a fishery that's known for bringing people to their knees, but when I gently inquired about the possibility of using one of our rods, he stood firm. I realized shortly afterward that it was quality, not quantity that appealed to both Dennis and Jane. Dennis was finally rewarded for his commitment by landing this beautiful red on the white sand -- the first redfish taken on a bamboo rod while we've been guiding -- and only the second bamboo rod used on our boat.
Last Wednesday morning -- before the Aebersolds arrived -- I guided Miguel Neri from San Francisco. Wednesday was a beautiful day -- low winds, and full sun. The fish weren't hard to find: there were pods and schools of reds all over the east side. But they were mixed with mullet, and that often means that it's hard to get close to the game fish, as the mullet "push" them beyond casting range. Finally, on a whim, I took the Curlew into the west-wide spot mentioned above, and we shut down in the middle of a dozen pods working under birds in less than a foot of water. Backs and tails were shining in the sunlight, and the birds were going crazy. We were at the end of our half day, so we had to go in pretty soon, but Miguel was able to put his Mother's Day Fly in the middle of 20 frolicking fish, and scored his first redfish on a fly.
He just emailed me with this: Scott: I am back in San Francisco and, before getting back into the work grind, I wanted to send you a quick note to thank you again for (patiently) guiding me on the Laguna Madre last week. It was a treat just to see the natural beauty of the place; the fish was a bonus. I had a tremendous time and learned quite a bit. I hope we can do it again soon. Thanks again. - Miguel
I didn't have my good digital, but I snapped this shot of gulls working over reds while Miguel was gettign ready to cast to them.
Back to yesterday (Saturday) -- Jim Posgate -- who has to be one of our most successful regular clients -- seems to have a knack for picking days. Saturday wasn't supposed to be very good -- windy by midmorning, and possibly cloudy, too. But he wanted to show his buddy Vance a day on the Lower Laguna. So we left the dock early to check out the same venue that I'd taken Miguel Neri to on Wednesday.
It was so dark that we couldn't see anything at first; but as
the sun rose, we realized that we were surrounded by pods of aggressively feeding fish. About 200 birds were working over about 20 acres. Needless to say, Jim and Vance wasted no time hiking toward the nearest pods. I took two rolls of 35 mm film of tailing pods or small schools, while the guys had three double hookups. I'm not sure how many reds they landed -- but they had one awesome morning. We spent about three hours in that area before the reds began to disperse, which they often do by midmorning. Jim emailed us with this note of thanks: Scott and Kathy--Just wanted to drop a note to express my appreciation for some truly world class fishing over the recent several months--You guys are terrific and I really appreciate the effort you consistently put into your operations--100% ALL-PRO! Thanks a bunch--"Pos".
Today, I guided Dave Scheff and Roger Flynn from San Francisco, and Albuquerque. They are here for a whole week of fly fishing, giving new meaning to the term "gung ho." We had a windy day -- 20-30 mph winds! There weren't any fish caught, but we saw a passable number on the white sand, and Roger jerked the fly away from a big red that was saying "ahhhh.." Tomorrow and Tuesday, they'll be with Skipper, and then back with me for Wednesday through Saturday. We hope to have some good pics of them with big fish before it's all over.

4/12/04 There's too much to tell in the time I have, but I'll summarize the last week the best I can. We've been fishing tailing pods on the west side, and cruising reds in the shallowest waters of the "white sand," as well. Starting early, and focusing our efforts along the west shoreline of the Lower Laguna, we've had the best podding action that I've seen in several years, probably because the shrimp population is exploding due to all of the fresh water we've had in the last 18 months. I'll post some more photos later, but here's one shot of a tailing pod under a laughing gull. I was alone that morning -- and didn't even cast to the dozen pods that were all around me -- but the day before, I guided Jim Posgate from Kerrville, who caught five reds out of tailing pods just like this one. It's exciting -- and relatively easy -- fly fishing, and it's "on" on calm and windy mornings. So it's a springtime "saver" for a fly fisher, who might otherwise find it hard to see
fish on a windy, cloudy day.
The next day, I took out Jim with his buddy Phil. The pods weren't working, perhaps because of a slack tide, but Jim scored big-time with a 30" red that he caught on a chartreuse Mother's Day Fly, while casting to single reds from the Curlew.

4/2/04 We're gearing up for a full month of guiding, so Kathy and I seized the opportunity to fish together yesterday morning. We took our lab puppy, Lilly with us, and headed out at 6:30 to see if we could get into the same action that I enjoyed with my brother the day before yesterday. (See below). It wasn't calm at daybreak, so I wasn't sure we'd find them tailing. But after shutting down, and poling into the area, we spotted a pod within a couple of minutes. Kathy jumped off the boat, and I followed her with my camera, but the reds were heading away, so we never caught up with them. We went back to the boat and started over again. I decided to fish near Kathy, and carry my good digital, so I could photograph her catch. Neither one of us had much interest in just catching fish: I wanted to photograph tailing reds, and she just wanted to commune with the scene, and play with Lilly. As I said to a client the other day, when you don't put catching fish first, you usually catch a lot!
Kathy soon locked onto a tailing pod of about 12 reds -- that was the "standard" pod size of the morning, it turned out. The first time she got her orange VIP into the tails, one of them grabbed it immediately. I came over and took pictures of her fish, and then she said, "Your turn." Pods were all around, so it didn't take me long to catch up with one. Pow! The strike was like a firecracker. The reds have taken the poppers so aggressively, probably becasue they are chasing shrimp right now, and the shrimp try to get away by hopping across the surface. Indeed, we could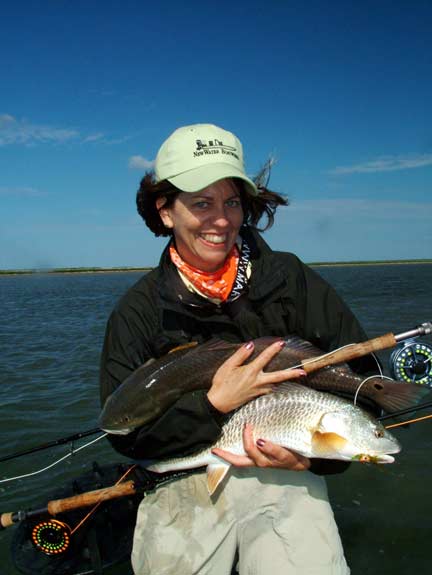 see shrimp hopping out of the way of the orange masses of fish, but every once in a while, a red would leave the pod to snatch the would-be escapee.
The wind rose to about 15 mph, and we lost sight of the tailing pods. I suggested that the reds had moved over along a bank, because we could see a few laughing gulls working low to the water -- a sure sign of podding redfish. So, we hiked about 200 yards, and found ourselves surrounded by pods again. In a few minutes, we'd both hooked up on separate pods, and landed the fish about the same time.
I put my rod away, and grabbed my 35mm camera with a 300mm telephoto. For the next half hour, I chased the same pod of reds around, trying to catch the tails on film. It was a blast! Kathy, meanwhile, put her rod away, too, and played with Lilly along the spoil island bank.
It was a perfect morning, and we both agreed that after catching two reds apiece, we'd had all the catching we needed.

3/31/04 My brother and I went out this morning, just to check out a couple of places. We ran into a remote lagoon, where Chip caught two on his spin rod, and I missed one on a VIP. The water was a bit low to host large numbers of fish, so we left for another spot that was so hot last April that I went there every morning for a month. Last April there were hundreds of tailing reds there every morning, in pods of 6-60.
We pulled into the area, and shut down. Wakes were everywhere, and it was dead calm, so we didn't wait to see what would show. We got out of the boat, and headed for the area where they were congregated last spring. Sure enough, in a few minutes, redfish tails were popping up everywhere. There were probably more tails than I've ever seen in one area.
We only fished for about 1 1/2 hours, because Chip had to go in early. But in that time, I hooked seven on yellow and orange VIPs and landed six -- up to about 26-27 inches (The one in the photo was the last one I caught). Most were in the 24 inch range. Chip, meanwhile, was using a Tiny Torpedo, and caught five or six more. He lost several that hammered the topwater, but got off.
It was easy fishing, as long as you could cast 50-60 feet. If I'd stopped wading, they would have come in closer, but I depended on my cast to clinch the deal.
I've said it before -- It doesn't get much better than this!
3/27/04 I guided Bryan Sperry and his friend Stephen today, and it was hard to find fish in 25 mph winds and churned up water. Still, Bryan excecuted when he had the chance, and tagged this nice 24 inch red on a Mother's Day Fly , casting from the Curlew. Unfortunately, I stayed away from a certain unnamed area because my brother Chip and his son Spencer were already there. It was my mistake to be so polite. Even though they were spin fishing , they caught 11 reds blind casting topwaters, and lost several more. They caught the fish in the same spot that I caught a 30 3/4" red yesterday when Kathy and I were out scouting (I let Kathy hold the fish for a photo, because she often lets me do the same when she catches all the fish). Needless to say, Bryan and Stephen and I are going back to that spot tomorrow. Chip and Spencer will be there, too. It's the same place where I caught the state fly rod record redfish in 1999, and a larger one the day before. I dont' go there very often, because it's a blind casting venue, and I usually go in search of visible fish. But it's so good sometimes that you don't have to see them to catch a lot of reds.
The tides are higher now, so we're fishing the back lagoons where we haven't fished since last fall. It's a different scene -- very remote, and very close-in, sensitive areas. The Curlew is the boat for this action, as it is for the summer and winter low water. There aren't many people back there, and the fish seem to know it.
3/23/04 My main computer crashed, so I'm using my laptop to update the report. It's more difficult, however, with the absence of certain software; so it might be a week before I postanother report.
I guided Rick Kopenheffer and Barry Skaggs again on Saturday and Sunday. We expected a better weather day on Saturday, but we woke up to cloudy and windy conditions. I suggested we wait until 8:00 to go out, and fish the sun, which was forecast to appear by the afternoon.
We hit a couple of west-side locales, as usual, then ran into a real prize -- tailing pods under birds. There were three separate pods of about 20 reds apiece driving shrimp to the surface where the laughing gulls were picking them off. I was pleased that the guys could see this spectacle. At any given moment, five to 15 tails were exposed in an area only about 25 square feet. As I poled downwind to them, I gave the guys my little speech: "The fish are moving, so don't let them get upwind of you. Don't cast until you can put your fly in the tails. If the fish don't react, they haven't seen your fly."
With that, they slipped overboard and began stalking the same pod that was only about 100 feet from the staked Curlew. It took them a while to get their flies in the fish, but Rick finally scored with a hookup. The pod blew up, leaving Barry with only muddy water to contemplate. But the pod reassembled 100 feet away, so Barry shot off in their direction as Rick fought a very large red. Unfortunately, the fly pulled out after about 10 minutes. The guys proceeded to chase two more pods, getting a total of five strikes and two hooked fish, but...no landed fish. It's not unusual to lose redfish that you hook in a tailing pod. They see the fly only when it's inches from their heads, and they grab it instantly and run. Unlike a single red in clearer water that will follow the fly, overtake it, and inhale it deeply, the podding red will often slash at the fly, and get barely hooked.
The promised sun never materialized, but we found a lot of reds along a bank that had been there on Friday. We had lots of shots -- but only at 15 feet from the boat, once the fish had seen us. Later, we visited a remote west-side venue where found a few reds in nine inches of water. They would track upwind, and provide heartstopping shots. Barry was the lucky one in this venue: The reds seemed to find him.
In between excursions to the Bay, the guys fished for trout under the lights. Assisted by our cats, Snook and Butter Butt, Barry managed to land quite a few nice trout.
On Sunday, we went back to the same spot, and flushed a bunch of reds as we entered the lagoon. We stopped, and immediately saw a "sweeping" pod of reds. A few birds were following the fish around, but the wind was too low to keep the gulls aloft. Still, the reds were in such shallow water that they remained visible most of the time. The guys spread out and walked down to them. At one point, the pod turned around and swam right between them. I was yelling, "Cast to their heads, not their wakes," but the fish slipped through unscathed.
We left the area after ascertaining that there were very few fish to be found, and headed to the spot where I'd found a tailing school three days before. We poled quietly into the area, with Rick in the casting basket. Finally, we spotted a pod of about 6 fish, rolling in the morning sunlilght. Unfortunately, the fly fell short, and the pod dispersed. So we got off the boat, and waded into the area. Barry had three shots at singles, but no hookups.
Time was running out, so we headed back to a bank that we'd fished the past two days. Finally the clouds had cleared, and we had perfect conditions for sight casting. As soon as we poled into the area, we saw small pods working along the bank. Rather than spooking them with the boat, I suggested that the guys wade, even though the bottom was less than firm. Wading between them, I helped the guys spot the fish, and finally Rick hooked up after following two reds for several minutes. Again, the fly came out! Fortunately, a big red swam by Barry and headed for Rick while he was still licking his wounds, and this time Rick scored big time. We released the fish without measuring it, but it was between 27 and 28 inches long, by my estimation.
Rick and Barry faced tough conditions, except for the last day, but they really seemed to enjoy fishing the "Mother Lagoon." Kathy and I have spoken to seven fly fishing clubs from southern California, and hosted members from most of them. They all seem to share a real enthusiasm for the Laguna Madre.
3/19/04 I wish I could say that we were catching a lot of fish, but that's just not true. A combination of "first-timers," poor lighting, and windy, spring conditions has resulted in lots of seen fish, but not many caught fish.
Yesterday, I guided Glen Peters from Austin, who is an experienced fly fisher, but suffers from macular degeneration. And those of you who have fished the Lower Laguna, or any saltwater sightcasting venue, know how important seeing fish is in the total equation. At 80, he has a lot of courage to take on a fishery known for its toughness in the springtime. Still, we did our best. By 8:00, I'd stopped into two west-side venues, and hadn't seen anything much. I went to a third place, known for hosting podding reds in March and April, and we plowed through a whole school in about 15 inches of water. I shut down, and poled downwind for about 100 yards, and then spotted a tailing pod of half a dozen fish. Glen could not see them, but his wife Helen and I tried to direct his cast. The pod blew up, and I decided that the only way to approach these fish was to wade. As we got ready to wade, another pod appeared about 50 yards from the boat. We slipped over the side, and waded -- with difficulty, given the soft bottom -- toward the pod. Well, it disappeared before we could get there. As we stood surveying the water, I looked back toward the boat, and saw a school tailing en masse about 50 yards downwind of the Curlew. I went back and got the boat, floated it over the Glen, and picked him up. We drifted close to the school, and resumed our wade. As usual, they moved away, but kept tailing happily. Then some pods appeared nearby. One came within 25 feet of us, but Glen could not see them, and they did not see the fly, which fell two feet short.
Henry Bone was fishing nearby, and picked off a 28" red out of a school of about 300 reds that swung onto the white sand only briefly before returning to deeper water. Still, it was slim pickings all day.
I guided Rick Kopenheffer and Barry Skaggs from Los Angeles today, and will be taking them out tomorrow and Sunday, as well. The day started off with the two conditions that we hate to see -- wind and clouds. We did our hop-scotching up the west shoreline with very little success, then shifted to the sand. Joined by regular Kingfisher guest, Henry Bone, we covered a few dozen square miles of our favorite "white sand" area, and found hardly any fish. Before I continue in my account, let me fill you in on an interesting Henry Bone story.
Two days ago, I was guiding out on the sand. Henry was south of me about 2 miles. I called him on the phone to see what he was seeing. He said he'd just landed a 7 3/4 pound trout, by foul-hooking it! He saw it in about 10 inches of water, and presented his fly over and over. Then, realizing that something was wrong, he cast over its back and foul-hooked it. The fish shot off, but Henry was able to land it. It was very fat, Henry said. He went to release it, and it just went belly up. He figured it had been sick, and perhaps dying when he found it, and now it looked hopeless. He said he'd left the fish swimming upside down in circles.
I suggested that I come over and take some pictures of the fish. Henry readily agreed, and said he'd go back and find the fish. Meanwhile, as I prepared to start the motor, I caught sight of two huge redfish swimming by, followed a few second later by a dozen big trout. I called Henry to tell him that I'd better not interrupt my guiding, and he filled me in with the "rest of the story."
He found the fish okay, and looked it over again. He said that it looked like it had some grass in its throat, so he reached to pull it out, and found himself on the tail end of a 15" inch mullet! He slowly removed it, and the trout's stomach collapsed like a balloon. He laid the bi fish in the water, and it began to swim off! We were all happy about that.
Back to today. Rick and Barry and I headed west again to look for the elusive fish. Finally, while poling near Three Islands, we began to see a lot of reds in shallow water. Even without the direct sun and clear water, the reds showed up nicely -- but only once we'd pulled within 15-20 feet of them. Rick and Barry did their best to get the fly to them in time, but it was their first day, and it's tough regardless to get a fly to a fish that will spook in two second.
We all felt better getting 15-20 shots at nice reds, so we headed back to the sand. the sand "action" can turn on instantly, and tends to get better in the afternoon, at least in the early spring. Well, we found some intermittent redfish, some of which were following sting rays. We had a few great shots, but again, no hooked fish. Fortunately, the guys came for three days. Unlike some of my clients, who go home skunked after a "warm up" day, Barry and Rick are poised for success, now that they've been stung by the Mother Lagoon. You've got to pay your dues, right?
3/17/04 Sorry that I haven't posted a report for a while. We have been busy getting ready for the season, including speaking at the Shallow Water Show in Austin this past weekend. But I guided today, and will be with clients for the next four days. There's some interesting news to report, and I'll upload it just as soon as I get a moment. But suffice to say that it was a beautiful sight to see 50 reds tailing in unison today. The shrimp have returned to the flats, and we should see a lot more tailing pods and schools on the west side. Henry Bone caught a 7 3/4 lb trout today on the sand. Actually, he foul hooked it as it was choking to death. He pulled a 15 inch mullet out of its mouth, and revived it! He's "in good" with the trout now, having done his good deed for the year. Needless to say, he's heading back to the same spot tomorrow to fish for the dozens of big trout that wouldn't take his fly today. So am I! More later.
3/5/04 Yesterday, the wind blew from the southeast from 35-40 mph, but this morning it was almost calm. I fooled around the house until late morning, and then called Richard Weldon -- an old friend and new guide who, along with Skipper Ray, will be working with our non-fly fishing clients this season. I asked Richard if he wanted to do some fly fishing, and he was at our house within an hour with his new 8 wt. Temple Fork TiCr. I grabbed my 6 wt. TiCr and we headed for the bay.
The tides are much higher than they have been. So, instead of heading south where we've been doing most of our fishing, I checked out some westside locales as we headed north for the first time in a couple of weeks. We found reds in two places, but the water was off color, so we kept heading north. The north wind increased as we went, turning a nearly calm day into a fresh cold front. It wasn't cold at all, however, and we ended wading wet in water that felt around 70-75 degrees.
I pulled up along a bank, hoping to find some reds with their backs out of the water. Sure enough, we went head-to-head with one big red that was showing a full inch of his back. Richard tried to get the fly to him, but the wind had come up and the red went crosswind to us. After passing another red in the 27+ range, I staked the boat, and suggested that we wade the bank. A red was already approaching, and Richard couldn't get in the water soon enough, so...I grabbed my rod and jumped in barefoot and headed to the shoreline. The big red saw the Chartreuse MDF on the second cast and inhaled it. Unfortunately, the fly popped loose after a short, blistering run.
I urged Richard to continue along the bank, and I went ashore and ran 150 yards upwind, and began to wade the same water we'd just floated through. Within a minute, a red showed along the shoreline, and I was able to hook and land him. Meanwhile, another red was milling around me with its back out, so I called Richard, and waved him over. He went upwind of me, and began wading the same bank. I hooked and landed another red that was almost 28", and then Richard got one on the same fly that was around 26". The water was far from clear, but the reds looked postively pink out there in that off color water, just like this photo shows.
I took the Curlew over to another bank to give Richard some room, and hooked up on another big red that was cruising, back out, in about 12 inches of water. The 27 1/2" red just about wore me out on my 6 wt. Indeed, I brought him in after a ten-minute battle, and reached for the leader. Well, the fish suddenly saw me for the first time, and within seconds, he had taken all of my line, and was 30 feet into my backing! I finally got him back in, and took a photo of him on the shoreline. When I released him, he swam off like he hadn't even exerted himself, which is typical this time of year when the water is still cool.
Meanwhile, Richard landed another red while I eating my lunch aboard the Curlew. We ended up hooking seven and landing five reds, and all but one were over 24 inches. We headed in, and realized that we'd done quite well given the conditions: The bay was pretty muddy the whole way back. However, Sunday looks like it's going to be one of those magical days. Kathy and I will be back out there, in preparation for a dizzying series of charters, beginning next week.
2/18/04 Today was the third "perfect" fly fishing day in a row. What a relief after several weeks of windy and cloudy conditions! We left the dock just before 9:00, planning to "fish the sun." This time of year, tailing action is sporadic due to the water temperature (57 degrees yesterday, but much warmer today). So we waited until the sun was high enough for sight casting.
We headed south, given the fact that the tides were so low, and it's usually better to fish south of the Arroyo in extreme low water. I poled Kathy for while, but we were spooking so many fish, that we decided to do what we like to do best -- wade. With fly fishing guides Eric Glass to the west of us, and Jim Stewart to the east, we staked the Curlew and began wading downwind, leaving our puppy Lilly on board to enjoy her first day on the boat. Fortunately, the conditions were ideal -- light southeast winds, and not a cloud in the sky.
The scene was a classic fly fishing scenario: The water was low and clear, and fish were quite visible on the turtle grass bottom. We were able to get pretty close to them -- 30 or 40 feet -- before they turned; and then they moved off slowly, as they often do when it's been cold. We had to put the fly right on top of them -- inches from their heads. Otherwise, they didn't seem to see it. Most of the time, we were stalking singles, but there was a milling herd out there that would come by every once in a while.
Kathy had her personal best day for redfish -- seven redfish up to 26 inches, and a big trout that came loose at her feet. All the fish were caught on our favorite subsurface shrimp/crab imitation -- the Mother's Day fly, shown below. The fish were as aggressive as we've ever seen them, which is remarkable given the temperature of the water. I lost most of mine (on a barbless hook -- the hook's fault, of course) including one fish that would have gone close to 30 inches, but I was just as happy watching Kathy do so well.
2/17/04 It seems that the winter is over, and we have entered the glory days of mid-February. Skipper just called and said that giant trout were all over one of our favorite spots. As for the redfish action, guides Eric Glass and Bill Hagen caught 18 reds yesterday fishing together. Where am I? At the computer, of course, but tomorrow Kathy and I will be out there, trying to repeat the big trout success of last February. Last year, President's Day was unforgettable, reaping us the FFSW cover shot of an 8 lb 2 oz. trout.
We guided this past Sunday, which was a transitional day, with northeast winds and temps in the 50s. Very unpleasant, but our clients Joe and Melanie Mitchell from San Antonio had a great time, anyway. Joe brought Melanie down, hoping to help her catch her first red on a fly. We warned them about the weather, but they wanted to come, regardless. We found a lot of reds in shallow water -- and saw a few big trout, too -- but the wind was from the wrong direction, so the fish were usually on their way by the time the fly got there. Still, she did remarkably well for her first effort.
Today is a perfect fly fishing day -- full sun and low wind -- but we had prior obligations, so...we're champing at the bit to get out there first thing tomorrow morning. I'll let you know how we do, of course. This is a great time to fish -- after the "stacked" cold fronts of mid-January to mid-Feburary, and before the March winds.

2/4/04 I wish I had some great news for you, but the last few days have been challenging at best. Over the past several years, Kathy and I have noticed that late December and early January offers the best winter fishing, but by mid-January, the cold fronts begin the "stack up," so that there's little time for recovery in between. By early March, most of the fronts stop reaching this far south. That's the good news. The bad news is that the low pressure associated with the spring fronts suck the wind and moisture off the Gulf, resulting in strong blustery conditions on the Lower Laguna until May or later.
Still, there are those days in early February that are near-perfect. We try to seize these opportunities whenever they arise.
This past Sunday, we thought we had one of those magical days. Russell Myers and his wife Becky from Ft. Smith, Arkansas, joined us Saturday night. Calm winds and a cloudless sky greeted us at dawn the next morning, and we were all convinced that we had a perfect fly fishing day ahead of us.
The tides were extremely low at daybreak -- which usually signals me to head south -- but the dead calm conditions prompted me to head east of Green Island. I was hoping to find tailing fish. The reds were thick in the glassy. 15-inch water, along with tons of mullet. But when we stopped and let the water settle, we saw only a few half-hearted tailing fish. And they were so spooky! I think the moon was the culprit. We'd had a near-full moon in a cloudless sky the night before, and the fish were probably full from all-night feeding. So we headed north to check some of my favorite low-water spots. The tides were so low, however, that nary a fish could be found.
So, we headed south for Cullens and Stovers and beyond. Our optimism faded a few shades as a cloudbank began to block the morning sunlight. I cringed, because I knew that the "perfect day" was quickly evaporating.
Still, we found plenty of fish in shallow-enough water. Whenever the sun would emerge, we'd see reds and get shots. But it wasn't long before the clouds consumed our light. After a few hours of that, Becky opted to go back in. So we took her to the dock, re-gassed the boat, and took off again.
We headed south, and encountered the same problems, but the cloulds over the east side -- the white sand -- were burning off. So we headed for the light,
and found that the edge of the sand was under full sun. What a beautiful sight! The crystalline water was so pretty, with a Carribean-like green tint to it. I poled Russell along the edge of the grass, and had only one shot at a red in half an hour. The fish just weren't there. Noticing that the clouds were burning off over the west side, we ran back, hoping that the fast-declining, afternoon sun would still afford us the visibility we needed.
There were fewer fish, but we did get a few shots before the angle of the sun defeated us. Russell managed to get one sizeable red to flare on the kite spoon, but when he stripped, there was nothing there.
We headed for a flat that I've been fishing with great results, whenever the tide is at the right level. We poled into the area, and could see mud boils all around us. The water was off-color from all the mullet, but the low sun
managed to catch the tails of several crabbing redfish. We had some great action, but the conditions were only marginal in support of sight casting. Again, we had some near hook-ups, but in the end the perfect day had become like so many other winter days -- a tease. Russell, who enjoyed "storybook" fishing when he came down in August, and knows how good it can be on the LLM, was not disappointed, and left with promises to return in the summer.
We have just rescheduled the next four days. Another cold front is on its way. We are always willing to guide fly fishers in the winter months, because we know how good it can be. But we are the first to recommend rescheduling, because we don't want our first-time clients to be discouraged by the often-teasing, winter face of the Lower Laguna.
1/29/04 I attended the Boat Show in San Antonio last weekend, helping Tim and Leslie at the NewWater Boatworks booth. Between that, teaching, and poor weather, we've not been out in over a week and a half. However, we have a lot fishing ahead of us in the next couple of weeks, weather permitting.
I guided Dr. Mike Tripp from Oregon yesterday. He'd fished with Eric Glass the day before, and they had faced tough conditions. Sure, it was sunny, but windy from the wrong direction. In the winter, the sun is very low on the southern horizon, so when the wind blows from the north, you are blinded whenever you fish downwind, and the fish can see you even better than usual. Consequently, Eric found lots of fish for Mike, but most of the fish were spooked by the time Mike could see them and cast to them.
I hoped that we'd have a better day for Mike, but we had a different set of less-than-ideal problems. The wind had turned to the southeast, but it was totally cloudy. Sometimes when you have thin clouds, you can still sight cast; but the clouds were thick, and building all day.
We almost didn't go out, but since it wasn't too windy or cold, we opted to fish. Since the tides were so low, I figured that the northwest bay would be too shallow for the hoards of reds, which have been feeding on baby crabs up that way. So we went south, and found lots of fish south of Cullens Point. The reds were thick in the slightly deeper water, but they were also out in water that was less than a foot deep. Poling through areas where it was almost too shallow to float, we saw plenty of nice reds rolling (and a couple tailing) in the super skinny water. However, without sunshine -- or even bright, diffuse light -- Mike couldn't see the fish in time to present the fly. He made a couple of good presentations, in spite of the conditions, but didn't score. Later, we went north and found a lot of reds mixed with sheepshead north of Green Island, and so Mike resorted to blindcasting spoon flies and weighted Mother's Day Flies as we drifted downwind. I was surprised that Mike didn't catch a couple, because we were floating through one mud boil after another for over an hour. Once again, he managed to spot a couple of reds in time to cast, but they were heading upwind of us, making it difficult, at best, to score. To his immense credit, Mike was completely happy with the scene.
Kathy and I were cocked and ready to go after giant trout this morning, as we've been seeing them in some of the "regular" winter trout venues. The tides are so low that the big fish can be seen pushing water, even though they rarely tail in the wintertime, for some reason. However, the cold front came through earlier than expected, so we cancelled those plans.
I'll be guiding our regular client Russell Myers and his wife from Arkansas on Sunday. It looks like we might have the right sun and the right wind, finally. My fingers are crossed.
1/16/04 We have hosted fly fishers for the last five days! The good news about winter fly fishing (See our latest article in Tide Magazine, titled "Fishing the Texas Tropics") must be getting out.
Last Sunday, Alan Schoenbaum and his son James, along with his father -in-law Jim Kuper, came down for one day of fly fishing. They'd planned for two, but we discouraged them from fishing on Saturday. Sunday dawned cold and calm. As the first day after a cold front, Sunday was beautiful, but the fishing was tough. The tides were unusually high, the slight wind was from the "wrong direction," the water was off colored, and the fish were everywhere...but lethargic. Outwardly, it was a perfect day, but a closer analysis revealed that it was, true to form, a transitional day.
The guys brought two kayaks along. Fortunately, the Curlew handled all four guys (hey, I'm a guy) and the two kayaks with its usual grace. But it just wasn't a wading or kayaking day for fly fishers. We needed more elevation to see the fish in the deep, off-colored water, and we didn't resort to casting from the boat until the sun was nearly too low to support sight casting. Still, James -- who had committed to fly fishing all day, and only turned to spin casting as a last resort -- caught a 27-inch red from the kayak, while his dad and I were getting shot after shot at crabbing redfish in the rapidly diminishing sunlight.
We could have done better taking turns from the boat, but that's hindsight, and the guys seemed to have a lot of fun, anyway.
Tom Biddle and his brother-in-law Mike from Ft. Worth came down for Monday and Tuesday fishing. Kathy and I couldn't guide them, but we hosted them while our friend Rick Hartmann took them out. Tom and Mike had two glorious days -- low southeast winds, and pretty good sunshine. We were at UT-Pan American while the guys were fishing, but Tom left a glowing summary of their successes: "Thanks for your hospitality. We'll be back! Redfish were everywhere, and we caught a bunch." What more do you need to know?
On Wednesday, Mick McCoy from Austin, and his buddy Stan from Tennessee, came in midday. I tried to get them to come earlier, since we could see that the glorious conditions of Monday and Tuesday were on the decline. Still, they arrived in time to hit the bay before noon, and head to the spot were we have been finding redfish gorging themselves on baby blue crabs. As soon as we came off plane, we could see that the reds were in a feeding frenzy. For about two hours, we had shot after shot. But our window of opportunity began to shut on us. Stronger wind, and thick clouds turned a very good day into a blowout.
The next day dawned cloudy and breezy. I always cringe when I look out the window and see the trees blowing beneath a gray sky. Still, we headed out, hoping for the best. The fish were still there, but not in the same numbers. Nor were they feeding as actively. We got a lot of opportunities, but not of the same quality as the day before: that is, we'd see the fish too late, and they'd spook before the guys could deliver the fly.
When I got in last night, I took a look at the weather forecast, and called our old client Russell Myers from Arkansas, and pleaded with him not to come down for the weekend. A fresh cold front will be blowing through, and the conditions won't be good until next week. Wisely, he decided to reschedule.
Overall, the fishery is alive with redfish, and they are as aggressive as ever on some days, and a bit lethargic on others. The wind and lighting conditions make the difference between a great day and a fishless day. If you plan to come down, stay closely attuned to the weather, and be ready to come if forecast calls for light southeast winds, and partly cloudy to mostly sunny. The fishing has usually been awesome under these conditions.
12/26/03 An old client, Dr. Dan Casso from Houston, came down to fish with us on the 26th and 27th. The weather forecast called for a decent fly fishing day on the 26th, but the 27th looked iffy at best -- 20-30 mph southeast winds. So I suggested to Dan that we fish all we could on the 26th, because the 27th could be a blowout. Meanwhile, Kathy and I decided to cancel her three-person charter for the 27th: With such strong winds, it's nearly impossible to pole a boat with three people aboard, and the wading prospects were dismal, at best.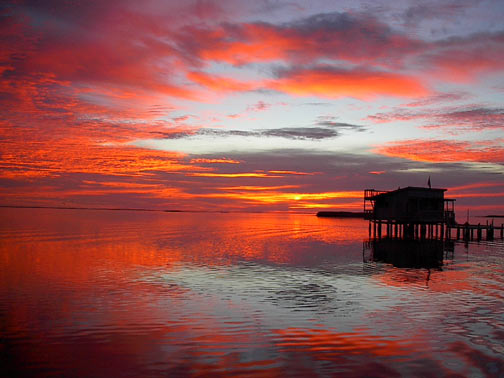 I opted to head south with Dan, since the super low tides had been made the areas around Stover's Point, in particular, a very attractive venue over the past couple of weeks. However, we swung southeast onto the east flats on the way, and ran into a lot of fish. We poled there, and got a couple of shots, but the mullet were spooking way out ahead of us, and turning the reds away before we could reach them. So we resumed our journey southward. Unfortunately, a cloudbank greeted us just as we reached Cullens Bay, so I turned around and ran back north, toward the remaining blue sky. We tried a few spots on the way, but the lack of consistent sunshine made finding visible fish difficult for a couple of hours. Finally, I decided to head for a northwest flat for the first time in a month. As soon as we reached the "sweet spot" of the area, characterized by a trough adjoining the Intracoastal, reds scattered in all directions. They were back in force after weeks of extremely low tides.
Meanwhile, the clouds were burning off, leaving us in a perfect sight casting scenario -- a 12 mph southeast wind, with the sun to our backs. And the fish were present in such numbers like I've rarely seen them. Over the course of about four hours, Dan had about 100 shots at single reds, and small pods, that were "crabbing" upwind toward us, heads down. It was easy to get within a few feet of most of them before the boat spooked them, giving Dan plenty of time to get his cast off. Using a kite spoon, he proceeded to catch 10 reds on the kite spoon before it fell apart. So we replaced it with a weighted chartreuse Mother's Day fly. Dan ended up hooking sixteen, and landing 13 up to 28 1/8 inches. It was an awesome day! It was Dan's first "double digit" day -- a rare event for any fly fisher on the Lower Laguna.
Given the forecast for strong winds the next day, I suggested that we make a decision the next morning. I got up at 6:30, and saw that it was windy and cloudy. So I called Dan and told him that it looked like a probable blowout. Even so, we agreed to touch base a couple of hours later, and make a final decision. Well...the clouds burned off, at least long enough for me to call Dan and give him a thumbs up. He left McAllen, and was at Kingfisher around 9:30.
Needless to say, we headed back to the same flat that had produced so well for us on Friday. But conditions had deteriorated: It was mostly cloudy by the time we arrived, and the wind was already about 15 mph, and rising. We used the intermittent sun strategically: We'd pole in the sunlight, and then stake the boat when the clouds came over. Over the next few hours, I probably stopped the boat 30 times to wait for the sun to return. (Take a look at the photo to see just how cloudy it was!)
The redfish were still in the area, and suprisingly, we were able to get dozens of shots from the boat. Dan was getting better and better at seeing the reds in the less-than-ideal conditions, and getting off quick casts at fish that were no more than 20 feet away. Before we declared the situation hopeless -- that is, with winds over 22 mph, and not a speck of blue sky to be seen -- Dan had landed eight more reds up to 27 1/8 inches! It was remarkable day -- a testimony to what you can do in poor conditions with the right angler (terminally gung ho), the right guide (willing to indulge his fantasies), and a passel of redfish.
By the way, the west side of the LLM is full of small crabs, and that's what the redfish are gorging themselves on. (Dan kept one fish, and we inspected its stomach.) Every time I'd retrieve the sea anchor, it would be covered with small crabs hanging on for dear life. Although the reds were feeding on the crabs, they didn't hesitate to take the kite spoon, and the weighted Mother's Day Fly. In two days and over 100 presentations, I didn't see one rejection of the fly. From my experience, it is erroneous to believe that redfish "key" on the dominant food source, like a trout in a stream, and ignore anything that does not resemble that food source. While redfish may be feeding predominantly on crabs, or shrimp, or fin fish, they are just as willing to eat anything that crosses their path, as long as it's reasonable and doesn't offend them. So if you think you have to imitate the "hatch," and you do, then your belief will be reinforced by your success! But if you use something else -- at least down here, and most of the time -- it will soon become you favorite fly. Because... bottom line... redfish are opportunistic and rarely reject flies. They do however, reject most poor presentations, as well as the sight of anglers and boats.
It was a great two days to finish off a wonderful year of fly fishing on the Lower Laguna. We look forward to returning from a short trip out east, and taking advantage of the stellar winter fishing that we've been having.
12/24/03 You probably won't be surprised to hear that Kathy and I decided to spend Christmas Eve on the water. Joined by our next-door neighbor, Rex White, we left the dock about 11:30 a.m., and headed south, where we've been finding lots of fish on the flats in the afternoon. We found a few reds in water shallow enough for tailing, but the tide was still going out, and the fish were pretty lethargic. We waded for a while, and got a couple of shots, but decided to scout around and find where the fish were holding in wait of the incoming tide. We didn't have to go far, but we had to go to slightly deeper water. Indeed, as the shallow water increased to about 30 inches deep, reds and trout were suddently everywhere. We came off plane, and floated to a standstill over a dozen trout from 18-24 inches long. Every pothole (clear area in the grass) had at least one trout in it. So we did something we rarely do: we blind casted as we waded. Since the wind was negligible, we spread out in three directions, and a casted spoon fly (Rex), a "kite" spoon fly (Kathy) or a weighted Mother's Day flies (me). Rex started by catching two trout, and Kathy and I followed soon after. Kathy had the "hot" rod, though, catching three trout over 20 inches, and a 25-inch red. She had just started using a Temple Fork TiCr six weight, and she said it performed flawlessly, or rather -- I would say -- it helped her perform flawlessly. After catching two smaller trout on a weighted Mother's Day, I switched to a kite fly, too, and caught a larger trout, and missed a couple of more. We moved a while later, and waded in a shallower area, where I landed one red before we headed in.
A member of the Kingfisher web board asked me to describe the kite fly, and how to tie it. My high-quality digital camera bit the dust a few weeks ago when I dropped it into the water, but I got some lesser-quality shots of the kite fly in hopes that it will convey the general shape of the fly. As you can see, it's a basic spoon fly, tied with auto body mylar tape, available from any auto parts store.
I proceed as follows: First I cut a diamond or kite shaped piece of mylar tape, about an inch and 1/8 from tip to tip. (Why this shape? It's much easier to cut a perfectly symmetrical kite shape than it is to cut an oval. Whether left- or right-handed, you will always cut a slightly asymmetrical curve. So why not make it easy on yourself by cutting four straight lines. It works just as well.
Then I remove the backing, and lay the hook -- a Gamakatsu size 2 B10S -- against the sticky side, such that the top of the kite shape, or the larger angle, wraps around the hook bend about 1/3 of the way. The other end -- the more acute angle -- terminates right behind the eye. Then I tie down the tips, fore and aft, with tying thread. Then I mix five-minute expoxy with gold or red fine glitter, and apply it to the underside of the fly, in order to bond the tape with the hook, and to give it weight. You can apply it lightly for a fly that you want to sink slowly, or heavily for a fly that you'll use in deeper water. Then I put the flies on my turner (driven by a rotisserie motor) to let the epoxy cure. Only after the epoxy has hardened, I coat the outside of the tape with Sally Hansen's Hard-as-Nails, or for a more permanent finish, you can apply a thin coating of epoxy. Then I tie in a inline weedguard of about 50-60 pound mono. If that's confusing, give me a call at (956) 738-4350 and I'll talk you through it.
12/22/03 The tides have fallen to critical low levels -- so low, in fact, that most of the areas that we fish during the fall are now almost dry. Payton's Bay is impassable, and the east side is less than a foot deep except along the edges of ICW, the Saucer, the Three Islands' basin, and the Green Island basin. Flats that are usually too deep to fish -- such as Gaswell Flats -- are now at an ideal depth for tailing reds. Water temperatures are lower than usual, as we have had a succession of cold fronts. However, the fishing has been superb in between the fronts.
Steve and Todd Novak came down last Thursday and fished Thursday afternoon and all day Friday. Thursday was a gem. Hardly any wind, and full sun. We left the dock about 1:00 -- later than they'd hoped, but that had to pick up fishing licenses on the way. We went north and east, finding abundant fish on the edge of the Saucer. We stopped there, and the guys wade fished to tailing reds for a couple of hours. There was a problem, however. Schools of sheepshead were milling about, and would spook as soon as we approached on foot. They would blow through the reds, and the tails would promptly disappear. Todd made some great presentations to tailing fish, but -- so typically -- the reds never saw the fly.
We ran into a school of reds in off-colored water, and blind casted spoon flies from the boat for a while. But I pulled the plug on this effort after a few minutes, since I was sure we'd find visible fish elsewhere. Heading south and east, we finished up east of the Three Islands, where Steve and Todd both landed nice reds.
We expected Friday to be a better day, but a mild cold front blew through Thursday night. Leaving the dock in our warmest clothing and waders, we fished south from the mouth of the Arroyo (as I usually do after the tides fall to critical levels in December). We found fish everywhere we went, but the north wind was blowing us into the sun, making it hard to see the fish. We waded in several places, to no avail, before finding tailing reds on a flat that I rarely fish except during the lowest tides of mid-summer and mid-winter, since it's usually too deep for sight casting. Some big reds were tailing there, so the guys stalked them for quite a while. Steve came up with this nice 26" red on a Mother's Day fly. It was a tough day overall, because the wind and the sun were opposed.
Another father and son team -- Charlie and Hunter Granstaff of San Antonio -- arrived on Friday afternoon, and fished with me on Saturday and Sunday. Having fly fished extensively for bass in central Texas, and for trout in the Southwest, they were ready to try
their hand at fly fishing for redfish. Although it was dead calm on Saturday morning, it was in the low 40s, too. So I called the guys on the intercom and told them to sleep in. We left the dock at 8:30, and headed south. I intended to spend the whole day there, since the fishing prospects have dimmed to the north of the mouth of the Arroyo, due to the falling tides. We headed southeast, and found tons of reds and trout in about two feet of crystal clear water. But the sun was a bit low to see them easily. We poled a while, but could not get close to them. So we waded. Hunter hooked a sheepshead, but that was all we did on the east side.
I knew that conditions along the Refuge shoreline could bring the reds into the shallows, but not until afternoon. About 11, we headed west, but stopped on a flat where reds were tailing all around. However, the mullet were so thick that they'd move ahead of us, announcing our presence -- just as the sheepshead had done two days earlier when the Novaks were fishing with me. So we gave up that fruitless endeavor, and finally headed for our "appointment" with the reds that were scheduled (in my brain, at least) to arrive on the flats by afternoon. When we planed into the area, the reds were, as yet, congregated in water that was slightly too deep for sight casting, so I opted to pole the edge of the redfish/mullet hoard, and sight cast to the few fish that were already feeding in a foot of water. It was breathtakingly beautiful, and warming to a comfortable 65 degrees. With 8 mph wind to our backs, I poled into a turtle grass meadow where great herons were lined up like marble statues ahead of us, Every once in a while, a solitary redfish would explode on a baitfish, or chase a shrimp
across the mirror-like surface. Since the fish were spread out, we stayed on the boat and moved from fish to fish. The action was regular enough to keep us interested. We'd encounter a single red every 50-100 yards. After making several excellent presentations to fish that had already turned in response to sensing the boat, Hunter hooked and landed a 28 3/4" red. Needless to say, we were all ecstatic. As we were photographing and releasing the big fish, Hunter looked behind the boat, and said, "Aren't those reds?" Indeed they were! Three pods of reds were coming out of the deeper water right for us. Not only that, but we could see other groups of reds and mullet streaming slowly toward the shallows. Charlie and Hunter piled out of the boat, and waded toward the incoming fish. For the next couple of hours, the guys enjoyed classic sight casting. At one point, Hunter was hooked up while is father was on his knees in a foot of water, casting to a pod of a dozen fish. It was one of those great fly fishing moments on the Lower Laguna.

12/17/03 This morning dawned clear and cold. Indeed, it was about 40 degrees last night. So Kathy and I waited until almost midday before we headed out for the last personal fishing we would be able to do in a while. We start four days of guided fishing tomorrow, and
we have nine charters in five days starting the day after Christmas (using two boats). So we thought we'd better seize the moment and go after those big trout that haunt our dreams.
As we came off plane, we were greeted with a strange sight. Yes, there were fish all around -- redfish, that is -- but we were more intrigued by what was happening in the sky. We noticed a few wisps of spider web blowing past the boat. Looking up, we were stunned to see that spider webs were literally everywhere, and as high as you could see. We could see wisps of web drifting 100 yards overhead, and filling all the spaces in between. The webs began to collect on the boat, and our rods were soon covered by the filaments. Then, we discovered that there were spiders in the webs! Tiny spiders were riding the wind currents aboard the pieces of web. I've never seen such a thing! How did they get up in the sky? Email me if you know how this happens.
Finally we turned to the business at hand, but spotted only redfish in the water around the boat. So we decided to leave the reds and head for the flat where the big trout hang out. Planing over 10 inches of water, we spotted a very few large wakes, so -- hoping they they were big trout -- we shut down. Fishing fore and aft, we drifted slowly into the area. After drifting for a while without seeing anything, we spotted a couple of tailing reds. Kathy was fiddling with her gear, so I hopped off the boat and went off in pursuit of the reds. I lost them, but a while later, I saw a wake approaching, and casted my Deceiver ahead of it. The red in the photo took it instantly. After landing it, we took some photos of it, and then released it. It was "only" 27 inches long, but it sure was fat, wasn't it?
We decided to move a while later, since there were so few fish in the area. After going about 200 yards, we saw a huge wake coming, so we shut down and simply gawked as a trout that must have been 32 inches long cruised by. I'd seen a huge one in the same area a couple of days ago (while guiding), and it's not unusual this time of the year. We'll be fishing for them until the higher tides of March make it harder to locate them. The key to catching one is...paying your dues, and just showing up day after day. No one asks Bud Rowland how many "dry" days he spends waiting for that world record. What separates Bud from the rest of us is his sheer, undivided commitment. I've fished with him several times, and he simply does not give up, just because trout are so hard to find, and harder to catch. It's rare to find that kind of commitment on or off the water, and that's why so few big trout are caught on a fly.
Heading back toward the Arroyo, we checked the east side, and found so many redfish east of the Saucer that we shut down and waded. The northeast wind was shifting to the east, and slowly dying, so we had glassy conditions. We stalked a few reds near the Boiler, but they were as spooky as they ever get in dead calm conditions. So after a few fruitless shots at tailing reds, we headed home. As we planed along the edge of the sand, we ran over hundreds of redfish, and some trout. If the sun had been higher, we would have stopped and waded into them, but the glare on the water at 4:30 in December makes it hard to sight cast. So we left them alone, and went in.
12/13/03 A week ago, we hosted Tom Reid and his two buddies from San Angelo. I called Tom the day before he arrived and warned him that the weather looked iffy at best.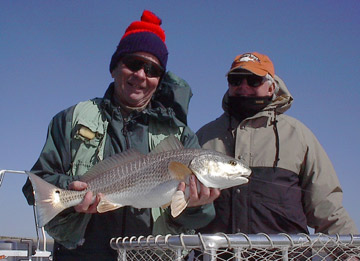 "We're coming unless there's a hurricane or an anthrax threat." Given the forecast for a strong cold front, I think most people would have jumped at the chance to reschedule, but the three doctors were aching to fish, obviously. So we did. Friday was very difficult, but Saturday was a milder transition day. There weren't any fish on the flats in the early morning, but by midday, we were finding them north and south of the mouth of the Arroyo. Take a look at how Tom and Dr. Gene were dressed, if you want some idea of how cold it was.
Yesterday (Sunday) and the day before were about as perfect for fly fishing as you can find at any time of the year. Bruce Hathaway from Victoria chose to fish with us for his 40th birthday present, which is quite a compliment. Bruce and his wife Sherri are "old" clients and friends, who have done increasingly well every time they've come down. Last fall, Bruce caught his largest red on a fly rod to date -- a 29 1/2" fish -- and he was hoping to beat his personal best. A tall order any time of the year, for any angler.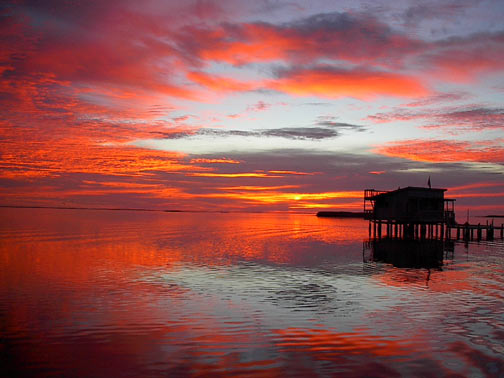 Saturday's sunrise provided a stunning preview of what was to come. We stopped on the Intracoastal to snap some shots of the scarlet and turquoise sky, and then proceeded toward one of my favorite spots for December and January reds. It was dead calm and we found some fish tailing, but they were almost impossible to approach. After a brief wade, I suggested we move. "We can do better than this, I'm sure," so we left tailing fish to find more fish -- a bad idea in most cases. But the tailing action has been so good in the past few weeks, that I was confident that an even better opportunity awaited us a few miles north. Minutes later, I brought the Curlew off of plane as we suddenly came upon dozens of wakes in about nine inches of water. Within minutes, tails were popping up in three directions. Since the bottom was too soft for wading, I began poling Bruce toward the frolicking reds. It was so calm, however, that I quickly took up a position on the bow, and scooted the boat toward one set of tails after another. We fished there for several hours, and were always in sight of at least a half dozen pods, not to mention the scattered singles. Since it was dead calm, it was the best and worst of conditions. We would get within 80-90 feet of a pod, only to have them disappear -- after obviously detecting our presence. Bruce managed to get off several perfect casts after adjusting to the demanding conditions, but the reds just didn't see his fly. Switching from an unweighted Mother's Day Fly to a spoon fly, and then to a weighted Mother's Day, Bruce finally got their attention, and picked up his first redfish fly fishing from a boat -- a fine 26-inch fish.
Some of you have heard me say this before, but it certainly bears repeating from time to time: Most people don't realize how difficult it is to get a tailing redfish to see your fly. Accustomed to fishing in coldwater fisheries, or in deeper, clearer water for bonefish, most newcomers cast the fly several feet away from the redfish, thinking that they'll see it. One of things I say over and over again is, "Cast again, he'll never see the fly that far away."
Tailing redfish rarely see a fly more than two feet away in only a foot of water. Why? The water is so shallow that the sight window is small; and furthermore, the fish is looking down.
It's common to think that the redfish isn't interested in your fly if he doesn't react. If he hasn't seen the boat or you -- a big "if" -- a redfish will almost always take a fly that isn't approaching, or "ambushing" him. In 95% of cases, if the redfish hasn't reacted, he hasn't seen the fly. If he reacts negatively, it's either because 1) he's already "turned" -- that is, already seen you and ceased his foraging, or 2) the fly has "ambushed" him.
So, if a redfish reacts negatively, blame the fly as only a last resort. But don't stop there: If he reacts positively, credit the fly only as a last resort.A Lower Laguna redfish is opportunistic, and will take any reasonable fly if it is presented well. This fishery is not like a coldwater fishery, where you have to figure out what they're feeding on, and then imitate it. Redfish may be eating shrimp or crabs because there are a lot of them around, but they will usually eat your fly, even if it doesn't resemble the current food source. Indeed, a redfish will almost always react positively to a fly whenever he hasn't detected your presence first, or been offended by your fly's behavior.
If you have to blame or credit something, then examine your approach first. If you do, you will improve. If you don't, you will learn nothing in the process of blaming a perfectly good fly.
This isn't always true, of course. But it's best formula I've found for explaining the success and failure of Lower Laguna fly fishers.
After the wind came up at midday, the tails disappeared, so Bruce and
I checked out some other venues, covering quite a few miles in the process. But we never encountered the numbers of visible fish that characterized the morning venues. Looking back, Saturday provided Bruce practice for an even better day.
We planned to head straight for the same area the next morning, but came upon so many reds on the way that we had to stop. Again, the dead calm conditions made it nearly impossible for us to approach them from the boat, so we waded. Bruce asked me to join him (sometimes I do, if the client is an experienced angler who doesn't need my assistance), so I grabbed my seven-weight and stepped into the 65 degree water in my lightweight Simms waders. After landing a 26-inch red, we decided to leave the fish and continue our journey northward. We planed over miles and miles of empty water, but when we reached the place we'd fished the day before, we began to see fish fleeing from our intrusion. I hastily shut down on the edge of the fish, and let the water settle. Again, singles and pods of tailing redfish popped up as far as we could see. Poling Bruce downwind in only 5 mph wind provided dozens of classic shots from the boat. Bruce picked up two more reds on a Mother's Day fly before the slight wind put the fish down.
I decided to head south for about 15 miles to fish along the Atascosa Refuge shoreline; but on second thought, I swung by a flat that has been hosting big reds when the water depth and temperature has been "just right." We moved some fish as we planed onto the flat, so I looped upwind, and shut down in water that was so shallow that we had to get off the boat to float it downwind into slightly deeper water. Suddenly, we began seeing singles and doubles waking toward us in the 9-10 inch water. Bruce got off the boat and began stalking reds on a flat that was as firm as a sidewalk, and vast in its dimensions. It was a fly fisher's dream -- not a boat within miles, and redfish cruising in less than a foot of water on an easily wadeable flat. After Bruce had caught two reds in the 24-26 inch range on a chartreuse Mother's Day fly, I hiked a hundred yards off to one side, and proceeded to fly fish alongside him. I was totally out of practice, and made missed three shots at very large fish. (Hey, I didn't blame the fly, did I?) Finally, I hooked a 28-red, which fought so hard that it took me about 20 minutes to land him. Bruce yelled over, "Is that rod a five weight?" I smiled wryly. "These fish are strong this time of year." The fly popped out of the big red's mouth as I reached to land him, but I managed to grab him by the tail as he tried to swim away! Lifting him briefly out of the water to measure him, and for Bruce to see, I released him again.
Not to be upstaged, Bruce topped off the day with hooking a 28 1/2-inch red that had been tailing about 30 feet away from us. The big fish proceeded to run about 75 yards straight out, surprising Bruce with its power. It was my turn to needle him: "Something wrong with that rod," I inquired? About 20 minutes later, we photographed the fat redfish, and released it. It showed no signs of fatigue after the spirited battle.
Bruce stayed in his waders all day, since it rained lightly off and on. After changing in and out of mine, I finally settled for wading wet by afternoon. While the day started in the 60s, the late afternon temperature rose into the 70s, and the water exceeded 70 degrees by the time the sun set. It felt like springtime. We headed in just before dark, declaring the two days "perfect" in every way.
It was about as good as it gets.


12/3/03 From Saturday the 30th through today, the fly fishing has been "as good as it gets" on the Lower Laguna Madre.
On the Wednesday before Thanksgiving, Gordon Winfree from Oregon called, saying
that he was in Houston, and wanted to fish. He'd fished for redfish in the Mosquito Lagoon of Florida, but had not caught his first red, yet. Since Kathy and I were free, we told him to come on down. Gordon arrived Friday evening for Saturday and Sunday fishing.
We left the dock at 6:30 -- our regular departure this time of year. Bundled in every piece of warm clothing we could get our hands on, we topped off the layering with our waders. It was only in the upper forties, but at 30 mph, 47 degrees feels like 20.
As I feared, there wasn't a fish on the flats yet. I told Gordon that we had to burn some time, rather than to run around burning gas, looking for a miracle. It was windless, without a cloud in the sky. "It's going to get better," I predicted. And, fortunately, I was right. We found fish after lunch --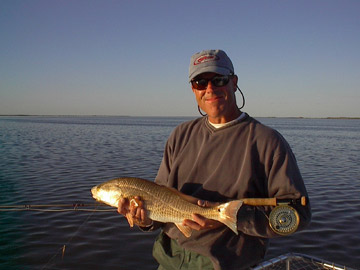 tailing and cruising -- on a shallow, firm flat near Mansfield that was occupied only by two other wading fly fishers. Having never caught his first red on a fly, Gordon was understandably intense in his quest. The conditions couldn't have been more challenging: 12 inches of dead calm water. We waded into the area, and looked for his first targets. The wind had risen to about 12 mph, but the glassy conditions prevailed. After presenting fruitlessly to a couple of single reds, Gordon spotted a big red out of the water, back and all, about 50 yards upwind. "Do you think it's worth it to go after that one?" Gordon asked. "It's always worth it," I answered, "but you might not catch him." Gordon headed toward the fish, and I secretly regretted encouraging him to go after an upwind target. But after a few minutes, he managed to place the Mother's Day fly in front of the red, and hooked up on his first of 13 redfish taken on a fly during two days of fishing.
After breaking the ice, Gordon got better and better at the game. Landing three reds on Saturday, he went on to land 10 reds on Sunday -- all by sight casting Mother's Day flies and spoon flies from the poled Curlew. Sunday was a perfect day fly fishing day -- much warmer and sunnier than the day before. We stayed out til almost 5:00, and the fishing only improved as the sun descended. By the time we stopped, the wind was up to about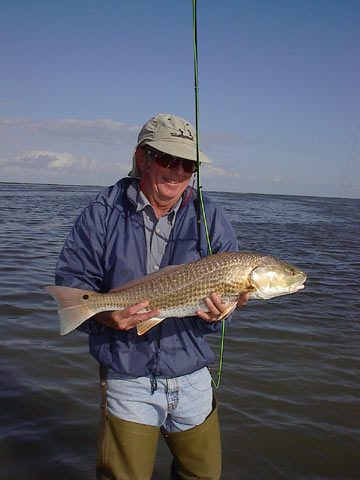 15 mph, but the reds were streaming upwind onto a vast flat, tailing as they came. Gordon distinguished himself by making two successful crosswind back-hand casts to retreating redfish at about 50 feet. It was impressive casting.
On Monday, I guided an old client, Jim Posgate from Kerrville, who owns a place on the Arroyo. He had a friend, Bob, visiting from Alaska, who had never been fly fishing on the LLM. So we went out at 6:30, and headed toward the most productive spot we've found in the past two weeks. Shutting the motor down on a glassy flat, we were immediately rewarded by the sight of tailing reds. Jim went off on his own, while I accompanied Bob. I think Jim caught four reds on a chartreuse Mother's Day Fly before we left that spot.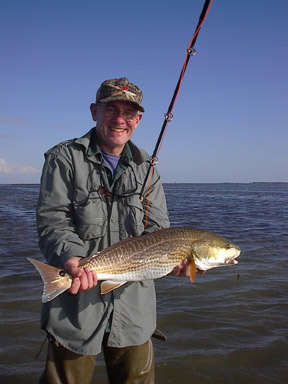 Meanwhile, Bob was able to stalk and catch his first redfish on a pink VIP. Eventually, the wind came up a bit, so we headed to a spot that tends to remain glassy, even in moderate winds. The tailing action was even better there. Jim went on the land two more reds, and Bob missed one and broke off on another.
It was after midday, and privately I thought the fishing was over. The wind had come up, and the tailing action had stopped. But since the guys had opted for a full day, I suggested we head east and south, and check out some areas that I'd not fished in several weeks.
After ascertaining that the white sand was devoid of fish, we stopped in an area near Rattlesnake Island, and got out to wade downwind. I suggested that perhaps the reds would be cruising upwind and tailing as they went, but frankly I wasn't optimistic. Unwilling to commit to a long wade, we sat on the boat, just watching for tails.
Against the glare of the descending sun, the first redfish tail popped up. Heading upwind, the red was obviously grubbing on the grassy bottom, and would occasionally explode on some invisible morsel. Jim jumped out of the boat, and headed crosswind, finally getting into position to present his Mother's Day fly to the orange tail. Minutes later, he landed the redfish, and then quickly caught another.
Other tails began to pop up, and Bob finally got into the action. As he closed in on his first tailing red, Jim and I couldn't help advising him in every way conceivable way. "Get closer! Reposition your fly! Don't let him get upwind!" we yelled. Finally, Bob hooked up on a 27-inch red -- the largest redfish landed all day. Jim and I broke into loud cheers and applause. As I went up to help Bob land the fish, I said, with tongue in cheek, "The advice paid off, didn't it." He smiled wryly and said, "I couldn't have done it without all the help."
On Tuesday, Kathy and I double guided, using Joe MacKay's Curlew along with our
own boat. She guided Seattle Mariners' hitting coach, Terry Pollreisz from Arizona, while I guided Chris Jarvis from New Mexico and his buddy Keith from California. We headed to the same area where we've been finding abundant tailing redfish. The tailing action was a bit sparse for us, but Kathy and Terry were surrounded by tailing fish. Less fortunate, we went north, where we found tailing pods up against a bank near the Intracoastal. Keith opted to stay behind while Chris and I approached two pods of frolicking redfish. Spooking the first pod, we went onto the second, where Chris missed a strike on the Mother's Day fly. We'd all but forgotten Keith when suddenly he yelled at us. Easing along behind us, he managed to present his pink VIP to a cruising 27-inch red, which promptly ate it. I ran back for photos, while Chris successfully stalked his first (and second) redfish.
While we were catching redfish along the spoil island shoreline, Kathy and Terry were stalking reds that were tailing in the open waters. Terry landed his first redfish on a Mother's Day fly. We headed for the same area, where we joined them for lunch. Sharing stories about their first reds on a fly, the three men were obviously very happy with the way the day was unfolding.
Predictably, the redfish began to come onto the flats in greater numbers by early afternoon. Returning to a spot where there'd been nothing earlier, we encountered abundant redfish. Poling downwind, we encountered dozens of redfish -- alone or in small pods -- heading upwind toward the shallowest waters. Keith opted to wade, while Chris remained on the boat. He went on to land a total of eight redfish before the day was over, using a weighted Mother's Day fly, and a spoon fly. Terry finished the day by landing his second red from the boat.
Kathy guided Terry again today, while I went off to teach class at UT Pan American. Terry's wife Sheila went along for the ride and provided Kathy and Terry with a third set of eyes for spotting the cruising and tailing fish. No sooner had they stopped and began readying the gear, than Sheila got her first glimpse of a tailing redfish. Terry was off in hot pursuit but with glassy conditions the fishing was techinically challenging. The fish spooked on Terry's approach. By the end of the morning, Terry had missed several reds on the take. But the action was exciting nonetheless. Terry frequently remarked with a broad smile, "This is some kind of fun." Midday the group returned to the dock for a short break. Terry and Kathy then returned to the waters around 2:30. For some time the fish were difficult to find. But by 4:30 they were into fish, so much so that they were unaware of the quickly setting sun. They returned in the dark by cue beam, much to the chagrin of our worried neighbor Rex and our son Pete. However their efforts paid off. Terry scored again, and summed it up by saying that with a few more days of fishing, he'd "have it down." We hope to see him and his wife Sheila back down here for a few more innings with those tailing reds.
I can't say enough about the quality of the fly fishing we've had in the last month, but I suppose I've said enough.
11/25/03 The fishing has been superb, since the tides have fallen to the lowest levels since August. Although we've had several cold fronts in the last few weeks, the fishing in between has been "story book." Last Thursday, for instance, I guided regular Kingfisher guests, Bill Renfro and Joe Browning, for just half a day, since I had to go teach college that evening. The day dawned windless and cloudless, a perfect day for sight casting on the LLM. We ducked into a west side venue, and spotted a large tailing pod three hundred yards from where we stopped. So I poled the guys toward the pod, which was driving shrimp in our general direction. The reds were coming out of the water, tails and backs showing, as the shrimp skipped ahead of them. Even though it was dead calm, the laughing gulls were doing their best to hold their positions over the reds, and to scramble after the fleeing shrimp.
The pod managed to get by Bill and Joe, but after continuing for another 100 yards, it swept around and gave Bill some great shots. Hooking up twice, Bill was disappointed when both reds promptly came off. I find that this is a typical result when casting to a tailing pod: The reds are so competitive that they slash at the fly, rather than taking it deeply. This often results in poor hookups.
We headed to another spot, where we spent the rest of the day. After I brought the Curlew off plane in about 15 inches of water, individual tailing reds, and tailing pods, appeared all around us. Bill grabbed his rod and bid us adieu. Meanwhile, I began to pole Joe toward shot after shot at heartstopping action. It was often hard to decide which fish to target: there were so many tails. Joe had never been poled, so it was a learning experience for him. Even so, he caught his first red from a poled skiff on a Mother's Day Fly, and announced that it was, after all, great fun!
Bill kept us apprised us his successes via walkie talkie. Before we had to head in, he had landed four reds on a Mother's Day Fly up to 26 inches long. He said it was the best fishing he'd had all year.

On Friday and Saturday, we hosted Britton Cooper from Dallas, and his buddy Alex Maher from Jackson Hole. Both were very experienced fly fishers, and put their experience to work in a venue that was totally new to Alex. The guys casted to tails each morning, and then stalked cruising reds near the East Cut. It was a great weekend for them, and it was rewarding for me to see Alex catch his first reds on a fly, and to see Britton enjoying the kind of sight casting that uniquely characterizes the Lower Laguna.
Today, I guided two Scots (one "t") -- Doug Black, who now lives in Houston, and his childhood buddy Angelo. Neither had ever caught a redfish on a fly, but both men succeeded with apparent ease. Although the nighttime temperatures had dipped into the mid-40s, we found tailing reds in shallow water by 9:00. Angelo caught his first red on a pink VIP after the tailing fish hit the fly three times.
A while later, I poled Doug in an area where he enjoyed a 15-20 shots at very big reds while the sun was shining. It was amazing to see one red after another from 25-30 inches long. After the clouds ruined that action, Doug rolled with the change by tying on a silver spoonfly, and waded the same area. He came up with this nice 25+" red, and followed it up with another a few minutes later.
We're beginning to see the big trout that we targeted last winter. I expect they'll be in the same area that they were in last year. I'll certainly keep you abreast of that action.
11/13/03 It's been a challenging fishing week, with some stellar exceptions -- like yesterday when Jim Shulin -- the new Springbrook/Temple Fork representative -- joined me on the water for a few hours. We went out at daybreak, and checked a couple of west side venues. the day felt promising, with low wind, and a cloudless sky. We ran into a school of reds at one spot, so we got out and waded toward them, hoping that they'd stick around and show themselves. But they slipped away, leaving only a pods of their buddies tailing against a shoreline. I called Jim over, hoping to orchestrate a double hookup on our VIPs, but when we cast into the tails, all of the reds went after my fly. At least three reds competed for the fly, missing it twice before one grabbed it...and I broke off! (I do it, too, more often than I care to admit.)
We went further north, and saw plenty of wakes in dead calm water before we finally stopped in an area that was shallow enough to see them tail, if they we so inclined. They weren't. However, we began to get shots from the boat. So I poled Jim for awhile. He caught his firsst red on a popper when a red took his VIP only 15 feet from the boat. Then I suggested that he switch to a subsurface fly, to keep the reds from looking up and seeing the boat. He put on a cactus shrimp that had a weedguard that was so stiff it could have doubled as a fence post. I didn't know the guard was so stiff, but after two red tried to eat it unsuccessfully, we inspected the fly and declared the weedguard to be a fishguard.
We moved to a new spot when the water became too murky, and decided to fish together from the boat. Since I'm left handed, I got on one end, and Jim casted from the other. We proceeded to get about 40 shots at singles and podding reds that would suddenly appear 20 feet from the boat in the murky water, giving us only one quick cast before they'd spook. We managed to land three more reds up to 24 1/2" long before we had to go in at 11:30 am.
Monday and Tuesday looked promising, too, but a combination of the wrong wind (northeast wind blowing us into the sun) and scarce fish resulted in little luck finding or catching fish with Mike Hurst and Bob Sigsby from the Montgomery County Fly Fishers. Before that, we hosted Bill Huegle, Tom Reese and Gary Tatum from the Piney Woods Fly Fishers. Hailing from the Lufkin area, Bill and his buddies were the hardiest, most gung-ho group of fly fishers we've hosted in some time. We had wind, we had rain, and we had the worst wading conditions imaginable. But they had a wonderful time, and we did, too, getting to know them. On Friday afternoon, we lucked into some pods of reds working shrimp under birds. The guys landed three fine redfish that took Mother's Day Flies without hesitation.
11/4/03 We've been on the water almost every day for the last two weeks. On Saturday, I guided Jim Miller and his son Greg. Jim had fished with me about two weeks earlier, and wanted to give his son the experience of fly fishing on the LLM. It was a tough day -- not much sun, and a lot of wind. Still, both anglers managed to hook up in sizeable reds. Here's a photo of Jim with a red that he caught on a chartreuse VIP, after breaking off minutes earlier on another fish.
On Sunday, I guided Bill Collins from San Antonio. His wife Marian accompanied us in our quest. At daybreak, the conditions were so bad, however, that after only 30 minutes of fishing in overcast, windy conditions, I offered to take them in and not charge them for the day. We almost pulled the plug, but just at the last minute, the clouds began to break up. So we stuck it out. Thank goodness, because it turned out to be a wonderful day for fishing and for catching.
The sun came out, and the clouds burned off, even though the wind picked up to about 18-20 mph before the end of the day. We found abundant redfish where I'd found them for the last two weeks. I began poling through the area -- along a long bank where the water was shallow enough and clear enough to see the fish. After poling for only about 100 yards, we ran into a pod of about 15 reds that were frolicking around, chasing shrimp. I suggested that we wade into them, since it would give Bill a chance to get close without spooking them. It was to get close enough to the pod, because the fish were highly mobile, turning this way and that. The fly always seemed to land a foot short of the pod. At one point, I finally said to Bill: "You have to be aggressive. You have to get close to these fish real soon or they're going to be gone." We doubled our pace, until the reds were only about 40 feet away. Bill placed the Mother's Day Fly in the middle of the fish, and one rose to it without hesitation.
Bill went on to land two more reds in the 24-25" range -- quite an accomplishment for a fly fisher who is still new to sight casting to reds.
On Monday, I had the pleasure of guiding Mo Alei from New Mexico. Mo is one of those people who appreciates everything, and complains about nothing. So let me say it: We had a difficult day. The sun would peek out, and then the clouds would pass over, and block the rays. We saw lots of reds, but most of them were heading in the other direction by the time we cold spot them. Mo had the most difficult of tasks, but he continually enjoyed the challenge.
On Tuesday, I was scheduled to guide Mo again. The day proved to be a perfect sight casting day, with low wind and a cloudless sky. I was eager to show Mo what could happen under better conditions. But unfortunately, he had developed some symptoms in the night that needed medical attention, and so we had to cancel the day. We surely hope that he and Elaine can come back to Kingfisher soon.
Kathy and I decided to go out a while -- to scout for her Wednesday and Thursday charters, and to wet a line, too. We went back north, and found the redfish in the same places. While the sun was still low on the horizon, I fished a long bank and had several shots at very large reds that were cruising along the shoreline with their backs out of the water. After breaking off on one, I landed a 28 3/4" red on an orange VIP. Meanwhile, Kathy targeted tailing and podding redfish from aboard the drifting Curlew. We went on to land nine reds and a sheepshead between us -- sight casting in knee-deep water under full sunshine. The reds were everywhere, and we could have easily caught that many more. But we're easily satisfied, so we went in at midday.
Here's Kathy with one of the reds that we caught.
The tides are still very high, which it typical for this time of year. Most of the action has been on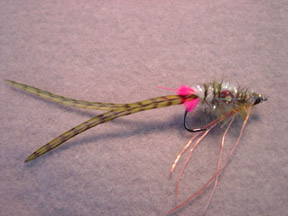 the west side where the shrimp are thick. We've done really well on VIPs -- and on Mother's Day Flies, tied with glass eyes (shown), so they'll sink a bit faster in the unusually high water.
10/29/03 When the cold front came through early Monday morning, it was hard for me to believe that Tuesday would be a good fly fishing day, even though the weather service predicted low wind and sunny conditions. It was so hard to believe, in fact, that four out of six of our guided/lodging guests opted to leave early to return the west coast. They had stayed over
after the weekend IWFF festival, and had hoped to get some fishing in. Well, if they would have stayed, they would have seen some finest fishing anywhere. That's what Jerome and Judith Moiso discovered by sticking it out until Tuesday.
We left the dock at daybreak, and were layered with fleece and Gore-Tex and gloves, which eventually came off as the sun rose. It was crystal clear, and bit breezier than had been predicted. After checking out four different venues, we arrived at one of my favorite west-side spots about 10:00. The sun was high enough to see the fish, and so I poled June and Jerome down a long bank, hoping to get a few shots. It was so good there, that we ended up poling through the same area four times, and landing seven reds! The Californians were seasoned fly fishers, but totally inexperienced in pure sight casting. They adjusted quickly to the demands of the game, however. Indeed, Judith made one of the most beautiful 60-foot crosswind casts to a retreating redfish that I've ever seen. (She caught him, of course.)
Finally, the mullet streamed in and muddied up the water, so we headed elsewhere -- to a place I haven't fished much since late summer. There were so many redfish there that we had constant cruising and tailing redfish in sight for about two and a half hours! These were bigger fish, on average -- in the 25+ range -- and they were on the move, so it was tougher fishing. June and Jerome managed to land another fish apiece, but lost a couple more, as well. Finally, the declining angle of the sun defeated us, and we headed in after a perfect day on the water -- nine reds ranging from 22-25 inches, all caught on Mother's Day Flies all tied with glass eyes to aid in their sink rate.
I ran into a regular client from Austin, Vince Wiseman, who was staying elsewhere with a friend (no room at Kingfisher). They had found some especially large reds, and had landed six over 27 inches. So, you see, the bay is back to where it usually is this time of year -- harboring abundant redfish, and big ones to boot. The trout are hard to find, but we'll begin to see them in early December.
10/26/03 Last Friday, I had the privilege of guiding Gary Graham, owner with his wife Yvonne (who is also the president of the International Women Fly Fishers) of "Baja on the Fly" -- a destination fly fishing operation on the Baja peninsula. Gary and I were on the old Curlew, and Kathy and her client Odette -- a IWFF member from California -- were fishing on the new Curlew.
After conferring at breakfast about where to go, Kathy decided to pursue the "sure bet" -- a
place where we'd been finding some large reds in very shallow conditions. I decided to duck into a couple of places that haven't been fishing well, but are usually superior venues this time of year.
Gary and I came off of plane in an area where the water had dropped a foot in the past week. It was dead calm. As usual, I climbed up on the poling platform to pole Gary around until, at least, we ascertained that there were fish in the area. I climbed up on the platform, took a good look around, and realized that there redfish everywhere! Within 50 yards of the boat, there were several small pods of reds, and I could see reds breaking and tailing in every direction, even though the morning light limited my sight.
I called Kathy on the cell phone and urged her to bring Odette into the area. Minutes later, she came off plane 200 yards away from us. For the next seven hours, both of us remained in that one spot!
We decided to have Gary stay aboard the boat for awhile, but it was pure chaos. There were simply too many targets to settle down and get focused. So I suggested we get off the boat and do it right -- lower our profile and use topwaters to attract the fish in the calm conditions.
Shrimp were hopping all around us, and the reds were zooming by, chasing and slurping up the skipping shrimp. As soon as Gary would cast, the redfish would be elsewhere -- so it was especially hard to get the fly in front of the fish. Knowing that Gary was an expert fly fisher, I left him pretty much alone so he could get the feel of the situation. After a while, he landed his first of four reds, ranging from 24 to 26 inches apiece.
All but one of the reds were taken on a chartreuse VIP. It was heart-stopping action, and not easy at all. In spite of all of the reds, there was a lot of grass, and the water was very shallow, so it was hard to get the reds to see the fly. In spite of these obstacles, Gary managed to present to dozens of tailing and cruising reds over the next few hours. I think his back must be bruised from my excited backslapping over strikes, misses and hooked fish. There was one particularly memorable encounter where a 26-inch red was swimming right for us. Gary presented the fly about two feet ahead of him, and the red slowly rose to the popper, turned sideways, and eyed the fly from only inches away. Then wham! He hit it...and missed. Gary kept stripping the fly, and wham! The red came out of the water and slammed it again. Still no hookup. I was yelling something useless by then. And then, the red lunged forward, only 20 feet from us, and took the fly. We were both screaming by then.
Meanwhile, Kathy and Odette stayed in one general area for about four hours, and only moved about 100 yards during that time. Using a Mother's Day Fly, Odette -- who had fished the previous two days with Kathy -- landed four reds, lost a couple of more, and broke off on a very big one. She said it was one of the finest fishing experiences she'd ever had -- and she has fly fished around the world.
On Saturday, I had the pleasure to guiding three former clients from this area -- Bob Simpson, Charles Clarke, and Jim Miller. Bob is a regular TIFT contestant each year, and usually places in the top three -- so he's one of the best fly fishers in the area. However, the day was a poor weather day for fly fishing. I didn't have very high hopes as we left the dock on a windy, cloudy morning.
Of course, we headed straight for the spot where Kathy and I had fished our clients the previous day. The reds were clearly present. Indeed, we ran smack into a school that swept away from us as we shut down. Bob and Charles took off in two directions, and I accompanied Jim toward the bank where we'd caught most of the reds on Friday.
Pods and singles were tailing intermittently in the wind, and terns were constantly diving on the shrimp. The disturbances from the birds made it difficult to keep the fish action in view. Jim said later, "I've seen more tails this morning than I've seen all my life," so it was exciting action. Charles and Bob encountered numerous reds that would suddenly appear a few feet away and then disappear. Bob managed to catch only one 26" red before we left. Cloudy conditions argued for a change of venues, but I planned to return later.
After 40 miles of largely fruitless searching -- including a brief stint on the Mansfield east cut -- we returned to the first venue. The 20 mph wind had completely eliminated the water clarity, but we did find a small area of clear water. So we fished there. Bob pulled out the stops and landed four more reds, and lost a couple of more. As I said to him later, "You did amazingly well for such a poor day." It says a lot about the angler, and it says a lot about how the reds have returned to their familiar autumn haunts. We look forward to some "story-book" fishing this fall.


10/21/03 The fish are still spread out and hard to find, but this morning John Kautsch -- and his son Curt and friend Greg -- saw some quality sight casting to a few sizeable fish. We fished
on the west side exclusively, in several venues. Although the tides are continuing to drop, we were able to fish an area that few anglers have ever fished before -- very remote and off the beaten path. The guys spread out and managed to get a few classic shots apiece. John enticed this hefty red with a red and white Deceiver, and his son Curt broke off on the strike (the hook broke!) with a huge red that was in bootie-deep water. Meanwhile, Greg casted to a big red that was cruising among some vegetation, and had a big ladyfish grab the fly. Later, he followed three reds upwind in 9 inches of water, but never could get close enough to present his fly. If you like hunting, the fishing has been great. The bay is still recovering from all the rain and the flood tides. As yet, the fall podding action has not begun, but we can expect it to commence any day now. Places that have been too deep and murky to fly fish will suddenly host huge numbers of reds sweeping around like folk dancers with arms entwined.
10/20/03 The bay is fishing better every day. The tide in the Arroyo has dropped several inches since yesterday, and the north winds are dying down. Guiding Ian, Eddie (the rod eater in the photo), and Dave for third last of three days (Kim went to the Beach), we left at dawn and headed south from the mouth of the Arroyo, to check some spots that I hadn't visited in a while. Planing through some of the shallowest water in the Bay, we came upon some mud boils and pushes that indicated the presence of redfish or sheepshead, or both. The low light made it hard to identify them, so we stopped and poled a bit. After seeing a couple of redfish tailing, we piled out and spread out in three directions. For the next three hours, the guys stalked reds that were skirting the shallowest edges of grassy "islands". It was the kind of "hunting" that experienced fly fishers love. For instance, Eddie stalked one red for half an hour without catching him, and then pursued another for 20 minutes before catching him. It's hard to explain to someone "back home"how catching one fish can make your day, but as Eddie said, "If it were easy, I wouldn't want to do it." He and Ian both caught fine fish, as you can see. Dave, who was new to the LLM, had some heart-stopping close encounters with tailing reds, with me beside him, but the reds did not see the fly. In the interest of getting Dave his first red, we headed for a bank where we'd seen several reds yesterday; and the reds were lined up for him. With Ian and Eddie and the guide shouting advice, I'm not sure he had much of a chance. But to his credit, he casted to one red after another, finally getting one to go head down on his fly. But darn, it spooked from our intrusion just before he ate the fly. Trying to make the best of it, I said to Dave, "Now you have something to dream about."
10/18/03 We had a cold front blow through this morning, so my expectations were not high for the day. Kathy and I co-guided some old clients -- Ian Hoffman and Eddie Moore -- from
California and New Mexico, who came down to celebrate the Eddie's recent marriage to Kim, and introduce their buddy Dave from North Carolina to the LLM. Using Joe MacKay's Curlew (our "old" one) and our new one, we caravaned from place to place, and covered a lot of water.
As you may know, the rainwater runoff has been unprecedented in the recent history, and we're still seeing a lot of discolored water on the west side of the Bay. Today, I put some on my tongue and could not taste the salt! You guys from Rockport north are used to not seeing the bottom, but it gives me a mild case of clinical depression to fish in murky water. Even so, we went out and gave it our best. Fortunately, we found a few fish west and east. Ian, who gave Eddie and Kim the trip for their wedding present, ended up catching all of the few fish that were landed. Ian caught this 28 1/2" red on a Mother's Day fly. It was alone in bootie-deep water in a remote west-side venue, which is usually dry, or moist at best. Check the color of the water! Lime yuck, but the fish didn't seem to mind.
We're heading north tomorrow to see what the East Cut has to offer. The weather is supposed to improve daily for the next week, so we're looking forward to some great fishing.
10/17/03 Sorry that I haven't updated the report lately. I spilled coffee on my keyboard a few days ago, and it was like having my hands cut off.
We've been dealing with tremendous rainwater runoff, resulting in high, off-colored water on the west side. I fished three days last weekend, and it was tough to find visible fish. They weren't on the sand, and they weren't in my usual favorite west-side venues. So I went north again, all the way to the Land Cut on Saturday. We found fish, but it was a pricey excursion: The trip back south was a bone-jarring ride with a strong east wind across the box. Meanwhile, Austinites Henry Bone and Jason Gusosky wisely fished closer to the Arroyo, and found some reds on the west side. We went back here on Sunday, and there weren't any fish to be found. A disappointing weekend, overall.
Kathy and I scouted yesterday for only an hour or so, in between other obligations, and we found a lot of fish out east. Today, I went back out to scout, in preparation for our upcoming charters. David Rice from North Carolina came in last night for a weekend of fishing with three friends, so I invited him to accompany me on my scouting (and fishing) foray.
We found some reds in shallow water -- singles with backs and tails out of the water. After getting some shots from the boat, I suggested that we wade into them. Both of us got some opportunities, and I finally caught a nice 24 inch red before we decided to leave the area, and scout elsewhere. We headed east, and it was a full mile from the Intracoastal before the rainwater-discolored water gave way to the usual clear conditions of the east side. We didn't see much until we reached the Padre Island shelf, and turned south. Then we began to see a few reds, and some big trout mixed in with tons of sheepshead and ladyfish. I poled David through one of my favorite mangrove-lined areas, where he got two classic shots at large reds on the white sand. Then, after seeing some big trout a bit further south, we got out of the boat, and waded toward Padre Island with the afternoon sun behind us. It was stunningly beautiful out there -- crystal clear water and full sunshine. I'm sure we would have gotten some shots at those big trout if we could have stayed out longer, but we had to head in to meet his buddies. As I brought the boat over the David, I saw a giant trout only 80 feet from him. Apparently, I arrived a bit too soon.
Fishing is definitely looking up. With low to mosderate winds this weekend and beyond, and sunny conditions, we should do quite well. I'll let you know, as I can find the time!
10/8/03 I am pleased to say that the tides are returning to normal levels, and that fishing has improved already. Yesterday, I guided Spencer Gaille of Laguna Vista. Spencer is a member of the LMFFA (of which I have been recently elected president), and is one of the most dedicated fly fishers I've ever met. We started off on the west side, as usual, and arrived at our first venue before the sun was above the horizon. As we looked toward the eastern sky, we could see the darting wakes of redfish along a shallow shoreline, so we shut down and began poling the Curlew back against a slight wind, since the reds were streaming downwind along the shoreline.
Several shots later, we turned the boat around, and began to pole downwind. For different reasons, Spencer and I were both clearly relieved to be moving downwind. We headed for a grassline, where we soon spotted a red rolling in the shallows. His back caught the first rays of the day and flashed golden in the sunlight. Spencer made a masterful cast and hooked the red briefly before the fish threw the spoon fly. Minutes later, however, he casted to another and hooked up on this pretty 26 1/2" red, that we photographed and released.
We should have stayed there, but I was eager to check other places, and so we headed north, eventually reaching the East Cut. Fellow guide Eric Glass was in my favorite spot -- darn -- so we tried some other spots. (Of course, all of the fish were in my favorite spot.) After catching a few trout, and no reds, we headed back south along the edges of a storm. After the storm passed by, the wind died completely, revealing a huge herd of reds that were in our path. I shut down, and poled toward them. Their bodies flashed in the muted light, and every once in a while, a couple of them would surface, even though the water was about three feet deep. Spencer opted to wade toward them, but before he could cast to them, the wind came back and obscured their subtle surface disturbances. So, with dreams fading into reality, we left for home.
Things are looking up for the weekend and beyond, as long as the showers that we've been having don't turn into another flood. So far the runoff is slight, and the tides look to be continuing to fall.
10/3/03 In a nutshell, the fishing has been very difficult for about two weeks now, but it should be improving in the next few days. Not only have we had significant rainwater drainoff for the last 10 days, but we've had two other factors contributing to higher-than-usual tides: seasonal autumn tides (due to the sun's angle to the earth), and a strong onshore flow of wind and waves from Tropical Storm Danny.
I guided Geoff Groat (from South Carolina) and Geoff Griffiths (his brother in law from Houston) last weekend for three days. They are both advanced fly fishers, who have been fly fishing in saltwater for some time now. We started off on the west side each day, hoping to find tailing pods, which are common this time of year. But the water was so high that the fish -- even if they were there -- were not showing. I think we casted to one tailing red in one of my favorite lagoons. Then we headed north, found nothing on the white sand, and caught a few trout and a nice red near the East Cut. Then we went out into the Surf to see if the tarpon were feeding. We saw a few tarpon rolling, some black-tipped sharks tearing up bait near the beach, and schools of Spanish Mackerel all over the place. We stayed out there a while, and they caught a few mackerel before we headed back in.
On Saturday, we woke up to windy, cloudy conditions. After stopping off at the East Cut where the guys caught a redfish apiece, we headed north to the Land Cut area. It's a long ride, but I thought it would be worth the effort, since I've often found visible reds up that way, even in windy, cloudy conditions. They weren't there in any numbers, though. Both men missed a red apiece, and saw a few more from the boat. We explored some pretty remote areas, that were navigable due to the high water, and then headed back for the Arroyo. To and from, we checked every "hot spot" that we could, and they were as cold as ice. Too much water, and the fish were nowhere to be found. Finally, just before dark, we saw gulls working over a pod! The guys got out of the boat and waded down to the action, only to see the birds disperse just before they got there.
Sunday was a repeat of Saturday, except not as good. We got two shots -- only two! -- on the sand before we threw in the towel and headed in.
I try to tell you the bad news, along with the good, so you won't waste your time. We cancelled two trips this weekend, because the water is too high to see fish. The weather is wonderful, but we wanted our first-time clients to sight-cast to visible fish, and that's a rarity in tides that are two feet above normal. However, everything should be improving dramatically in the next few days. Once we have "only" the fall high tides, the fish should start podding up, and they'll often be easy to find under birds morning and evening. In between, we'll be on the sand, sight casting to individual cruisers.
9/22/03 It was a dramatic weekend, to say the least. The weather forecast called for mild north winds and some rain, and instead we got 11 inches of rain on Friday alone -- the most of any place in the area, if not the state. The roads were flooded, and the Arroyo looked like the Mississippi at flood stage. And we had three hapless California anglers arriving on Thursday night! What were the chances that we'd catch fish? I would have bet on a complete bust. But on Sunday afternoon, amid the upteenth shower, we fly fished in one spot for several hours and caught dozens of fish. Most of them were ladyfish, but still it was a well-deserved reward for our efforts.
We couldn't do anything on Friday, so Brett, Richard and Dick headed by car for South Padre Island, to make the best of things. As the storms subsided in the afternoon, I took the boat out for a look-see, and was stunned by the high water. I went almost all of the way to the Padre Island dunes, in water that was well over a foot deep. I planed over car tracks in the sand, and entered lagoons over what is normally dry land. I didn't see one game fish.
Even so, the guys were here, and we fished as we could. It was rainless (as opposed to "dry") early on Saturday, so we headed out. Dodging boards and bottles that were floating out to sea, we headed for a west-side venue that was unrecognizable in the high water. I planed the edges of the lagoon in water that was shallow enough to see fish, and was surprised to see the telltale signs of a small school of reds breaking up as we passed. We stopped and fished there for a while, hoping to score by casting to boils and swirls, but only two ladyfish were landed. At about 9:30, a squall line formed to the south, and began to head our way. When it was about 15 minutes from impact, I said, "I need your informed consent." Laying out the scenario of being blown away and soaked in minutes, I asked the guys if they wanted to keep fishing. "Yes!" was their unaminous reply, earning them my respect (and a clinical diagnosis, that I kept to myself, of course).
A few minutes later, the scuds passed overhead, and the wind -- that was blowing from the north -- abruptly reversed in direction. But we received very little rain, thankfully. A few minutes later, the wind came to a halt, creating a magical stillness that lasted all of a half hour before the north wind once again gained the upper hand.
Suffice to say, we ran all over the watery creation, only to land one red (i.e. the minor miracle of the day) and a couple of more ladyfish. The guys were pretty happy, causing me to wonder, continuously, about their sanity -- without complaining of course.
On the way back in, I ran out of gas about 200 yards from the house. We managed to make it to a neighbor's dock, thankfully. The guys carried their gear with them, and created quite a spectacle, I am sure, for the gawking passers by -- three fly fishers out on a Sunday stroll with rods in hand.
Sunday dawned fairly calm, and rainless. With a surge of optimism, we headed out again, hoping to find the mythical school of reds that had eluded us the previous day. But punctually at 9:30, an identical squall line formed in the south, and headed our way, looking uglier -- if possible -- than the storm the previous day. Holding off as long as we could, we finally dashed for the launch where Kathy met us with the trailer, to save us three more miles of boating to the lodge.
It rained another two inches from late morning to early p.m. I half expected the guys to get in their truck and head out. But as the rain subsided, we all suffered that strange, irrational piscatorial malady called optimism. So we took the boat back to the launch (fully fueled, of course) and headed for the lower Laguna.
We headed north toward the spot where Richard had caught the only red the day before. But as we planed past Green Island -- and just as we reached the farthest reach of the muddy Arroyo's runoff -- we spotted fish breaking in the Intracoastal. Shutting down and drifting down-current, we were greeted by the sight of fish tearing the water as far as we could see. Driving pilchards into the air, the fish were everywhere. "They're probably ladyfish, but the trout might be underneath," I suggested. After wading alongside the channel, and repositioning several times, we settled into having two of the guys cast from the walkway of an unoccupied fishing shack, while I staked the boat a few feet away, along the edge of the ICW.
We stayed there for at least four hours. It rained hard and long, but finally cleared again. Meanwhile, the guys were having a heyday hooking ladyfish almost every cast, and landing a nice trout every once in a while. At one point, a school of unidenfied large fish surfaced near the boat, and a few minutes later, Brett landed a red. So the channel was full of suprises, and the action never subsided. We just finally left to check out one of my favorite west-side venues for the possibility of redfish.
As the sun set, we came upon some big reds feeding along a bank that is so remote that -- I'm quite sure -- fewer than a half dozen people have fished in the last year. There weren't many fish along the bank, but every once in a while a big red would explode on baitfish, and then disappear again. The guys didn't catch any there, but the beauty of the setting sun over the Spanish Dagger seemed to be Nature's final reward for our persistence.
Brett, Richard and Dick -- You get the gold medal for sheer tenacity in the face of insurmountable (well, almost) odds. Too bad you're not Texans, because you'd fit right in down here.
9/17/03 Yesterday, I saw some of the most exciting redfish action I've seen in a year. I was guiding Dan Millis and Wayne Caywood from southern California, for the last day of their three-day trip. We returned to the place where we'd found widespread tailing redfish the previous morning. Skipper Ray accompanied us into the lagoon with his client, and we took up positions about 250
yards apart, and waited for the sun to rise. But it soon became clear that the reds were elsewhere. So we headed east, all of the way to the Padre Island shelf, hoping to find reds on the white sand. But they weren't there, either. It was already 8:30, and we hadn't seen our first game fish. Meanwhile, storms were forming east and west of us. It didn't bode well. So I headed back to the west side of the Lower Laguna, where Wayne did so well on Sunday (see reports below). The water had risen about an inch or so since then, making it possible to plane onto a flat that has remained, since last spring, out of reach. Spooking some big reds, I shut down and began poling downwind. Soon we spotted two stray reds, that remained just out of range, and moving away.
Scanning westward as far as I could see, I spotted the telltale signs of redfish blowing up on bait. It was hard to believe, because the water out there had to be no deeper than five or six inches (see above photo of Dan's exposed bootie). I poled as far as I could toward the action, and staked the boat. We tied on VIPs, and proceeded to wade the last 200 yards toward an area that was covered with plants rising above the barely flooded flat, and populated with reddish egrets that were dancing around the redfish, leaping into the air as the big fish drove the tiny baitfish ahead of them.
As Dan and Wayne moved into position, the backs of redfish started to appear, moving casually toward them. Both men were soon casting to reds that remained visible above the water at all times. Soon Dan hooked up on a 25-inch red that, fortunately, ran back toward the boat, leaving the feeding frenzy of his cohorts undisturbed. Both anglers proceeded to have shot after shot at reds that would come within a few feet of them before they'd shoot away. Clearly, the redfish weren't that bothered by the anglers: they were so intent on feeding that our presence seemed to be more of a nuisance than threat. It was difficult fly fishing -- only three 24-25 inch reds were actually landed -- because the water was so shallow that the fish could not see the fly unless it was less than a foot from them. The cast had to be surgically precise. Fortunately, the sound of the VIP helped compensate somewhat for the narrow sight window.
It took more than an hour for the anglers to offend the last redfish in the area. Both men agreed that they'd never fly fished in such shallow water.

9/15/03 The forecast called for 70% rain with widely scattered thunderstorms. After getting hammered yesterday, I was a bit weary of 40 mph winds and rain. But with a sunrise like this one, it's hard to feel pessimistic, even though I seem to recall something about "Red sky in morning..." So Dan and Wayne and I headed out, hoping for the best. Since it was overcast, we arrived at our first venue in the dark. "We got here early enough," I said, understating the obvious. We sat and drifted, hearing nothing and seeing nothing, until the muted light revealed a storm bearing down on us from the north. So we got up on plane and headed back toward the Arroyo. But on second thought, I knew of a spot near the mouth of the Arroyo that might be holding fish. "What's a little rain when you're close to home?" I thought. So I swung around and headed to a west-side lagoon known for its tailing and podding reds at sunrise.
It was blowing pretty badly, so we just drifted downwind into the lagoon, hoping for a miracle. The wind dimished as the storm passed us to the northwest, and suddenly I spotted a tail. It stayed up, so I urged Dan to hop off the boat and to wade up to it. Meanwhile, the wind came to a near-halt, and a tailing pod popped upon the other side of the boat. Wayne grabbed his rod, and headed off in hot pursuit. Minutes later, he hooked up. Dan, on the other hand, lost sight of his first red. But as the wind subsided, tails popped up all around as far as we could see. It was tough fishing, but Dan managed to land two reds on a spoon fly before the wind returned.
Another storm approached a while later, and we ran west, then south, and then headed homeward before it could leave us stranded again, like yesterday (see below).
9/14/03 I've guided three days in the past week, with a solid block of fall charters ahead of us. This weekend, we hosted a passel of old friends and new clients. Henry Bone brought Jeff Ferguson down from Austin, while Oscar Dupree -- an original member, with Henry, of the Scooter Society -- brought his business partner down from Wimberly. Meanwhile, Rockport developer Lewis Robinson showed up with Rev. Tom from West Yellowstone, while we hosted a new client-couple -- the Ellis's from Houston.
Before the crowd arrived, I scouted on Friday alone. Heading to the white sand about 5:00 p.m., I enjoyed classic sight casting along the edge of the Padre Island shelf. Hundreds of sheepshead were tailing on the sand, but every once in a while, a sautering red would part the waters, and head my way. It was intoxicating action. After catching one red, I hooked another within minutes. As he ran with the fly, the line wrapped around my hand and...the fly came free. I was pleased that it had not broken off, but I failed to see that the hook was just about straight. So, minutes later, I hooked a very large red that once again headed for the next county, only to throw the fly. It was then that I noticed that my hook looked more like a barbed needle than a fish hook.
I decided to check out another area before the sun set. I headed west, and poled into one of my favorite lagoons. The dead calm water against the setting sun was beautiful, but what caught my eye were the black tips of tails that kept popping up. "Sheepshead," I thought, with maybe a stray red mixed in. My mind was still in deep denial. Suddenly, a black tail the size of my hand appeared above the glassy water. It was a big trout! It fnally dawned on me, just as the sun was setting, that there were big trout tailing all around me.
I began to cast to one tail after another. The mullet would push outward toward the tails, and the trout would disappear, so I had to make long casts before the mullet messengers arrived. It was hard the get the trout to see my VIP, but two of them exploded on the popper, without getting hooked. Darkness descended, and I headed back to the boat. Such an encounter only happens once or twice a year. I was happy just to have seen them.
Saturday dawned, and again, Henry took top honors when it came to "catching." He was gracious enough not to reveal at the dinner table just how many reds ate his spoon fly, but he and Jeff were all grins from the reds they had caught. I guided Kipp Ellis and his wife Angela on Saturday, and we found fish in all the familiar places. Fishing within view of Henry and Jeff in one of our favorite west-side venues, I poled the Ellis's into several pods of tailing reds (yielding a hookup out of the first two pods) and then spent another couple of hours targeting individual cruisers and tailers in the same area.
On Saturday evening, as several of our guests were leaving, two gentlemen from southern California -- Dan and Wayne -- arrived for three days of fly fishing. Hailing from the Conejo Valley Fly Fishers -- a club that Kathy and spoke to last year during our six-club trip to southern California -- they arrived armed with ample saltwater fly fishing experience to handle the challenges of the lower Laguna. Indeed, they started off the day with Dan catching a red out of a tailing pod of about 30 fish, using a chartreuse VIP. A while later, Wayne caught three reds stalking individual fish that were cruising and blowing up on bait in less than 10 inches of water in a remote west-side venue. Here's a photo of a 26+" red that he caught on an orange VIP.
And then, about midday, we got nailed by an incredible thunder storm. Taking refuge under the overhang of one of the Intracoastal fishing houses, we barely escaped a 40-mph wind that swept through with the driving rain. It was wild. Dan said it was already one of the high points of their trip. "I've never seen a squall like that one," he exclaimed.
Tomorrow promises a dead calm morning. I expect the reds will be tailing in force in my favorite lagoons, and that new storms will be targeting hapless anglers. Stay tuned for more information.
9/7/03 Yesterday and today, I guided Joe O'Connor and Jason Gusoskey from Austin. We started off before dawn on Saturday, using the searchlight to find our way to a remote west-side venue where I like to fish in the autumn, when the tides are high. And they were high!
We came off plane in a foot of water that bordered a vast area that was only about 9-10 inches deep. There wasn't a boat within a mile of us. Since the sun was still below the horizon, the anglers used the stern light to tie on VIPs with weedguards. Slipping into the cool water, the guys headed toward the edge of the trough and into the shallow water, in wait of the reds that would, presumably, streaming off the super shallow water after the sun rose.
It's a bit early for tailing pods, but we did see a few small small groups. Joe headed off toward one, while Jason focused on single tailing reds. After both anglers had missed a couple of fish apiece, Joe managed to hook and land a hefty 27" red that we released. Meanwhile, Jason
broke off on one that swept under some submerged grass and broke the tippet.
The action subsided, so we moved over to where I thought the reds were heading. Sure enough, we saw reds feeding aggressively on a shallow flat, so the two anglers hiked through a gauntlet of sting rays to where the reds were blowing up and milling around in small groups. We hadn't been there for more than a few minutes when Joe hooked and landed another red, almost as large as his first. Meanwhile, Jason -- after some careful stalking, and spending a good part of an hour crouching low --finally got a 27" red, which was the largest he'd ever caught on a fly rod.
We fished the white sand later, which provided some great ladyfish and redfish action. I joined the guys with my fly rod, and managed to catch what I believe will be a new 12 lb. tippet IGFA record ladyfish. At an even 3 lbs., it almost spooled me on my eight weight.
On Sunday, we fished only a half day, but we hit several west side hot spots and found redfish wherever we went: but the fishing was not easy. Finally, at midday, we found two tailing pods, which were covorting in about 18 inches of water. It was beautiful to see -- the dark orange-brown tails waving, and the bronze bodies rolling on the surface. Transfixed, Joe and Jason waded up to the pod while I shouted advice. Casting their flies into the tails, there was...no response. The reds had their heads in the mud, and they never saw the flies! This is pretty typical. So they went on the next pod, and some great shots. But darn it, the fish failed to see the flies again. At that point, I picked the guys up and we began poling a bank where each of them finished the day with a fine red, both of which took the fly within 20 feet of the boat.
9/2/03 It's been over a week since I've updated this report. You may have wondered where we went! Nowhere, as usual, but it was a busy week, and thus difficult to get around to my usual duties. I have begun teaching two afternoons a week -- in the graduate counseling program at UTPA -- and the "prep" has taken a lot of my time in the past week. Still, Kathy and I have guided four days, and we've been out fishing for fun on one occasion. There's a lot of good news to report.
The tides slowly subsided after Tropical Storm Erica's passing, and then came up again as the latest tropical storm approached the Texas coast. Last Monday, while the water was still low, I guided local fly fisher Ryan Russell, who has fished with me before. Ryan is a veteran Lower Laguna spin angler, but has only recently taken up fly fishing. We'd been waiting for a "perfect" day, and Monday looked like the good candidate. We left before dawn and headed for an area where the reds have been streaming out of a trough onto the flats. We were not disappointed. Like clockwork, the reds began leaving the vicinity of a huge school of mullet and began their morning jaunt onto the grassy flat. We were waiting for them.
Back to Archived Reports
1/5/03 This morning, Kathy took out Kingfisher guest Claudeen Cowell, who is learning to cast for the first time. I went along to help Kathy with the boat chores, and to fish a bit. It was a perfect winter fly fishing day -- calm winds, temperature in the 70s and full sun. For the last two days, the tides have been the lowest we've seen since last January. We headed for an area far to the east of Three Islands that was "hot" last year at this time, and we weren't disappointed. After passing through miles of "empty water," wakes suddenly appeared everywhere, so we shut down in about 15" of water. While Kathy worked with Claudeen on her casting and her wading tactics, and I was free to go off and do some fishing. The conditions were simply intoxicating. The surface was glassy, and the water crystal clear. For a while, I saw only sheepshead -- and almost caught two -- but then I noticed some redfish tailing to the east, in shallower water. So I waded slowly toward them. I used the "heron haul," a method of leaving about 30 feet of line directly behind you on the water, which allows you to present the fly with only one false cast -- or in some cases without a single false cast. It's an incredible tool for the intermediate to advanced fly caster, and I intend to write a short article on the method
and post it on our News and Articles page. Look for it!
I presented to six reds, spooked one, and had five of them take the Glassy Eyed Shrimp (gray deer hair, chartreuse Lumaflex legs, and amber glass eyes -- see tying instructions under our New and Articles page). I landed three of them -- two 25" fish, and one just over 28". There were more agressive than I've seen them for some time. If they missed the fly, they'd take it again on the next cast. Under such calm conditions, the fish usually see me and spook further out, but today, the reds came right up to me without seeing me. Having the sun right behind you tends to blind the fish to your presence. On one occasion, the fish I hooked was accompanied by a larger red and a sting ray for half the fight. We took some photos of the fish back at the boat, and then released them.
After lunch, we headed toward the mouth of the Arroyo, and ran smack into a school of about 100 reds milling around in about 24" of water. For the next two hours, I coached Claudeen on the bow while Kathy casted from the poling platform. The ladies had a lot of shots, and Kathy almost caught a big trout, but the sun was low on the horizon, and it was hard to see the fish beyond 30', so the fish saw the boat about the time we saw them. When we finally left the area around 2:00, hundreds of redfish fled before us.
1/4/03 Rather than giving you a blow by blow of the last 10 days, suffice to say that we've had some good fishing in between the mild cold fronts that have blown through about every five days. Last weekend, we had four fly fishers from Austin led by our frequent guests -- Henry Bone and Jeff Foster -- who did pretty well considering they had one transition day (first warming day after a cold front) and a very windy day (prior to another front). I guided Jeff and his dad, while Henry and Eric fished on Henry's HPX. There was some gentlemanly wagering, of course, and Henry ended up winning the prize with three reds on Sat. afternoon -- but we weren't skunked. Overall, it was a beautiful weekend, highlighted by tailing reds Saturday afternoon.
We've been finding a lot of trophy trout almost every morning, and fishing them hard. But the conditions haven't been optimum. When the wind blows from the north, you wade or float right into the sun, making it hard to see into the water. A 10 mph north wind is about equal to a 25 mph southeast wind in terms of the likelihood of success. A strong SE wind with the sun behind your back (especially in the winter when the sun is so low the horizon) can blind the fish to your approach, break the surface tension of the water and help you see the fish, and assist you in aerializing a lot of line if you need to. Most moderate to advanced casters will tell you that they can cast farther with a slight wind, since the wind helps keep the line aloft when you're casting just to either side of downwind. Try it!
Kathy and I went out with Bud Rowland again this past Monday for big trout, but the wind turned out to be close to 30 mph by midday. Again, the big trout eluded us, even though we saw a lot of them from 24-28" long.
It's a great time of the year to fly fish. The tides are very low, making the fish easy to spot. Today, for instance, it's above 70 degrees, with a 5 mph SE wind, and not a cloud in the sky. That's a triple-positive day, and you should be here, as I'm sure you know.
12/23/02 I had the pleasure of guiding Jim Posgate from Kerrville on Saturday and Sunday. Jim has been here three times, and distinguised himself last time by catching the largest redfish taken by a client in 2002. So he's a veteran of the lower Laguna. We only fished about three hours on Saturday, as the wind rose to about 35 mph by midday. But for a while we were able to fish for the big trout that I've been finding. Indeed, upon arriving at the area, we immediately saw dozens of wakes retreating from the boat. "All big trout," I guessed, and as we passed by a couple of the slow-moving fish, I could see the greyish/green backs of trout in the 5-8+ pound range. I circled upwind, and cut the motor. I thought that the trout wouldn't show themselves -- either by tailing or pushing visible wakes. But within a couple of minutes, Jim and I could see two or three wakes within 100 hards. So I suggested he get out of the boat, and get into position to intercept a wake that was only 50 yards away, and closing fast. He promptly slipped into the water, waded about 30 feet from the boat and stood there, waiting. The wake turned out to be two very large trout that passed him before he could get the fly in front of them. Crosswind casts to big trout rarely succeed, because the fish often sense the poor presentation, and then the fly crosses their path at 90 degrees. Unless they see it at precisely the point where its moving away from the, they
are likely to spook from the "ambush."
Minutes later, a single fish approached Jim. This time, the wake came right toward him, but it sensed his presence when it was about 60 feet out and disappeared. The next time Jim saw it, it was 10 feet from him and spooking. Jim saw the fish, however, and it was as long as his leg. Once again, the fishing was not easy! The wind picked up to about 20 mph, and so Jim got on the boat, and we drifted downwind. He had good shots at a couple of big trout, but the speed of the boat only gave him one shot, and then the fish saw us. Trout 10, Humans 0.
We went back out on Sunday morning. It was almost dead calm, so I stopped at the place where I've found abundant tailing reds over the last month. And they were there! Pods and singles tailing in glassy water -- the best and worst of situations. Jim missed a couple of shots from the boat, and then caught a red out of a small pod on a glassy-eyed shrimp. Later, we found even more tailing reds just 200 yards away, so he got out and waded to them. using a VIP. He finally got a red to come out of the water after the fly, but alas the fish did not get hooked. We must have seen 100 tails in that general area. Once again, it's what makes winter fishing on the lower Laguna so addictive. Indeed, I'd rather fish in December and January -- on those fine days between cold fronts -- than any other time of the year. The trick, of course, is hitting the weather right. If you live within 350 miles, we'll work with you on a flexible schedule so you'll be assured of prime fishing conditions.
12/17/02 Yesterday, I fished with Bud Rowland, who is well-known for his unprecedented catch of a 15 lb. 6 oz. trout this past May, and for his other IGFA world record trout (see photo). I've been given two article assignments -- one for Tide (the magazine of the CCA) and one for Fly Fishing in Salt Waters -- on fly fishing for giant trout. Bud is a friend, and is eager to work with me on getting new photos, and learning about his distinctive method for catching big trout, so we've started fishing together with these projects in mind.
But let me back up some. Over the weekend, we hosted Bryan Sperry from Austin. Bryan has been down here four times now, and is always a pleasure to guide. We had very good weather on Sat. and Sun., and expected to catch a bunch of fish. Well, we found them all right -- big trout and reds on Saturday, and the largest concentration of big trout I've seen in a year on Sunday. But they were tough, and the conditions didn't help. Dead calm conditions on both mornings made us drool, and abundant wakes told us that the fish were thick as fleas. But when we stopped, there were no tails, and few wakes. We stayed aboard the boat, as the water was very chilly, and Bryan casted to anything that moved. No luck. So, we waited for the sun to help us. By 9:00, Bryan was getting shot after shot at reds and big trout that were holding in water that was off-color and about 20 Inches deep, making for close-in opportunities. He put the fly close to a few, and then had a big trout turn on the fly! Unfortunately, I made the mistake of pointing out the redfish that was next to the trout, so Bryan -- having lost sight of the big trout, lifted his fly from the water and away from the trout's willing lips. Darn.
On Sunday, we returned to the area, and saw dozens of large wakes. As we passed each one, we saw that every wake was a big trout. There wasn't a single red among them! Bryan asked me to wade with him, so we got out and tried topwaters and searching patterns. I had one good strike that I missed, but that was all. We saw a few redfish tailing, but they were too far away to cast to.
We headed for another place 15 miles away, and found lots of reds. Bryan got a bunch of shots from the boat, and should -- with any amount of luck -- have caught a couple. We got out and waded again, and we both had a couple of opportunities. I caught a red and missed one and Bryan presented to a couple that were upwind of him. A wonderful and tough weekend. The weather was stunningly beautiful, so we really enjoyed the time on the water.
After fishing with Bud last Friday in the southern portion of the Bay, I suggested we go out on Monday morning to target the big trout I'd been seeing. So he came over around 8:00 and we took off from our dock. We had sun for only about an hour, and in that time we had about six shots at trout from 25" up. I got the fly right in front of one, but she didn't seem to see it.
Then the clouds came. We switched to spoon flies -- the best searching pattern for cloudy, windy conditions, and proceeded to catch about 20 reds and one small trout. All of the fish were caught by blind casting from the boat. Since Bud is right-handed, and I am left-handed, we took opposite ends of the Curlew, and casted til our arms about fell off. It was a great day, and we're planning to go out a lot this winter and early spring for monster trout.
12/7/02 I guided today after four days of trying to stay warm. After having awesome fishing on Monday, we had a pretty strong cold front push through on Tuesday. Bruce and Sherri Hathaway were scheduled to come Friday night, but Kathy and I weren't sure the weather would be good enough: We're pretty obsessive about rescheduling if it's going to be poor fishing. Friday came, and it looked like Saturday would bring warmer temperatures, so we decided to go forward.
Bruce and I went north on Saturday morning, and visited a couple of places where we'd been finding tailing reds. There wasn't a fish to be found. I started thinking that we had come out too early, and that the reds would come onto the flats only after midday, as they're prone to do on the first day of a warming trend. After all, the water temperature was a chilly 59 degrees after four days of cloudy and cold conditions, so I wasn't optimistic. However, we went to a place where hardly anyone goes this time of year, since it's so shallow...and we found them! For about four hours, we had constant tailing action on an outgoing tide. They weren't easy to approach, as always, but Bruce finally hooked up on his first of three reds -- a 29 1/2" red -- on a Glassy-eyed Shrimp that I'd tied for him the night before. Bruce asked me to fish with him, so I tied on the same fly (after breaking off on a VIP topwater) and we both ended up with three reds. Five of them were over 25" long, and all were released.
We took Sherri with us back to the same spot on Sunday morning, and we found tails again. But the tide was higher, and it wasn't moving as much. The tails would surface, and then disappear, so it was hard to get a good shot. Bruce hooked and lost one, and Sherri stalked a good dozen fish, but each one would disappear before she could get there. "You should have been here yesterday," Bruce told her. Sherri didn't mind, because the trip was Bruce's birthday present, and she's a great sport.
Interestingly, we found fish in several places, but they would not show themselves. The tidal movement, or lack thereof, seemed to keep them from moving and tailing.
12/2/02 Again, the weather settled down after the latest cold front. This morning, Kathy and I couldn't resist going out, as it was dead calm, and the temperature was rising into the 70s. We didn't make it out until about 9:30, but we made a beeline for the area where we've been finding tailing reds over the past two weeks.
Again, as soon as we staked the boat, redfish began tailing. Not as many as last Monday, but plenty of pods and singles working north of the Arroyo. Kathy and I both opted to use VIP topwater flies this time, and we were amply rewarded. I landed three and Kathy landed one, but she missed a couple of more. They were all in the 23-24" range, and very aggressive. Two of mine hit the fly three times before hooking up. We would have caught more, but I wanted to take photos for an article that I'm working on for Salt Water Fly Fishing, titled, "Redfish on Top." Here's a shot of Kasey Ratliff, a regular client who fished with us in the summer, and caught some big reds on VIPs. Fishing with poppers is the ultimate when it comes to redfish. But you have to stay low, not overreact to the sight of the strike, and strip strike -- and you'll be able to hook up 'most every time.
11/30/02 Saturday after Thanksgiving. We've a had a cold Thanksgiving week, but now it's sunny and in the mid-70s. It's been a cool fall, with the water temperatures falling from 79 degrees to about 61 degrees in three weeks. The reds don't mind the colder water though: They tolerate water from the low 50s to the upper 80s. So there's no reason to stay home just because the water is chilly.
I went out this morning just for a while with my ageing stepfather, and hardly fished. But I ascertained that the reds were heading back into the area north of the Arroyo, and tailing as they went. I stepped off the boat at one point and missed a nice red that hit my fly twice (It ain't the arrow, and it ain't the bow, it's the Injun.) The last time it looked as pretty as today was on Monday, when -- for the fourth day in a row -- we found redfish tailing in unbelievable numbers. I'd witnessed the phenomenon while guiding opn Saturday (see below), so Kathy and I went out on Monday for only 2 1/2 hours, as I had a radio talk show to do at 11 a.m. We parked near some spoil banks, and before we could grab our rods, tails began popping up as far as we could see. We spent the next couple of hours getting shot after shot at single reds, and at small pods. Again, as I've mentioned below, it was the toughest sight casting we'd ever encountered. While we had only six strikes between us, and landed only two fish, we literally saw hundreds. You simply could not afford to cast until you could reach them the first time. Otherwise, they'd hear the fly hit the water, and quit tailing. In such cases, it's tempting to say, "they're not eating." Right! All around us, reds were exploding on shrimp and whatever else got in their way. No, they were feeding, but they were all eyes and ears, too. As for myself, I'd rather see a lot of fish and catch a few, than catch a lot of fish and see none.
11/23/02 It was as good as it gets this morning. Tails as far as we could see. Pods, singles, even a sizeable school of reds -- were tailing in dead calm conditions from dawn until the wind came up around 10:00. I figure we saw over 200 tailing reds while we stood in one spot. This is the classic late-fall and winter (as well as midsummer) low-tide scenario that few anglers ever see, because they've hung up their rods 'til springtime. It wasn't easy fishing for my client, Jerry Radu, from Calgary. Jerry had just caught a 23-inch brown on his home waters of the Bow River, so he was about as proficient as any newcomer I've guided. But he was unprepared for how sensitive reds can be in dead calm conditions. Using a VIP popper at first, he cast to well over 30 tailing reds, but missed the mark or spooked them every time. I suggested that he switch to a lightweight, subsurface Mother's Day fly and get down on his knees in the water. I thought that the reds might come within casting range if he and I pretended to be herons, so to speak. So we got down on our knees in the foot-deep water. (Photo below: That's Jerry on his knees in a foot of water.) The reds finally came close enough for Jerry to cast his fly into them, and to get a strike. Later, having "gotten it," he stalked a tailing pod and finally hooked up on a nice red.
Jerry and I went on to visit two other venues, and found reds -- and some big trout -- in each locale, but it was hard to see them from a wading level and difficult, as always, to approach them from the boat. So we went out east of the Saucer, near the edge of the white sand, hoping for easier conditions. The wind was blowing at about 12 by then, but the surface was still glassy. Redfish were everywhere! Jerry got a lot of shots, but the fish had usually seen the boat before the fly arrived. A very tough day, but as beautiful and as promising as any day I've seen.
Yesterday, I guided Howard Nichols of Winberley, and his friend Eddie Wilson. We covered a lot of water, but we eventually found tailing reds -- mostly singles but a few pods -- on the west side. Both anglers had great opportunities, and managed to land good fish. Eddie, who fishes the Rockport area, said he'd seen more tailing fish in one day on the Lower Laguna than he'd seen all year.
If you encounter tailing action in dead calm conditions, try following these guidelines:
1) Don't cast until you're sure you can reach them.
2) Make no sound.
3) Stand-- or better yet, sit on your knees -- in one place.
I once told my Uncle Moody -- who was a master hunter -- that I'd seen over 75 deer in one day. He laughed and asked, "How many of them were heading in your direction?" You can chase fleeing fish all day, and have empty stories to tell, or you can slow down and let a few good fish head in your direction.
11/20/02 Well, it's official. Kathy has a women's IGFA world record trout. Caught June 6, it has been certified as the new 12-lb. tippet record. And just last week, she received confirmation from the state of her new ladyfish record. When Kathy's not cooking, she's cooking with a fly rod!
Just a brief update on fishing: The winter tidal pattern has commenced, along with the predictable movements of fish on and off the flats. It's a different world out there -- about 2 1/2 feet shallower than our highest October tides. Yesterday, I took Kim Ratliff from Dallas out for the first of three days. We got to the flats about midday since his flight arrived in the late morning. I passed a couple of my favorite west side venues, knowing that they won't be good again until spring, when the tides return. We went east and found the fish! Reds and trout milling and tailing in about 15 inches of water. But they were really tough. Perhaps it was the full moon the night before, perhaps it was the cold front just the north. Everywhere we went, we saw tons of fish. But we caught none! Skipper Ray experienced the same phenomenon, but he was fortunate to have gone out early enough to find the fish willing to eat.
The front passed through last night, and we got up to fog and north wind. Not a fly fisher's dream by any means. We covered about 60 miles before we found tailing reds, and had lots of shots before the action subsided. Only one red landed (caught on a VIP) , but the floating grass made the casting extremely difficult. We're heading back there tomorrow, in hopes that we'll have tailing action for several hours in virtually calm conditions.

Grand theory: We know that when there is a sudden, severe drop in temperature, the big trout tend to get caught in the shallows, and often die -- as they did in 1989. We also know that the baitfish and the reds tend to leave the flats whenever the wind shifts to the north, regardless of the temperature drop or lack thereof. How can we make sense of all of this? I've speculated that the mullet leave the flats when the wind shifts to the north, out of some instinctive, self-protective mechanism. Big trout feed only about 2 hours out of every 24, but redfish feed more fequently. So...it would make sense that the redfish would leave the flats more rapidly in response to the absence of food, whereas the trout would linger in the shallows. Regardless of whether this is true, there is a predictable pattern to the return of baitfish and gamefish to the flats during a warming trend. On the first day of a warming trend (i.e. southeast wind and sun), you will find the fish on the flats only in the afternoon, once the sun has had time to raise the temperature of the flats above the water temperature of the deeper areas. On the second day, you will find the fish on the flats in the morning, or at least earlier than the previous day. From that day onward, you can expect excellent fishing on the flats until the wind shifts again.
11/16/02 We've had several early cold fronts that have made for some challenging fishing conditions. I'ts not been cold, but the wind reversal throws the fish into different patterns, and the lighting -- which should ideally come from behind us as we sight cast -- is in front of us. Still, we've had some remarkable fishing in the last week and a half. And while that action is diminishing due to falling tides, we have some new areas "heating up." The more I guide, the more I realize that there is almost always some great fishing somewhere. Learning when to move, and where to look next, is the key to success on the lower Laguna.
Before I cast backward and review the last few days of fishing, I need to confess: I often say that redfish are always willing to take a fly, and it's the angler's presentation that makes the difference. Well, yesterday Kathy and I went out for only a couple of hours. It was a beautiful calm morning, and on impulse we jumped in the boat and headed out to beat the cold front that was due to arrive any time.
We found some redfish in an extremely shallow lagoon that were heading for deeper water after a night of feeding at high tide. Over the course of an hour, I had five fish approach in six inches of water. I did everything right -- got down on my knees, used a topwater so I could draw them from 10 feet away, switched to subsurface flies when that didn't work. No matter what I did, the fish spooked when the fly landed within four feet of them! It was perverse, like someone up there was trying to teach me a lesson. So let it be known that I now believe that redfish will sometimes refuse flies -- but don't ask me to repeat it.
On the sixth of November, I took out Jim Graves for the second time in the last year. Jim and I started, as usual, on the west side of the bay. Before the sun rises, your best hope of seeing fish during the spring and fall high tides is to focus on the west-side lagoons where tailing and podding action may produce visible targets.
We weren't disappointed! Almost immediately after shutting off the motor, we could see large pods of reds driving shrimp. I suggested to Jim that he wade into the fish. The water was chilly, but it was only about knee deep. Over the course of the next couple of hours, Jim landed three nice reds on a Glassy-eyed Shrimp.
Two days later, I took out Jamie Vater from Oklahoma. We found the same pods and schools, but it was a windier day. So Jamie had to get upwind of the pods, and make his cast before the redfish passed and went upwind. I don't know how the redfish know what to do, but they always seem to go to the "wrong wind side," and get upwind before you can get into position.
People often ask, why do redfish swim upwind. In the case of tailing pods, the fish are driving small shrimp off the bottom. The shrimp flee to the surface and leap into the air in an attempt to evade the fish. If the redfish are driving the shrimp upwind, then when the shrimp leap into the air, the wind blows them back into the feeding fish! That is why, I believe, the pods constantly circle downwind, and then come back upwind. Understanding this phenomenon makes it easier to wait for them to return, rather than chasing them in circles.
Jamie had four hookups. The first was on a spoon fly, but because the weed guard was so stiff, the fish didn't get hooked. So I tied a Glassy-eyed shrimp on for Jamie. Imagine the two of us stalking a school of about 50 reds, then having them turn toward us and sweep forward. Jamie casts into them, and a red comes to the surface and seizes the fly. I yell, slap Jamie on the back and the tippet promptly breaks. Jamie insisted that it wasn't my fault, but just to be sure, I went back to the boat to give him a little space. A few minutes later, I looked back and Jamie's rod was bent! Sometimes, the guide has to take a hike.
The next day, Kathy and I hosted Jim and Linda Sheffler, from Philadelphia. The weather was difficult much of the time, but Jim managed to catch some reds and trout up near the Mansfield cut, and on the west side where we'd been going. On the second morning, it was magic. We were so far from where most people fish that the redfish were just sweeping about in small schools, with tails and backs out of the water. It was so calm that you could hear the fish grabbing the shrimp and the gulls wings beating overhead. I told them, "We'd better take advantage of these conditions because the cold front will be here by late morning. Even though we always had one to three schools within view, it was not easy fishing. As I've said before, the reds have a way of turning away just before you can reach them. Jim was getting pretty frustrated with himself for having missed a couple of opportunities, but he finally got his Glassy-eyed shrimp into the school and hooked up.
We are finding the reds on the sand now that the tides have fallen, and we are really looking forward to stalking reds and big trout from now until early spring when the tides come back up. This is the time for some incredible sight casting, as the waters are so low and clear that the sight casting is "story book." Don't miss it!

11/5/02 After over a week of rain, we awoke this morning to a very high and muddy Arroyo. I wasn't sure what I'd find out on the bay, but I wanted to find out before Thursday, when several out-of-town clients begin to arrive. So I went out about 1:00, half thinking that it would be so bad on the first day after the Great Flood of 2002 that I wouldn't even get my rod out.
I checked a couple of west side venues that I 've mentioned before. It was still less than clear, and I almost just turned around and left, but I spotted some birds working, so I stopped to see if they were over fish. Sure enough, a big pod surfaced in several places, but they were cruising, not tailing. I moved to another spot, and saw some birds working again. So I got out of the boat, and moseyed over to take a look. I couldn't see anything at first, and then suddenly golden backs broke the surface. I edged closer, thinking that it was a small pod, and suddenly mud boils surrounded me. It must have been a school, I figured.
I left that lagoon, planning to return near sundown, and headed east to take a look at the condition of the Bay. Well, it was totally clear! Indeed, the whole east side was totally unaffected by all of the rain runoff. I went to one of my favorite spots on the white sand, and walked for a couple of hours in full sunlight. It was as pretty as ever. I picked up two reds, while relishing the warm sun for the first time in almost two weeks.
At about 4:00, I returned to the spot I'd visited earlier. As soon as I entered the area, I saw the wakes of big reds everywhere. The wind had completely died, so the conditions were perfect for tailing pods to show up, so I went into the area, shut down, and waited. Less than five minutes later, the reds began to surface. Not pods, though -- schools! Apparently, the reds were returning to area in large groups, after having been gone for over a week. (I'd snuck out and had a look or two and they were not there during the deluge.) I spotted two schools about 300 yards from the boat, and even though I was scouting, I just couldn't resist catching one fish. I knew that the schooling reds were often large spawners this time of year, so I tied a VIP onto 16-lb tippet and began the slow wade toward the action. It took a while to get there, but finally one of the schools turned toward me and began to approach. I cast my VIP out about 10 feet in front of them, waiting a few seconds, and began stripping when the leading edge was about six feet away. From past experience, I know that the biggest fish are often out in front of the rest.
Before the edge of backs and tails reached the fly, a fish exploded under the fly. He ran back into the school and just stayed there, so I didn't put any pressure on him: I wanted to see what would happen. The school continued heading right for me. I crouched low, trying my best to look like just another heron. The school wrapped around me, and then exploded in all directions, with some of them coming out of the water. I was spellbound. Then the red I'd hooked took off and kept going. I couldn't turn it on my eight-weight for the longest time. I realized that I'd hooked a big one. Finally I got him in, and measured him as best I could against my rod. He was clearly over 30 Inches, but how much I'm not sure. He had the shoulders of an ocean fish, and weighed somewhere between 10 and 11 pounds, I would say. No picture this time but an unforgettable experience. As I headed for the boat, it was nearly dark, but the school was tailing again just 50 yards away.
10/28/02 Until the rains came, the fishing continued to be awesome in various west-side venues. My brother and I went out scouting the day before some clients came last Thursday, and caught 7 reds in the northwest bay. They were podding up, and up on the bank feeding. Then, on Friday, Kathy and I team guided Henry and Tag Martinez, from Columbus, Ohio. We went to one of our favorite spots on the west side, and had cruising pods of reds for hours. It was exciting action!
However, with the remnants of Kenna bringing about 8 inches of rain to Arroyo City and the Valley, the Arroyo has swelled with muddy, dirty water. You would think that the whole bay would be affected by this runoff, but no, there's absolutely no evidence of it east of the Intracoastal. For the last two days, we have left the west side to settle down, and fished near the Mansfield cut. Yesterday, we got into trout, and Bill Renfro (from Corpus), Joe Browning (San Antonio) and I caught around 40 trout from 13-18 inches long. We could have stood there and caught them the rest of the day -- a strike almost every cast -- but they wanted to check out the redfish action, so we moved on and left the trout alone. We ran into Skipper Ray, who was guiding two fly fishers, and fishing near us. They had caught a few reds, and invited us to join them, but we barely fished because Bill and Joe were ready to call it a day.
We went back today, and probably could have caught trout again, but fished for reds instead. We caught a couple of small ones, and a couple of trout. Overall, not a stellar day. But with high wind, little sun and a foot of extra water in the bay (from high tides), we were lucky to catch anything.
Oh, did I mention the high tides? Once again, we're dealing with extremely high tides -- about 9" above the normally high fall tides. Somehow the storms brought higher tides. Once the muddy water settles, and the high tides fall to normal, we expect the west side to pick up again.
10/20/02 I hadn't planned to fish. Kathy is in New York, and I'm working on a book. But I needed to scout for some upcoming charters, and since the tides are falling, and the day was so beautiful, I just couldn't stay inside. So I left the dock at 10:00.
At first I headed east, since it was dead calm and glassy. Fish were everywhere, so I shut down and tied on a VIP popper.
Reds and trout were pushing water, even though it was about 20 inches deep -- that's usually too deep to see much happening. But the switch was on, and they were feeding aggressively. Even the sheepshead were hitting the VIP. Have you even seen four sheepshead under a single topwater, taking turns sucking at it? Perhaps it was the cold front just the north, but everywhere I went I found the same thing -- fish blowing up, chasing shrimp, and hitting my fly over and over again until they were hooked.
I landed four reds and two trout on my first wade, lost two and missed several more before I realized my hook was broken. One red hit my VIP seven times before I figured out something had to be wrong.
I went to a spot on the west side that I'd not fished all year, but I've been thinking about going there for the last month. As I planed in, reds scattered; and I noticed they were fleeing in small groups. So I figured I'd see pods once the fish settled down. At first, all I saw were explosions all around me. I thought they were flounder, because I'd see heads coming out of the water. But they turned out to be podding reds eating as aggressively as I've even seen them. Unfortunately, the sun started to go behind the clouds, and it became hard to see the pods (they weren't tailing, just cruising around attacking bait). But I managed to land a red and miss two more strikes on my VIP before I left for my third and last stop.
I went to a spot on the west side where I've been fishing a lot lately. It was full of reds. I came off of plane, and blew up a large pod. As soon as I got out in a foot of water, reds started cruising into me. Again, I chose to fish on top, since there was a lot of grass. I caught two nice 24" reds, and decided to call it a day. As I left the area, I saw more big reds in one place than I've seen all year. It was tempting to get back out, but I don't like to pound the areas where I'll be taking clients, so I left them alone.
Since the tides are falling to normal fall levels (still pretty high), sight casting opportunities will be improving. Overall, it looks as though fishing is going to be superb for the next few days. Look for days when the wind is calm in the morning and we have full sun, for at least part of the day. Even if the sun fails to shine, we're getting a lot podding/tailing action up and down the west side, so fishing could be excellent even on overcast days. We're not getting too much of the classic bird action in the evening yet. At least, I haven't seen it, but it should start up once we get some cold fronts pushing through.10/8/02 I'm gettings ready to go to Virginia to fish with my son for a few days, so this will be the last report I file for about 10 days.
The tides are falling! Thank goodness, and yet one of our most productive places will soon be off limits the the pods and schools of reds that we've been finding there. Yesterday, I guided Jim Prescle of Harlingen, and found enough water to float our Curlew into the area where the reds have been. The wind
was calm as we poled into the area. Soon, we spotted tails amid the schools of mullet that were heading toward the open bay with the falling tide. Jim got off the boat, and stalked several pods before hooking and landing the nice red shown here on a VIP popper that he'd tied himself.

The wind came up, but Jim still managed to sight cast to tailing pods for another hour or so before we headed north. With the lower tides, we found good sight casting conditions from the boat. So for several hours, I poled Jim on the west side up near Mansfield. We saw a lot of fish, but -- as always -- it was tough to catch them from the boat. Jim made several excellent presentations to fish that just did not see the fly. Finally, he caught a red and had a couple of others chase and miss the fly. Overall, a very fine day with full sun, lower tides and lots of visible fish.
On the afternoon before, Kathy and I went out to fish specifically for sheepshead, as we find them
particularly challenging and fun. When the reds and trout are scarce, it's easy to find a hundred sheepshead cruising and tailing along the Padre Island shoreline. Also, I have been working on perfecting a fly that can reliably catch them. Kathy used one of my prototypes, and landed one sheepshead after getting several strikes. I'll include instructions for tying the fly just as soon as we've tested it some more. Here'e the little sheepshead that Kathy caught.
10/6/02 Yesterday, we completed two days of guiding with Jim Luikens and Nick Leitch of Albuquerque. The water has been extremely high for the last month, so finding fish that you can sight cast to has been very challenging. However, we returned to the same place that Kathy and I fished on Thursday. On Friday, we found some pods and individual fish, but managed to land only one red (Nick) on a VIP topwater. Both Nick and Jim had a few other close encounters, most notably with a large tailing pod of reds, but they missed the strikes, as we all tend to do. We fished the white sand and some areas later, but the reds were nowhere to be seen.
On the second day out, we were joined by our friend and regular Kingfisher guest, Henry Bone from Austin, who was guiding Kingfisher guests Vernon and Johnnie Reeves of Grapevine who had bid on a weekend and guided fishing trip at Kingfisher. Henry and we donated the weekend for auction to the Ryan Foundation, which funds research in MPS -- a rare childhood disease that receives woefully little funding for research-- and Vernon and Johnnie wanted to fish down here so much that they purchased the weekend at above retail before the auction even commenced! Henry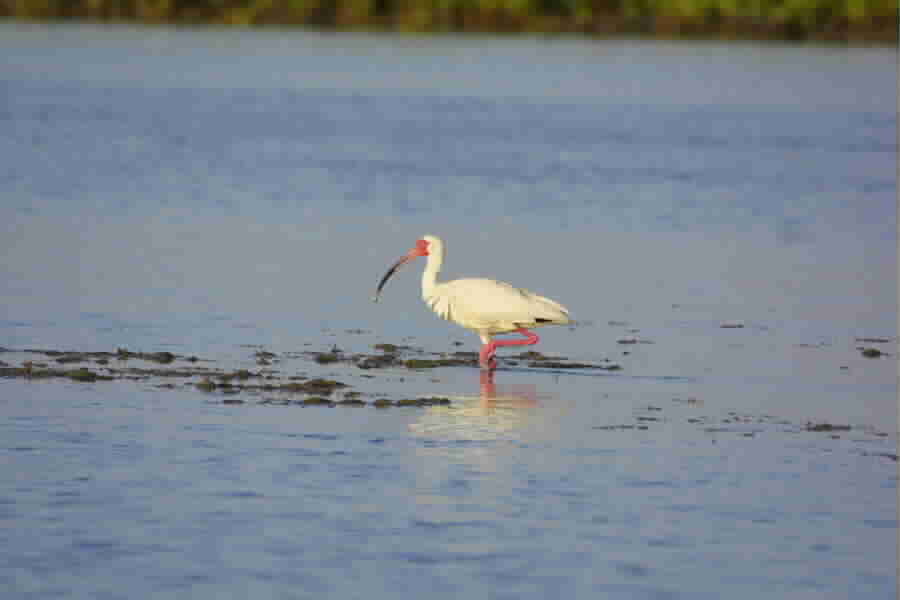 generously offered his boat and guide services as his part of the contribution, while we lodged and fed the Reeves. So, at daybreak, we caravaned out together. Henry and Vernon did amazingly well, catching a total of six reds and seeing tons of individual and podding fish. Even though we were less than a quarter mile away, we weren't so fortunate. Jim caught one red, and Nick was fishless for the first half of the day, even though we had some shots. We all ran from two storms in between efforts, which made for an interesting "living on the edge" kind of day. My guys and I stayed out longer than Henry and Vernon, and ran north to Mansfield in the mid-afternoon the check out "Magic Bay," but the reds weren't there. We stopped long enough for Jim to cast to a school of big jack crevalle, but they wouldn't take the fly. So we headed back to the place Henry and Vernon had fished earlier in the day, feeling a little snake bit in comparison the "golden boys".
But hey, we finally got into the fish! The sun was setting, and reds were everywhere -- cruising and tailing everywhere you'd look in pods of four to 10 fish. Nick caught a nice red when it was getting dark, and then Jim missed two strikes. We ran out of light, otherwise they could have caught a lot more fish. I'll always remember Nick and Jim standing side by side laughing and casting in the dark toward the only light left in the western sky. A great day!
Henry and Vernon went back out this morning, while I recovered from the 12-hour day I'd put in on Saturday. Again, they found the reds, and Vernon caught three more in the 26" range. Apparently, great things happens to those who donate to noble causes like the cure of dread childhood diseases. We're looking forward to seeing Vernon and Johnnie -- and of course, our friend Henry -- down here again real soon.
10/3/02 Kathy and I have been to California in the last week to speak to the Orange County Fly Fishers, and when we returned, there was so much to do to catch up. So...we returned to the water today, in preparation for several days of guiding. In our customary fashion, we didn't make it out until 10:30 am, and were back in by 2:00. But in between...it was awesome.
We went to a spot that is usually too shallow to find fish. But with the high tides we've been having, there are often reds in these places. Sure enough, we blew through several individual fish, and then a couple of pods, then shut down. Almost immediately, tails popped up. Small pods of reds were working amid countless sheepshead. Since it was grassy, we used VIP topwaters the whole time. First our failures: Each of us broke off on three reds! It's embarassing to admit, but a combination of angler error, heavy grass and uninspected knots (again, angler error) resulted in no landed fish for the first hour. We were both getting alittle fustrated with ourselves, and on top of that, the fish started to vacate the flat. About that time, I heard Kathy yell, "Scott, Scott, where are you?" She was a couple of hundred yards away, and moving about as fast as I've ever seen her move -- away from something. "Alligator!" she finally cried. Well, I hurried back to the boat, and planed over to get her.
She'd seen the gator -- a small one -- and thought it was a fish at first. After casting to it, it poked its head above water and headed her way. After she was aboard the boat, we poled back over to take a look. He was little fellow -- about three feet long -- and looked like he was looking for his mommy. He didn't spook when we poled right up to him, but just sat on the bottom, and periodically floated to the top to scope us out. Kathy got a photo with her point-and-shoot camera, which we'll post later.
Still fishless, but having seen (and stung) lots of fish, we started to leave the area. At the last minute, we decided to check a bank where some Forester terns were diving. Well they weren't "liar birds" today...there were pods of big reds working there under the birds. Casting a topwater, I finally hooked and landed a 28 1/2" red. We caught five more and had lots of shots. Later, two small schools were milling around the area, and we were able to stand in one place and just wait for the fish to approach. It was pretty exciting, having four or five different fish hit the VIP before one got hooked. I took some good photos of Kathy's two reds for an article I'm working on, titled "Redfish on Top," which I'll post once we get the slides back. A great day, in spite of some sloppy angling.
9/20/02 I don't usually update the fishing report so often, but when there's good news, it's hard to wait. Two days ago, I took Jim and Lou Posgate to "Magic Bay," the same place that has produced so well in the last week. Jim achieved near-immortal status in Kingfisher's annals by catching two reds that were 30" and 29" respectively! As we anchored on the edge of the area, he quickly waded into the prime water -- a firm sand bar beside deeper water. Even though the sun was behind clouds most of the
time, Jim soon spotted the first fish feeding in about a foot of water, and cast a red and white Deceiver (my tie on a wide gap Gamaktszu B10S #2 hook) about two feet from the red's head. Fortunately, the fish saw it and rushed it. After taking the fly, the big red ran to deeper water where he spent the next half hour or so battling Jim. I had time to walk back to the boat and get my cameras, so here's a shot of his 30" fish just before we released it. About 10 minutes later, several reds entered the same area, and Jim executed perfectly again, this time coming up with a fish that was 29". A remarkable catch, Jim!
Lou had to leave the next morning, but I took Jim back to Magic Bay only to find that the school was not there. However, he did have a shot at a red that he estimated was 36" long, following a black drum of similar proportions. They were so big that he didn't realize that they were fish, and had to present his fly when they were only 15 feet away. The red apparently never saw his fly. Needless to say, I'll be going back to Magic Bay, but we may have offended our hosts one time too many. Reds are that way. They don't stick around for a pounding.
9/17/02 We're gearing up for six days of guiding, so Kathy and I returned to the water this morning in our usual laid-back style, leaving the dock well after sunrise and making plans as we went. As it turned out, we soon headed for the Mansfield area again, to see if the bull reds were still working the area.
We found a school of reds in the same spot as last Friday, and decided to approach them on foot, even though they were near deep water, and could easily go around us without coming into range. But luck prevailed, and within a minute of getting out of the boat, the school headed our way, backs and orange tails breaking the surface as they approached. We both cast, and I hooked up on a red that measured exactly 28" on the ruler when I landed him -- 25 minutes later! The school turned and swam away, but not for long. My fish took me away from the commotion, which was good for Kathy, because within minutes the school was heading back toward her. Before I'd even begun to tire my fish with my six weight, Kathy
had hooked and landed a smaller red. Releasing it quickly, she cast again into several fish cruising along a bank, and she hooked up again -- this time with a larger, 27" red. After releasing my red (sorry, no photo of that one) we took photos of Kathy's fish and then decided to leave the school alone. We poled out of the area, and looked back only to see the fish milling around the area like nothing had happened.
We found two more schools of reds, but decided not to fish them. As we were leaving the area, planning to fish the white sand between Mansfield and the mouth of the Arroyo, we ran into a huge school of jack crevalle that was moving slowly toward the Mansfield jetties. Kathy had never seen a school of big jacks before, so I tried to position her for a cast with her woefully inadequate seven weight. We never got within casting range, but we could see them and smell them! A couple hundred fish from 15 pounds up apiece, rolling over each other, dorsal fins showing. We vowed to return within our 10 weight and spend some more time targeting these powerful fighters.
On the way home, we caught another red on the sand, then continued toward the Arroyo. Just north of Green Island, we ran into a large school of black drum that we decided to stalk. Kathy managed to get within casting range of about 100 of the fish, but was unable to interest them in her fly. But then, a bonus! She hooked a small jack crevalle that had been cruising with the drum. As she fought the feisty little fish, I had a shot at a 28" trout that saw me and spooked just as it opened its mouth to take my Glassy-eyed shrimp.
It was another great day of early autumn fly fishing on the lower Laguna. And what's more, we did not see a boat from the mouth of the Arroyo to the Mansfield spoil islands -- 15 miles of water to ourselves. Where else can one enjoy such unpressured waters?!
9/13/02 I've just finished two great days on the water with Steven Ford, of Conroe, Texas. Steven lived in Corpus Christi until recently, and spent a great deal of time fly fishing the upper Laguna before he moved. We faced the highest tides that I've seen in years. Indeed, the tides were almost two feet above normal, mainly due to the effects of Tropical Storm Fae, but partly due to the normal solar pull this time of year. We quickly realized that the only hope of sight casting was to head east onto the "upper sand." This part of the bay is normally 2-8 inches deep, and rarely becomes a haven for game fish. But that's where we had to go, and that's where we found them.
Steven fished from the boat on the upper sand yesterday morning, and got several shots. But as the sun rose, he opted to wade. Also, there were several large schools of black drum milling around the Padre Island shelf (the boundary between the sand and the upper sand), so he wanted to try his luck at those finicky fish. After two takes and one extended hook-up on a large drum (where the fly came out when a knot in Steven's backing brought a halt to the fun), we headed north to explore the area north of Green Island. There, again, we found a lot of drum, and only a few reds, so Steven opted to wade. After presenting to a number of sheepshead and drum, Steven hooked up on a solitary red that measured 27". He was 100 yards away so I couldn't get a photo of that one. It was a one fish day as it turned out, but it was a fine fish!
My buddy Skipper told me that bull reds had been spotted near the jetties down south, so Steven and I decided to start off checking out the Mansfield area, since the jetties at South Padre Island are so much farther. We went straight there at daybreak, and before we reached the area, we ran into a school of big reds working near the Mansfield east cut. Steven's first presentation into the glowing mass of big reds brought a hook-up with a fine 28" fish that we photographed (slide film) and released. His second fish out of the school was smaller, and I photographed it with my digital (shown). It was a great start to the day!
We fished some other areas near the east cut, but only caught several ladyfish, so we headed south toward the area we fished yesterday. We were running the upper sand, and seeing a redfish every couple hundred yards -- not enough to warrant stopping. But then suddenly I spotted an approaching school. I shut down, and Steven grabbed his rod while the reds kept approaching. Unfortunately, his first cast turned them, and they broke into two groups as they encountered the boat. There must have been 100-150 fish in the school.
Steven asked, "What's the plan?" I suggested that we spread out, and just wait for them to return. Steven insisted that I fish, too, so I grabbed my six weight and joined him. Well, it didn't take long before we spotted wakes approaching. I caught a 23" red out of the small group, and Steven had a rejection, a follow-in and then a missed strike. He said he was feeling a bit snake-bit. Well, that's what sometimes happens when you catch a 28" red with your first cast of the day! So he changed flies. Meanwhile, the larger part of the school suddenly appeared 50 yards from me, heading my way with tails and backs breaking the surface of the crystal clear water. I cast my size 4 Mylar fly toward the lead fish, and had a hook-up. Then an amazing thing happened. The fish -- which hadn't realized that it was hooked yet -- stopped about 40 feet from me, and just shook its head. Meanwhile, the rest of the group -- about 50 fish -- encircled the hooked red, and began to daisy chain around him! They continued until they saw me, but it was a remarkable sight, and I felt that they were "tight" as a group, preparing no doubt for their migration into the open Gulf.
It took me 30 minutes to land the hefty 28" red. He was so strong that I simply could not turn him with my 6-weight. And instead of being tired after I'd landed him, he took off like he was on a mission. I suppose he was -- to find his cohorts and to continue the journey.
The storm tides have brought an almost magical air to the lower Laguna. The influx of fresh water seems to have turned everything on. The trout are thick under the lights at night after weeks of absence, and tons of baitfish line the Arroyo and the east cut. I think it's going to be a memorable autumn.
9/11/02 We've been off the water for the last three days. Tropical Storm Fae brought us much needed rainfall, so we're not complaining. The fishing should be greatly improved as the tides fall. Until then, the tides are about 18" inches higher than usual. Last Saturday and Sunday, the tides were almost that high, and we had a couple of fly fishers from Colorado who had never been to the lower Laguna. I'd hoped to show them the kind of fishing we'd been having prior the storm, but the tides made it difficult to find fish where we usually do. We ended up finding the most fish in water that is usually one or two inches deep. Indeed, I'd never been to these places in a boat or on foot. We poled far east of the Padre Island edge, onto the "upper sand." Normally, this area is devoid of life, but on Sunday, we found some big reds and a couple of trophy trout leaving the flat during mid-morning. It was better than nothing, but it was truly strange to be poling and planing over small bushes that are normally on dry land.
We also found tailing pods in some of our favorite west-side locales, but they were hard to approach on a very soft, muddy bottom. We'll be taking our kayaks out in the weeks ahead to assist our clients in getting close enough to catch these very willing fish.
9/2/02 Kathy and I don't get many opportunities to fish together for fun, and this morning was the first time we'd been out together in over a month. We passed up one of our favorite big trout venues in favor of walking the firm flats of the east side. It was a hard decision turning down tailing and cruising 4-8 pound trout, but the fishing was so good on the east flats yesterday that I couldn't resist going back to see if the fish were still there.
At first, the glassy east flats seemed devoid of life. But knowing that there's often a "dead zone" between the Intracoastal Waterway and where the fish are feeding, we kept heading toward the rising sun, looking for the wakes of retreating fish. Like yesterday -- when I was guiding Gayle and Tim Sturdevant -- Kathy and I ran smack into a school of reds.
Using VIP poppers, Kathy and I fished on the edge of the school of reds, but -- oddly enough -- caught only one of them. Sure, we missed a few. But we weren't disappointed, for each of us caught 4 trout from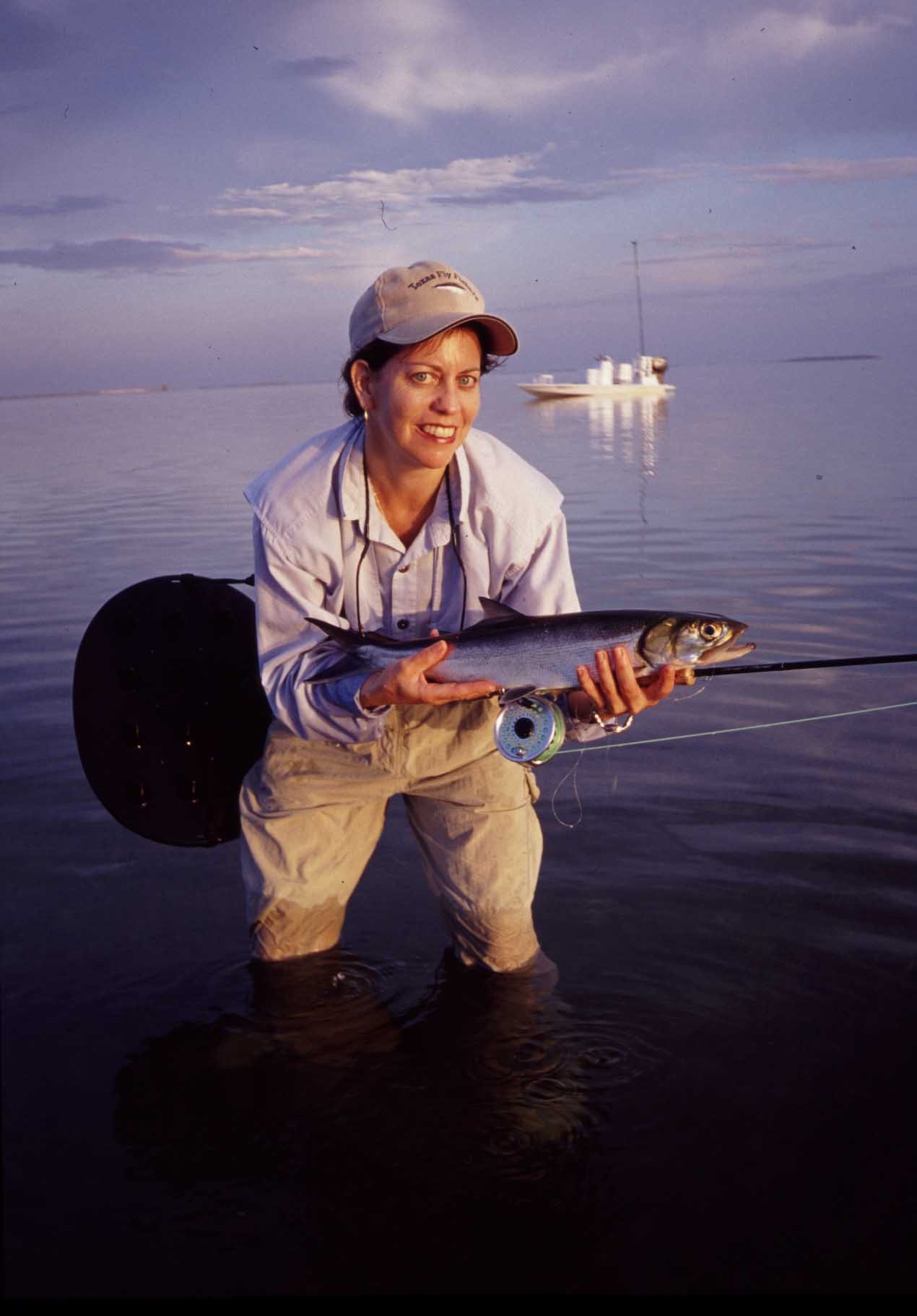 19-21", and missed at least a dozen more. It's hard to hook a fish that comes running from 8-10 feet away to the sound of the popper, and then slams it, only to miss it again and again. It's heart stopping. Indeed, the trout action was so good that neither of us was in a hurry to catch up with the school of reds that kept milling around just out of our range.
Kathy also caught a new Texas state fly rod record ladyfish that will break our friend Skipper Ray's record by a pound (shown).
As the action was winding down there, we went a couple of miles further south, and got into cruising reds, catching three up to 26", and missing several more that exploded on the VIP poppers. We spent half of our time taking photos for magazine articles, so we passed up a lot of fish snapping shots of trout, big ladyfish and redfish.
There were plenty more fish to catch, but we left them for another day, and were back home by noon. I wish it was always that easy!
8/29/02 I just finished three days of guiding Drs. Robert Reuter and David Riepe from north Texas. Robert and David came down last year, and returned for another shot at redfish and trout.
It was a windy three days for late August, but south Texas can be windy any time. Our first day out was a great day -- tailing and cruising redfish in three different venues and giant black drum in one of our favorite late summer and fall spots. Robert caught several reds and hooked a 20-30 pound drum briefly before the fly came out. David had a slower start, but both fly fishers cast to dozens of fish from the boat before the day was over.
The guys were intent on returning for another shot at the huge black drum, so we skipped some of
our redfish and trout options in order to pursue these amazing fish. After multiple shots at these behemoths without getting a hook-up, we went after redfish only to find that they weren't where they'd been the day before.
On the third morning, we went after big trout. Robert, in particular, had a couple of fruitless shots at trophy trout that were tailing, but soon he and David settled into fishing for smaller trout with poppers. Before we moved on, they had both caught around 20 trout apiece. Both guys commented that it was great fun to fish for the beautiful, and spirited fish.
Then we headed north toward the Mansfield east cut where we found abundant redfish on the white sand. David hit his stride, and caught three reds in about 20 minutes. Robert, meanwhile, hooked up twice as David was fighting fish. Then, on the way back to the boat, David caught the most difficult fish in the bay -- a sheepshead -- with a Mother's Day fly.
We went on to fish for the big drum, but they proved elusive once again. I expect that at least one of my clients will catch of these monsters this fall. Last year, Steve Puzoli from Delaware caught a new state fly rod record (shown here) on his first day of fishing with me. It was his first cast of four days of fishing, and it reaped a 20-lb drum that we weighed, photographed, and released.
Dave and Robert finished up their three-day fishing trip with an encounter with a tailing pod of big reds, that were frolicking under gulls in less than a foot of water. I stayed aboard the boat, but I could see the "bouquet of tails" from 200 yards away. The guys were able to cast to the pod, but as it's often the case, there were no fish landed. Robert broke off and Dave's fly was never seen. But a few minutes later, the fly fishers were able to move in on another pod and pick up a trout and a redfish as their last accomplishment in a great three days. It was a joy to guide them, and Kathy and I look forward to seeing them again down here.

8/21/02 A friend of mine -- Bob Simpson of McAllen -- sent me the following fishing report that I thought you'd enjoy reading. Bob is one of the best fly fishers around this area, so he definitely knows his stuff.
Scott:
I wanted to give you a brief report of my fly fishing excursion this past Sunday. My friend Charles
Clark and I (both previous fishing clients of Scott) launched my boat loaded with kayaks at the county park there at the Arroyo about 7:30 AM. Our first stop was ...(too sensitive an area to name)... where we enjoyed fairly light breeze and an extremely high tide as we explored the entire shoreline proceeding clockwise. Though we witnessed several flounder jumping in the shallows along the southeast shore, we were not able to coax a bite.
Along the west bank we staked out the kayaks and silently stalked onto several pods of tailing reds. The pods ranged from just a few to 15 - 20 fish each. I always wonder why when casting to tailing reds that its usually the smaller fish who take the fly. After pulling one or two fish out of the pods they scattered and we had to work a bit harder to locate singles. Though all of the fish were under 20 inches, we had great fun. I didn't see any trout on the entire foray.
After a brisk paddle into the breeze we took a quick bite of lunch before heading north to try our luck in Payton's (West) Bay, located somewhere near ICW marker #192. We made a lovely downwind drift along the backside of the island for about 1/2 mile where we staked out the kayaks and started a long wade in that beautiful, hardbottomed stretch of clear water. I saw several cruising single reds but was only able to hook-up on a couple of undersized fish, which were released. Once we decided to head back into the 35+ MPH winds, we realized we'd made a mistake! Oh what a long walk that was dragging my kayak along the backside of that island! The last 1/4 mile I was able to paddle crosswind to the boat.
When we arrived safely back to the ramp, I was interviewed by a TPW woman who asked me to rank the day on a scale of 1 - 10. Despite the long wades and paddles, I honestly told her to score it an enjoyable 8!
By the way, the first two or three reds were caught on my recently tied VIP, patterned after your yellow and grey edition. My compliments to you for a truly great fly! I also caught fish on orange bendbacks, and my prizm spoon fly.
Bob Simpson
Thanks, Bob!
I've been on the water only a couple of days this past week, but Kathy and I are looking forward to seven days with clients. I went out alone today just for fun. Having learned from the sting ray incident not to be hasty, I slept late, meditated, ate breakfast, and then moseyed out to the "Y," where I headed southeast. Soon, I was into reds and trout that were cruising in 24" of water, so I shut down and went for a walk. Having not fished much, my gear was in disarray, so I changed leaders and flies, while fish zoomed past me. Finally, I was ready and proceeded to catch three reds. One was 27" (caught on a Mother's day shrimp pattern) and one was 26" (caught on a VIP popper). It dawned on me that I was on the edge of a loosely organized school, because reds kept coming into view. They were pretty finickly, though, and I had many more shots than I had hookups. I also had a shot at a huge trout that was tailing. From past experience, I knew that she would have been relatively easy to catch in this particular area. All I had to do was put the fly about two feet from her. Well, the fly landed three inches from her nose and you could hear the explosion from 100 yards away. Of course, she spooked, but I knew that she might come back around to see what had spooked her. So I kept stripping, and bam -- a hook-up. I fought the fish like she was the 6-8 lb trout I'd seen, only to see that I'd hooked a small red, instead.
I went over the the white sand, and waded for a while. I had only one shot in 30 minutes, but it was huge red. I got down in the water, and waited. When he was 100 feet out, I laid the fly in his path, and waited for him to approach the fly. I twitched the Mylar fly, and he hit it violently, but alas, the fly came out.
I took a client from California out to on the white sand a couple of days ago, and we saw some certifiable monsters. One group of seven fish had four reds from 27-30" and three trout in the same size range. I'm not suprised to see these big fish up in this area, because it's off the beaten path, and treacherously shallow. Needless to say, I'll be fishing this area in the weeks ahead, especially as the autumn tides allow us to fish the fertile edge of Padre Island.
I would say that the fishing has been the best it's been this year, except for the past few days. We have had unseasonably strong winds and high tides for several days, but the winds are dying, and it's going to be a simply awesome week if this trend holds.
My brother Chip and his son Spencer caught 23 reds, 16 reds and nine reds three days in a row last week. All were caught sight casting with light spin gear, but it lets you know what kind of fishing we've been having.
8/10/02 My 13 yr-old son Ryan read over this report last night, and then called me from Virginia with some corrections. Thanks for the help, Ryan!
While I continue to recover from my sting ray wound and a secondary infection, Kathy is out on the bay with two novices from Kerrville -- Todd and LaDonia -- who, as of yesterday had never fly fished. I worked with them on the dock last night, but we warned them that there chances of catching a redfish on their first outing were slim at best. However, a while ago, Kathy called me to say that LaDonia had caught a red! Needless to say, that's pretty amazing!
Yesterday, Kathy took out Anthony from San Jose, California, who had fished the day before, as well. He'd learned how tough it can be to get close to reds. But, armed with this knowledge and a fine cast, Anthony landed four reds on his second day, and missed several more -- all on VIP poppers. Another fine result for a fly fisher, who has only fly fished for about a year.
Fishing has been excellent. Generally, we've had calm mornings, giving rise to classic sight casting to tailing and cruising fish. August is a great month down here!
8/3/02 We've been hosting a six-man contingent from the Texas Fly Fishers, who have been having the best fishing I've heard of for some time. Also, Tim Clancey -- the maker of the Curlew, the best shallow water boat made -- came down to fish the Texas International Fishing Tournament with me two days ago. My son Ryan joined us on the water yesterday morning at 5 am, and we hoped to repeat the good performances of the last two years. Bob Simpson and his friends from McAllen checked the night before, and they hoped to do well, too, as Bob came in second in the fly division last year, pushing me into 3rd place. So, it was a busy time at Kingfisher. Kathy was doing her masterful cooking and coordination, secretly yearning for Monday, I'm sure.
My tournament hopes almost went down the tubes when I stepped on a sting ray before sunrise the first day of the tournament. I'd heard about how painful a sting ray can be, and it's no exaggeration. Tim said we should go back in, but I figured it would hurt more if I was sitting on my rear, thinking of how I'd blown our chances. So, I fished! But after catching some trout, we lost the big reds that would have kept us in the running, so we didn't go to the weigh in. Fortunately, perhaps, because I went home to a 102 degree temperature and a miserable night. Needless to say, I'll be more careful.
Ryan has just recently taken up fly fishing, and even though he wasn't ready to fish TIFT this year, he wanted to go along to help us out. Staying with the boat, and bringing it down to us, Ryan didn't have much fun, but he sure saved us older guys a lot of time and labor. Next year, maybe Ryan will fish TIFT with me, but if not, I sure hope he comes along!
Fishing has been excellent on the west side and east side alike. Many of my friends, such as guide Rick Hartman, have been catching a lot of flounder in shallow water, where they can often be seen jumping. Two of the Houston guys -- Cruz and Norbert -- caught about 25 fish on Thursday -- a mixture of small reds, a 26" trout, and a bunch of flounder. Wow, huh? Fred Arbona caught three trout over 26" last week, and one went over 30" -- all on the sand, where it requires a precise and distant cast.
On calm mornings, I usually take my client out east where they can see occasional tailing, but abundant cruising fish. Mike Macreight caught his first red shown here casting a VIP popper to a surface disturbance.
As I write, our good friend Skipper Ray may be inching toward winning the entire Bay Division with a fly rod. (Later note: He didn't win the Bay Division, but he did win the fly division.) He was the first and only fly fisher ever to do this three years ago. Yesterday, he had all three species, but only a small trout. So he stopped to fish for larger flounder after the wind had come up, and winded up catching a 6+-pound trout! He weighed in about 13 lbs on the first day. If he repeats this performance today, he'll probably place, if not win the whole Bay Division. He probably already won the fly division, since 13+ pounds have won it in the last two years (including in 2000 when I won.)
Small reds can be found reliably tailing on the west side in several places, early in the morning. So we've been able to have first-time visitors catch their first reds casting to the individual and podding reds. Two days ago, Steven Watford of Killeen Texas, kneeled with me in shallow water and waited for a pod to approach within his casting range. Predictably, the pod blew up and disappeared, but we stayed on our knees to await their reappearance. Luckily, they began tailing again 20 feet away. Steve cast into them, and hooked up -- only to have the fly pop out! Happy, but disappointed, we rose to our feet. I was telling him how well he'd done when he spotted one of the reds cruising by. He cast to it, and the red took the fly on the drop. This time the fish stayed on, and Steve landed his first red on a fly! Later he landed a ladyfish, and nearly caught a 27-28" that dogged his fly, but turned away just at the last second. Needless to say, Steve had a very good first day on the lower Laguna, where the experts often go home scratching their heads.


7/24/02 We've had awesome conditions and some great fishing for the last few days. This morning, I was taking Kim Ratliff and his son Kasey out to the east side of the Bay for early morning cruisers and tails. But before we could get there, we ran over a school of reds that were working in knee-deep water -- water that we usually pass up because the fish don't show. I said, "This wasn't my plan, but I
think we should get out and see if we can see them tail or cruise." As soon as the fish settled down from the boat noise, they were on top, cruising around and feeding noisily. Using topwaters -- my VIP popper -- Kasey proceeded to land two 26" reds and a 28 1/4" red! Even though he distinguised himself last October by catching some big reds north of Mansfield, it was his best day overall and his largest red to date. Kim caught some reds, too, but they were smaller.
Yesterday, we got into tails on the west side near Cullen's point. The fish were only in eight inches of water, so stalking them was an exercise in patience and stealth. But Kim picked up a red after casting to a pod for several minutes, and lost another big one.
Before the Ratliffs arrived, Kathy and I hosted Nick and Kathy Curcione for three days of fly fishing. Nick is well-known as a fly fishing speaker and author of five books. Representing such companies as Thomas and Thomas rods, Renzetti vises, and Rio lines, Nick is an expert on fly fishing in a number of saltwater venues.
He'd never been the lower Laguna, and was stunned by the beauty and the abundance of fish. The first day out, we saw "hundreds of fish," in Nick's words. Working mainly from the boat in a good deal of wind, Nick had dozens of shots at redfish on the west side of the bay. It was about as tough as it gets, however, and he didn't land many of the fish. On another morning, we stood in a foot of water and Nick presented his topwater fly to at least 25 trout from four to nine pounds. Although he only caught two smaller trout, Nick was ecstatic about seeing and presenting to such magnificent fish. After three days on the water, Nick gave a presentation at Kingfisher to 25 members of the Laguna Madre Fly Fishing Assn, and at one point impressed the group by saying, with conviction, "For over thirty years, I have been privileged to fish in some of the best fly fishing spots in the world. This place [the lower Laguna] is among the very, very best."
Nick helped me get some photos for my upcoming article in Fly Fishing in Saltwaters. I was hoping that we could get him on the cover with a very big redfish, but alas, the big ones eluded us. Nonetheless, Nick saw some great action, and hopes to return soon, perhaps with some of his buddies.
7/10/02 We had a crowd over the 4th of July and the following weekend. Guided clients, and several of our regular BYOB clients from Austin -- Henry Bone, Jeff Ferguson with his dad and Larry Minster, Scott Patton and his brother Blake, and a few other heavy hitters who use Kingfisher as their base on the lower Laguna. So we were, collectively speaking, all over the Bay. Dinner time was a time for stories and reports, the details of which must remain confidential. A great teacher once said, Never tell another man's secrets.
With that in mind, I can say that it wasn't easy, but there were remarkable catches and finds. Scott Patton and his brother Blake did great on the east side, finding big reds in bootie deep water in the afternoon. I think Scott landed two reds around 28" on his fly rod during his stay (along with a bunch of smaller reds) , and Blake whooped up with his ultralight spin rig. Henry, who had been asking, Where are the reds? for the first two days found a herd on his last morning and enjoyed some "storybook" fly fishing.
All of us found tailing pods on the west side just about every morning, and that action continues. They're mostly smaller fish, but it's great action, and who's complaining about all the small reds in the Bay? I mean, it's amazing how many small reds we're finding! Next year should be a banner year for reds from 22-25 inches.
On Saturday and Sunday, I guided Robert Palmer -- a seasoned saltwater fly fisher from the Houston area, who convinced me to wade fish with him. We had some great action out on the sand where we found a herd of reds just after sunrise on Sunday the 7th. There were so many ladyfish that you couldn't afford to blind cast, because you'd spend your whole time hooked up or losing flies. Using topwaters early, we landed a 27" red and several large ladyfish. Switching to mylar flies, we landed a coule of smaller reds, two nice trout, and a nice flounder before I took Robert to a spot where he got a dozen good shots from the boat.
The day before we'd seen lots of trout and reds on the sand, and had landed a 23" trout along with some small reds. Robert and I both had unsuccessful shots at huge trout -- which is common on the sand this time of year.
6/27/02 The storm was building to the east, and the wind was almost calm. Reds were working in 10-12 inches of water on the west side, so it was easy to see the podding tails. Ladyfish were mixed in, making it challenging to pick out that big red amid the competition. Don Massey and his wife Marilyn had a great morning casting to tailing fish before northeast wind and the threat of lightning sent us prudently packing. Don will probably always remember the red that straightened his hook, and Marilyn will recall, I'm sure the moment "the switch" went on, and she began to see the fish all around her. It was hard to leave such action, but it's been consistent for the last couple of weeks.
6/22/02 For the last week, we've had redfish tailing action on the west side over grass -- both singles and pods -- from daybreak until mid-morning. If the wind remains less than 10 mph, the tailing has continued somewhat throughout the day, but the first two hours of the day have been the more dramatic. These fish are not hard to catch, but topwaters work best to draw them up from their head-down focus. Tailing on the east side of the Intracoastal Waterway, that is, over the turtle grass, has just begun due to the falling tides. We run east, shut down, and then walk into the sunrise toward the tails. These fish are much tougher to approach than the west-side reds, as the dead calm conditions permit the fish to sense your presence from 100 feet out. Waiting for them is an excellent strategy. Also, trout are mixed in with the reds, often hitting bait on top. Again, I prefer topwaters for this action.
Fly Patterns: Sight casting accounts for 90% of what we do, but in calm, early morning conditions where the fish are not showing, we can often draw strikes from 8-10 feet away with a small, but noisy topwater that lands quietly, but speaks loudly. Sometimes I use a dropper, especially on the edge of deeper water. I use a VIP popper that I've evolved over the years into a fly that I'd choose above all else for both major species down here. Instructions for tying this fly is at the Kingfisher website, www.lagunamadre.net, and e-mail me if you have any questions.
Later in the day, lightweight shrimp, crab patterns, deceivers, seaducers and mylar minnow-type patterns are preferable out on the east flats for catching trout and reds. I use a Mother's Day shrimp pattern or Glassy-eyed Shrimp for most subsurface applications on the lower Laguna -- patterns that, once again, have evolved over many years of fishing my home waters. My friend Fred Arbona, who fishes on the "white sand" on the east side of the lower Laguna most of the time, favors a pearlescent mylar minnow with a flourescent orange or red head made of built-up tying thread. This allows him to see
the fly in relation to a pursuing fish, and to know what to do to draw a strike. Most first-time lower Laguna fly fishers usually bring a number of patterns that are typically too heavy for the water depth and too large for casting in the wind. Pattern is really a small part of the equation of success down here, but fly design is crucial. The factors of sink rate, castability and visibility are far more important than color or shape. As a general rule, there is no hatch to match, only a fishery that demands the utmost of the caster. Presentation isn't everything, but you can throw out all the rest and still do well with the right presentation.
We've had great days with Mike and Suzanne Eberhardt, from Houston. Mike is President of the Texas Fly Fishers, a group to whom I spoke last month. Suzanne succeeded in stalking and catching her first tailing red. She was into pods for about 45 minutes, and finally got her fly where it counted. Mike, meanwhile, lost four on topwaters, and broke off on two ladyfish. A mirror image of my last outing in the same venue, where I lost four, and broke off on one ladyfish in front of a reporter who had a camera trained on me. (I guess the guys need to watch the ladies fish, and stay away from the ladyfish.) Mike went on to catch several reds out on the sand, however, and I managed to catch a 25" red for the reporter, thank God.