Kingfisher's Home Page



Online Store




Order Capt. Scott's new book!

TFO rods, reels, and packages Capt. Scott's flies, Capt. Kathy's

On the Mother Lagoon

, furled leaders, spoon fly bodies, Gamakatsu hooks, the Strip'n Aid, and more...



"Sometimes I think the least important thing about fishing is catching fish" -- Sparse Gray Hackle


9/21/05 I have had boat trouble, so we've had to reschedule or refer some of our trips. Still, my friend Larry Shriver and I went out last Friday in preparation for four presumed days of guiding ahead of us. As it turned out, I took one of those days and he and Rick Hartman divvied up the other three while I tended to my Etec, which turned out to be burned up. That's a long and unpleasant story, but suffice to say that it's being repaired and will be back in action soon.

Larry and I were supposed to be scouting, but the first place we went was full of reds, so we
ended up fishing for a couple of hours, using VIPs in water that was only bootie deep. The reds were cruising around and feeding explosively on small mullet. Whenever we'd get the VIP within range of one of the reds, they would wheel around and chase it. It was great action, and we landed seven or eight reds. While we were wading the area, my friends John Kautch and Bob Simpson came into the area and fished nearby. We left them there and went east to the sand; but Bob emailed me later and told me that they'd caught several fish up to 27.5 inches long. They were crashing bait against a shoreline. Larry and I left the cameras aboard his boat, but Bob emailed me this shot of two nice reds.

Larry and I headed east and north and caught a few more on the sand. Bob and John fished the sand later, and did well there, too.

Rick Hartman guided two of our guests on Monday and Tuesday, and they found big reds in the same general area. His two guys had never fished the Lower Laguna, but they caught seven reds up to 29 inches their first day -- on VIPs. I saw them that evening and they both were pretty psyched by the incredible sight casting they'd experienced, but they were kicking themselves for lifting their rods too quickly on the strike -- a typical malady suffered by any angler whose heart is still beating, including guides who don't fish often enough -- like myself.

Rita is heading our way, but if we remain on the south side of her, we shouldn't get much tides. Indeed, the tides should be extremely low if we stay on the downside of her. When Brett hit only 50 miles north of us in 1999 (Cat 4), the Arroyo was lower than I've ever seen it. The counterclockwise spin draws the water out on the south side of the storm. It's the northern edge that gets the surge.

All of our bookings have cancelled or rescheduled for the coming weekend, so Kathy and I are catching up in preparation for a very busy October.

9/5/05 I have had so little time to spare that the fishing report has suffered. Kathy and I both began a new semester at UT-Pan American, and we're gearing up for a trip to the Fly Fishing Retailers Show in Denver this week. However, in between all of this activity, I've been on the water quite a bit. I need to keep this short, but I want to give you a thumbnail of the recent action.

Even as Katrina devastated New Orleans, the summer tides remained low here on the Lower Laguna. Indeed, the only evidence of the hurricane were the slight northeast winds that altered the usual later summer pattern. Knowing that a tidal surge was heading our way, I guided Tom from South Carolina and his buddy Jay from Ohio. We revisted the podding action on the west
side briefly on the first day before going in search of the mythical Redfish Parade. It would have been better, actually, if we'd found it on the second day -- after guys had acclimated more fully to the unique requirements of the LLM redfish. But I didn't hear any complaints when we came off plane smack in the middle of almost three hours of streaming redfish. Instead of catching them entering the grassy flats, we caught leaving. Wake after wake, the fish passed Jay and Tom as they stood in one spot casting endlessly. It was the best of what we found during
their stay. We went looking the next day, only to find the tides rising slowly from the tidal surge that was nearing the coastline.

Before the water levels spiked, Kathy and I -- and our dogs Opal and Lily -- went out for fun for a few hours one morning about a week ago. Again, we found the pods on the west side, but didn't fish them long before they dissipated. After landing five reds, we looped south looking for the leading edge of the Redfish Parade. As I was thinking that the late summer phenomenon wasn't "on," we encountered four or five gamefish wakes and shut down. In moments we knew that we had hit it just right -- the leading edge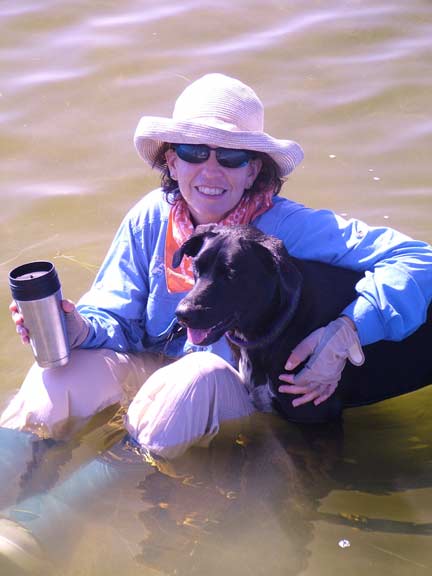 of streaming redfish approaching from the north. We stood in one spot for over two hours, and had shot after shot -- probably 40 good shots apiece. Two or three double hookups punctuated an endless stream of classic sight casting in 12 inches of grassy, calm water.

Kathy took the honors with a 29 inch red, and then followed it a few minutes later with another one almost as large. At one point,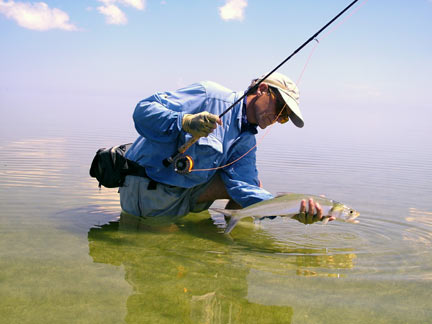 I'd had enough catching, and went back to the boat the give the dogs a wet romp.

Here's Kathy enjoying her coffee and resting her casting arm. Later, we stopped on the east side long enough to catch and release a ladyfish that was probably barely enough to beat or tie the 16 and 20 lb. line class IGFA world records -- just over 3 lbs on the certified Boga grip. But we decided to wait for a larger fish.

I just ended up three days of guiding three men from Arkansas. Randy Holden -- a regular Kingfisher guest along with his fanaticial buddy Russell Myers -- came down without Russell for the first time. Accompanied by Carl and Mark Robertston this time, Randy had to deal with regular phone calls from Russell who, at the last minute, almost boarded a plane in time to join his friends. But family obligations kept Russell in port this time.

We dodged storms for three days, but had some pretty fine fly
fishing interspersed with some pretty difficult conditions. Katrina's effects had finally arrived as an extra six to 12 inches of water. The normal jump in water levels in early September makes fly fishing especially difficult. but Katrina pushed the time frame up a week or two.

Their first day out was quite disappointing. We dodged storms and used almost a whole tank of gas trying to find the fish. Still, a couple were caught including a fine sheepshead that Randy caught by dragging a VIP behind him. Miracles do happen, and catching a sheepshead in that manner was truly miraculous.

We had some truly awesome conditions on the second day out. We found redfish crashing bait against a remote westside shoreline; and the three anglers enjoyed casting to dozens of reds that were cruising around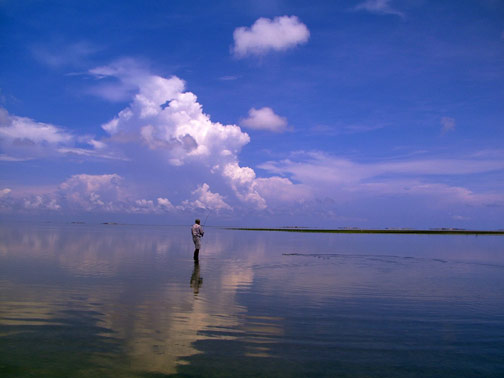 with their backs out of the water. Of course, when we returned the next day, they weren't there. But that's what makes fly fishing the LLM an endless challenging endeavor.

Later that day, we got into some pretty fine action on the white sand, where we found cruising reds surrounded with sheepshead. Again Randy did his sheephead magic in addition to landing a couple of reds. Carl stalked some reds successfully, as well, and Mark finally latched onto a red before the day was over.

On their third day, we prepared to leave the dock only to find my motor's starter jammed. Desparate, I called a friend -- Larry Shriver -- who immediately offered to lend me his boat. Within an hour, Larry arrived from Laguna Vista with his Shallow Sport, and then surprised me further by offering to accompany us, as well. My worst day of the month turned into one of my best days -- simply because of a friend's generosity. Indeed, it was a beautiful day that ended with some intoxicating action on the white sand where we found reds following sting rays. We had Larry to thank for all of that. It's a day and a gesture that I'll never forget.

8/22/05 Sunday dawned with clear skies and neglible wind -- one of those dream days of late summer. It was Ryan's last day in Texas, and it was important for both of us that we spent the last day together on the bay. For a teenager, it is perhaps unusual that he gets out of bed so readily at 5:00, and hasn't thought of casting a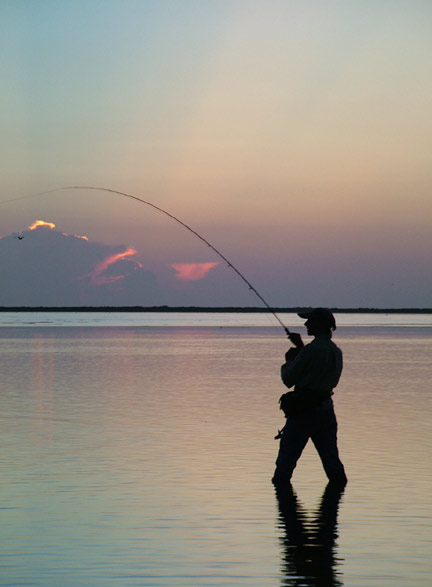 spin rod for three years. I scratch my head, and then have to conclude that it's a very good sign.

Needless to say, we returned to the same area where we've been finding redfish podding and big trout cruising the edges of the redfish action. We arrived before sunrise, and within minutes could make out 50 tailing reds sweeping slowly toward the boat. Ryan slipped overboard in time to intercept them with an orange VIP. I intentionally left the pods for him, but even he had tired a bit of the easy podding action, so while I headed for a shallow grassy area where the trout have been prowling, he headed for the shoreline where he and his uncle
Chip had taken turns catching cruising reds just a few days earlier. Meanwhile, three groups of 20-50 fish tailed happily between us.
Ryan did not find the redfish cruising the shoreline, and so he moseyed back toward the podding reds. However, I ignored the pods, because the trout were thick where I waded. Using a VIP, I missed a couple, and got a lackluster response from two more on top before switching to a Mother's Day Fly and landing a 23-24 inch fish, and then a 25+ inch trout a while later. Our good friend Henry Bone and two of his buddles had poled into the area just in time to take a photo of me releasing the second fish. Ryan and I returned to the boat around 11:00 after landing a dozen fish between us. We hadn't even hit the sand, yet. But the morning fishing had already been enough for both of us.

8/16/05 My son Ryan arrived 10 days ago from Virginia. Usually when he's here during the summer, I'm busy with clients, so we don't have a lot of time together. But with Kathy's help in saying "no" to guiding, I've had a week off to spend with Ryan on the water.

This morning, my brother Chip joined us for one of the most memorable fly fishing trips we've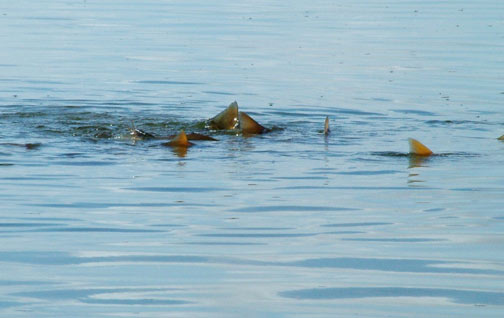 ever had together. We fished an area where the reds have been podding off and on for the last two weeks, and the big trout have been cruising on top at daybreak. As soon as we arrived, and shut down the motor, several large tailing pods appeared and began heading our way. I was more interested in taking pictures and helping Ryan get off to a good start, so I moseyed behind him and Chip as they began casting their VIPs to the tailing fish. Within a few minutes both anglers were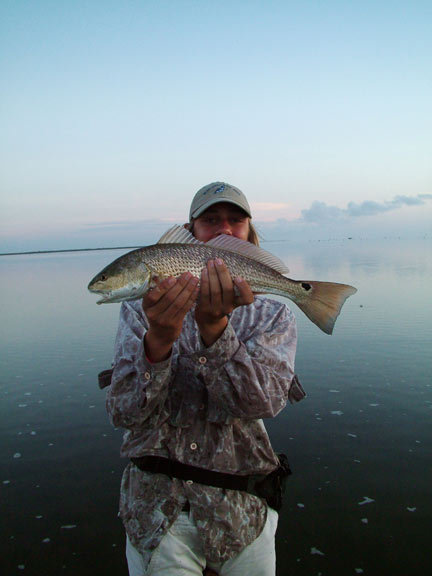 hooked up, and the sun was only barely breaking the horizon.

I left them to pursue the pods after spotting what I'd come for -- big trout. An 8-9 pound fish appeared to the north, and stayed within view for over an hour. Knowing how sensitive they are, I took my time approaching her. On the way, I caught a couple of reds and then caught a 26+ inch trout that was cruising on top just like her big sister. I released the fish, and then got ready for the bigger fish, which was suddenly heading my way. She came within 40 feet of me, and began milling around. Trying to stay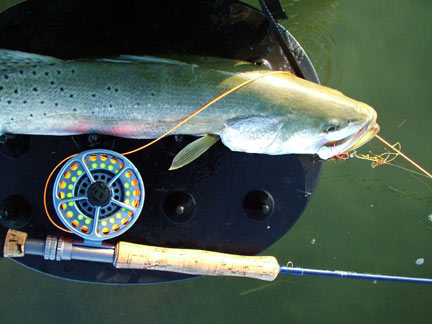 cool, I casted my orange Mother's Day Fly to her several times before she finally saw it and hit it. It was probably a 20-lb. tippet world record fish, but I missed her. She stayed within sight for the next half hour, but never came within casting distance again. We're going back tomorrow morning, needless to say.

Meanwhile, Chip and Ryan were yelling at me to come join them. They were casting to one red after another along a shallow shoreline. Chip landed seven up to 29 inches, and Ryan -- who is still fairly new to fly fishing -- landed four reds. The fish had stopped podding, but the action along the shoreline was classic sight casting to big singles with their backs and tails out of the water.

We all got thirsty about the same time, and began heading back to the boat. The wind started to
come up, and suddenly the reds were podding everywhere again. I landed three reds walking back to the boat, and as we sat drinking our Gatorade, two large pods frolicked within 100 feet of the boat. However, we'd had it so good that we decided to leave them alone and head back to Kingfisher.

I told Ryan, "You're on the A team now." He said, "I don't think I'm A team material, yet." I disagreed, saying that anyone who catches four reds on poppers is an official member of anyone's A team. Chip agreed. I was pretty proud, needless to say.

8/14/05 My son Ryan and I went out today. We left the dock a bit later in the morning than usual and headed to the west side, planning to head north and east by late morning. We "tested" the Redfish Parade and found it was not on, but we did locate a few tailing reds in one westside venue. It was tough picking them out from the mullet, however. So, after landing only one red,
we headed east. Joe and Debbie MacKay had caught several fish nearby, and they joined us as we made beeline for a spot that has been producing well later in the day. Parking within 100 feet of each other, we waded onto a grassy flat, where the reds have been tailing vigorously in the wind -- which was fortunate, because the wind was already above 15 mph when we arrived. Ryan and I separated, and began seeing scattered reds. Ryan, who has only recently begun fly fishing exclusively, missed a couple and then landed a nice red, as shown.

Two days ago, I guided an old client, Gary Maler, and his nephew Ryan (different Ryan!). Ryan is a fine spin fisher, but has been resistant to fly fishing exclusively. Gary must have convinced him to leave his spin rod at home, because they
appeared on the dock with only fly rods in hand. The morning turned out to be an uncle's answer to prayer, as Ryan proceeded to catch four reds sight casting in a very difficult venue, characterized by very shallow water and fairly thick grass. Using an orange Mother's Day Fly, Ryan exhibited prodgious patience and focus as he casted to the lone reds that were tailing and cruising upwind. I wouldn't be surprised if Ryan was the one that "hooked" by the fishing.

8/11/05 Tides are at a critically low point, and the winds have been especially high for the last three days, making for difficult fishing. Harold Ochamb and his daughter Andy caught the tail end of the two weeks of consistently great fly fishing, but then caught the beginning of the windiest August that we've had in a long time.

First of all, let me backcast to last weekend, which was a dream weekend for John and J.R. Boyd. It was the second year in a row that father and son had fly fished the first weekend in August. Last year, J.R. distinguished himself by catching a lot of reds in the Redfish Parade -- a phenomenon that commonly occurs in July and August. John had a frustrating trip last year, but last weekend both anglers had a trip that I'm sure they'll remember the rest of their lives.

We started out by Q-beaming for over 15 miles to a place on the west side where we'd been finding massive pods of redfish feeding on shrimp. We pulled into the area, careful to avoid the main area; but while poling
toward the alleged hot spot, we began to see tails pop up all around us. Within minutes, we were out of the boat. Meanwhile, the tails became pods, and the pods became certifiable schools. For several hours, we were surrounded by tailing groups of redfish. Using VIPs for the first two hours, and then switching to Mother's Day flies, John and J.R. each caught several reds. In contrast to last year, John had the "hot rod," a matter of pride to post-50 anglers and guides. Then we went after ladyfish -- J.R.'s favorite target after barely missing a world record last year. We caught some small ones, but the world-class fish eluded us. The morning was so spectacular that John and J.R. opted to go in earlier than we usually do.
The next day, we returned to the same spot and were disappointed to see only a few scattered tails before the wind rose and put them down. Although I was loathe to leave a place that had
produced so well 24 hours earlier, I decided that the fish had moved to a different place. Suspecting that the Redfish Parade could be "on," I made a wide circle to look for the reds, and suddenly we were back into fish.

We got out of the boat, and began to notice single tailing fish in virtually every direction. Then, as the water settled down, it became clear that the Parade was approaching us from the north. For the next two hours or so, we had shot after shot at singles, double and triples. The reds were cruising on top, tailing intermittently, and swinging their tails as they resumed their upwind migration into a shallower area. It was classic one-on-one sight casting action, and it wasn't easy. The Mother's Day fly had to be perfectly presented. Otherwise, the fish wouldn't see it or it would spook. The window of opportunity was
defined by sheer inches. Still, J.R. in particular did quite well.

Thinking that it couldn't get any better, we headed for the sand around 11:00, mainly to target big ladyfish. I wanted to show them a place up near the Mansfield Cut, but as we planed along the edge of the sand, redfish began to flee ahead of the boat. I stopped the boat, and we got out to wade. Then, an amazing thing began to happen. School after school of ladyfish began to approach from the north, mixed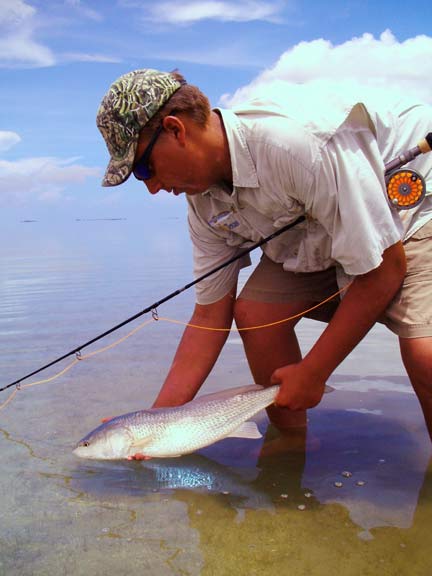 with redfish. Within ten minutes, John caught two ladyfish and a nice red. And J.R. began catching both species, as well. At one point, J.R. said something that most experienced Lower Laguna Madre fly fishers would raise their eyebrows at: He said, "They're a lot easier to catch out here on the sand." It was true last Saturday, but it's rarely true.

John booked the same weekend for next year. It was a pleasure guiding the Boyds, and I look forward to their return.

Back to the Ochambs. Harold is from North Carolina, and his daughter is from California. Harold is a seasoned east coast flyfisher, and wanted to try his hand at sightcasting for reds, trout, and ladyfish on the LLM. Andy is an experienced diver, but wants to learn fly fishing as an alternative sport. She had practiced a lot on her own, but hadn't spent much time on the water.

So it was somewhat surprising that she got off to such a bang on her first morning out. We went
to the same area I'd bee fishing with the Boyds, but did not find much evidence of the hoards of redfish we'd seen on Friday and Saturday. Trying to decide what to do next, I noticed a few gulls working about 1/4 mile away in extremely shallow water. Using my bonculars, I spotted the unambiguous signs of a sweeping group of redfish. So we got up on plane, and boated to the edge of the area. Then I got out of the boat, and pushed the Curlew toward the area where I'd seen the fish. Slowly it dawned on us that there were several large groups of aggressively feeding
redfish within 200 yards of the boat. I continued to push the Curlew toward the first group, and as we got closer, we could see that the reds were porpoising in 10 inches of water. Shrimps were jumping ahead of them, and regular explosions singified the reds' success. Andy let her dad cast first. Harold stung two, lost one, and then finally landed a 25-inch red on a Clouser.

Andy took over, and within a few minutes she was casting to a huge pod that was sweeping toward her. Leaning toward the fish, and her rod low, Andy stripped until she had a 26 inch red on her line -- her first redfish on the fly. Needless to say, father and daughter were psyched, not only by their success, but by the natural drama that we'd witnessed.

I wish I could say that we enjoyed such action for the next three days, but alas the winds were
punishing. We had only modest successes on the west side and on the sand. One high point on day three was finding a lot of fish near the area where they'd caught the reds, including some very large trout. Indeed, Harold presented to a certifiable world record trout in the 9-10 lb. range. If their guide had been on his toes, he would have had a good chance at hooking the fisth. But I was looking 50 yards from the boat, and when we saw the big fish, she was only 10 feet from the port beam and heading upwind. It was a difficult shot because it came so late.

We sure hope that Harold and Andy will come again at a time when the fishing is a bit easier.

7/31/05 Since I last updated this report, the tides have fallen dramatically -- to the levels that we usually experience this time of year. Last week, Kathy and I went out for big trout and ladyfish, in hopes that she might catch a world record trout. The tides were still very high, however, and we had cloudy conditions as well. It was a very difficult fishing day, and we returned to the dock without having caught a single fish.

The next day, however, I took out Larry Shriver -- who, with his wife Janet, has just relocated from Colorado to Laguna Vista. We have become friends, but it was the first time we'd found the time to fish together. Larry and I found an entirely different bay than the one Kathy and I fished the day before. The tides had fallen nearly six inches, and so the levels were perfect for certain westside back lagoons that had been awash with storm tides for the previous two weeks, due to the tidal swells from Hurricane Emily and Tropical Storm Gert.

Larry and I took the Curlew into a back lagoon before daylight, but we could seek redfish wakes all over as we planed into the area. Shutting down, we had only minutes to wait before tails began popping up. Indeed, as we slipped overboard, we began to see large groups of tailing reds milling around. Mullet were everywhere, so we had to move slowly into range so we wouldn't send a committee of frightened mullet into the happily tailing reds. It took us both a while to adjust to the sensitive conditions, but before long we were both hooked up on sizeable reds. I landed on that was around 28 inches on my five-weight. I left the camera on board, so there aren't any photos of that foray.

I told Larry that we'd been finding lots of reds on the sand, north of the Arroyo's mouth, so we headed that way once the wind came up and put the tailing fish down. Thirty minutes later, we were wading on the white sand, and casting small Clousers to hoards of sheepshead. The redfish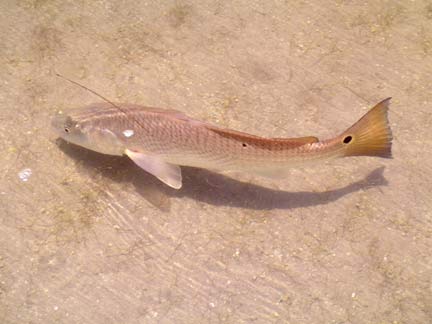 were scarce at first, but slowly began to materialize. We landed a couple before I decided to go back and float the boat down closer to where Larry had waded. It was then that I spotted fish approaching from the east. Thinking that they were sheepshead school, I was shocked with a group of 8 reds came into view. I casted to them fought over the fly before I hooked up. Releasing the red, I turned upwind again and resumed my march to the boat when, again, another group of reds swept through. It became clear that the reds were streaming in from the east. Most of the casts were upwind, and we caught a couple more, but the angling was very tough in the 15-20 mph conditions.

Larry and I agreed that the day had been as perfect as one could ever hope. Most importantly, we relished the sights of the water, the birds and the fish. We were two guys over 50 who have come to enjoy being on the bay much more than doing anything in particular, including catching fish.

This weekend, I had the pleasure of guiding our old client and friend Bruce Hathaway from Victoria. Bruce has fished with me about five times, and we've had some glorious days on the water together. This time was no different.

I was eager to show Bruce the Redfish Parade, a to-die-for phenomenon that takes place in midsummer to late summer, early in the morning. We left the dock in the dark, and Q-beamed 15 miles to my favorite Parade area, and shut down before we could see well enough to tie on a fly.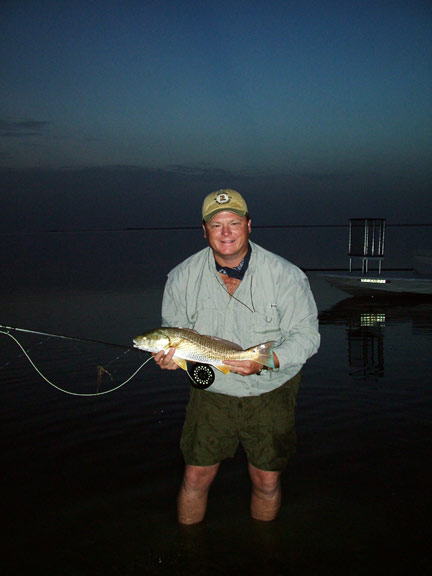 After a few minutes, however, I spotted a back and tail out of the water only 30 feet from the boat. Bruce slipped overboard and stalked the fish for a while fruitlessly. It seemed very finicky. Moments later, another exposed back appeared and Bruce hooked up after putting the black VIP inches from its nose. Bruce had caught his first red before the sun had risen!

I thought that the Redfish Parade was "on," but it never materialized. In fact, there were hardly any reds in the area. Instead, Bruce casted to big trout! Indeed, dozens of trout from 20-28 inches were sauntering about in the shallow, grassy water. Bruce invited me to fish with him, so we both stalked one trout after another over the course of two to three hours. Bruce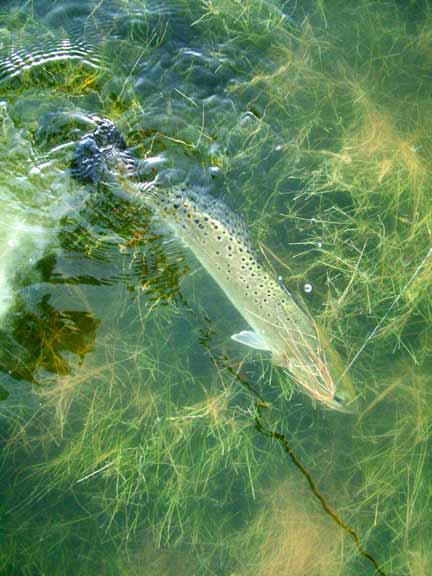 caught one that was about 25 inches, and I caught one smaller. That doesn't sound like much, but when you consider how thick the grass was, how many strikes we missed, and how many fish we broke off (I broke off on two myself), then you have some idea of the action that we enjoyed.

We went for world record ladyfish on the sand later in the day, and had the most incredible ladyfish action that I've seen in a year. Large schools of 1-3-pound fish were everywhere. I was trying to break the four-pound tippet record, and Bruce was trying to beat the 12 lb. tippet record, which is held jointly by myself and a gentleman from Florida. It would have made me happy if Bruce would have broken that record, but alas, he did not. For myself, I landed four nice ladies on the 4 lb. tippet, one of which came close to the 3+ pounds that I needed to reclaim my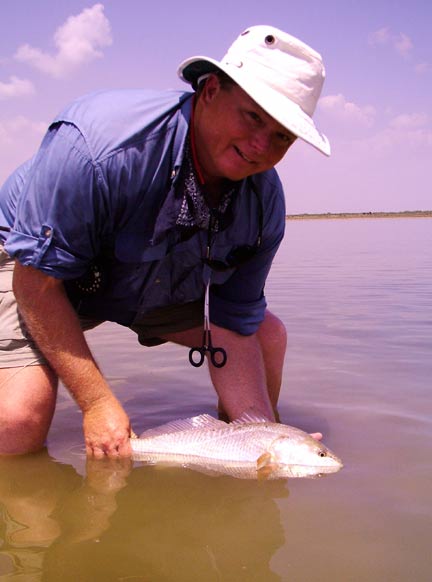 4-lb. tippet world record that was supplanted a year ago. Maybe next time. It was a blast anyway.

Bruce and I returned to the same area at daybreak, hoping again for the full-blown Redfish Parade, but again the reds were nowhere to be seen. We contented ourselves with stalking the
trout that were present again. I landed a 23-24 inch trout, and we both landed a single redfish. But the high point of the early morning was when Bruce stalked a 27-28 inch trout, and finally hooked her on a black VIP. For five seconds, he had her on, but she swepth through the thick grass and dislodged the hook. Bruce did everything right, but the conditions were nearly impossible for landing such a great fish.

The climax of the weekend came when we headed further north, and began to see reds and trout fleeing before the boat. So I came off plane, and poled Bruce for about half an hour. He got plenty of shots at spooky fish, which was fun but frustrating, too. Approaching a west shoreline, I suggested we check at area that is known to hold reds in the summer, during the low tides. As we got closer, I was delighted to see a large pod of tailing reds. Scanning the area more thoroughly, I could see that
there were at least six groups of 20-50 reds tailing. By the time we'd slipped overboard and walked 50 yards closer, I was sure that we were in the presence of 1000 tailing redfish. Frolicking pods were all over the place! I called my friend Joe MacKay and his wife Debbie on the cell phone and urged them to come quickly. At one point, Joe hooked a huge sheepshead that was feeding near the podding reds. It surely a new state fly rod record, but it came loose at his feet.
For a while, we stalked one group after another. Bruce landed half a dozen reds, and stung as many more, before we headed for the dock. Meanwhile, I had a great time photographing the tailing action, as well as landing a couple of reds myself.

It was gift of immense proportions to encounter so many tailing pods in July.

7/18/05 The reason I have time to sit down and reflect on the past two weeks is because Hurricane Emily has given Kathy and me a few days off, as clients from South Carolina wisely opted to reschedule their trip to Kingfisher.

The fishing has been excellent, but the high tides and thunderstorms have made it challenging. Two weeks ago, Leo Connoly and his three buddies from Orange County -- Mel, Howard and Mike -- arrived on a Thursday and fished with Rick Hartman and myself for the next three days. It's always fun working alongside Rick, because we share information that gets our clients into the
most favorable emerging opportunities. The Orange County group arrived at a time when the fishing was far from easy. Each morning dawned with a slight breeze that rose steadily through the day. However, by shifting with the conditions, we were able to find and catch fish on all three days. There was some good podding action happening, and some excellent white sand
redfish action, too. We spent some time on the Mansfield Cut, as well, finding some reds patrolling the edges during the incoming tides. On one occasion, we had to run from a storm, and spotted this waterspout snaking toward the flats. By then, we were heading away from it, and could enjoy the stunning visual spectacle.

The day after the Connoly group left, I guided our old clients and friends -- also from Orange County -- Peter Koga and Dan Iwata. They came out to fish, but also to shoot some video for a Kingfisher promotional DVD that we will show at presentations, and send out to fly shops and prospective clients. We were blessed with calm mornings and low tides, so I hoped to find that the Redfish Parade -- a July and August phenomenon to die for, was "on." Sure enough, when we pulled into the area where the parade usually begins, the reds put on a show like I've rarely seen it. Of course, they sent the drum major ahead of the pack -- an 8 lb trout patrolling the flats alone -- while the reds assembled only 50 yards away. We spotted the trophy trout snaking through the grassy water as soon as the motor stopped, and in minutes Peter was overboard stalking the giant fish while Dan filmed her back and tail above the glassy water. Usually, these world-class trout mosey in the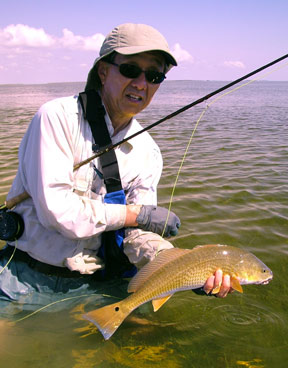 other direction, sensitive as they are to aggressive intrusions. But Peter took his time, and let the trout circle back to him. The most dramatic moment I've seen on the bay in some time took place moments later as Peter -- on his knees in a foot of water -- casted to the trout that was approaching head on. She struck once, then again, and finally a third time before the fish and angler were only 10 feet apart. She missed every time, and then scurried away as she picked up on Peter's presence. Having a big trout swim right up to you says that you've done everything right. The highest compliment with nothing to show for it, except some awesome footage that I can't wait to see.

Peter turned his attention to the incoming reds, and spent the next two hours casting to one redfish after another that were cruising on top with their backs and tails showing. The most difficult thing was presenting the VIP in a way that did not offend the fish. In the calm, sensitive conditions, it wasn't easy to do that. But after spooking a few fish, Peter settled into a groove, and went on to land a bunch of reds. Dan followed with the camera, while I coached Peter on the approach he needed to take. Since Peter was using a black VIP, the hookups were dramatic to say the least.

That evening, I took Dan back out for some birding action that was happening in a west-side lagoon. Dan had enjoyed this action the previous two trips, so it was like an anniversary event to wade into tailing reds and squalking laughing gulls. It was windy, the wading was almost impossible, but the action was fast and furious. I was the cameraman while Dan waded into the
pods, and we got some great footage of him landing a red and a nice trout before we tired of the immense effort.

Kathy joined us the next day, and we went after big ladyfish on the sand. We got some good footage of Kathy spotting and catching trophy ladyfish on her six-weight. When Dan and Peter left, we all felt that we'd be blessed with incredible fishing conditions. We will have the DVD by September, when we go to the Denver Fly Fishing Retailers show.

Yesterday, I had the privilege of guiding Vince Wiseman and his
buddy Roland. Vince is a regular Kingfisher guest from Austin, but Roland -- Vince's friend from medical school -- is from Mississippi. Although the tides were up, and we had to dodge storms and cloudy skies, we had a great day -- fishing mainly on the sand. Roland caught this beauiful red at daybreak out along the Padre Island shoreline, and Vince caught this sheepshead -- one of two that he caught -- near the East Cut. It was his personal best for sheepshead. Two in one day is a remarkable feat.

7/6/05 A very brief update. The tides are falling to summer levels. We're still finding some podding on the west side, but the single tailers are starting to predominate. Also, it's been hot near the edge of the ICW for reds and trout. The sand action picked up last weekend while I was guiding former client Dan Casso and his friend Kelly (and son Jonathan) from Houston. Dan caught several reds on the sand on Sunday after scoring a few early hits on the west side. Kelly and Jonathan were new to the sport, but they were fortunate to be able to stalk some pods of tailing reds on foot, and cast to tailing trout from the boat. Jonathan, who is 11, never tired of the action, even though it was tough for beginners, as always. At one point, I said to his Dad, "I'm really impressed that he's stuck with it. You can learn just about everything you need to know about someone just by putting a fly rod in his hand and watching to see what they do." Jonathan is one of those kids who has what it takes to meet life's challenges.

6/27/05 I had the pleasure of guiding Bill McBurney and Joe Rossi of "Ambassador Outdoors with Bill and Joe," a
new Sportsman's Channel show that will debue this fall. We fished Thursday, Friday and Saturday on camera, and then Joe had to return to Pennsylvania on Sunday morning. So Bill and I went out for a few hours for fun.

The video shoot went pretty well, with Thursday standing out as the best day. We fished tailing reds for several hours on the west side, and got several hook-up-to-release sequences for the
upcoming TV show. Then we went east and looked for reds, but the numbers that we'd been finding since early May were just not there. Typically, the midday sand action falls off as the waters warm, and the best times for finding the fish on the sand once that happens is early and late.

We got into some amazing ladyfish action on Friday after exhausting the west side action. Bill grew up in Florida and was used to catching small ladies, but he'd never sight casted to 2- to 3-pound specimens. At one point, he hooked into a certifiable 3+ pound fish, which is a world-record class ladyfish. It ran way, way into his backing before pulling the hook. Bill asked me, with some doubt, "Was that a ladyfish?! That was incredible!" All of us went on to land several fish in the 2+ pound range, and I don't think Bill and Joe would have ever left the flat if I hadn't pulled the plug.

The most amazing fishing happened, as you would imagine, after the camera was on its way east. Bill and I went into a lagoon that had been too shallow to fish for over a month, and we waded into abundant tailng redfish in the 25-28 inch range. We only landed three apiece, but broke off or lost several others. Bill was simply awed by the beauty of the place, and the incredible classic sight casting that we enjoyed for several hours. A rain shower blew through in the middle of our enjoyment, leaving us with this rainbow, which captured the sense of gratitude that we both felt.

6/21/05 The fishing continues to be excellent, with podding action on the west side early, and reds on the white sand after midmorning. Last Thursday, I guided Richard Skinner from Houston for the first time. We headed west and found tailing pods along the west shoreline. Starting off with a VIP, Richard stepped off the boat, waded a mere ten feet and waited for the first pair of reds to swim up to him. Missing two strikes, he turned toward the shoreline and had to make a difficult decision -- which pod to go after. They were spread out as far as we could see up and down the shoreline, tailing happily. After spooking a few fish in the dead calm
conditions, Richard hooked up on a red that cruised up to him and took the VIP explosively. As it turned out, it was the first of about 10 fish (nine reds and one nice trout) that he landed before we went in at 1:00.

As the wind rose, and the fish stopped tailing at our venue, we headed elsewhere where we found even more pods of six to 30 fish tailing. Richard caught most of his fish by getting off the boat and stalking the pods. Here's a shot of him casting to a pod of about 25 reds.

We headed east by late morning, and fished on the white sand north of the Arroyo's mouth. He
asked me to join him, so I waded with him for about an hour. We didn't land many more, but we had quite a few opportunities in glassy, foot-deep water. The reds have been on the sand almost daily since late April, at least, and it's just been intoxicating to cast to numerous fish in Bahama-like waters.

I guided two former clients from Arizona -- Dario Traivini and Jack Miller -- for three days following Richard's visit. We fished
the same pattern every day -- west side podding action early, and cruising fish on the sand for the rest of the day. The two veterans caught a lot of fish, especially on Saturday when the podding was nonstop for several hours.

On Sunday, we decided to go after tarpon, so we headed to the East Cut and out into the inshore waters looking for feeding fish. It didn't take us long to find 30-50 lb. tarpon feeding on a bait ball about 200 yards off the beach. Jack had one rise to his fly soon after we arrived, and several almost jumped in the boat, coming half way out of the water within feet of the Curlew. But alas, we really weren't set up for success, and we failed to jump any of the fish before they tired of us floating through their midst. For Jack, the tarpon were the high point of his trip. I suspect that he'll come back for those fish, and that we'll be ready for them next time.

6/13/05 I don't have much time to update you, as I'm teaching summer school in between guiding (just for June). But I guided for the last three days, and I'll briefly bring you up to date.

On Friday, I guided Jay Forrest and Andy Niland from the Alamo Fly Fishers in San Antonio. We had a pretty fine day on the water, starting off with a double hookup before the sun had risen
-- casting to a large pod under birds. It wasn't a high catching day, but both anglers landed some nice reds, and each of them broke off on a large red while fishing the white sand. The sand never "turned on" where we fished, however, so the opportunities were spaced out. Jay ended up the day catching this beautiful fish during the last five minutes on the sand.

I guided Doug Gauntt and his buddy Dick, both from Dallas. Kathy and I have hosted Doug and his wife Connie on two occasions already, and Doug is a Laguna Madre veteran, having fished the bay for several years. So when they asked me to join them with my fly rod, I gladly consented.

Saturday dawned with low winds, and we were rewarded for our early departure with podding reds on the west side. For about three hours, we casted to pods and individual fish, and ended up landing about 13 reds before heading east. We caught a few more fish, but the east side action wasn't as turned on as much as I'd hoped.

However, Sunday brought a reversal. It was very windy early, and the pods were nowhere to be found on the west side. Only one fish was landed before 10:00. But we headed east, and got into a passel of reds near the East Cut, landing 20 or so before noon. We would have caught more but the clouds were a problem for half the time. Then we headed south on the sand, and caught another nine or 10 more before calling it a day. It was remarkable, classic white sand action. The fish hammered small Clousers whenever we'd get it within three feet of them.

We all caught about the same number of fish -- 9 to 11 apiece. It was pretty awesome day, needless to say.

5/31/05 I hadn't fished for fun in two weeks, so I was more than ready for it. My brother Chip and his son Spencer joined me, along with Spencer's buddy from Colorado, Taylor. We headed to a westside venue early, hoping to find tailing pods; and sure enough they were there. For about four hours,
we waded into one pod after another. There were single tailing reds, too, so the action was just about nonstop. By my estimates, we caught 17 reds and three trout on a variety of flies, beginning with VIPs, and then switching to Mother's Day flies and Clousers by midmorning.

Then we headed east for the white sand (shown), and fished for another two hours. It was dead calm, and usually it's very hard to get close enough to the fish to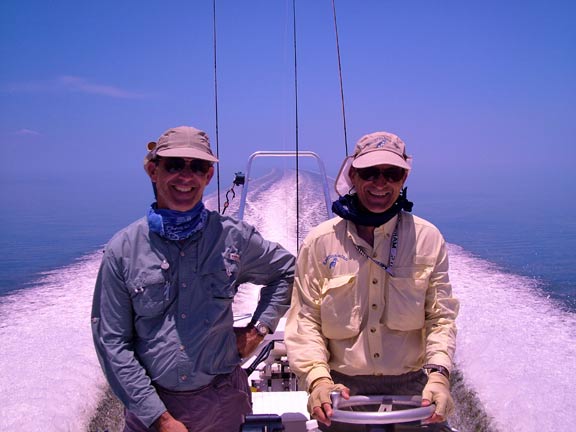 make a presentation. But for some reason -- probably because they were feeding head down -- we managed to do remarkably well, landing 12 more and pricking another dozen fish. It was one of those stunningly beautiful days on the Lower Laguna -- 29 redfish and three nice trout landed in six hours of fishing.

Taylor had never fly fished in saltwater, but did really well, landing four reds. He was overwhelmed by the beauty of the white sand, comparing it to photos he's seen of the Bahamas. As you can see, the water was gin clear, and dead calm -- an especially challenging scenario for fly fishing.

5/29/05 The fishing has been excellent, characterized by tailing pods on the west side at daybreak, and fish streaming onto the white sand by late morning or midday. I had the pleasure of guiding Kent Hamilton and his son Rhodes yesterday and today. This was Kent's third trip to
Kingfisher, and Rhodes' second visit.

We targeted tailing pods early and were not disappointed. Arriving in a west side lagoon before sunrise, we could barely make out gulls working over redfish. I poled downwind to where we were only 100 feet from 30 reds that were feedging actively on shrimp. I recommended using shrimp patterns or spoon flies, since it was pretty windy and the noise of a popper could easily go unnoticed by the head-down feeding fish. Both anglers approached the pod (shown here), and both had strikes. Alas Rhodes lost his on a Kingfisher spoon, and Kent landed the first redfish of the day on a weighted shrimp pattern. It was, however, difficult wading on the boggy bottom, so we watched more tails than we casted to.

Once the sun rose high enough, we headed east onto the sand. The wind had died somewhat, creating a slick sheen on the gin-clear water, making it difficult for the anglers to spot the reds in the midmorning light. However, the wind rose, and so did the sun, allowing Rhodes and Kent to witness the white sand "turn on." For a while, the guys enjoyed one shot after another, and landed several fish before the wind began to affect the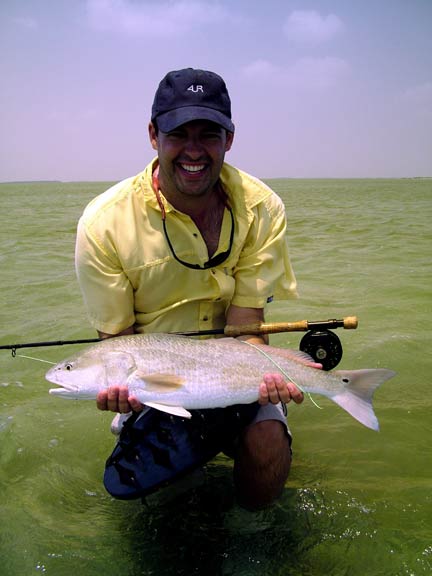 water's clarity. We ran south into clearer water, and got into some ladyfish action before it was time to go in.

The Hamiltons had less time to fish on Sunday due to their flight schedule, but we put in over seven hours, dividing the time between the west side and the white sand, once again. I'd given three of our BYOB guests led by Don Jones from Corpus the heads-up on the podding action, so I took the Hamiltons elsewhere, hoping we'd find fish on a better wading flat. We had slim pickings early, and then headed for the east side by 9:00, which is bit early for the sun's angle. Rhodes caught a couple before the water conditions deteriorated in the high wind, so we headed south for clearer water. Thinking that we'd only find some ladyfish, I stopped at one of the most beautiful venues on the white sand, and urged the guys to wade downwind toward an old channel drilling that was cut 40 years ago. As they got closer to the channel, Rhodes began spotting redfish streaming into the area from the west. In only about 45 minutes, he landed four more reds, including this beauty.

It wasn't easy fish, by any means. But the Hamiltons showed what can be done with a little experience and a lot of willingness on the Mother Lagoon.

Don and his buddies from Corpus enjoyed "story book" fly fishing for both days. They caught numerous reds up to 28 inches, a couple of dozen ladyfish, and one sheepshead (by Don) that would have been a new state fly rod record if it had been properly documented -- all on Mother's Day Flies. Indeed, they almost cleaned us out of our Mother's Day supply (thanks to the assistance of the ladyfish that broke off many of their flies).

5/24/05 So much to tell, and so little time. Skipper Ray and Rick Hartman joined me Friday through Sunday as we hosted Aran Dukovna from Sierra Fly Fishers in LA, along with five of his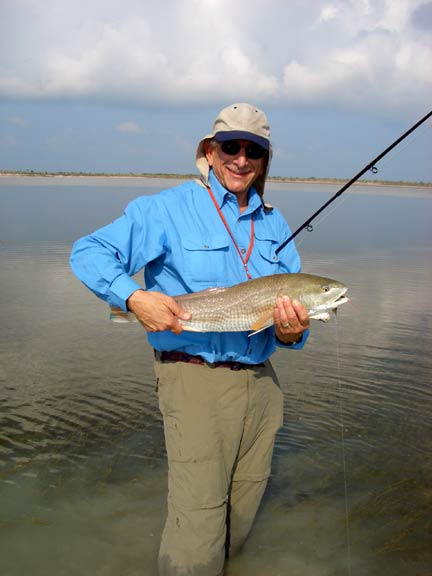 fly fishing buddies. They chose the most beautiful three-day period we've had all year -- winds from 5-10 mph until late afternoon, and cloudless skies. Not only did we have beautiful conditions, but the fish were very, very cooperative.

I returned to the shallow flat I'd visited the day before (see below), knowing that Rick was planning to fish my other choice. Skipper went after big trout with his guys. I found the sweeping pods again with my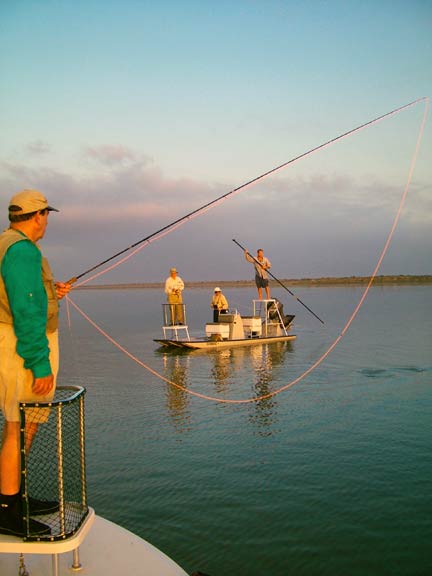 two guys, Michael and George. Meanwhile, Rick really got into the reds in bootie deep water with Bob and Aran, while Skipper and his group casted to trophy trout, hooking one but losing it.

The red VIP proved effective for Aran and Bob, as they caught several reds early. After my guys pounded the pods for a while -- with Michael landing his first two reds on the fly -- we headed east where we found several schools of reds -- one with about 300 fish in it. We couldn't chase them around very effectively with fly rods, though, so we headed north where we joined Skipper's group on the white sand. Several fish were caught there before the day was up.

On Saturday, Rick and I caravaned into the area where he'd fished the previous day. We broke up a school on the way in, so we shut down, and poled downwind toward the area where we'd seen them. It was hard to believe what we found -- a couple of hundred redfish tailing in small groups, and sauntering across the shallow flat with their backs out of the water. Rick and his two guys hammered the reds on VIPs, while my guys waded parallel and casted to one tailing group after another. It was story book fishing, but after about two hours, the reds moved out. I headed back to the sand, where we found a few fish before the day was over.

Sunday proved to be disappointing in the lagoon where Rick and I'd fished the day before, but we found pods working in another locale. We called Skipper, who joined us with his group. We poled downwind for two hours, casting to pods, and catching several reds. Then, I left the area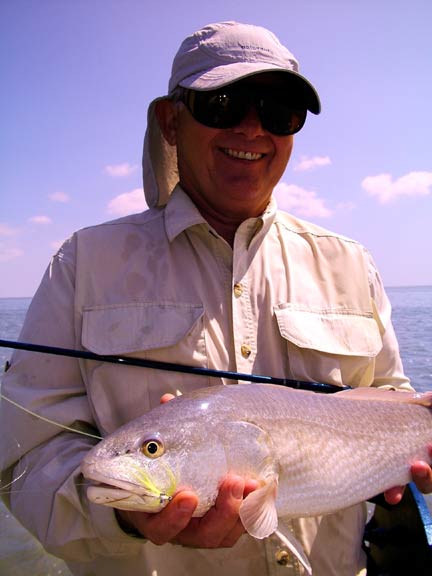 first and headed east for the white sand. When we planed over the edge of the sand, redfish scattered in all directions. I got on the phone and called Skipper, who promptly joined us for the most incredible white sand action I've seen in a year or more. One of Skipper's guys -- Bob -- "lost count" of the reds he landed over the next several hours. Both of my guys -- Aran and Bernie -- had dozens of shots and landed several fish.

I had Monday off, but guided Mark Barnett from Houston, and his uncle Wayne from Farmington, New Mexico. They had brought their own boat, but after a fruitless Monday, they asked me to guide them on Tuesday. So we went out early, and targeted tailing pods on the west side four about three hours before heading east onto the sand.

We found a few pods on the west side, all right, but they were hard to approach from the boat. In his first three trips to the Texas Coast, Wayne had never landed a red, so Mark was intent on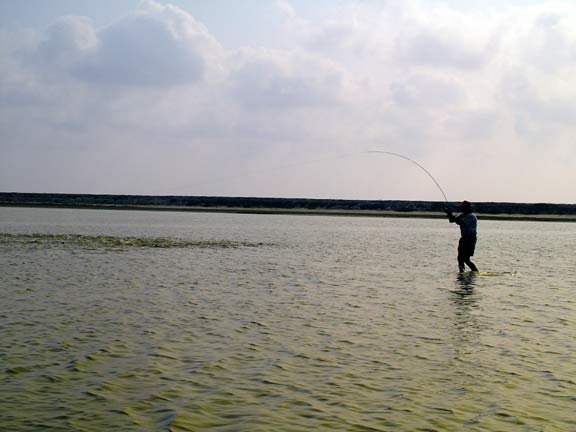 Wayne having every opportunity. No pressure, of course, fishing off the front of a boat with a hand-wringing nephew and an overly attentive guide. But Wayne managed to hook up, and then lose his first red after a few shots. Mark had a turn, and landed the first redfish of the day.

We headed east, hoping to find the incredible action that we enjoyed on Sunday -- and we weren't disappointed. Over the course of the next four hours, Wayne caught his first redfish on a fly, and followed that up with 11 more! Mark was hooked up almost constantly for the first couple of hours, having one shot after another. They guys caught all of their 25 or so fish on
Clousers -- tan and white, chartreuse and white, and green and white.

Our fellow LMFFA member and friend Gary Bacon and his buddy Bob from Ketchum, Idaho, hired me to take them out today. We headed back to the same westside area where I've been finding tailing pods, and the action was intense. We would pole downwind, spot a pod, and then stalk the fish on foot, using red and orange VIP poppers. (By the way, the fly company that now ties the VIP commercially -- FLY H2O --has sold the VIP to the two Texas Cabelas stores! Obviously, we're tickled about that.)

It was almost constant action until 10 am. Both anglers landed a half dozen reds apiece out of pods ranging in size from 6 to 50 fish. Indeed, one of the pods looked like a breaking wave as it approached. Here's Bob hooking up after waiting patiently for the phalanx of redfish to approach within casting distance.

We headed for the sand a while later, where Gary handily landed two more reds before we called it a day. It was, needless to day, a very fine day on the water.

5/19/05 I have been out of town for the week, and off the
water. Before that, I was running around getting ready to leave in between guiding, so it was hard to find time to post an update to the fishing report. But I hit the ground (water, that is) running today as I guided my old client and friend Jim Posgate. Our mutual friend and Arroyo City neighbor John Kautsch joined Jim. We headed to the west side at daybreak, spending about two hours in one of my favorite redfish locales. The wind was over 10 mph at dawn, so it was hard to see the fish in the low light. But John got into a groove, and landed four reds on an orange VIP popper before we headed elsewhere. Jim, who usually catches a passel of fish whenever I take him out was a bit perplexed, but he didn't let it get him down. About an hour later, after checking a couple of other west side venues, and swinging out onto the white sand, we ducked into another west side lagoon that was nearly prohibitively shallow. Indeed, I took a look at my muddy wake
and decided to vacate the premises when we ran upon several pods that were breaking up from the boat noise. I shut down, knowing that I could be facing a 300 yard trek to get to water deep enough to "get up" in.
We waded out onto the clear, firm flat, with only a single boat -- a fellow fly fishing guide -- a half mile to the north. At first, it seemed that the pods had evaporated, but after about 20 minutes of wading, the pods suddenly began popping up. The
water was only eight inches deep -- and it was crystal clear -- so it was easy to see the fish coming, with tails and backs breaking the water as they fed head down.
Jim got into his customary groove, and hooked five nice reds up to 25 inches long, landing all but one of them. John did well, too, catching several more. We discovered that most of the pods were sweeping toward us from upwind, making an otherwise perfect situation a bit more challenging. The guys had to swing around the approaching pods, and then cast crosswind to them. It was great watching them execute on a stunningly beautiful flat.
While Jim was casting to a pod of about 12 reds, I saw these (see photo) two fish approaching head down, so I crouched down and waited with my camera. They came within 15 feet of me before they spooked. It just goes to show how close you can get to the fish -- when you're paitent, that is.
When we got back to the Curlew, the guys saw how shallow it was -- bootie deep -- and prepared to help me push the boat toward deeper water. However, I thought that we should give the Curlew a chance to show her stuff. Half a turn later, we were on plane and headed for home. It was, in all ways, a perfect day on the water.

4/27/05 It may be hard to believe that a person living on the water and making his living as a guide can go four months without a day of personal fishing. But between teaching, guiding, and
writing, Kathy and I have had little time to fish for fun. But today, after breakfast and our hour-long meditation, we went with our dogs, Opal and Lily. My interest was to go after big trout, while Kathy -- who was recovering from a cold -- only wanted to read and write aboard the Curlew.

We went to one of my favorite big trout spots. I rarely take clients there, only because few of our clients want to target big trout. And anyway, it's a tough wade. I tied on a weighted Mother's Day fly and started a wade down one of most famous stretches of trophy trout water on the Texas coast. I stripped line and casted off to the side as I scanned the shallow, clear water for the telling dark shadows of monster trout. I'd only gone fifty feet when I hooked up on a nice 21" trout -- not a trophy, but a fine catch on a fly rod. I walked back to the boat so Kathy could take a picture, and then resumed wading. It was the last trout I saw, but I had some good action on big reds that were cruising the same area. After landing two, Kathy and I headed east for the edge of the sand.

I've never seen the sand "action" better than it was today. As we headed east, we ran over so many fish that we stopped just short of the sand. I began wading downwind under a cloudless sky. The water was beautifiully clear, and
full of life. Ladyfish were darting around, and sting rays where cruising in every direction. I soon started to see redfish everywhere -- crabbing head down, or following rays. It's unusual to be brought to a standstill on the east side, because the fish are usually spread out; but I had so many opportunities that I almost stopped moving altogether. Despite the almost constant opportunities, the fish were on high alert. I'd see a ray and a couple of reds coming from 50 yards out, and I'd crouch, waiting for them to come within range. As soon as they were inside of 80 feet, I'd stand up to cast. And almost every time, the reds would turn away instantly. I landed two in the 24-25 inch range, but had shots at 20 to 30 reds that simply saw me first. I love that action, because it brings the best out of you.

We didn't fish very long, because we had appointments back at the lodge. And anyway, our friend Jim Posgate needed us to tow him in, because his outboard wouldn't start up. Except for Jim's misfortune, it was a wonderful day on the water. The bay is fishing so well -- as good or better than 2003 and 2004, which were the best years we've seen since opening Kingfisher.

4/25/05 I guided John and Brad Nicholson from California and Seattle this past weekend. They came in on Wednesday and fished with our associate Capt. Rick Hartman on Thursday. Following the
podding action, Rick put them on fish for the entire time, and the guys started off with "at least 15 reds," even though neither man is inclined to count, as I found out during the next three days. Friday and Saturday proved to be "an embarassment of riches," as John put it. Friday dawned almost calm, and when we arrived at our destination at first light, gulls were already over fish -- the "X" that marked the spot. Brad waded while his dad remained on the boat, still recovering from hip surgery. The action was constant for almost six hours. Brad is a kite boarder,
so the guys went in at lunch time so that Brad could catch the wind down at Holly Beach. A cold front came in early Saturday morning, so after a brief foray, we decided to return to Kingfisher, and go back out in the afternoon. It was a wise choice, as it turned out. The birding action was stunning. At one point, we were surrounded by pods -- and other wading anglers who hoped to get in on the action. As it turned out, there was plenty for everyone. Brad and John caught over 15 for the third straight day.

On Sunday, Kathy joined us with her two clients from Aspen, and we fully expect to get back
into the podding action. But the birds and the fish weren't working, at least in the main area where we've concentrated our efforts. Brad caught one out of a pod that everyone had overlooked before Kathy and I took our respective clients south to search for individual tailing redfish. I headed for a remote area that is often good in April and May, and sure enough there were reds tailing all around us. Brad caught one on a VIP, and his Dad snagged a nice one from the boat on a Kingfisher spoon fly. But that was it for us, so we headed in after five hours, as we'd agreed on. Kathy took her clients to one of her favorite spots, and they stalked tails over turtle grass for another couple of hours before heading back to Kingfisher.

The water is gradually clearing on the west side, and areas to the south of the Arroyo are almost completely clear of the brown tide. I really haven't noticed it.

4/16/05 People have been calling and asking about the brown tide. It's still on the west side, but it hasn't impacted the fishing very much at all. We've been casting spoon flies and Clousers to the tailing pods and having great catching days. (I haven't used poppers much because of the lack of clarity.) Then, if the podding every subsides, we've been going east onto the sand, where the water is unaffected, and where there's has been plenty of fish. So, there's not a problem. I don't have to guide to survive, so if the brown tide was reason to stay away, I'd tell you. Actually, it's even clear enough on the west side to be sight casting when the sun is out. So, while the brown tide creates a buttery color to the water, and reduces its clarity, you can still see through it enough to spot fish. And further, the reds can see the fly just fine, even though they're prone to have tunnel vision when podding.

I guided on Wednesday and Friday (yesterday), and the fishing was very good. On
Wednesday, I guided my old client and good friend Jim Posgate from Kerrville who has a place near us on the Arroyo. Jim and I went out just after daybreak, and fished one tailing pod after another until it was time to go in. Jim hooked about 10 reds, and landed seven. At one point, he said, "Scott, this is too easy." Of course, it's not always easy, and rarely is it too easy. But if you pay your dues like
Jim does -- by going out regularly under a variety of conditions -- then you become adept at exploiting the opportunities that arise.

Yesterday, I guided Hector Guerra from Pharr. Hector has recently taken up saltwater fly fishing, and was still looking for that first redfish on a fly. Before the sun had even risen, we were wading down
toward a bunch of gulls working over a sizeable group of reds. As Hector got close to the tails, the fish turned toward him and came right up to him. Hector crouched low to the water, and started making 15 foot casts into the tails. Just before they blew up, he hooked up on what turned out to be a nice trout.

We moved on and located several pods of tailing reds, in a variety of areas. Hector missed a
strike in the second pod, but finally hooked up and landed a fat redfish out of our third pod. He went on the land another a while later, and have several shots are groups of happily tailing reds. It was, and always it, an inspiring sight to see the tails flickering in the sunlight, and the gulls fighting over the escaping shrimp. As I said in an article that I wrote for Tide Magazine recently, "Just being there is usually enough for me."

4/11/05 As I headed out on Saturday morning with Doug and Connie Gauntt from Dallas, I had this sinking feeling that the few pods of redfish that would be working would be closely chaperoned by a few of my guide friends. Sure enough, as we approached podding mecca, I could see some of my buddies already poling down to a very few pods. The tides were so low that I thought the fish couldn't be in the back lagoons, and I was right. We planed into one to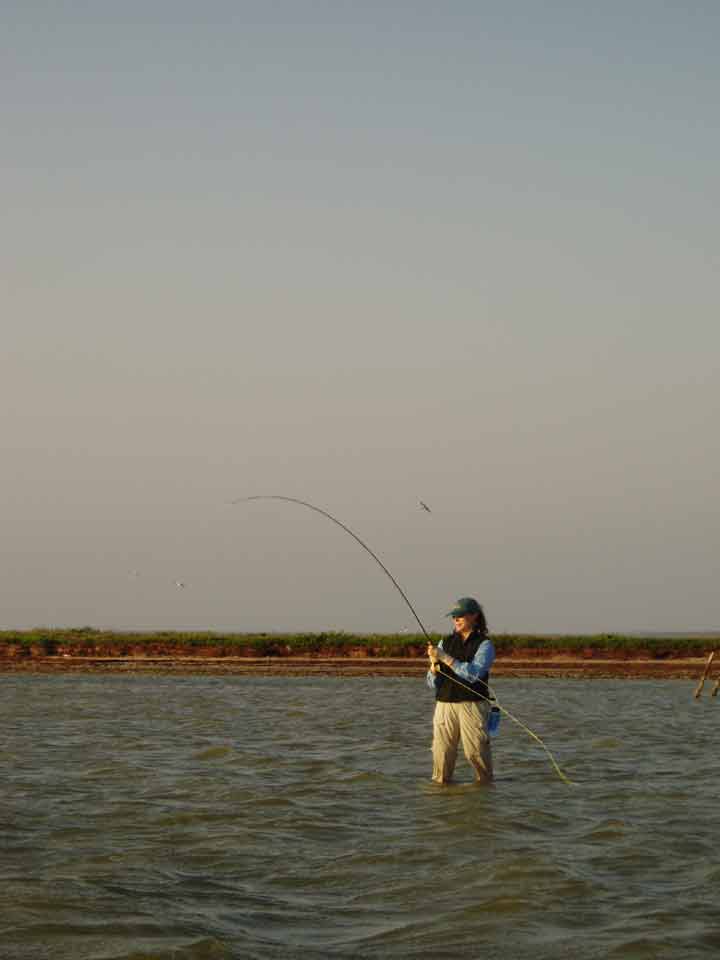 take a look, and there was nothing working. Heading north with a 20 mph tailwind, I wasn't sure what to do next. Then, suddenly, a flock of laughing gulls appeared in an unexpected place. Clearly, they were working over reds, so I pulled over and staked the boat, so Connie and Doug could wade into the area. Thirty minutes later, Connie had caught her first redfish on a fly rod, and Doug had landed four fish on his own. The day was definitely looking up! Actually, the best was still to come. I took a deep breath and pointed the Curlew north toward a distant venue that I'd heard had been producing. A while later, we we started wading downwind across an extremely shallow flat where
the water was barely deep enough to hold fish. The wind was over 20 mph, and gusting to above 25. But the redfish didn't seem to mind the wind. And what's more, they were tailing as they fed upwind, giving us a chance to get into position. Connie caught three more on spoon flies, and Doug caught six or seven more reds on a Mother's Day fly. For a while, the opportunities were almost constant. I thought to myself that we were in one of the few places on the entire LLM where fish could be seen.

If Saturday's conditions were bleak, Sunday's weather was ever worse. Stronger winds greeted us at daybreak, along with thick low clouds. The wind actually abated a bit later in the day, and the clouds thinned
out, as well. But it didn't matter, because we fished one pod after another for the entire day. Doug caught 8 or so reds and at least as many trout, and Connie caught a nice red out of a tailing pod (she was pretty happy about Saturday's results, and spent a good bit of time cheering Doug on). They would have caught more if the fish could have seen their flies, but the water was so churned up from the wind that they had to cast up to 20 times before a fish would see the fly.

I spent about an hour and a half pushing the Curlew across a shallow flat. I made the mistake of poling down to five pods of reds that were on the edge of a long, shallow flat covered with only 4 inches of water. Instead of seeing the threat, I kept poling the Curlew toward near-disaster, and found myself trapped with a 20+ mph wind at my back. Fortunately, I was able to push the boat over the flat, but only barely. I felt pretty bad about losing part of our day, but Doug and Connie still caught so many fish that they probably won't remember our "little break" around midday. Later, I found that Skipper Ray had gotten stuck, too. The combination of extremely low tides and the brown tide made it hard for us to assess the depth of some of our favorite places.

Doug's email this morning:

"Connie was thrilled to catch her first red on a fly and I still can not believe how many fish we caught under such miserable conditions. Scott, a special thanks to you for your hard work
in keeping us on fish and getting in two solid days of fishing when most
folks (guides & fishermen) would not have gone out." -- Doug Gauntt

4/8/05 I have been gravely remiss in failing to keep you apprised of the fishing conditions on the LLM. But a greater error is in failing to report the AWESOME GOOD NEWS pertaining to our guests of last weekend -- Todd Decker and Christina Spiller from Austin. Todd arranged ahead of time for us to cooperate with his secret agenda of the weekend, which was to propose to Tina on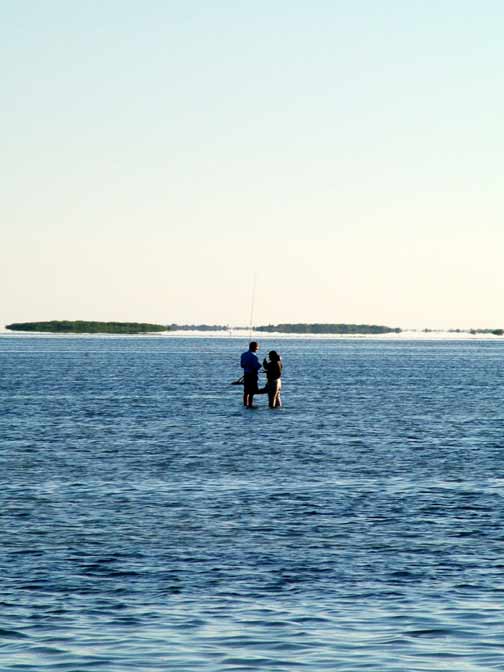 the water at sundown on Saturday. "What if she says 'no'?" I asked Kathy. "She probably won't," Kathy said, to reassure me. Still, I was a bit nervous. At an agreed-upon time, I left Tina to fish on her own, while Todd waded over with the ring in his pocket. Later, Tina admitted that she was irritated that he was coming over to talk as she stalked a nearby tailing redfish. But when Todd's intent was made clear, Tina did not seem to mind. Kathy and I were tickled to have played a small part in such an important event in their lives. Congratulations to Todd and Tina!

And the fishing was pretty good, too. Although the tides were too low for podding action on the west side, we got into great
redfish action on the east side, along the transition between the grass and the sand. Reds were cruising singly and in small groups, providing some classic action.

Today, I guided Jeff Coombes and his buddy Chris Tipton from Austin. We left early enough to reach the pods before the crowd, which never materialized. It was dead calm as we entered one of the westside lagoons, and we circled upwind of several groups of laughing gulls that were seated on the water. Our friend Richard Weldon was
fishing a client near a couple of the pods, so my guys waded toward a couple of other pods. As Jeff approached the seated birds, suddenly tails erupted. Casting his VIP masterfully into the leading edge of the sweeping fish, he hooked on a nice red. Chris chased the remnants of the pod fruitlessly, and the podding action was suddenly over. We headed north into a westside venue where we waded for two hours in virtually calm conditions. Tailing redfish were everywhere, but they were
extremely sensitive, and almost impossible to approach. Still, it was a challenge that neither angler complained about.

Later in the day, we found redfish streaming onto the white sand. The east side action has been very reliable over the past month. Given the fact that the brown tide is still prevalent on the west wide, it's a relief that there have been plenty of fish in the clear, eastside water. That's all for now. Two more days of guiding, and I'll update you again.

3/27/05 Friday and Saturday proved to be classic spring action on the Lower Laguna. On Friday, Kathy and I team guided Jeff Pittsbarger and his partner Stephanie from Houston. Jeff had wanted Stephanie to get a taste of saltwater fly fishing, and wanted to optimize her chances by having Kathy work closely with her while I handled the boat and worked with him.

We left the dock a little later than I'd hoped, and as we planed slowly (with four people aboard) down the Arroyo, three fellow guides passed us, heading I was sure to the same areas where reds had been podding in various locales.
As we planed into one area, a fellow fly fishing guide led the way and shut down, obvious spotting redfish working. We looped upwind of him and shut down, and began poling downwind. For the next three or four hours, we went from one tailing pod to another, carefully giving quarter to two other guides, who were also poling clients toward various tailing pods. Jeff caught four reds on Kingfisher Spoon flies wading into the pods, while Stephanie landed her first red on a Kingfisher Spoon by casting from the front of the Curlew.

With the water rising, several places that have been too shallow to fish have come alive with shrimp and redfish, so we headed to two other lagoons where we hoped to find pods. We found a few tailing reds in the first venue, but caught none; so we headed elsewhere. The reds weren't podding or tailing in the second venue, but we could see them swimming across a shallow flat upwind, creating a clearly visible
wake. So we spread out and tried to intercept them. They seemed psychic, however, and would veer right or left before they reached us. Jeff and I stood and watched at least 20 reds -- singles and pairs -- pass just out of range of his cast. It was fun to see them so clearly, however, especially on a cloudy, windy afternoon.

The next morning, I guided Jeff and Stehanie alone. Since it was Saturday, I assumed that everyone and his brother would be working the more accessible lagoons, so we returned to the place where we'd seen the waking reds the previous afternoon. This time the reds were clearly leaving the lagoon. We could see singles and small groups coming from over 100 yards away. They were big fish driving a visible wake. I've faced this action many times in this particular place, but it's hard to catch
them. They're on their way out, and will eat, but they're going so fast that it's hard to intercept them. So after casting Kingfisher Spoons fruitlessly to a couple of dozen passing fish, we headed for the area we'd gone to first on Friday. Expecting a flotilla of shallow water boats, I was surprised to see only one boat within sight. We were soon into tailing pods, and able to see several more within reach. We went from one pod to the next until almost midday, sharing the area with only three other anglers over the span of five hours. There were plenty of pods to go around. Stephanie distinguished herself by catching three reds and a trout -- all on spoons.

The sun came out as the podding action subsided at midday, so we eagerly headed east to see if the white sand was clear of brown tide. There was hardly any sign of it on the sand. The water was sparking clear, and the sky was cloudless. After we'd run over reds, trout and ladyfish, I shut off the motor. We began to wade downwind in water that was about 17 inches deep. Walking beside Stephanie, I soon spotted a string ray with a fish tailing it. Stephanie was able to get her fly to the fish, which turned out to be a 22-23 inch trout that followed the Mother's Day Fly before turning off. It was so close that it had probably seen us.

I left Stephanie to fish alone, and went to help Jeff spot the fish. After a few minutes, we spotted a hoard of ladyfish behind a ray. Jeff got the fly to them, and hooked up briefly. The fishshot out of the water, and threw the fly -- the rule rather than the exception for a ladyfish. Meanwhile, Stephanie casted to another fish behind a ray, and several ladyfish, as well.

The fishing was superb. I've said to many people that late March and the whole month of April provides some of the least difficult and most productive fly fishing of the year. Even though they're known as windy months, it doesn't matter much when you have redfish podding -- often under birds, and fish on the sand on sunny days. You learn to adjust to the wind, and then you don't worry about it any more.

3/20/05 When I looked out the window this morning, fog blanketed the Arroyo, and the wind was neglible. It was one of those magical days in the making after a week of difficult weather conditions. Guiding Tom and Debbie Adams from Orange County, California -- and their grandson David -- I planed slowly down the Arroyo through the thin fog knowing that if we could make it safely to the bay, the odds were that we'd have it to ourselves, at least until the sun burned through the fog. I gave the dredge operation at the mouth of the Arroyo a wide birth, and then headed north keeping the west shoreline in sight. A while later, I turned off the ICW and headed into the fog toward an area where the reds often pod up in late March and
April. Making a wide circle so we'd be upwind of the hoped-for action, I shut down and listened. The competitive cries of laughing gulls informed us that pods of redfish were feeding in three directions, so I began poling toward the loudest voices until we saw the birds seated on the water. The wind was too low to keep the birds aloft, and to the unitiated it may have looked like just a bunch of gulls engaged in premating rituals. But as we got closer, we could see that the gulls were excorting groups of tailing reds that were driving shrimp to the surface.

The brown tide still pervades the west side lagoons (even though it seems to be dissipating) so catching a red on a fly or a lure requires a precise presentation, due to the limited visibility. Six inches away from a tailing red is usually too much, as they have their heads down the whole time; but in the brown tide, six inches is "a miss that is as good as a mile." So you need a bit of luck along with a dead-accurate cast. We approached three pods by boat, hooking two reds that way. But then, we decided to stalk the largest pod -- a group of about 30 reds -- on foot. Debbie and Tom were privileged to have the entire group sweep toward them, leaving the birds hanging back from the human intruders. I imagined that I could hear Debbie's and Tom's hearts racing as they desparately tried to get their presentations in front of the sweeping reds. But as it so often happens, the tails swept by without a take. We had a couple of more opportunities before the sun broke through the fog, and the reds dispersed. We were the only boat in the area for three hours, which is pretty remarkable for a Sunday morning.

Once the pods broke up, we headed east and south into the clear water where we found pods and schools of reds in clear, glassy water. The northeast wind was dying and shifting to the east -- and we couldn't get close to the fish from the boat. So we called it a day and went in, declaring the day nearly perfect in every way.

3/12-3/13/05 I guided Harry Wilson from Montana, and his buddy Steve Brown from Phoenix on Friday through Sunday. It was tough fishing. We started on Friday, the day after Jim Posgate and I enjoyed a perfect day on the water. Nature likes to mix it up to keep us from getting lazy, but I was hoping for a better hand than the one we were dealt on Friday. We ended up coming in after the wind rose and the clouds returned. Saturday was a pretty good day, with both anglers landing reds, and having plentry of shots. We started off thinking we'd hit the jackpot. We found gulls working over reds, and it looked like we were going to get shots at one pod after another. But after casting to our first tailing pod, the birds -- and the fish apparently -- dispersed, leaving us feeling a bit cheated. We fished the sun near the East Cut and had a few quality opportunitites. Steve lost a nice fish up that way. Heading back south, we ran over a passel of reds, so we poled the edge of the sand and had one shot after another. But the wind came up pretty strong -- over 20 by the time we went in. So, it was hard to get the fly on them from the boat. We left that venue, and found some fish on the white sand, where we waded for a couple of hours in the early afternoon. Harry hooked two there, and Steve hooked one. Not a high numbers day, but it was better than a lot of days we've had lately. Sunday was a bust, with cloudy conditions and a strong southwest wind at dawn. We were in by 10 a.m.

3/11/05 Yesterday, I guided my old client and friend Jim Posgate from Kerrville. Jim has a way of catching fish whenever we go out, but the conditions have been unstable; so I wasn't sure his good fortune would prevail. The day dawned almost without a breeze, and the sky was cloudless. Not your usual March morning, when the norm is windy and cloudy. We went to a westside lagoon that was largely untouched by the brown tide, and found some nice reds in about eight inches of water. After spooking several from the boat, we got out and waded toward a bunch of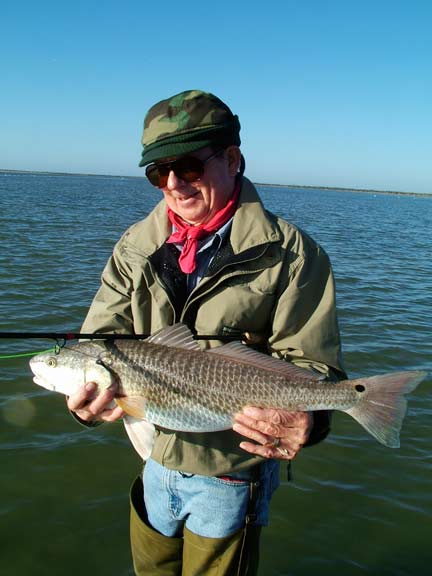 Forester terns that were diving on bait. We could see some wakes that indicated that game fish were sharing the bounty; so Jim carefully waded into the area. A big wake surged toward him, and he dropped his Kingfisher spoon on the red's head. True to form, Jim was hooked up before the sun had hardly risen. It was a nice 26"+ fish, and a great way to start the day. We found the rest of the west side blanketed with brown tide, and no pods were evident. So we headed east and north, and spent the rest of the day poling and wading the white sand between the Mansfield Cut and Green Island. We had more opportunities than the number of landed fish would indicate; but the reds were often upwind of us. So it was challenging. It was a great day, and the conditions could not have been better.

3/7/05 The bay is recovering! I guided Butch Harper from Ketchum, Montana, today. We went north and ducked into several venues, looking for podding redfish under birds. The brown tide was pervasive from the mouth of the Arroyo north to the end of Payton's Bay. We found
birds working, and a few tails beneath them, but the podding action has not "turned on," yet. As we approached each pod, the birds quickly dispersed, and all we'd see was a single tail or so before having to move on to the next group of birds.

We finally gave up on that fickle action, and headed east, hoping to find clear water. I was pleasantly surprised to find that the east side was clear at least a mile from the edge of Padre Island. We poled the Island shelf, and had a few shots at single and double cruisers. The water was gin clear. We lost the sun, so we headed further south and found the entire east side as clear as ever, from Dunkin's house the edge of the Island. Indeed, there wasn't any sign of brown tide on the east side of Three Islands. What a relief. Still, because the sun behind the clouds, I headed west again, hoping to find tailing pods working the brown shrimp. We didn't find that, but we found some pretty water in Rattlesnake Bay that held a few big reds. We poled over several, then got out and waded, getting several shots at single reds cruising visibly up a shallow shoreline.

The action wasn't fast and furious, but it was good enough to celebrate. It feels that the season has begun.

2/27/05 There's good news and bad news. Redfish have already started podding on the west side, and some birding action has already been observed. It's early for that to be happening. Also, fish have been found on the sand, as well. As for the bad news, there has been a brown tide outbreak since late January. I didn't interpret the off-colored water as a brown tide when it first
started to appear down here in early February, but biologists have confirmed the outbreak. A brown tide does not harm the fish, but it does ruin the water clarity until the tides flush it from the estuary. (I haven't had to deal with it, since I have been busy finishing up a book, titled Healing the Fisher King: A Fly Fisher's Quest, and getting it off the publisher. Hopefully, when I resume guiding this coming week, we'll have had some reduction in the brown tide.)

It's my understanding that there are different brown tides, and the biologists haven't yet positively identified this organism as the same one that affected the bay during the 1990s. For instance, according to Tony Reisinger (who wrote the report below), the Arroyo has its own brown tide in the early spring. It didn't happen last year, but it did occur during the previous several years. It lasts for only two or three weeks, and affects only the immediate area around the mouth of the Arroyo, like Rattlesnake Bay and the Green Island basin.

Here is Agricultural Extension agent (and LMFFA Board member) Tony Reisinger's report:

The most recent Brown Tide bloom originated in Baffin Bay around the last week in January '05. The following paragraph is a verbatim report from Cindy Contreras with TPWD. She sent this to the Hazardous Algal Bloom Work Group on 2/2/05:

"Water samples taken this week in Baffin Bay showed a bloom of what is almost certainly "brown tide", Aureoumbra lagunensis. This is a small microscopic phytoplankton species which has bloomed for prolonged periods in the Laguna Madre (e.g., almost continuously from 1990
through the mid-1990s). One of the major concerns about brown tide is that it can form dense blooms that shade and kill seagrasses, which are prime habitat for many fish species and other marine organisms."

The bloom was pushed through the land cut presumably by northers and into the Lower Laguna in February. It has been detected as far south as Holly Beach where we have had low cell counts of .5 million / ml, compared to counts exceeding 10 million / ml in the 1990's for the same
area.

Paul Bergh is correct that no shrimp farms have discharged this year and the Arroyo Colorado's municipal, industrial, and ag runoff may be fertilizing the bloom. Port Mansfield has an extremely heavy bloom in the port area. The Laguna north of Mansfield has a heavy bloom and
south of Mansfield the densities seem greater on the west side. There have been some clear areas reported on the east side of the Laguna south of east cut.

Randy Blankinship with TPWD took water samples this week in the Mansfield area and has sent them to Dr Tracy Villareal with UTMSI in Port Aransas for analysis. So far this bloom has pretty much caused us to throw out the old theories of a heavy freeze knocking out brown tide
grazers and fertilizing the bloom with ammonia derived from a massive fish kill. Even the theory of the bloom following a drought is no longer valid because we've had two prior wet years.

One thing we do know is there is evidence in core samples spanning a thousand years showing alternating dominance of phytoplankton blooms (brown tide?) and sea grasses in the Laguna Madre. We also know the Laguna is resilient and recovers quickly from this type of perturbation. A saving grace for the South Padre area is the tremendous tidal
exchange from Brazos Santiago Pass that should keep the bloom diluted to some extent in the southern laguna.

Fishing has been impacted in that fish cannot see artificial baits in heavy brown tide concentrations. There are still plenty of fish to be caught and many anglers are using natural baits with great success. Artificials can still be used in clear water areas on the east and
southern portions of the bay.

The final impact on sea grasses remains to be determined and we could see an impact on bivalves which are filter feeders that derive little nutrition from brown tide.

I hope this sheds some light on this mysterious phenomenon.

Tony Reisinger
Cameron County Marine Extension Agent


2/20/05 The bay continues to be a harsh mistress. The water is off color, and very high. I guided our old clients and friends Jim and Kerrie Stephenson yesterday. The last time they'd been here together was on 9/11. Kathy met us at the dock on that fateful day, and gave us the unbelievable news. Jim and Kerrie stayed over an extra night on that occasion, as their flight was cancelled.

Yesterday was a much better day globally, but not locally. The day started off very promising, with not a breath of wind. We poled a remote westside lagoon that had some redfish in it. But not a single fish poked its tail above the dead calm surface. We left there as the wind began to rise, and headed south. We found redfish on the east side, but the water was just a bit off color, so we'd pole right up to them before we'd see them. I spoke with Skipper Ray by phone, as we often do when we're both guiding. He was fishing South Bay and -- like us -- had seen fish. But the lighting was bad there, as it was in the cental part of the LLM. So he was fishless, too, at that point.

We ran south and north, finding the clear water of the far east side to be devoid of fish. And then the wind and the clouds turned the central and west bay into a muddy inland sea. We headed back to the dock around noon.

The high point of the weekend was eating at Pepe's in Harlingen, and having nightly Scrabble tournaments. We're going to have to wait a couple of more weeks before the shrimp bring the podding redfish into the westside lagoons.

As you may know, I've written articles in national magazines about how good the winter fishing can be down here. The telling phrase is "can be." Actually, last year -- and this year so far -- have been particularly poor winters for fly fishing. I wish it wasn't so, but that's Nature for you.

2/9/05 If you're suffering from cabin fever, and yearn to be fly fishing the flats of the pristine Lower Laguna, this might be the time to take care of other things, because you haven't been missing much lately. Typically, from the middle of January until March, the cold fronts stack up to the point where there's hardly any recovery in between them. Sure, we have remarkable fishing during that time -- catching some of our largest reds and trout, historically -- but overall, the conditions are usually not favorable. For instance, we've had cloudy weather for about two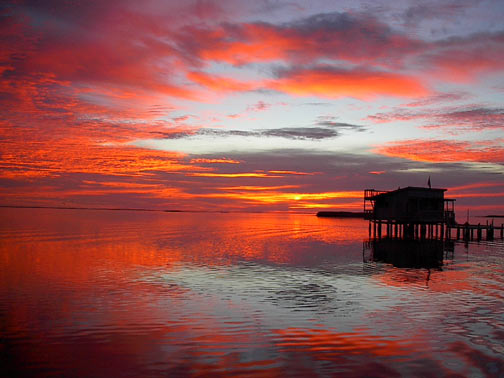 weeks, even though some of the days have been in the 80s. To do well in the winter, you need full sunshine, low tides, and a southeast wind. We've had no more than one of these positive factors on any given day over the last ten days. Even the tides, which are usually very low this time of year, have resembled March tides.
I guided Larry Allen from Phoenix last Friday. Larry was interested in fishing aboard a Curlew since he's on the verge of ordering one. I was recovering from a bad cold, and it was a cold day, but we went out anyway. We found some fish, but overall the fish were off the flats, because the sun had not begun to warm the flats on the heels of our last cold front. Larry is a FFF Master Certified Casting Instructor, and the high point of my day was watching him cast. But even a great cast could not make up for the poor conditions.
That day, our regular guests and good friends, Joe and Debby MacKay arrived from Austin and fished Saturday, Sunday and Monday. They are good fly fishers and they caught...no fish. They found fish, but could not see them. It was cloudy and windy. They paid their dues, and such commitment always pays off, but not always when we want it to.
My old friend from childhood -- Roger Nolen -- stayed with us this past week, while making purchases for his lodge operation in Mazatlan, Mexico. He caught trout under the lights every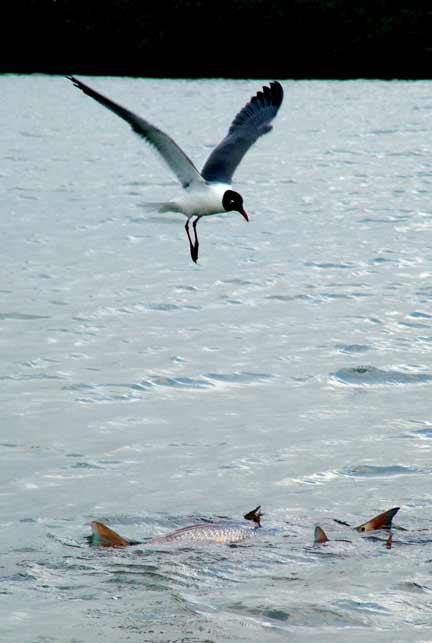 night, but the bay fishing was off. We tried to go out a week ago, and a cold front blew through six hours before it was supposed to, and we didn't even start the motor Today was the first day that I was free and the conditions were marginally favorable, so we went out in fog at 7:00, and covered quite a bit of water down south. We got some shots at reds along a shoreline, but another cold front started pushing through by 10:00, and we were in by 11:00.
If you're planning a trip, consider mid-March and later. We have warmer weather sooner than that, but the reds do not start podding up on shrimp until mid- to late-March. Once that happens, the birds will be over the fish; so we don't need full sunshine, nor calm conditions to locte them. But until then, the three factors of sunlight, southeast winds, and low tides have to prevail for most sight casting fly fishers to have much success.

1/26/05 We've been busy off the water for the last couple of weeks, so there isn't much to report. I guided a couple of days two weekends ago, then had to cancel four trips in a row during a period of strong south -- and then north -- winds. Between beginning a new semester, getting our gear in shape, and fulfilling some speaking engagements, we've had little time to wet a line.

But today we decided to go after big trout. It was a perfect day for it, and we were pretty sure we could find them southeast of the mouth of the Arroyo, and then again back to the north up by Mansfield. We had our dogs with us, and it was toasty 80 degrees as we headed down the Arroyo. But not every perfect day ends up a fish catching day. As we planed onto the flats, there was a "thump" and our prop promptly fell off as the shear pin broke. The water was too deep
and murky to recover the prop, so we sat there feeling pretty helpless -- that is, until we got in touch with our neighbor "St." Rex, who came after us with his boat.

So we didn't catch any big trout today. I thought it would be good for you to know that we don't always "wup up." Of course, I like to share the good news as much as anyone, but reporting an occasional botched trip has a way of making the glowing reports sound a little more believeable, doesn't it?

We're off the San Antonio on Friday to speak at the Boat Show, and to help Tim and Leslie Clancey sell their great boats. We hope to see you there! And then we'll be back to post an updated report next week.


12/31/04 On December 16, I posted what I thought would be my final fishing report for 2004, and then headed with Kathy for the Northeast, there to spend Christmas with our kids. Returning near midnight on 12/27, I immediately packed the Curlew and headed for the Bay. I know it sounds crazy, but it was the 13th and final full moon sleepover that I'd promised to do for 2004. I was lucky, because the temperature was in the upper 50s as I planed down the
Arroyo at 1:00 a.m. Except for the dew, which drenched my sleeping bag by daybreak, it was pleasant night. I awoke to warmer temperatures and a light rain, and this stunning sunrise.

Jim Posgate had asked me if I could take him and his son Keith out on Wednesday, and I thought that the answer was surely "No" after two days of travel, and a night on the bay. But it was such a beautiful day that I called Jim from the boat and suggested that we go out around 9:00. He readily agreed, so I took off for home, and ate a quick breakfast with Kathy before heading out again with Jim and Keith.

As you know, we had snow last week, and very cold temperatures; so I was concerned that the cold water would kill a lot of big trout. There was a considerable number of dead trout on the bay, but nothing to compare with the huge fish kills in the early and mid 1980s.

We headed south and east toward a place where the reds and trout often congregate during warming trends through the winter. I would have gone there anyway, but our buddy Henry Bone from Austin -- who had stayed at the Lodge while we were away -- had found a motherload
of reds in the area the day before. So I was confident that we'd find them again.

Sure enough, we had great sight casting for a couple of hours until the clouds shrouded the sun. Keith and Jim both had several encounters with cruising and tailing reds that were easily visible in the crystal clear water. They were tough to catch, however. A combination of cool water and a cloudless night during the full moon made the fish a bit finicky and sluggish. After that, it was tough finding a sight casting venue, but we gave it our best.

I guided again yesterday -- taking out Michael Kisusky and his wife Kathy and son Tony from Houston. We headed back to the same area, but the wind and the clouds made it impossible to sight cast the same area. So we headed back west, and were relieved when the wind began to die off. Indeed, as the surface became glassy, the reds begain tailing in every direction. Since the bottom was too soft for wading, I poled the Kisuskys for the next couple of hours. Kathy and Tony were brand new to fly fishing, so it was hard for them to score, but they both enjoyed some dramatic close enounters and near-catches before it was time to head in.

A lot of people believe that redfish stop tailing in the winter time. If they could see what happens in between the cold fronts, they would be stunned. As you can see in my report dated 12/16 below, we see some of the most dramatic tailing action in December and January.

12/16/04 This may be my last report of the year, as we get on a plane tomorrow morning for Virginia and New York. This morning, I guided our old client and friend, Jim Posgate from Kerrville. Jim has been recovering from an Achilles tendon injury, and this is the first time he's fished in a couple of months. Up until this morning, we were experiencing fairly strong north winds; but it died last night, and we awakened to almost calm conditions. Still, it was chilly -- in the upper 50s -- as we boated down the Arroyo. The tides have been the lowest that we've had all year. Indeed, we only see tides this low in the winter.

There's a spot that I fish during the low tides of winter, where the reds often congregate and tail for most of the day until the wind blows over 10 mph. We cut the motor and drifted downwind into the area, and were greeted by tailing singles and pods in three directions. For the next several hours, I sat on the bow beneath Jim, and scooted the boat from one set of tails to the next. Jim and I have fished many times together, and he has a way of choosing the right days. But this one was extra special. I suppose that he casted to 100 fish before a fresh cold front began to push through around noon. He landed six or seven -- all 24 inches or above, except for one smaller fish he kept. It was really hard getting them to see the fly! It was very shallow, and the water was a bit off color; so the "sight window" was defined by centimeters, not feet. Jim casted up to 20 times to the same fish before it either disappeared, or saw the fly. And he was using the most visible fly in our arsenal -- a Kingfisher spoon.

It was a great day. In Jim's words, "We've had great days, but I don't think I've ever seen so many fish before."

I've got photos, but I'll have to post them later. We're packing!

12/9/04 The tides have fallen to their winter levels -- well, almost, that is -- leaving some of the back lagoons marginal, at best. I went out scouting today with my next door neighbor Rex White, and we headed first to a lagoon that was absolutely full of redfish on Sunday, when I was
guiding Mike Weix from New Mexico. Mike and I got there at daybreak, just in time to see a mass exodus of redfish leaving with the outgoing tide. Singles, and groups up to 20 fish came streaming by at high speed, while a completely different set of fish, it seemed, fed aggressively on shrimp and meandered along the edge of the fast lane. Mike found the fish difficult, as they were feeding head down and oblivious to everything except the most surgically presented fly. We tried poppers, and we tried shrimp patterns, and finally he scored with a Kingfisher spoon after breaking off once, and missing two more. It was challenging, as always.

Rex and I didn't leave the dock until almost 11 a.m. this morning. It was sunny, and nearly calm when we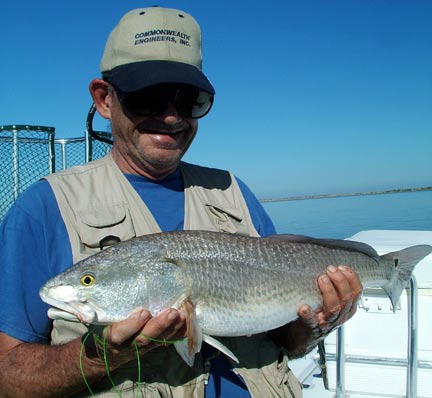 entered the lagoon. There were reds and tons of mullet, but we quickly ascertained that the reds weren't going to show for us. So we got up and headed elsewhere.

We found an expanse of glassy water north of the Arroyo, and shut down to see if the reds were tailing. The water was about 70 degrees, and the clarity was a bit off due to the wind reversals we'd been having. But tails started popping up, so we got out of the boat and wet waded downwind with the sun to our backs.

I had a couple look at my orange Mother's Day, and then turn away. I wasn't sure if they'd seen me, or rejected the fly. Unwilling to risk missing another shot, I shifted to a black opal Kingfisher Spoon, and promptly began to catch fish. Indeed, of the six tailing reds that saw the spoon over the next hour and a half, all of them took it. There weren't any shrimp skipping ahead of the fish, so I suspect the reds were feeding on small crabs, as they are prone to do in December, once the white shrimp migrate to the open Gulf. I landed five up to 27 inches (shown here in Rex's arms). Rex, meanwhile, casted to cruising reds, and hooked three on his own spoon fly tie. After fishing for a while, we went looking for big trout, but didn't see what I'd hoped to see. Later, they'll be there, when the tides fall even further.

11/27/04 I have been working on a manuscript all week, so I haven't had time to update the report til now. Last weekend, we had three negative factors -- clouds, high tides, and high winds. It was a stay-at-home weekend for those who had a choice, but our guests -- Dan Iwata and Alan Koga from Orange Co. California -- had scheduled the trip for months, and it really didn't look that bad until they got here.

Dan had been twice before with Alan's brother, Peter, and will be returning next year to fish again, and to make a promotional video for Kingfisher. A seasoned fly fisher, who targets steelhead whenever he can, Dan really appreciates the LLM's sight casting action. But he hasn't had a very easy time of it during his previous trips down here. Once again, the conditions looked unfavorable. But fortunately, we got into podding reds (with trout) under gulls.

Kathy and I had enjoyed a great "birding action" day with our neighbor Rex two days before Dan
and Alan arrived (see report below this one), so we returned to the area early in the morning, hoping for a repeat. But no, Nature may repeat herself endlessly, but rarely at the same time and place. So we went to other locales, and had some pretty good action, before returning to our first stop after midday. Gulls were seated on the water, so we anchored and took a look. Sure enough, some gulls soon took up their position over a pod of fish that were tailing every once in a while; but because the water was so deep (two feet), the fish weren't as consistently visible as they are in shallower water.

Using Kingfisher spoon flies, Dan and Alan waded toward the first pod, and within minutes Alan had hooked up -- once, twice, three times -- landing two reds and a trout. Dan was befuddled, and started to curse his luck, but it didn't take long for things to turn around, and he ended up catching the largest trout and red. Other pods began to gather, and the guys enjoyed constant action for several hours before heading in. Here's a montage of a few of the shots I took of the action.

We went out for a half day on Sunday, and the podding action never materialized. Alan, who was down here for a few more days, elected to go back out on Sunday with our associate guide, Richard Weldon (I had a writing project to tend to). They got back into the pods, and didn't get in until after dark. The wind was over 20 mph the whole time, but the birding action "feeds" on the high winds, since it enables the gulls to remain aloft over the fish with less effort.

Last night, I spent the night on the bay under the full moon. The tides are falling dramatically, and will soon be at their winter levels, making for AWESOME fishing until, as a rule, mid-January, when the cold fronts start coming in quick succession. Although the water is about 9 inches lower than last weekend, I decided to spend the night in a lagoon known for being "off limits" to 95% of the boats during the low tides of summer and winter. Indeed, I spent the night in there last February, and woke up to find the Curlew sitting on the bottom. So, it was a bit of a risk to go there this late in the fall.

I went to sleep, and was awakened at 3:00 by the quacking and carrying-on of hundreds of nearby ducks. I was awake for two hours, and if I'd been a member of Ducks Unlimited, I would have promptly quit and joined Ducks Limited. They sure had a party!

The lagoon has been hosting some big reds in the last few days. Joe and Debbie MacKay, our most frequent guests and friends (who joined us for Thanksgiving, along with many of my family members), fished there yesterday and the day before. Joe caught a 30 inch red on his fly rod (spoon fly) two days ago, and Debbie landed a 25+. Yesterday, the wind muddied up the lagoon, but this morning, it was back to prime conditions, except for the fact
that a mild cold front passed through about 4 am. It was hard to get out of my sleeping bag, so I sat sipping coffee until the sun rose.

At first, I didn't see any signs of life. Neither did I hear any fish feeding under the full moon. I have come to believe that it is a myth that the fish always feed when the moon is full, because I've seen very little correlation between the moon and surface sounds/feeding activity. In May, for instance, the reds fed aggressively before the moon rose at 11, and then stopped abruptly. And in October, there weren't any sounds of feeding until the sun rose -- after a cloudless full moon.

After a little while, I began to see reds feeding on shrimp and small mullet. They weren't tailing, but they would push a wake in 10 inches of water, then disappear. Still loathe to wade in the chilly conditions, I started casting from the staked Curlew, and within a few minutes, I landed a 24 inch red that took a Mother's Day Fly. I used my tripod and timer to get this shot of him before I let him go. That was enough for me, so I went stalking a white-phase reddish egret with my camera. After getting a few shots of him "canopy hunting," I decided to go in. As I got up, reds were everyhere! I met Joe and Debby entering the lagoon, so I stopped and told them what I'd seen, and wished them well. They probably caught a lot of fish, as it's been sunny all day.

11/18/04 The tides have risen dramatically over the last three days, changing the whole dynamics of fly fishing the bay. Unsure of what we would find, and interested in scouting in preparation for some charters this weekend, Kathy and I went out yesterday morning with our neighbor, Rex, and our two dogs. As we're prone to do, we didn't leave the dock until after 8:00.

Clouds were already moving in from the west as we arrived at a flat where we have been finding tailing pods and singles over the last two weeks. However, the water was high and off-color; so
we kept going. I had plans to head for the white sand, unless we found some visible fish on the west side. I was almost ready to pull the plug on the west side, and head east when we came upon some gulls sitting on the water. So we stopped and drifted toward them. Gulls on the water this time of year either mean that the reds are podding, and driving shrimp to the surface, or it means that they have been podding recently. Otherwise, the gulls go inland at daybreak. They don't waste their time speculating.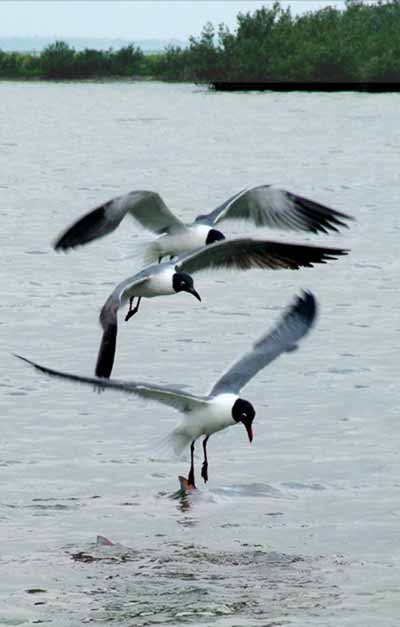 Within a few minutes, we spotted a few tails beneath a single hovering gull; so I staked the boat and studied the water more carefully. Then we saw them -- gulls gathering to the west of us, obviously feeding over redfish. I got up on plane, made a wide loop upwind, and then drifted down toward the gulls. By the time we floated into the vicinity, we were spotting other flocks of gulls nearby. The action was "heating up" by the minute.

We all hit the water, and headed in different directions. For the next three hours, we waded or floated from one pod to another, catching nine reds from 24 to 26 inches apiece. We also landed a couple of nice trout that were feeding around the edges of the podding reds.

It wasn't easy fishing. The pods were moving quickly, and it was difficult to catch up with them, especially since the water was so deep. But by using Kingfisher spoon flies (Rex used his own spoon design), and casting right beneath the gulls, we drew explosive strikes. The fish were incredibly fat, and they fought like fish that were twice as large. The cool water, and the increased availability of oxygen accounted for their almost unbelievable hardiness.

11/10/04 Kathy and I were at school Monday and Tuesday, so we weren't out on the bay. Our friend and one-man fly fishing machine -- Henry Bone from Austin -- came in Monday night and fished yesterday and today. I joined him with a client, Clarke Colton from Centennial, Colorado, this morning. Once we arrived on the flats, neither Henry nor I started our outboards until we were ready to head back in -- about six hours later. That's how good it was.

Henry caught 22 reds yesterday, and 24 reds this morning, which is his personal best. (He caught 33 one weekend last April.) Pods of
reds were lined up as far as you could see. While Henry did his usual thing upwind of Clarke and me, I waded with Clarke downwind into one pod after another. Some of them were really small schools of 20-30 fish, but regardless, the action was constant. Clarke had never fished the LLM, and took a while to get acclimated to the wind and the behavior of the fish. But he caught on, and landed four fine reds up to 25 inches. He was pretty happy, as you might expect. It was a beautiful sight: Tails glistening in the sun, shrimp jumping across the surface, and reds blowing up periodically as they pounced on a shrimp.

The fish were full of small shrimp -- that's what Henry told me later, after cleaning a fish he kept. Clarke used a red and silver Kingfisher spoon -- our new spoon fly that we're offering for sale now. Henry used VIPs until the fish destroyed them, then he switched to Mother's Day flies, until they were gone, too; and he finished up with spoons. He said that he barely had to twitch the VIPs for the reds to pounce on them.

I encouraged Clarke to use a spoon fly over a Mother's Day (shrimp imitiation) because it was really hard to get their attention -- their heads were down in the grass -- and he needed all the help we could get. Since he hadn't had much experience, I thought the VIP might pose too much of a casting and hooking challenge.

I've said before (ad nauseum) that even though reds may be feeding 100% on shrimp, or crabs, that they will readily take a fly of any reasonable description. So don't worry about matching the hatch: Focus instead on factors such as sink rate, visibility, and castability. If you used a crab fly all the time, you might conclude that reds like crabs best. But if you used a spoon fly all the time, you might conclude that they like spoons best! It points out the absurdity of making conclusions about what redfish are eating based on what they're willing to take. They're like junk yard dogs, ready to eat whatever moves as long as it doesn't "attack" them.

We have a cold front coming in tomorrow, so we've already rescheduled some regular clients; but early next week and beyond is looking great for continued "story book" podding action.

11/7/04 Yesterday was one of those perfect fly fishing days. The cold front was winding down, the winds were neglible and turning to the east. Kathy and I went out with our dogs at 10:00, which is our customary departure time in the fall and winter, especially after a cold front passes. The fish just don't get onto the flats by late morning and afternoon, as a rule. Anyway, we like our sleep and coffee time!

We went to the west side first, and were immediately into tails. The wade was difficult, but we got out and waded for a few minutes, and landed one red a apiece before we moved further north. We stopped again when we got into "major wakes," and spent another two hours stalking
tails on a soft bottom. Four more reds later, we decided that we'd had enough aerobic exercise, and headed east for the sand.

We had to give the dogs a romp on a spoil island, but on the way there we passed through the largest concentration of redfish on the sand that we'd seen in two years. Apparently, they were moving onto the sand as the was sun was warming the east side. We let the dogs have a break, then returned to the area, and staked the boat. We had about an hour to fish, since we had plans to go to Mexico with some friends. But in that hour, we landed 10 more reds! It was almost constant action. Some of them were pretty large, too -- I landed one 27 inch, and casted to one over 30. (We only took time to photograph this 25" red.)

We caught most of the reds -- on both sides of the bay -- on Mother's Day flies. It was hard to get the tailing reds to see anything, since they were constantly head down. It was so late in the day that they would see us when rising to take a VIP, so we gave up on that option quickly. I casted to some of them 20 times with a MDF before they finally saw the fly. I switched to a spoon late in the game, and that seemed to help get their attention. When we went to the sand, we were both using chartreuse Mother's Day flies, and the fish seemed spooky toward the flies. I switched to a pink Clouser, which they loved, but it had a small hook, and I missed too many of them. Then we both switched to a white Mother's Day flie (white shrimp imitation), and they began to hammer the flies. If we could have stayed longer, we would have caught 10 more...but it was still a perfect day. (And it was my birthday, imagine that!)

11/2/04 Yesterday morning, a cold front blew through, and we're now enjoying our first real autumn weather. I'm glad we're off the water for a few days, because it looks like the north winds will be blowing for a while. In contrast, throughout late October, the southeast winds were fiercely March-like, the tides as low as summer, and the daytime overland temperatures in the 90s.

Our clients enjoyed some great fly fishing over the weekend -- again -- regardless of the unseasonably warm and windy conditions.

Ross Jones and his son Darren came down for the San Antonio area, and fished with me on
Saturday. Darren was wearing his Laguna Madre Fly Fishers cap -- the same one he wore in Iraq during his six-month stint there with his Marine unit. His friends had urged him to take civilian clothes, so that during his time off he could recapture that familiar feeling of being home among his loved ones. So the cap went with him. Although it was about as worn as any cap I've ever seen, it seemed to bring him good luck with the reds on Saturday.

The winds were already 15 mph at daybreak, but the sky was clear, so I hoped to get into visible fish -- at least by midmorning when the sun was high enough to help us see the fish. I went to
an area where there's been pods and tailing reds at daybreak -- a virtual sanctuary from boats. When we arrived at the area, and shut down, we could see that there were reds everywhere. Darren elected to wade on the mucky bottom, while Ross remained on the boat. I poled down wind for a few yards, and immediately got into tailing pods. Ross had a couple of shots before hooking up on his first redfish (of his life) on a fly. He was so excited that he said, "This is the
most incredible experience. I'm going to sell all my non-fly fishing gear when I get home!"

Meanwhile, Darren was struggling behind us: the bottom was terrible. So we waited for him, and got him back on the boat. Within a few minutes, Darrren had his first of six reds for the day. The details fail me, but I do recall that we ended up the day casting to pods that were frolicking in off-colored water. The guys had never seen many tails fishing the central coast, so they were about as happy as I've ever seen any fly fishers on the Lower Laguna -- stalking the pods together, and hooking up, in 25 mph winds.

On Sunday, we hosted another recent returnee from Iraq -- Greg Miller from McAllen, along with his father and mother, Jim and Terri. Greg fished with his dad last year before leaving for Iraq, to work as a entomological researcher.

The winds were blowing at daybreak -- just as hard, or harder than the previous day. Once again, however, it looked like another cloudless day unfolding, so I wasn't too worried. I took the Millers to the same place where I'd been the day before with Darren and Ross. Again, as soon as we stopped, tailing pods began sprouting downwind of us. Jim opted to get out of the boat, and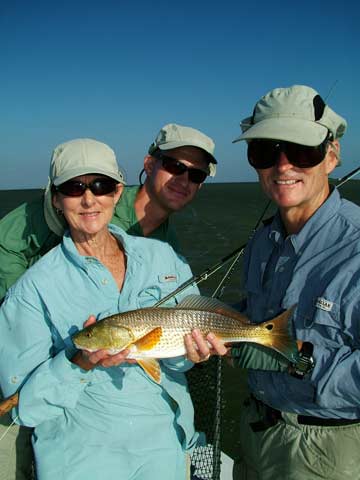 begin stalking a bouquet of tails, while Greg stayed aboard and began casting to tailing fish from the casting platform. Within a few minutes, Jim had his first red on a Mother's Day fly, and Greg had missed a big one that popped up 20 feet from the bow. Greg quickly decided to join his dad, so Terri stepped onto the casting platform. While the guys waded for the next 45 minutes, I poled Terri through the redfish-infested waters. As I've found in guiding women before, Terry quickly developed the ability to see the fish in the water, even with the low-angled sunlight.
After seeing quite a few, Terry spotted one without my help that was feeding head down on the dark, grassy bottom, and casted the Kingfisher spoon to it. Another red, that was with the first one, rose immediately and took the spoon. Minutes later, Terry landed her first redfish on a fly!

Last year, it was Greg's day; but this time, Jim hit his stride and landed six reds out of the 10 or so that took his fly. It was the windiest day I've guided in about two weeks, and to the Millers credit they didn't complain about the wind one time during the whole day! I pointed this out as we disembarked at the Kingfisher dock, and Jim said, wisely, "It doesn't help, does it?"

Most of us have to spend a lot of time on the water, as a rule, before we stop fretting about conditions, and focus instead on what we can do to achieve our goals. Obviously, it's what works in "real life," too.

10/27/04 Kathy and I did not fish on Monday or Tuesday, but our old friend and regular guest Lewis Robinson from Rockport stayed at Kingfisher and fished those two days with his buddy Ed. Lewis and Ed found incredible redfish action. Anchoring Ed's Pathfinder, Lewis and Ed waded all Monday afternoon, and landed countless reds, including a 31 1/2 fish that Ed stalked for 20 minutes along a shoreline before getting the fly to the fish. I wish I had photos of that one! They guys had to wade about two miles back upwind to get to the boat, and were dead tired on Monday night. I'm not sure how they did on Tuesday, but given Lewis's usual good fortune, I would assume that they caught heck out of the fish again.

Kathy and I had a full weekend, beginning last Thursday when I guided our old friend and Wonderfurl (furled leader)creator Bob Ferguson from Rockport, and his buddy Chris Bentsen from Seattle. Kathy, meanwhile, guided Corey Rich and his wife Tyra from Houston. Thursday and Friday proved to be especially windy days, with winds exceeding 25 mph by afternoon. Kathy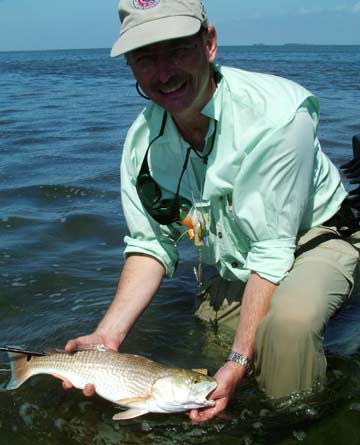 and I also discovered that the tides had fallen so dramatically that we could not get into some of our usual autumn west-side lagoons, and that the fish weren't even in the larger lagoons. It was dead everywhere. Kathy ran south all the way to Stover's Point, and I went north all the way to the East Cut; and the fish were spotty at best. Finally, I returned to an area in the early afternoon that I was sure would "heat up" by afternoon, and sure enough, a few reds were coming onto the flat. I called Kathy, and she joined us a while later. Our clients waded downwind, and Chris and Tyra caught small reds. Hoping to do better, I gathered my guys and headed for the white sand, where I'd found so many reds on the previous Sunday. It proved to be a mistake. Just as we departed, the flat "turned on," and Cory and Tyra proceeded to catch a dozen or so reds on crab flies, several of which were over 26 inches long. Speaking to Kathy by phone, I learned of my error, and returned to the area, but alas it was too late for us. Kathy's digital camera battery went dead, so she was unable to photograph Cory and Tyra's catches.

I headed back to the same area on Friday, and managed to find some fish that were spread out over the flat. Chris caught a red on Mother's Day flies, and I -- joining them with my five weight -- caught a couple on Mother's Day flies, too, along with a 24-25 inch trout that looked positively black in the afternoon sun. As the wind rose higher and higher, I put my rod away and waded beside Chris while Bob waited aboard the Curlew. We had several shots at reds -- and Chris caught one out of a small pod that we could see 70 yards out, but the reds never appeared in the numbers that Corey and Tyra enjoyed the previous day.

Saturday and Sunday were a different story. Kathy and I guided six guys from Austin and Houston, led by John Robertson and his two sons Corey and Tyler. Their buddies Aaron, Robert, and Matthew were all seasoned fly fishers, so we figured we'd do well if only we could put them on fish.

We headed north, hoping that the Friday difficulties were only a brief pause in the return of the reds to one of our favorite areas. By 9:00, we hit paydirt. On a shallow shoreline I began running into wakes. When we shut down, backs and tails popped up downwind, and along the shoreline. Robert got out and waded the shoreline with Corey, while I poled Matthew downwind. We began to see one pod after another that positively glowed red and golden in the morning sunlight. While Matthew proceeded to break off, and then to land three in quick succession, Robert landed six reds (with a red VIP) that were were subtly tailing upwind on the shallow, boggy flat.

Meanwhile Kathy's guys had come in beside us, but the action was tight to the shoreline, and it was soon over. Kathy headed west where her guys scored a couple of reds, while I headed onto the white sand, where we finished the half day on the water. Corey hooked one red on the sand, but the guys were transfixed by the Bahama-like beauty of the sand.

Sunday proved to be even better. We returned to the shoreline, and discovered that a whole
school of reds were spread out over a couple of acres, and tailing. My guys deployed, and Kathy's guys came in below us. Tyler caught a big red on the shoreline (too far away to photograh, darn!), and his dad casted crosswind to several tails, and missed one. Kathy's guys waded toward the motherload of reds, but the wading conditions were so poor that they made too much noise. Robert lost one and Matthew landed a red before we concluded that the action was over.

We headed a half mile west, and really began to get into the fish! Kathy went upwind of us with here guys, and before long everyone was onto tailing or cruising redfish. Robert and Matthew began to catch reds, some of which were in small pods. Since Kathy seemed to be in the thick of the fish, I looped up wind and poled into the same area. John and I landed a few reds, while Tyler headed further west and got into major podding action. Landing three or four reds -- some of which were over 24 inches -- he yelled for us to join him to take advantage of a group of 20-30 reds that were tailing together. Aaron who had lost a red, and broken off on one, responded to the invitation and covered the two hundred yards on foot in record time. John and I returned to the boat, and prepared to wrap it up for the day. Moments before we had to start the motor and pick up Tyler and Aaron, we saw Aaron's rod bent! So we ran over the get photos of his first redfish on a fly.

It was a great weekend of fishing with a great group of guys.

10/17/04 Over the last three days, we have hosted a group of six guys from Dallas, Charlotte, Chicago, and Detroit, led by Curtis Jaggars from Dallas. Capts. Skipper Ray and Rick Hartman joined me in guiding the group on Friday, Saturday and Sunday. The group came in Thursday,
while a cold front was blowing through. We were confident, however, that the front would be spent by Friday morning, and we weren't disappointed. While it was chilly, the north wind had all but subsided by daybreak.

I headed for a back lagoon that I thought was about to "turn on," while Skipper and Rick headed north. I planed into the area, and redfish wakes preceded the Curlew. I shut down in less than a foot of water, and poled Bernard and Fab downwind toward an area that's famous for hosting a huge congregation of reds feeding on white shrimp in the fall. Within minutes, tailing pods were popping up all around us, so I encouraged the guys to wade. I called Skipper and urged him to join us.

Using a VIP, Bernard took off on his own while I helped Fab -- a less experienced fly fisher -- stalk some pods near the boat. The action couldn't have been better. For the next five hours, the guys stalked reds on foot, and then casted from the boat once the sun had risen high enough to give us the lighting we needed to see the fish below the surface. Bernard landed nine reds -- seven on an orange VIP -- including one over 28 inches (that I wasn't able to photograph) and
this 27+ inch fish. Fab, meanwhile, caught six before we left the lagoon. Skipper's guys -- both novices -- spent most of the time practicing their casts under Skipper's watchful eye, but did manage to catch a couple of fish before the action subsided.

We headed north to join Rick, who was poling a shoreline with Curtis and John Pierce. I was feeling pretty sorry for Rick and his guys until later, when I learned that they caught 19 reds up to 30 inches long, while casting from Rick's poled scooter!

Saturday proved to be the toughest day, as the wind and the clouds came up by late morning. I guided Fab and John S. (I couldn't pronounce his name, much less spell it.). We returned to the same inlet with Skipper, and when we shut down, there were redfish tailing and podding in every direction. It was almost dead calm for a while, and so we enjoyed a window of opportunity that lasted until about 10:00. Wading some, and then fishing from the boat, my two guys had almost constant shots. John. S. caught his first redfish on a fly, and Fab added to his impressive Friday numbers. After that, it was "run around and search for a miracle," as the clouds and winds make sight casting virtually impossible.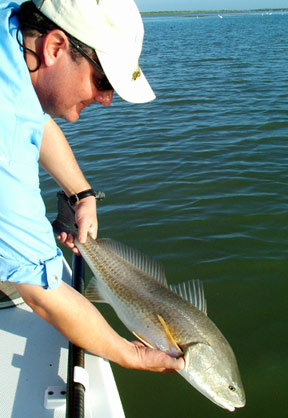 On Sunday, I had the privilege of guiding John Pierce alone, while Rick and Skipper took two guys on their boats. We all went to the same spot -- the place were I'd been finding the fish the previous two days -- and it was full of redfish for a third day in a row. They weren't podding as much, but were spread out and feeding aggressively on the shrimp. Exploding redfish punctuated the calm morning, as we poled in three directions, finding fish wherever we went.

I probably had the best "line" for the fish, because they were gathered along a depth transition that ran for over half a mile. For the next four hours, John and I were into constant redfish opportunities, but it wasn't easy fishing. The moss was thick, and the fly would foul in an instant. He broke off the first two
fish, but then landed a 30 inch redfish to start off an impressive string of reds.

After casting to about 75 reds -- singles and pods -- we lost the sunlight, so we headed east to get out from under the clouds. I poled John along the edge of the sand where the water was still glassy, even in the wind, and he hooked two reds there, and landed one. Hoping to find more fish, I moved the boat further east onto the white sand, and suddenly the sand "turned on." We were into redfish for the rest of the time that were "crabbing" head down, or following sting rays. It was tough fishing, as the wind rose to about 20 mph by 1 pm, but it was fun!

When the six guys left on Sunday afternoon, they were about as happy as any group I've ever seen fish with us. We were fortunate to be able to get Rick and Skipper to help us out. It was one of those awesome fishing weekends, where you go away remembering the 100 fish you didn't catch, as well as the ones you did. It keeps you coming back!
10/7/04 I had the privilege of guiding Buzz Black from Houston today. Buzz came down to join a group of his kayaking buddies, but wanted to fish with me before fishing from his kayak. The weather report called for widely scattered showers, and we were half expecting to get chased off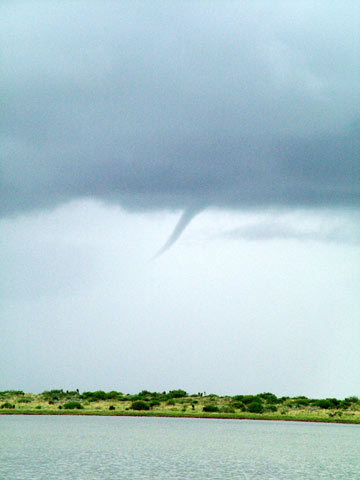 the water. Although storms and showers literally surrounded us all day -- even to the point of trying to intimidate us with a funnel cloud -- we never got wet. Meanwhile, the tailing and podding action was about as good as I've ever seen it. Buzz said at the end of the day, "I've never casted to so many redfish in all my life," and he's fished the coast for many years.

We started north, and poled a shoreline where reds were cruising with their backs and tails out of the water. While casting to these cruising singles, we noticed that there were pods tailing nearby. Buzz elected to get out of the boat, and intercept the pods on foot. Using VIPs for most of the day, he saw some great topwater action. After he'd
caught a few wading, we went after them from the boat. The reds stopped tailing about midday, so we headed south, ending up on a flat that's usually too shallow to hold fish. There wasn't another boat within sight, but the reds -- and sting rays -- were all over the place. Since the flat has a firm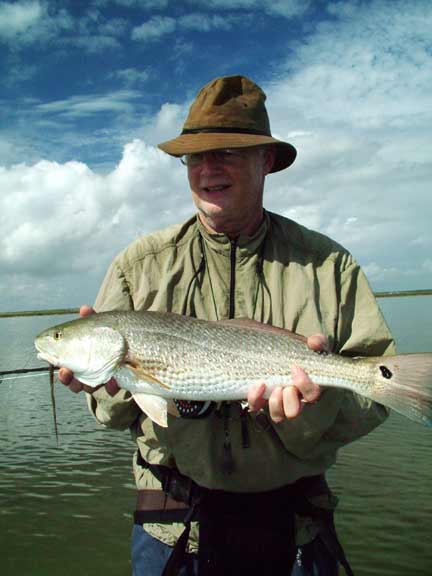 bottom, Buzz got off the boat again, and stalked reds for another couple of hours. I had a hard time not shouting unsolicited advice, but Buzz said he didn't mind the help, as long as I didn't hit him. I don't recall doing that, but I did get pretty excited a few times.

The fishing was so incredible that Buzz decided to opt out of the kayaking, and to go out with me again on Saturday. Of course, I'll let you know how we do!

10/6/04 The fishing has been superb for the last several days, but I've not been out myself. The winds have been low, and the tides are staying low enough for the single fish to be tailing. (The pods will tail in deeper water, as you may know.) As Kathy and I have discharged our respective university duties, our old friend/client Lewis Robinson from Rockport, and his minister Tom, came down on Sunday and covered the bases for us out on the bay. I suggested they go to the same place we've been doing so well, and they came back that afternoon with stars in their eyes. They reported that tailing pods were everywhere, and it continued for the next two days. Unfortunately, Lewis blew out his water pump on Monday, so they switched horses on Tuesday and took out our new Curlew. Using a black VIP, Tom said he landed seven or eight reds on Tuesday. There were so many fish that they just picked up and went elsewhere, to give themselves a break, I suppose. They also saw a lot of trout on the flats, as well. They went out again on Tuesday, and we left before we got to talk to them.
As a side benefit, the trout are tearing up the shrimp under the lights. I don't know if I've ever seen them so thick and aggressive. Tom fished on Sunday and Tuesday, and had a half dozen strikes each cast. It was wild! Shrimp were hopping around on the surface, the fish were exploding everywhere.

I'm guiding tomorrow, so I'll update the report with some photos as soon I get in.

10/1/04 The conditions on the Lower Laguna are currently prime for spectacular autumn fly fishing. However, for about a week following the entrance of Hurricane Ivan into the Gulf, the tides were so
high that fish were difficult to find. We were fishing in areas that rarely have any water at all, and the fish were so spread out that the most we could hope for was a few shots from the boat. Wading was difficult, as the water was so deep that it was nearly impossible to see the fish from a wading level. The results were dismal -- Last weekend, not one redfish was caught during three separate charters. As I told John Faulkner of Austin, and Jeremy Wittich of San Antnio -- who headed up two parties of anglers -- it was the most difficult fishing that we'd seen since mid-winter.

However, the water began to fall dramatically on Monday, and has continued falling ever since. I guided our regular client and neighbor Jim Posgate on Wednesday for a half day. (As you may recall, Jim won Grand Prize in the LMFFA catch and release tournament this past June.) The wind was still out of the northeast, so even though the winds were low, and the sun was out, it was hard to see the fish downwind. It gets harder and harder to sight cast downwind with a north wind as the winter approaches -- for two reasons: The sun falls lower in the southern sky, effectively blinding you; and the total illumination hitting the water is reduced
(as the cosine of the sun's angle -- that's the only trig I recall from high school).

Fortunately, we didn't depend on the sun. Heading for a back lagoon that usually holds fish in the spring and fall while the tides are seasonally high, I shut down after moving a few pods away from the boat. Jim waded in about a foot of water for an hour and a half, and had several shots at tailing reds. He asked me to join him, so I took my five-weight TICRx with me as we waded downwind. It was picture-perfect. The winds gradually subsided, and the sun was direct. The flat is as firm as a sidewalk, so it was effortless wading; and only one other boat was within sight.

I only landed one small redfish there, even though we both had multiple opportunities. Then we headed onto the sand, where we found too few fish to justify stopping. So we headed north, hoping to find visible fish in one of our favorite back lagoons. I poled two banks, and Jim had a few shots before landing a red that was cruising visibly against a flooded shoreline.

But then, something started to happen. The wind began to die, then shift to the east. We could tell that by evening, the wind would be out of the southeast for the first time in over a week. Suddenly, wakes began to appear all over the lagoon, as if the fish were streaming in from deeper water. We got out of the boat, and stood in one spot for over an hour and had almost constant opportunities -- and caught...not a single fish! It was really strange. The fish were as difficult as I've ever seen them. Of course, we had some obstacles to overcome. Floating grass fouled our flies, and covered our lines as soon as we casted. So the cast had to be perfect, and grass-free, and there were few presentations of that description. Jim used a VIP popper, while I
shifted to a Mother's Day. It didn't matter, because the fish were terminally spooky. The full moon is usually blamed for such behavior, but I think it was more of a weather and wind change that briefly turned them off, because they were back to their usual selves by the next morning (see below). I did get one strike from a huge fish that swam right up to me, but that was it. We hadn't brought any lunch, so we decided to head in. As we planed five miles down the west shoreline, we saw hundreds of redfish.

I went back that night for my full moon sleepover. Anchoring in the middle of the lagoon, I briefly contemplated fishing with a VIP for a while, but there was no evidence that the fish were feeding. So I opted to go to sleep, hoping for some early morning action -- but not before taking this photo for an article that I'm doing on fly fishing under the full moon.

As the sun began to rise, the wind completely subsided. I decided to plane around the area in the Curlew and find the concentration of fish. After heading north for about a mile, I suddenly
came upon several pods and one school of about fifty fish. So I stopped and anchored, and began wading toward the west shoreline, hoping to encounter the retreating fish.

Tails began popping up all around me, and soon I spotted the leading edge of a school. I crept closer, and cast my VIP into the edge of some tails, and the whole area erupted with fish. Several fought over the popper before one finally hooked up.

I fished for only about an hour, and landed two more reds out of small pods. The fish were still finickly, and quickly rejected poor presentations. But even after a cloudless night during the full moon, they were more than willing to take the fly.

While they have probably been feeding on small blue crabs, the increase in podding activity tells me that the white shrimp are beginning to draw the attention of the reds. Indeed, hundreds of laughing gulls were sitting on the water and feeding just the south of me. The wind was too low for them to remain aloft over fish, but they may have been following pods: I didn't have time to check it out. I think we'll soon be seeing "birding action" as the reds begin to target the pre-spawning white shrimp. It hasn't really begun, but October -- like April -- is usually a hot podding month, as the white shrimp mature and prepare to go offshore to spawn in the winter.

Jim and I were scheduled to head north to Glady's Hole (at the northernmost end of the bay) today, and I was looking forward to reporting on our expoits; but he hurt himself yesterday moving his boat trailer. So that report will have to wait!

9/19/04 I had the pleasure of guiding two men from Austin this past weekend.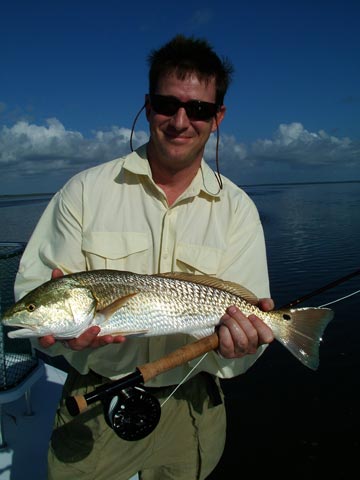 Bryce Miller came down on Thursday to fish on Friday, and John Nelson arrived on Friday to fish the weekend. Bryce had planned to come down with two buddies; but when they had to cancel, Bryce decided to come alone. It was, as it turned out, a fortuitous decision.

Despite the abrupt rise in water levels, we were able to find plenty of redfish in clear water that was about two feet deep. Indeed, Bryce sight casted to one redfish after another for several hours -- in an open flat full of dead shoal grass, and along a flooded shoreline. Bryce opted to use his five weight, which he wielded masterfully. Using a lightly weighted Mother's Day Fly, he landed eight reds and snagged -- or nipped -- several others. Since the water was so deep, Bryce fished exclusively from the poled Curlew. Afterward, I discovered that Bryce's "default setting" is, like mine, to wade rather than fish from a boat; but the deep water would have made it impossible to see the fish while wading.

While Bryce was an experienced fly fisher, John had only recently taken up the sport. And his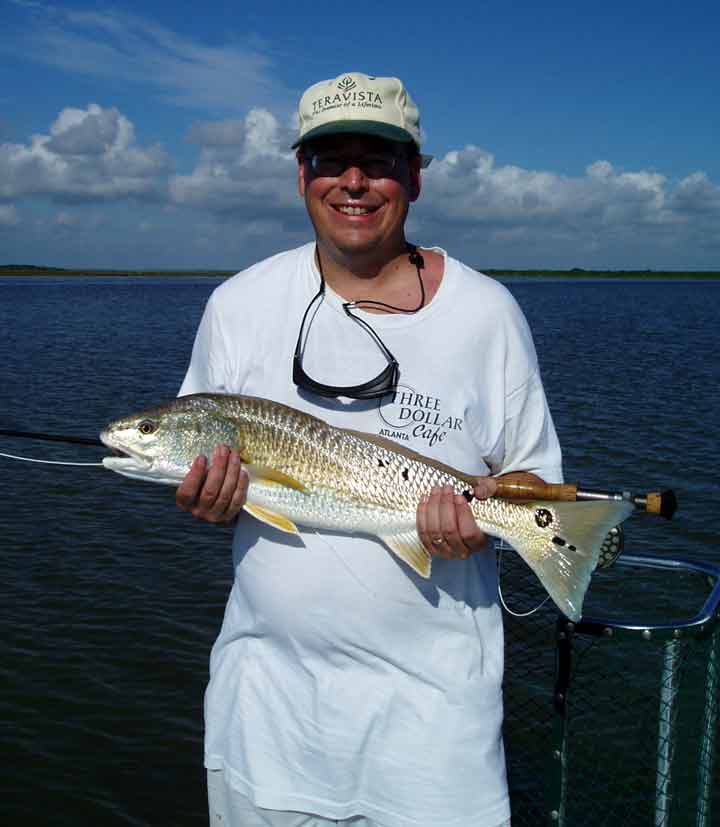 trip to Kingfisher was only his second saltwater fly fishing trip. I set him up with a Temple Fork TICR seven weight, and worked with him on the dock the night before. I could tell that he wanted to learn, and did not have unrealistic expectations. So often, it seems, this is the attitude that "works" to insure a fabulous day on the water -- for angler and guide, alike.

The water had risen even further, so instead of concentrating on sight casting on open flats, we focused on flooded shorelines, where the reds often chase finger mullet into the sprigs of sponge grass. We were fortunate to find the reds where Bryce and I had found them the day before. Even though John lacked a lot of practice, he made up for it with an ability to adapt to the situations we faced. After pulling the fly out of one red's mouth, and receiving the requisite lecture on waiting for the fish to ingest the fly, he hooked up on a big red that ran at least 100 yards out from the boat. After 20 minutes of fighting the fish, John landed a 29 inch red! He caught a smaller fish a few minutes later. Needless to say, he and I were pretty stoked. It's not every day that a fly fisher lands a fish like that!

Sunday proved to be tougher -- the water had risen even further. We returned to the same
shoreline, and found a few reds there. But what was amazing were the flounder that covered the shoreline. They were blowing up on the finger mullet, and jumping out of the water. It was quite a circus. As usual, it was hard to spot them until it was too late; but we had fun witnessing the spectacle.

Hoping to find more fish before John's half day charter was over, I ran south and entered a back lagoon where there are usually a couple of fly fishing guides poling clients. Not a boat was in sight. Assuming that the lagoon was devoid of fish, I started poling John, nonetheless, since we didn't have much time to go exploring elsewhere. I was surprised when we started seeing redfish -- all over the place! So plentiful that we decided to get out and wade. Running out of time, John had a couple of shots at 24+ inch reds. Given the prospects for a fruitful afternoon, I offered to stay out longer, but John said that if he didn't head in, he wouldn't be able to see his 11-month-old twins before they went to sleep.

Speaking of fathers, I took my own fishing the other day with his buddy Roy Galvan. We all fished from the Curlew -- Dad and Roy casting gold spoons, and I wielding my five weight. I served as the spotter, and would tell them when reds were in range. Some of the bigger fish were "waking" in from the north, so I was able to give Dad and Roy a head's up in time to cast to the incoming fish. Roy finally got his spoon in front of this 28 inch red. From the poling platform I could clearly see the fish hit the spoon, but the lure got caught on an old circle hook that was lodged in the fish's jaw -- a momento from an earlier battle that's he'd won. Roy's luck in catching this fish was mind boggling.
Dad and Roy are always kidding each other, and in the photo Dad is taking the credit for the fish. Seriously, one of the things he said to me several years ago when he was becoming too frail to fish as often as he once did: "I'm getting to the point where I enjoy seeing others catch fish as much as catching them myself." That's what makes him the best kind of fishing companion -- someone who takes pleasure in the successes of others. Actually, that's the way he's always been.

9/11/04 A gentle northeast wind greeted my brother and me as we headed up the Intracoastal from the mouth of the Arroyo. It had been six months since we'd fished together, and it was the first time we'd been out since Chip and his son Spencer had begun to fly fish our home waters. We headed to an area where the redfish have been cruising on top and tailing at daybreak. Just
yesterday (see below), I'd found tons of redfish in a remote westside venue, and wanted to see if they'd still be there.

Instead of carefully assessing our chances before committing to a wade -- by poling the Curlew into the area and taking a careful look -- we donned our wading boots and set off toward the shoreline. The wakes we'd seen as we planed into the area had been evidence enough that we'd found a motherload of redfish once again.

Once the fish settled down from the boat's intrusion, they joined the mullet stream and headed south with the incoming tide: It was obvious that a spectacular phenomenon that I've called the Redfish Parade was "on." Chip and I spread out and turned against the northeast wind, waiting for wakes to appear. The action was almost constant for over four hours. Using VIP poppers exclusively, we landed around 12 reds up to 28 inches long. Chip got the big fish honors with this hefty red after grabbing it by the tail as it swam between his legs (shown), and we had countless opportunities that we blew for one reason or another. But that's okay: A great day on the water is graced, as well, with memories of what could have been.

We headed in by noon, even though the fish were still there, milling around in a foot of grassy, clear water.

9/10/04 Today, I had the pleasure of guiding Harlingen dentist and fellow LMFFA member Jim Burkholder and his two friends, Dave Woolweaver, and Sam Carter -- for a half day. We left the dock at 6:30, and headed north. Planing into an area near the west shoreline of the LLM, we saw countless wakes, and shut down just as the sun was rising. Jim began to wade, armed with
a red VIP that he'd tied the night before. Meanwhile, I stayed on the boat, and poled Dave and Sam, who for various reasons could not wade. Jim didn't take long to get started on his second double digit day in a row (he and another friend that I guided landed 37 reds -- with my help -- a couple of months ago). Shown here is a 26 inch red that he released. A while later, he landed one that was about 28 inches, but I wasn't able to get a photo of that one.
Reds were everywhere, cruising on top with back and tails exposed, and feeding aggressively as they went -- probably on baby crabs. The water was less
than a foot deep, making it hard for the biggest fish to stay hidden for long. In addition to nine or ten reds, Jim caught a nice trout (shown here). For variety, we left the west side, and fished a while on the edge of the white sand. We didn't catch any there, but we saw a lot of reds -- cruising singles and doubles, as well as a school of about 30-40 fish.
Jim summed up the day by saying, "I've never seen so many redfish in my life." It was a truly remarkable day, but such days have been commonplace in the last few weeks.

9/8/04 Kathy and I have been off the water for the last two days, but we've had three guys here from Austin -- Scott Patton, Vince Wiseman and Jeff Honeck -- for the last two days. I didn't get to talk to them last night, as Kathy and I returned the lodge after the guys had gone to bed. But scratched on a piece of paper, and tucked in the door was a fishing report in Scott's hand: It said, "Great day on the water. Spent the morning at...and caught 19, 15, and 4 reds. Picked up a few more at...late." We were all worried that the cold front would ruin the fishing. Apparently not!

9/6/04 It's late on Labor Day, but I wanted to update the report in time for Tuesday morning, when most of you will be back to work and checking your emails.

Last weekend really began with a scouting mission on Wednesday night when I left the dock at 10 p.m. to spend the night on the bay. My aim was to do some fishing under the full moon, and then to scout early in the morning in preparation for some charters that we had scheduled for the weekend.

I decided to stay at the fifth entrance to Payton's Bay -- the same place I'd "camped" aboard the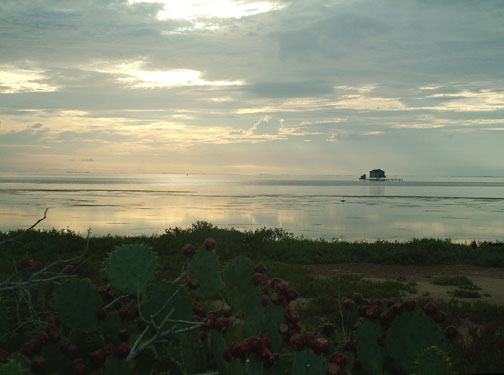 Curlew just a month ago. I hoped that the big trout would be feeding in the area, and might be enticed to take a popper in the moonlight. But alas, the tide was going out, and the fish did not seem to be feeding. I casted a white VIP fruitlessly for a while before dozing off. I awoke again around 3 a.m., and listened for the sounds of feeding trout, but could only hear the slashing sounds of ladyfish. Still, hoping for a chance at a trophy trout, I got up and began casting my VIP again. Two ladyfish later, I crawled back into my sleeping bag, smelling of ladyfish, and slept fitfully on the hard deck until just before dawn. The wind was calm, and not a fish could be seen in the shallow water on the Payton's side of the fifth pass. So I grabbed my five-weight TFO TICRx and my digital camera, and waded toward the Intracoastal, hoping to find a school of reds gathering along the ICW in preparation for the incoming tide. As I approached the channel, I spotted redfish tailing all up and down the edge. Big tails, too! I began casting along the edges of the school, and caught -- of all things -- a small snook! After releasing the snook, I landed two nice reds in the 25-26 inch range, and then decided to leave them alone. I headed back to the boat,
stopped by my favorite big trout spot and briefly snagged a five or six-pound trout that promptly got off, and then headed in to Kingfisher.

On Friday through Sunday, I guided former client Russell Myers from Ft. Smith, and his buddy Randy. Russell had been here three times previously, and had done pretty well -- but none of us were prepared for what happened over the weekend. If there was a headline to describe the three days, it might be "FLY FISHERS CATCH 50 REDS AND ONE BIG TROUT ON VIPS!"

We left the dock in light rain on Friday morning, and saw very few boats the whole day. Storms had hammered the area the previous day, and most fishermen were probably hesitant to chance the 50% thunderstorm prediction. The tides were still quite low, but rising perceptibly in response to the sun's increasing pull that accounts for the autumn high tides.

The wind died completely as we approached the area where my son Ryan and I, and several clients, had done so well a week before (see the 8/30/04 report below). Russell managed to catch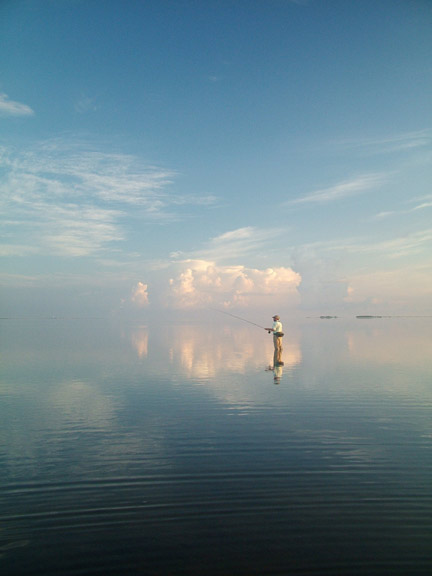 a couple of reds that were tailing among the mullet, but the action was disappointing. So we headed further south where we found big reds streaming into a shallow area -- what I call the "redfish parade," if you've read my previous reports. The big fish were cruising, and tailing intermittently as they went. Russell urged me to fish, too, so I got my five-weight and my camera and joined them on the flat.

Russell caught a couple of big ones, the largest of which slipped out of his hands as I was heading over the take a photograph. We tried a couple of other areas before returning to the area in the early afternoon. This time, we caught the streaming reds heading out of the grassy area toward their "holding water" -- an area that is only a foot deeper. Randy finally caught fire and landed couple of big reds before we called it a
day. By my reckoning, we landed 13 reds up to 27 inches long that first day -- all on orange, chartreuse, and black VIPs.

The second day proved to be one of those "story book" days. To put it simply, we enjoyed almost constant redfish action from daybreak until 4:00. After having a couple of hundred shots at cruising reds -- all in west-side lagoons, both north and south of the mouth of the Arroyo -- we landed 25 reds before heading in, most of which were over 24 inches long. Randy distinguished himself by catching 10 reds by himself -- all on a black VIP.

Sunday proved more difficult. Kathy was guiding Jim Carlisle
and his son from Oklahoma, while I guided Russell and Randy again. The early morning redfish action was short-lived in the area we chose to fish. We found out later than Kingfisher guest Lawrence Ligon from Austin, who had fished only 200 yards to the east of us, had done much better. (A firm believer in VIPs, Lawrence managed to catch 7 reds this morning before he and his buddy Sam headed back to Austin.)

Even though all of our clients fished to tailing reds for several hours, we didn't locate the hoped-for motherload of redfish, unfortunately, until the Carlisles had already headed in. However, Jim's son (Jim, also!) caught a world-class ladyfish on the white sand under the midday sun. For his first visit to the LLM, he did quite well, as anyone who has fished the Texas coast can attest.

I headed south again with Russell and Randy, and revisited a lagoon near Three Islands that had worked so well for us the evening before. Again, we found streaming redfish leaving the grassy lagoon for deeper water. After landing a total of 13 reds and one 25 inch trout, thanks to Randy, the guys started heading back to the boat. What's wrong with them? I thought. The water is still full of
redfish. I couldn't figure it out.
"We're gonna say uncle," said Russell as he trudged wearily toward the boat. After watching the two guys cast almost constantly for three days, I should have realized that they were getting tired. But having known Russell from three previous trips, I honestly thought that the word "uncle" rarely, if ever, issued from his lips.

8/30/04 This past weekend proved to be one of the most memorable fly fishing weekends of the year. Kathy and I co-guided a group led by Rod Zielke from Dallas. Rod and his three friends arrived Thursday night for two and a half days of fly fishing. Rod was an experienced saltwater fly fisher, but his three friends were new to the salt. And two of them could not wade, due to medical conditions. So we all faced some challenges, but the successes on the water for Rod and his buddy Phil from Nashville were remarkable!
We started at an area to the north where my son and I had been fishing the previous days. The tides were so low that the reds were outside the back lagoons, but starting their move onto the flats shortly after daybreak. Knowing this, Kathy and I positioned our guys at the leading edge of a mullet hoard which contained within its sheer biomass a considerable number of trout and
redfish, moving slowly southward.

The gamefish were not as visible as they often are, but that's typical of their behavior when they are surrounded by mullet. The reds do not tail as much, and the trout -- except for the largest ones that cruise around on top -- are typically invisible. Blindcasting is usually something we reserve for the last resort, but because the fish were so plentiful, we suggested that the guys cast topwaters into the edge of the mullet stream. Rod and Phil began to catch ladyfish, trout and redfish on VIPs and Dalberg Divers; and the action didn't stop until they stopped fishing on Sunday morning -- in time to catch their plane home!

After the early morning action played out, we headed to another area where big reds were spread out in thick grass. Rod and Phil waded, while their buddies David and Dan fished largely from the boats. Rod distinguished himself by catching a 29 inch red and
several others, while Phil caught a couple, as well.

By the second day, we had honed our approach, and the fly fishers had adjusted to the fishery. Indeed, Rod and Phil began catching trout, redfish and ladyfish at first light, and didn't stop until we asked them to move to another area. By then, Rod had "stopped counting trout at 20," and was in double digits on redfish, too. Phil, a relative novice, was not playing the part of a beginner,
having already landed six trout and several reds himself on white Clousers.

We moved to the area where we'd found the big reds the day before. Arriving earlier in anticipation of finding them there again, we were not disappointed. The fishing was spectacular. Phil landed a 27+ red, and Rod began landing one redfish or trout after another. After a couple of hours of constant action, Kathy took in the other guys, and I stayed behind with Rod and Phil, and joined them on the water with my 5-wt. After catching another 10 fish or so between us, we finally harvested two small trout for cerviche, and headed in.

The next morning, my son Ryan and I accompanied Rod and Phil on the water. The wind had shifted to the north, and the action had changed as well. We fished further to the south, where Ryan lead off the day by catching the first red on a VIP. We all followed in quick succession, but the fish weren't there in sufficient numbers to satisfy me. So we headed to the second spot, hoping to get there earlier enough to catch the reds entering the back lagoon. And did we hit it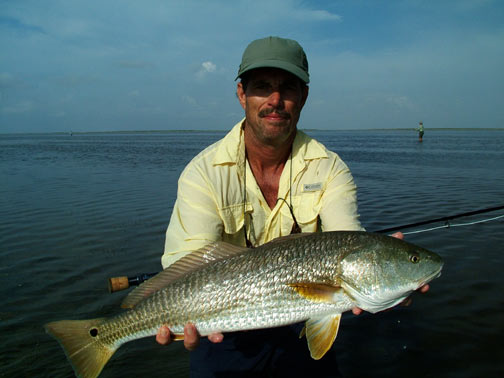 right. As I approached the main trough of the back lagoon, I moved a couple of reds, and immediately shut down, believing that we were on the leading edge of the incoming hoard of reds. The hunch proved correct. As soon as we stopped, we spotted redfish cruising into the lagoon on top, with back and tails wagging in the shallow, grass-filled water. Not another boat was in sight, even though it was Sunday morning: It was simply too shallow for "non-Curlews." We stood within 50 yards of the boat, and casted to one big red after another. Rod landed the largest one -- a red measuring over 28 inches. Our time ran out, and we had to leave the reds there, cruising into the lagoon without sights and sounds of eager fly fishers and their Dalberg Divers, Clousers, and VIPs to harass them.

8/25/04 My son Ryan and I returned to the bay this morning, hoping to find the reds in the same area as on 8/23. We left the dock at 6:30, and witnessed your typical mesmerizing August sunrise as we headed north along the ICW. Then, planing across the shallows, I noticed that the tide had fallen to its lowest
point in about two weeks. Not surprisingly, we didn't see a sign of life in our favorite back lagoon; it was simply too shallow. However, reaching an area where the depth increases to about a foot, we suddenly came upon two schools of redfish, and a hoard of mullet. We stopped, and were in the water within five minutes. As it turned out, the ladyfish were so thick that we had multiple strikes on our VIPs every cast. We landed a couple apiece, and had to retie our flies, as the ladyfish had frayed our tippets. It was fun, but frustrating to see how the ladyfish were monopolizing the scene. "I hate ladyfish," Ryan said with his characteristic, cut-to-the-chase, 15-year-old categorical assessment. Normally I love ladyfish, but I had to agree that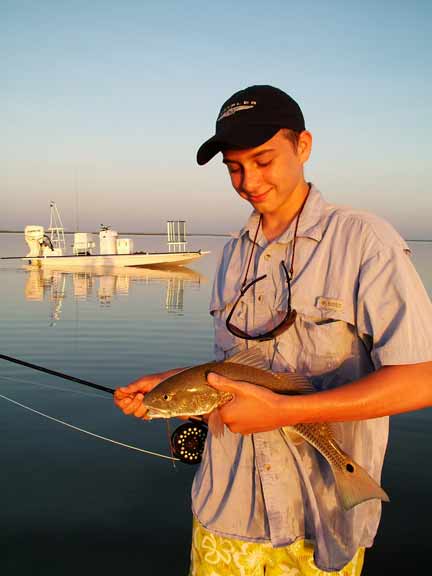 they were becoming a nuisance. So we changed our tactics: We stopped setting the hooks on the ladyfish, and waited for the sucking strikes of redfish and trout before strip striking with our customary vigor. Of course, it's hard to tell the difference in an instant, so we kept hooking ladyfish in between redfish and trout, and missed a lot of game fish. But overall, it worked! Before leaving the area, we landed 11 reds (mostly small ones), 3 trout up to 19 inches, and countless ladyfish -- all by blindcasting in the fish-filled water. The action played out around 9 a.m. as the wind rose to over 15 mph, so we decided to go in. What a day for a mere two and a half hours of fishing! Are we spoiled? You decide.

8/23/04 After enjoying almost a month of dead calm mornings, the winds of south Texas returned last week, resulting in some very challenging days on the water. Yesterday, my Son Ryan and I went out together, hoping to get him that first redfish on a fly. We headed to an area where
I've been taking clients, and doing pretty well. Ryan and I waded downwind on either side of a patch of glassy water that was somehow surviving the 15 mph wind. Ryan's cast has been getting longer every day -- and he's been catching trout off the dock each night -- so it wasn't surprising that he was able to cover enough water with his VIP popper to get some attention. Indeed, we found ourselves surrounded by
small reds, ladyfish and trout that weren't showing very much at all amid the abundant mullet. Within a few minutes, Ryan had landed his first red -- the first of four fish that he caught while we were there. It wasn't a big fish, but it was his first, and therefore a "big" event in his life. We both missed numerous strikes before the action subsided, and landed five reds, two ladyfish and a trout before we headed in.
We hosted Art Prangley and Ron Noble from Orange Co., Calif. on Wednesday, Thursday and Friday. Ron's son Kevin -- who lives in the Houston area -- joined them for the three days of fishing. While the men achieved some memorable successes, I told them afterward that it had been the three most difficult days of fly fishing that I'd seen since spring time.

The first day proved to be the last of the calm mornings, and quickly gave way to 20+ mph winds by early afternoon. Nonetheless, we had some classic sight casting in bootie deep water to cruising redfish, showing their backs and tails on a glassy surface. A beautiful setting, and each men caught their first redfish on a fly rod before late morning. By lunch, storm clouds had gathered, so we ran around trying to avoid the rain until admitting defeat and running for cover around 2 p.m.

On Thursday, we were greeted by 15 mph winds at daybreak. We headed north and finally settled down to fish a shallow flat where we could see reds cruising upwind in about 8-9 inches of water. It was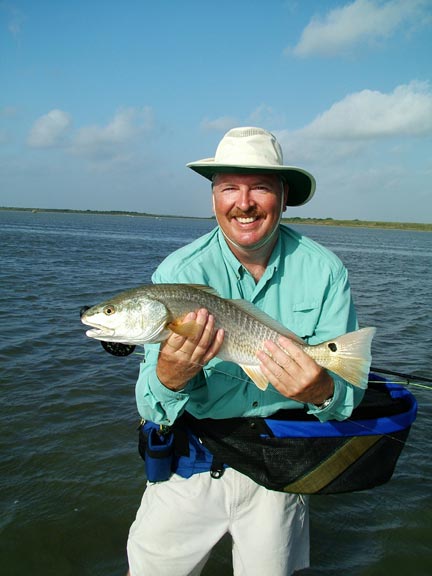 exciting, but challenging action. There is a catch-22 operating under such conditions: If the fly is close enough for the fish to see it, then it's often too close for comfort, and they spook. Even so, Kevin and Art missed strikes from big fish, and Ron finally got a smaller red on a Mother's Day Fly. The guys all had several encounters before the action played out. Later Ron landed three ladyfish in a pushinglagoon that was full of ladyfish crashing bait. We went to several places on Thursday, including the white sand, and found a few fish in every locale; but the fish were few and far between. Overall, it was tough, with winds 25 mph by the end of the day.

Friday was the best day, even though the conditions seemed unfavorable at dawn. Because it was windy, I headed for a flat that was almost too shallow to float the Curlew, so that the men would have a chance of seeing the fish in the wind. Indeed, when we shut down, the boat would barely float with no one aboard. So, I encouraged the guys to wade downwind toward slightly deeper water. Art got into a groove and landed three reds; but Kevin took the day by successfully sight casting crosswind to an oversized red. It should be noted that just the evening before, Kevin had said to me, "I didn't catch any reds today, but I had a great time." I was impressed at the time that he wasn't basing his happiness on "catching." As it so happens, anglers such as Kevin, who espouse a broad appreciation for the fishery and the entire fly fishing experience, are often the very ones who reap the greatest rewards.

8/12/04 I guided Steve Marshall and Talbert Bailey from Austin today. Steve fished here a couple of months ago with fellow Austin CCA member Stewart Pate, and had brought Talbert down for his first fly fishing experience. Indeed, when I greeted the guys last night around 10:00, Talbert admitted that he'd never casted a fly rod. I fixed him up with a TFO TICR seven weight, gave him a few tips, and went to bed. Honestly, I thought that his chances of catching a fish were slim to none. Was I wrong!

A cold front blew through just before we left the dock. I'd hoped for the calm conditions that we've been enjoying for the last three weeks, but it had to come to an end sometime. We headed north, hoping to find the reds where they've been for the last month. The action was steady and increasing as we approached an area that has been too shallow for the last six weeks or so. Noticing that the tide was somewhat higher than it has been, and that it was rising, I decided to move into shallower water. Two hundred yards later, after spooking several large reds with the boat, I shut down. It was about 9:30. For the next six hours, the guys
waded downwind onto a flat that is several miles long, and enjoyed almost constant redfish action without another boat in sight. I didn't start the motor again until we headed home at 4:30! That's how good it was.

At first the fish were just milling around in 8 inches of water. The shoalgrass was so thick that fly fishing was the only conceivable way to snag a red. The guys casted Mother's Day flies to the snaking reds, but had a hard time getting the fish to see the flies in the shallow, grassy conditions. So I suggested they switch to spoon flies.

The reds were beginning to change their pattern -- from milling around, to streaming upwind -- what I call the Redfish Parade. We had sunshine off and on; but because it was so shallow, the guys could see the fish pushing a wake from 75 yards away with or without the sunlight.

Almost immediately after changing flies, Talbert casted to a big red that swam right up to him, and exploded on the peach colored Boone Spoone. A few minutes later, he landed this 27 inch redfish -- his first red on a fly! Steve got into the action shortly afterward, and eventually caught an even larger red (shown). On his first day of fly fishing (anywhere), Talbert hooked nine reds, broke off on one, lost two, and landed six. A remarkable feat considering his complete lack of prior experience! Steve did almost as well, and this only was his second fly fishing trip.

More later. I have to tie flies for tomorrow!

8/11/04 I don't think we have ever enjoyed such a long period of calm, sunny weather. Every morning for the last two weeks has been dead calm. Tides continue to be very low, making many of our favorite flats "off limits" to most boats, and a sanctuary for feeding reds and trout. We have, consequently, been able to find tailing and cruising fish by sunrise on the west side, and enjoy "story book" sight casting until midday without another boat in sight. Then, shifting to the white sand, we have been sight casting to ladyfish, and an occasional redfish or trout.

The week began last Sunday night when I spent the night on the water. Each month during the full moon, I go out on the Curlew, and spend the night in one of my favorite places. As usual when I arrived at 10:00 pm, it was windy. I anchored, sat up for a while enjoying the early arrivals of the Perseid meteor shower, and sipping Gatorade. It was so warm that I couldn't bear the thought of getting inside the sleeping bag, so I went to sleep on top of the bag in my fly fishing clothes. At 1:00, I was awakened by the sounds of feeding fish. Ladyfish and trout were competing for who could make the loudest noise, it seemed. Loud pops and slashing breaks could be heard at the opening to a pass between the spoil islands -- just upwind of me, of course The wind had subsided to about 10 mph, so I decided to fly fish. Tying on a white VIP with the help of a tiny flashlight, and donning my sting ray resistant Chota boots, I slipped into the water, and headed upwind to the feeding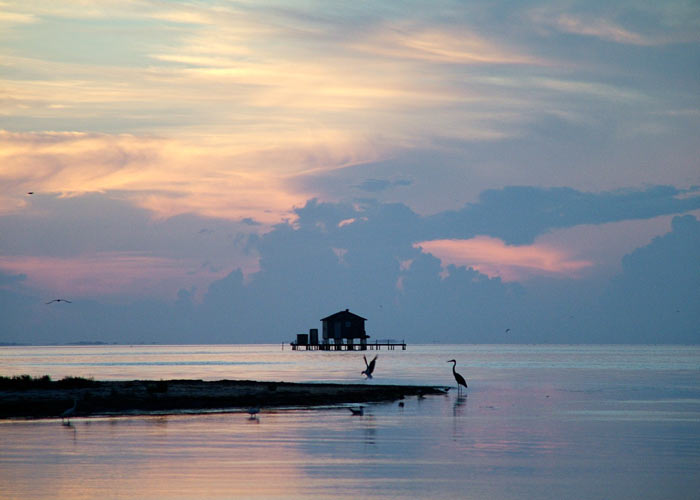 fish. Casting a five weight against the wind in the dark is a bit hazardous, but I was pleased to find that I could cast the VIP about 40 to 50 feet against the slight breeze. The moonlight was so bright that I could follow the white fly as I stripped it over over the moonlit surface.

I fished for about an hour without landing a big trout, even though I missed a couple that exploded on the popper without getting hooked. In addition to catching small trout, I landed five ladyfish. I was getting a little tired, and thinking about heading back to the boat when suddenly a fish slammed the fly and headed for deeper water. The fish took me into my backing and beyond within seconds, and I could tell by the way the fish was shaking its head, and not jumping, that it wasn't a ladyfish. I thought, for certain, that I'd hooked an 8-10 pound trout, and began to wonder how the heck I was going to photograph the fish in the moonlight before releasing it. Twenty minutes later, I pulled the fish
close enough see that it was a 25-26 inch redfish. A nice catch for 2 a.m., but not the fish I'd hoped for. I trudged back to the boat, and collapsed on the deck. Here's a shot of the sunrise from aboard the Curlew.

The trout action along the Intracoastal Waterway (ICW) is one of the most exciting, and overlooked opportunities in the Lower Laguna. The action is "on" almost every morning from late June through the rising tides of early September, and offers fly fishers the chance to catch a trophy trout, along with a couple of dozen smaller ones. On Tuesday, Kathy and I had the privilege of taking out Danny and Diane Hicks of Dallas. Danny is writing a book on fly fishing Texas for Amato Publications, and wanted us to fish so
he could get some photos for the book. Knowing that the trout have been thick along the ICW, we stopped there first. It wasn't long before we were having double and triple hookups. Before we moved on, we had landed over 20 trout -- three of which were three pounds or over -- three reds, and a few ladyfish. Here's two of the trout we caught and released -- all on VIPs of various colors. Kathy missed a world record (shown) by a few ounces, and then had her knot come undone as she prepared to land a truly BIG trout that would have been a world record on most any tippet.

We left and headed for the area where we've been finding the Redfish Parade (See earlier reports below for an explanation of this term). At first, we didn't see much happening on the glassy surface -- no tails, and no cruisers on top. But, similar to other mornings during the full moon period, the redfish and trout began to feed by mid-morning after a brief lull at daybreak. Before long, we were all stalking tails in all directions. Since it was so shallow and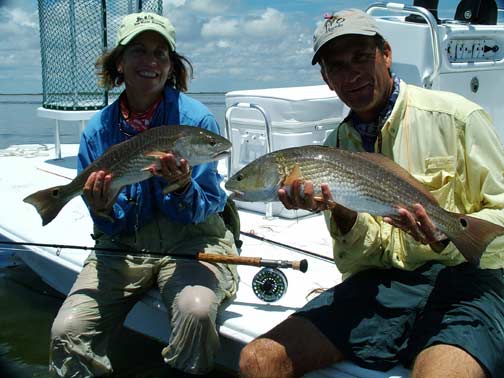 grassy, we stayed with weedless VIPs, and eventually landed about 12 reds in the 21-25 inch range. While Danny and I were stalking tails, the women suddenly found themselves in the middle of the Redfish Parade. Before long, they were both casting on their knees to one fish after another as the incoming reds snaked through the thick shoal grass. The conditions could not have been more challenging!

I guided John Boyd from Georgetown, Texas, and his 16-yr-old son, J.R., on Friday and Saturday. Returning to the same area where we've been enjoying spectacular redfish action, we got into some early action that played out fairly soon. Reds were snaking around on top, giving the Boyds some excellent opportunties for high-vis topwater action. J.R. managed to land his first two reds on a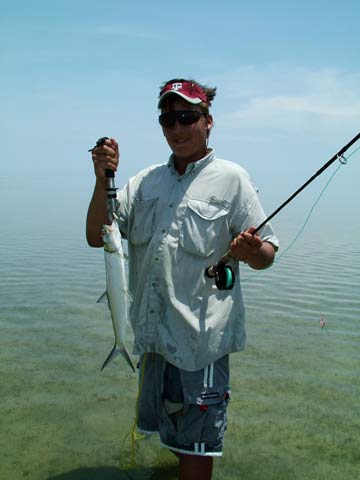 fly. As the action subsided, we headed further north, and found some tailing action near the East Cut, but the outgoing tide went slack on us, and the tails disappeared only an hour after our arrival. Now it was late morning, and we still had several hours of fishing. Frankly, I wasn't sure where we could find some good redfish action. But John changed that plan, by asking, "Do you think we could catch a ladyfish?" Needless to say, I was pleased that they were interested in one of the types of fishing that I find most enjoyable. And wow...did we find the ladyfish! John asked me to fish with them, so I grabbed my five weight and joined them. For the next three hours, we were casting to ladyfish on the white sand. Using mylar flies, we had shot after shot at cruising singles and packs. I set J.R. and his dad up for an 8-lb. tippet world record quest, by installing a class tippet section before we started fishing.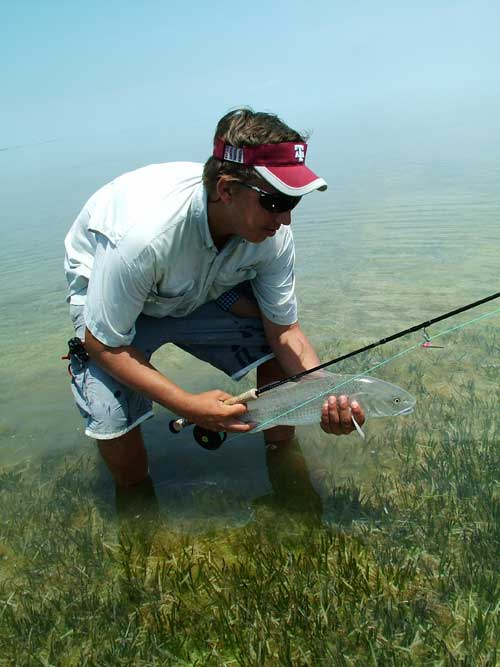 On the first day, J.R. caught a fish that we thought would beat the 8 lb. tippet record, but when we checked that night, we discovered that the fish had been a bit too small. On the next day, the early redfish topwater action was phenomenal. The Boyds asked me to fish with them, and for about three hours we were all casting to tailing and cruising reds. After J.R. had caught three reds on his fly rod -- all on VIPs -- we went after the ladyfish again. In the midst of almost constant ladyfish action, he sight casted to this incoming 24 inch redfish -- his fourth for the day! We photographed it over a small patch of turtle grass, which grows on the sand when a boat plows up the surface. Notice how pale the reds are on the sand. They're hard to see, but this one was pushing a wake in 12 inches of dead calm water.
I was really impressed in J.R. abilities with his fly rod, but when his dad told me that he hunts big game with a recurved bow at the age of 16, I was downright awed in the young man's obvious pursuit of excellence. Needless to say, J.R.'s dad was immensely proud of his son's accomplishments on the flats of the Lower Laguna.

8/1/04 It's been almost two weeks since I posted my last report. Kathy and I have been on the water almost constantly since then, team guiding on our two Curlews, and the fishing has been good to spectacular. Since it would take me hours to recount over a dozen fishing trips, let me summarize a very few of them to give you a sense of what the fishing has been like on the Lower Laguna.

The tides were extremely low until three days ago, when a barely perceptible increase in
water depth was noticable at sunrise. Winds have been calm or negligible at sunrise, as a rule, with wind speeds increasing to 15-20 mph by afternoon. We have had almost full sunshine for about two weeks. These are great conditions for sight casting with a fly rod.

Last week, Kathy guided Doug and Connie Gauntt, while I was busy with another client. She took Doug to the edge of the Intracoastal where we like to target big trout. Doug spotted two or three trout in the 24+ inch range, and tried to get within range of them, but it's always difficult to make an adequate presentation to a trophy trout. They roam the waters along the ICW, and the wading conditions are typically marginal. I cannot tell you how many dozens of times I've stood watching a world record trout sauntering through 10 inches of water, back exposed -- just beyond my casting range. They have been called "psychic" for good reason, as they always seem to be moving away from you without showing any signs of alarm.

Kathy shifted to the east side, to a place we call Turtle Lake. It's an open area in the matted shoal grass, with a firm bottom that is covered with sparse turtle grass. It's hardly accessible in the midsummer, except on board an extremely shallow boat. She ended up spending five hours in one spot, as Doug -- an experienced saltwater fly fisher --stalked one cruising redfish after another, using VIPs with weedguard to entice the big reds in the shallow, grassy water. Kathy stayed with Connie, who broke off on two fish. Doug remained just in sight, and returned to the boat hours later having landed five reds and missed a dozen more.

It's hard to follow up such action, but it was my turn to guide them the next day. Hoping to repeat Kathy's success of the day before, I headed straight for the same place, only to find that Turtle Lake was devoid of life, so I kept heading east until we were planing over white sand. Wakes appeared amid the mullet, so without thinking it through, I shut down...in 6 inches of water. It was a near disaster, but fortunately the Curlew floated. Acting as though it was all part of the plan, I asked them to kindly disembark and begin fishing, so
I could being pushing the boat toward deeper water. An hour later, we got up with great difficulty, and headed north. I was a little shaken by my error, but I intended to make up for the late start.

We headed north to a flat that has been producing well day after day. It was almost dead calm when we arrived. The couple headed toward a mullet stream, where a few redfish tails were sprouting. Meanwhile, I followed behind them, noticing that a few large trout were "snaking" around on top. It was hard to discern the signs of big trout among the mullet, but occasionally I would see the square black tail of a big trout swinging back and forth
among the mullet. As I recall, Doug picked up a small trout and a red at this venue before we headed back east and south where we stalked tailing reds for about two hours. Doug picked up a nice 24-25 inch red on a VIP before we headed back onto the sand.

We finished the day targeting ladyfish. Connie, who had not landed a fish yet, managed to hook up on two fine ladyfish toward the end of our day. She was already pretty happy about that, but I informed her that the second ladyfish was probably a woman's IGFA tippet class world record. She thought I was joking, but we documented the catch on my certified scale just in case, and later found that it was, indeed, a new 20-pound tippet IGFA world record. Her second fish in saltwater, too!

As the tides rose, I suspected that we would soon be seeing a phenomenon that I call the Redfish Parade. It is hard to believe, but there is a place where hundreds of redfish can be seen -- usually at daybreak -- cruising upwind onto a shallow flat that has only about 10 inches of water on it. Sometimes you catch them entering the area,
and sometimes, you catch them leaving. But during the summer, it happens almost every day if the tide is "just right," which means very low, but not as low as it gets.

I took Gerald Beard from Houston, and his son Warren (who teaches Veterinary medicine at Kansas State) into an adjacent area at dawn. At first, we saw very little sign of gamefish, so they got out and began blind casting in water that was about 15 inches deep. Both men caught a couple of fish on topwater before I noticed that redfish were tailing in shallower water, so I called them over, and we began stalking tails. That lasted for a while, before I suggested that we wade and poke into the area known for the Redfish Parade. As we walked south, the redfish action began to increase until, suddenly, I looked further south and could see the inimitable signs of multiple redfish heading toward us. "This is it!" I exclaimed. We spread out and stood pretty
much in the same spot for almost three hours. Before long, redfish were everywhere, heading slowly north across the shallow flat. At any time, we could easily see a half dozen separate reds "snaking" toward us. I think it's safe to say that each angler had 100 casts at redfish in the 23-28 inch range. Gerald caught the largest -- a 27+ inch fish -- but Warren caught several sizeable fish, as well. Both men said that they saw more fish that one day than they'd ever seen in their lives. And when we left, the redfish were still coming.

Not suprisingly, Kathy and I headed for the same area the next morning, when we had the pleasure of team guiding Jeff Rotundo, his teenage son Nick, Nick's classmate Trey Carlock, and Ken Cole -- the boys' fly fishing teacher who works at Blue Drake Outfitters in Dallas.

The wind had turned around, so I wasn't sure we'd find the Redfish Parade again, but when we came off plane in the area where the Beards had fished the day before, we quickly encountered a lesser, but nonetheless impressive version of the Parade. We spread out, and faced downwind, where reds were streaming upwind toward us over the shallow flat.
Both boys multiple strikes on their VIPs, and Trey hooked up twice. After losing a sizeable red, he manged to land a smaller fish -- his first redfish on a fly! He was happy. Meanwhile, Ken evenually got in the groove and landed three reds before the action subsided.

We finished up our half days on the white sand, where Trey and Ken had some pretty impressive ladyfish action. Although Kathy waded with Jeff and Nick nearby, they encountered very few fish. Fortunately, we had a second day scheduled with the guys.

Guiding Jeff and Nick on the second day, I returned to the same area where we'd found the redfish the previous two days, hoping that the Redfish Parade was "on." Meanwhile, Kathy took Ken and Trey to a nearby spoil bank where we'd been finding tailing pods and big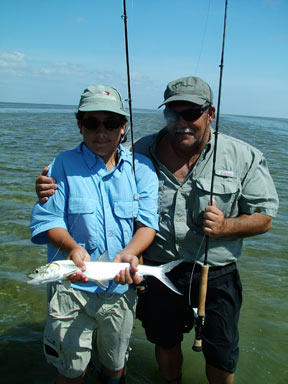 trout for the last three weeks. Ken caught a small red and a ladyfish before Kathy headed over the join us. Meanwhile, we were not seeing much. An occasional red would swim by, and several trout appeared too late to do anything about them. Nick finally hooked a nice trout that got off before he could land her. After we all waded the area for awhile, it seemed that everyone wanted to spend more time on the sand, hoping to give the boys a better chance at ladyfish.

We split up, and stayed in touch on our VHF radios. Nick and Jeff and I finally settled into wading near the Saucer, while Kathy and her guys waded near the Green Island spoils. It wasn't long before Nick hooked and landed his first ladyfish. It was a proud moment for both father and son.

I was moved by the dedication of that Jeff and Ken showed in assisting Nick and Trey -- both of whom are clearly exemplary young men. There are very few fathers who have the patience to introduce fly fishing to their sons at such an early age. And Ken, who had worked with the boys on their casting and knots, is one of those rare mentors in today's world who can ease a young man toward his dreams. What a pleasure and an honor it was for Kathy and me to guide this group! We hope to see them back soon.

For the last three days, Kathy and I have guided Jim Giltner from Denver and his buddy John Strom from Houston. Both men have fly fished in coldwater extensively, and have begun shifting to saltwater venues. While John has a place in Galveston, neither men had fly fished the Lower Laguna.

On the first morning, the wind was calm. I headed first for Turtle Lake, hoping to find that it was full of tailing reds. It was breathtakingly beautiful to be there at sunrise. Both men stalked a few tailing reds, and landed a ladyfish or two. But after about half an hour, I pulled the plug. There weren't many fish in the area, and I was convinced that we could do better elsewhere.
I headed north, hoping to find the Redfish Parade, or at least some tailing reds. The surface of the water was smooth as glass, but not one tail marred the surface. I suggested that the guys go ahead and blind cast VIPs until we started to see some surface action, or until the sun rose sufficiently to see the fish beneath the surface. John headed south, toward the area where the Parade has been happening, while Jim waded north. Before long, both men were into fish. Jim hooked up once, then twice; so I headed over to investigate and to take pictures. On the way, I encountered one redfish after another, glowing beneath the surface in the early morning sunlight. The reds were there, but not showing on the surface. Jim went on to catch several reds on Mother's Day flies, and John caught several, too, on a variety of flies. By the day's end, the guys had landed at least a dozen reds.

The next day, I guided Bill Davenport from Houston, and his buddy Lance. Kathy took Jim and John on her boat. As I planed down the ICW, intending to fish the Redish Parade, I noticed the signs of trout along the ICW. Knowing that Bill had never caught a saltwater gamefish on his fly rod, I asked him if he minded if we went after trout first. Not at all, he answered. So I swung onto the adjacent flat, and anchored. I got the guys out of the boat, and had them cast topwaters over the edge of the
deeper water. I was surprised that Bill didn't catch a trout immediately, but then I spotted the tail of a trophy trout only 25 feet away from where Bill was standing. He cast his VIP, stripped once and pow! A smaller trout took the fly! Bill wasn't complaining, though. After taking a picture of the fish, and releasing it, we noticed suddenly that there were several redfish tailing along the edge of the ICW. Bill stalked several of the tails, managing to put his fly just out of hearing range of the visible fish. But then again, pow! -- a small trout took the fly.

Then, I looked west toward the edge of the spoil bank, and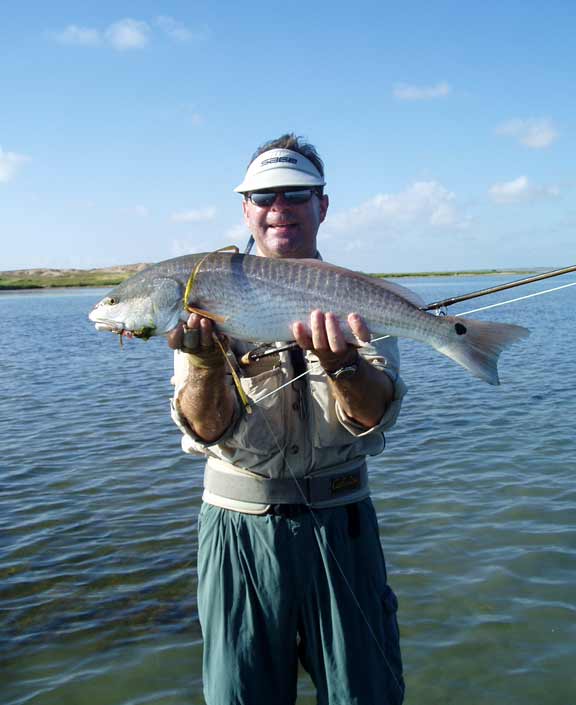 spotted a tailing pod of redfish. We began to wade toward them, and as we got closer we could see that there were numeous reds tailing and cruising the shoreline with their backs out of the water. I called Kathy on my VHF, and suggested that she bring Jim and John over to the ICW. They had caught a couple of reds, but were eager for some more action; so Kathy took them to a spot on the ICW just a half mile from us. She called me on the radio to tell me that there were tailing pods just off the ICW. Minutes later, she called me again to say that John had landed two reds -- one 27 1/2 inches long -- on VIPs.

The third day was less eventful. We found big fish in super shallow water, and they were as tough to catch as they ever are. But Jim and John as seasoned fly fishers, and appreciated each day as much as the others, regardless of the catch. It was a pleasure guiding such experienced anglers for their maiden trip on the Mother Lagoon.

7/18/04 It's Sunday, and the past five days have been a blur. We hosted 11 people at the lodge -- all from Austin or Houston -- starting on Thursday. We've had story-book fishing in the bay and outside the jetties, and remarkable catches of redfish and king mackerel. Overall, we have had low winds in the morning, full sun, and extremely low tides -- perfect conditions for sight casting with a fly rod.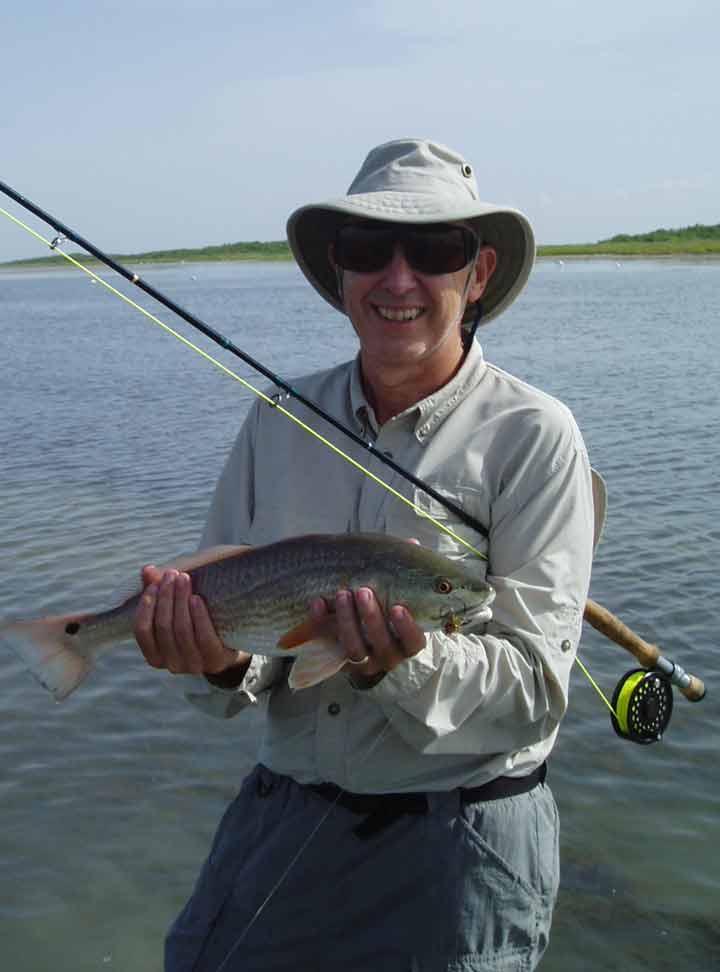 Wednesday the 14th: I started the last five-day cycle guiding some previous clients from San Antonio -- Bill Collins and his wife Marian, who accompanied us, but did not fish. Bill had done real well last fall, but the bay was about a a foot deeper then: The LLM in the summer is an entirely different fishery.

We went east first of all. Crossing the barrier of matted shoal grass that turns most boats around, we continued until we reached the open areas that are often full of reds at daybreak. We found a few fish over the turtle grass in about a foot of water, but I thought we could do better than that. So, we boated north along the edge of the sand. Coming upon some waking reds, we shut down and saw singles and doubles tailing and snaking through the 10 inch, grassy water. Bill stalked a few, and almost snagged a couple. But the conditions were a "perfect curse" for a fly fisher -- dead calm wind, and ultra skinny water. As beautiful and as difficult as it ever gets.

We kept heading north and west, and stopped to pole through an area near the Intracoastal. It soon became evident that trout and reds were tailing all around us! It was fun casting to them from the boat, but I eventually concluded that the only way for us to catch one was to get off the boat. Bill and I waded 25 feet from the boat before he put
his Mother's Day in front of a nice tailing red that ate it without hesistation. Then we left, went into a grassy area that was less than a foot deep, and easier to wade. We shut down, and almost immediately saw what I'd hoped to see -- redfish snaking upwind onto a very shallow flat. This is my favorite early morning "action" from mid- to late summer. Bill wasted no time in getting off the boat, and stalking the reds. He landed two more, and missed a couple more -- which is quite respectable given the sensitive conditions that we faced.

Later, we headed for the sand. Bill had never caught a ladyfish, so I thought it would be a great way to top off the day. Marian joined us as we waded downwind on the sand. The wind was neglible, and
the water was gin clear. After a few minutes, we spotted a pack of ladyfish about 50 yards out, and closing fast. Bill put his mylar fly into the middle of them, and hooked up immediately. The fish took off on a blistering run that seemed like it would never end. Bill was incredulous. "What is this!? He asked. "Some well-kept secret?" If you've seen Kathy's article in the current issue of Saltwater Fly Fishing, titled "The Lady is a Champ," you'll know that the classic ladyfish action on the white sand is no longer a secret!

The next day, I guided Tom Reid from San Angelo, his buddy Gene, and Gene's son Matt. Tom and Gene fish a lot out of Port Mansfield aboard Tom's Curlew, and they were getting together with a larger group at the end of the day for several more days of fishing up that way. But they wanted to fish with me one day before joining their friends.

The morning looked promising -- again, we had low wind and a clear sky -- but the day proved tougher than we'd expected. We headed north, and spotted some fish working near the Intracoastal. We stopped, and waited for a few minutes; and backs and tails began sprouting all around us. The three men waded toward them armed with VIPs, and had multiple shots in very shallow, calm water. The situation required a surgical presentation, so it was a bit surprising that the only non-doctor in the group snagged
the only red. Tom missed a strike, and Matt missed one, too, but he finally hooked up on this pretty fish.

We fished several venues east and south of the Arroyo, and Matt caught two more reds -- to the feigned disgruntlement of his elders -- before we called it a day. When I returned to the lodge, I discovered that some of our guests had ventured into the surf, and had caught their fill of king mackerel, bonita and spanish mackerel. Cruz Lamas -- a well-known local "heavy hitter" and LMFFA member who has recently relocated from Houston to his home town of Weslaco -- and his buddy Mark Lucas hammered the kings on heavy sinking lines. Needless to say, a lot of the guests opted to hit the surf the next morning.

On Friday, I guided former clients Jim Burkholder and Steve Shepard from Harlingen. Jim and Steve are members of the LMFFA, and Steve is a fellow Board member. Again, we had virtually calm conditions at daybreak. Knowing that we expected a "magical" daybreak, I asked them to come earlier than usual -- just so we wouldn't miss any potential tailing action.

Keeping an eventual visit to the surf in mind, we headed north toward the Mansfield Cut, and found that the tide had fallen even further. The Trout Bar was dry, and Payton's Bay was a trap for just about any boat -- but not the Curlew. Even so, I went elsewhere. Arriving on a flat near Port Mansfield, we shut down along the edges of a mullet stream, and promptly spotted tailing reds and trout milling around the edges of the mullet hoard. Steve asked me, "Aren't you going to join us." I usually don't fish with clients, but I'd fished with them previously, and I knew that they "knew the program." When that's true, fishing with clients can make for a better day for everyone; so I grabbed my 5-weight TFO TICRx, and tied on a VIP, too.

We waded the area for about three hours, and casted to tailing and waking fish for the entire time. Although the fish were especially finicky and quick to reject our presentations, we still managed to land 15 redfish before moving on.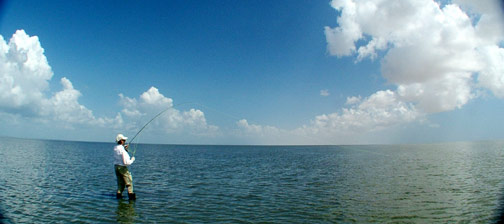 We headed for the surf, and found a number of boats -- including some of our lodge guests -- following breaking bonita. We'd heard that the kings were running deep, and that you had to fish a sinking line as deeply as possible, but we just couldn't justify doing that over sight casting to reds. So, after a brief visit to the surf, we headed back into the Bay, where we opted to wade a flat near the Mansfield Cut. I put my rod away, because I wanted to help Jim spot the redfish that I hoped were feeding on the shallow flat. It didn't take Jim long to get into a groove that lasted for the rest of the day. Indeed, he landed four reds in quick succession using an orange Mother's Day Fly. Some of the reds we encountered were singles, and some were in tailing pods. Steve, who had landed six or seven reds earlier, kept snatching the fly out of the mouth of the redfish (Steve is an oral surgeon, you see; that might have something to do with it :-)) , but it was a problem that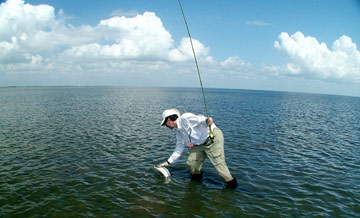 proved to be short-lived.

We took a break for lunch, and waded a slightly different area. Jim urged me to take my rod, so I began fishing again. If anything, we encountered more reds on our second wade. Both Jim and Steve caught more reds, and I managed to land a nice 20-inch trout.

We would have been happy if the action had stopped at that point. But the third wade was something none of us will forget. At about 3:00, we started out again, and the tide began to fall even further. Perhaps, the current was increasing on the flat, but for whatever reason, the redfish were simply everywhere. By the time we knocked off around 4:30, we'd landed 37 reds and a trout for the day. Both guys said it was the best day of fly fishing on the Laguna Madre that they'd ever experienced. I'm sorry to say that I didn't take many photos, because I was too busy catching fish!

When we returned to lodge that night, we learned that everyone had done well. Norbert Birch and his partner Joe De Forke from Houston hammered the reds up north, landing over 20 before the day was over. Vince Wiseman and his buddy Lawrence Ligon (with son Walker) saw great action on the sand, in particular. The guys waded for miles, with Walker casting from the boat, and bringing it along behind them. (What a great son, huh?). The guys caught reds, but the interesting thing was that they caught ladyfish -- and loved it! Later, they confessed to Kathy that they'd read her article about ladyfish and thought, "Right, a guide trying to make something out of nothing." But they confessed that they were deeply impressed by the classic sight casting that the ladyfish offered on the sand. "As good as fishing for bonefish," they said -- and we've heard countless other fly fishers "in the know" echo that sentiment.

On Saturday, I guided our friend and regular guest Joe MacKay from Austin, and his buddy Tim from Colorado. Meanwhile, Kathy guided Joe's wife Debbie on our second Curlew. Everyone at the lodge agreed that it was a tougher day than the day before. So we had a more difficult time finding and catching fish. Still, Joe landed a couple of reds; and Tim -- who had never casted a fly rod -- almost caught a big trout, and a red. Not to be outdone by her
husband, Debbie landed a beautiful trout, and a ladyfish on her fly rod. Both were "firsts" for Debbie, and she was deservedly very happy with her successes.
Later than evening, we celebrated Joe's birthday with a German chocolate cake, ice cream, and wonderful fellowship.

While we were fishing the Bay on Saturday, Henry Bone and Joe O'Connor -- our regular guests and friends from Austin -- were angling for king mackerel outside the Mansfield jetties. Henry called on the way back to Austin later, and said they'd landed two kings. Earlier in the day, 10 year-old Walker Ligon caught three reds casting his topwater plugs into tailing reds. I wish we had photos of his success.

Overall, it was a wild and crazy -- and amazingly good -- fly fishing weekend.

7/12/04 We have had some remarkable fishing in the last few days, and I've asked Kathy to tell you about it. She'll be posting a report today, fingers crossed. But I will say in my own tired prose that yesterday was a good example of how good the fly fishing is on the Lower Laguna. Three fly fishers (Kathy, myself and our neighbor Rex) went to one spot, and didn't start the motor again for six hours. 23 reds (up to 28 inches), three trout (up to 23 inches) and a few ladyfish later, we headed in. I won't say anymore, but look for Kathy's report later today.

7/12/04 (Kathy:) For the first time since we opened Kingfisher, we actually blocked off several days to relax and enjoy our fishery in the midst of the "high" season. It's rare that Scott and I can venture out to the flats wielding our fly rods but we did on Friday and Sunday. On Friday we rose early and left the dock by
6:30. Our mission was to target trout. We stopped first along the intracoastal on the west side but quickly discovered that our efforts were for naught. We continued north and entered one of the passes into the west side of the LLM, one that Scott fished several years ago and discovered a bevy of big trout. Lily was with us and watched patiently as we waded the boggy bottom. Soon we saw tailing trout moving off the grassy shallows. I targeted one that was in the 6-8 pound range, following her around for more than an hour. One time I lined her and in disgust she stopped showing. But then she rose again, and came right at me. I cast once and she missed, but she continued her closing in. I knelt down into the water and my cast was perfect. She nabbed my VIP with such authority. My heart pounded as I worked to get her tight on my line. She thrashed violently and threw the fly. I had her on for maybe 30 seconds. It could have been more, but time was hard to measure. I was completely in the moment, dancing with her on the end of my line. My heart did not slow down for more than ten minutes. I was shaking from head
to toe. It was the closest I'd ever come to landing a trophy trout. Scott paused to watch and refrained -- as a good husband should -- from spouting off all the things I could have done better or shouldn't have done in order to land her. I knew, and vowed to do it right the next time. During the time I was in my pursuit of Grandmother Trout, he caught three trout and one red. I had a couple of other opportunities but missed them as well. By this time, Lily was ready for a romp in the water so we decided to switch venues.

We continued north until Port Mansfield was clear in our sights, stopping just off the intracoastal. While I continued to hope that Grandmother Trout would grace me with her presence, I knew that it would be better to switch my focus to redfish. I caught one little red, while Scott went on to catch four more. I hadn't eaten much breakfast so by 10:00 I was ready for lunch. I hung out with Lily and watched the birds. There was a spoil bank speckled with nesting skimmers. I hadn't felt so relaxed in a very long time. We headed back home at around 11:30 and while boating along the arroyo I spotted two immature Tri-colored Herons near their mom. We were in by noon and spent the remainder of the afternoon writing -- our other favorite activity.

But the big trout wouldn't leave my mind. Now for those of you who don't know me, Scott doesn't call me the sleep princess for no reason. I'm not fond of waking in the wee hours of the morning. But even after only five hours of sleep, I rose before 5:00 on Sunday morning so that we could depart the dock by 6:00. (The reason for the bleary eyed look in the photo above.) We ventured out with just one destination in mind, with our neighbor Rex and Lily in tow. But as is always the case, Nature never repeats herself. The conditions were very different. The winds were very calm and the tide was lower. And I was very eager to score, probably my biggest downfall. I blew every cast I made to big trout, and none were as big as the one I almost landed on Friday. I trudged through muck up to my knees chasing them with vengence. To make matters worse, every time I looked at Rex he was hooked up. So was Scott. Two hours into my pitiful fishing, I confessed to Scott that I was a "head case." Grandmother Trout was out to teach me a big lesson that day. So with a little attitude adjustment, I "just" fished, releasing any expectation of my performing and joined Scott on the east side of the spoil bank near the intracoastal. Podding redfish were working along the bank and in the middle of the flat. With storm clouds surrounding us, the smell of ozone was heavy in the air, reminding me of a hot steamy iron. I occasionally glanced around for evidence of lightning and kept my ears cocked for the sound of thunder. But to be honest, the pods -- and sometimes small schools of tailing reds -- captivated me more. Seven reds later my confidence had been restored -- I did know how to cast my fly rod. One was a big boy measuring 28 inches. We never moved the boat in the six hours of fishing. Rex caught 11 reds and a couple of ladyfish. Scott caught 6 reds and three trout, and I landed 7 reds. Now we're back at work and will be out on the water guiding from Tuesday through Saturday, weather permitting of course.


7/5/04 My latest fishing report is posted below, but I thought some of you might be interested in the outcome of the Laguna Madre Fly Fishers Catch-and-Release Tournament, that we held on June 26th. Here's a summary of the results that I have posted on our web board, and on the LMFFA site, as well:

The LMFFA Tournament went really well for its first year. We attracted several out of town entrants, including Joe Mackay from Austin, Mark Pester and Barry Clark from the Coastal Bend Fly Fishers in Corpus, Larry Allen from Phoenix, who won third, and an entrant from Kerrville -- Jim Posgate -- who took the overall Grand Prize.

Kathy and I decided to fish together, and have Joe Mackay and Jim on our boat. Then we thought we'd better use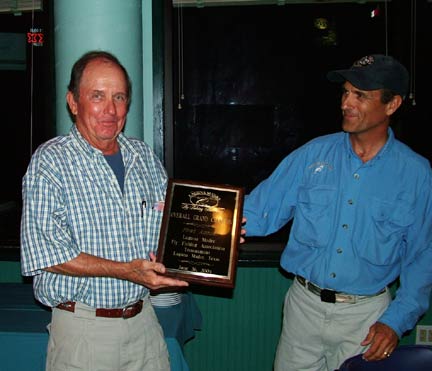 two boats, but since one of our boats needed service, Joe came through with his Curlew. He and Kathy fished together, and Jim and I partnered up on our new Curlew.

We all wondered if we'd be able to fish on Saturday, because violent storms blew through on Friday. But Saturday was a stunning day. I think none of us cared that much who won -- It was a breathtaking day, characterized by tailing reds (at least where we were fishing) until noon.

Most of the entrants used digital cameras to record their catches, which allowed us to upload the images immediately following "weigh in" and determine the winners. A few others used Polaroid photos, which also allowed for us to quickly assess the results.

In summary, Jim won with a 24.5 ladyfish (largest of the tournament), a 24.5 inch red, and a 21 inch trout (largest of the Tournament). His total was 69.5 inches. I came in second with 61.5, and Larry Allen came in third with 59.5. Fishing with Bud Rowland, Tim Clancey from San Antonio -- maker of the Curlew -- came in fourth with 55 inches, and Kathy came in fifth with 49.5. Interestingly, Kathy would have came in second with any trout. She caught the third largest red (25.5), and the second largest ladyfish (23.5), but just didn't land a trout, so...next year watch out for Kathy.

Skipper Ray caught the largest redfish at 27.5 inches, and Barry Clark from Corpus caught the second largest at 27 inches.

Jim caught the largest ladyfish (24.5, and a tippet class new world record), and Kathy caught the second largest at 23.5 inches.

As I said, Jim Posgate caught the largest trout -- a 21-inch fish on a VIP -- and Bob Simpson caught the second largest trout, a 20 3/4 inch fish.

Randy Taylor from Weslaco caught the largest snook, and his partner Brian Robinson from San Benito caught the second largest.

Larry Haines, who is usually a heavy favorite for such events probably caught the most fish -- countless trout -- but he couldn't snag that big one, which is unusual for Larry.

Larry Allen caught the largest flounder at 18 inches, and Larry Haines caught one that measured 15.5.

We didn't land any black drum or sheepshead this time.

We had 25 participants, and about 40 people at the dinner, and it was one of the best club events I've ever attended. Great food, and great company.

I think we all agreed that the Tournament was a great experience, and will become a regular Club event from now on. Now that we've broken the ice on this event, we expect to have at least twice as many entrants next year. If you didn't make it, plan on it! We'll be setting a date by the end of the year, to give more people a chance to plan ahead.

7/3/04 I had the pleasure of guiding Stewart Pate and his partner Steve from Austin, on Wednesday and Thursday.

The weather conditions were below average for this time of year. Usually, we expect a couple hours of calm, and then 10-20 mph winds and partly cloudy conditions for the rest of the day. However, mostly cloudy conditions greeted us on Wednesday, and the wind was already 15 mph at dawn. Fortunately, I've been able to find reds coming onto a shallow, grassy flat, and showing themselves, even in the wind.

On the way to the flat, I checked out a westside shoreline, and plowed through several pods of redfish before I could stop. The guys got out and waded downwind, casting VIPs blindly, and targeting anything that moved. The water was alive with mullet, but every once in a while a redfish would swim up to us and shoot away; so we knew that the reds were mixed in with the mullet.

Stewart missed a couple of strikes, and then Steve hooked up on a small red. Before we left the area, the guys had landed three reds on VIPs, and missed several others. When the action subsided, we headed north where we spent most of the day casting to Mother's Day Flies to single cruising redfish in about 8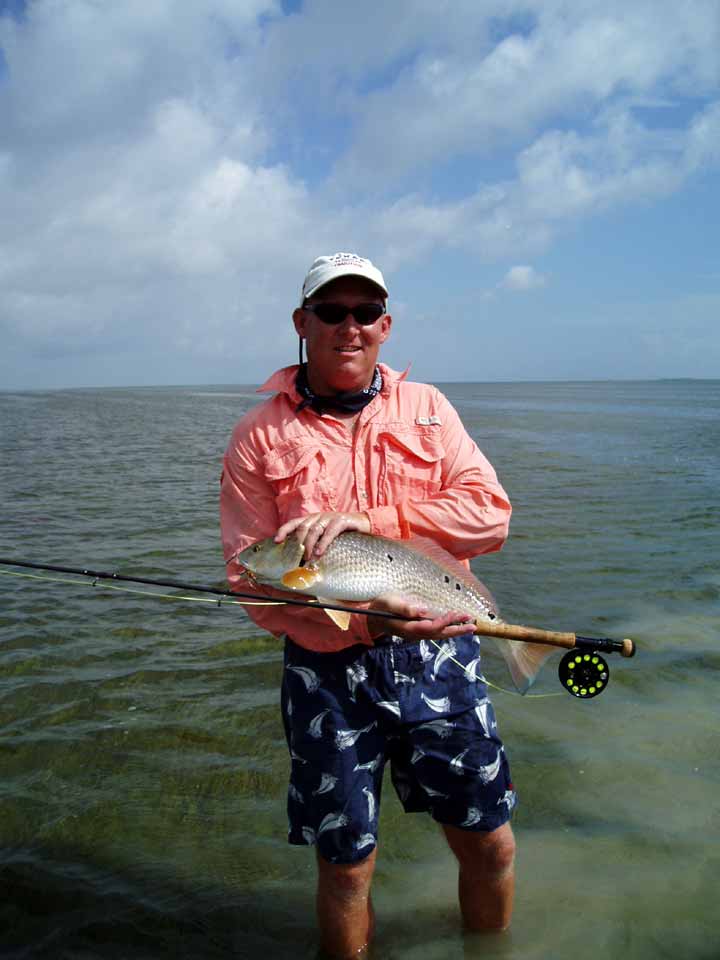 inches of water. The sun peeked out from time to time, making easier to see the reds against the dark, grassy bottom. The guys landed six reds, and had abundant opportunities before we called it a day.

The next day, we returned to the same area, where the action was even better. For a while, the guys casted VIPs blindly in a spot that was about 15 inches deep. Steve caught two fine trout (I was too far away to get photos), and Stewart missed a couple of reds that hit his VIP. Then they spent about four hours in shallower water, casting to redfish cruising upwind -- snaking through the grass, and tailing as they came. It was tough fishing, as the water was so shallow and the grass so thick that they guys had to present their Mother's Day Flies to the reds again and again before they'd see the fly. Then, the fish would often spook, seeing the fly at such close quarters. Still, they caught a couple of reds -- and one 25-inch red hown here in Steve's arms -- before we left the area.

It was about 11:00 when we headed out. A storm to the south was blocking the sunshine, so I decided to head north toward the East Cut. I hadn't fished up that way in quite a while, since the fishing has been so good closer to the Arroyo. But that's where the sun was shining, and we needed the sun to see the fish. Fortunately, we ran into quite a few sizeable reds in the area. Stewart landed two over 25 inches that were in bootie deep water. Capt. Bill Davis from Port Mansfield was fishing near us, and he and his clients caught quite a few reds as we fished alongside them.

Yesterday, I guided Fred Maxwell and his 15-year-old son Justin from Houston. The Maxwells arrived around 1:30, so by the time we made it onto the bay, it was as windy as it usually is in the afternoon -- about 20 mph. Neither fly fisher had fly fished in saltwater very much, so it was quite a challenge for them. I took them to the white sand, where we spent several hours casting to ladyfish and redfish. Both anglers landed two ladyfish apiece. Justin, in particular, had several shots at nice reds, but they proved to be a bit tougher than the ladyfish.

I was pretty pessimistic about finding reds on the west side so late in the day, but on the chance that there were some pods working under birds, I decided to "make the rounds" before heading in. After striking out in two areas, we checked out a third. At first I saw nothing, but we shut down and surveyed the situation more closely. Then I saw it! A single gull working in inimitable style near to the water: I knew it was over redfish. So I got out of the boat and pushed it toward the bird. As we got closer, we could see red tails breaking the surface. They guys slipped over the edge of the Curlew and waded the last 100 feet toward the waving tails. Justin got his fly to the reds first, and hooked up immediately on the Mother's Day Fly, which resembles the shrimp that
the reds are feeding on. But he broke off!

The guys returned to the boat just as I was spotting another pod about 150 yards away. I moved the boat closer, and we could see that this pod was much larger. Again, the guys waded into them, but failed to hook up before the pod/school stopped tailing and "blew up." The reds stayed in the area, but it was hard to target them. Shrimp were hopping around, trying to evade them; and the guys were casting furiously into mud boils, but the fish just didn't see the flies. Because when they do, they take them without hesitation. (By the way, I have just submitted an article to Tide magazine, titled "The Dance of the Gulls: Fishing for Podding Redfish." In it, I describe how to find pods and how to fish them. It should appear in the Nov-Dec. issue, and I will post it here, too, before long.)

We returned to the boat again, and spotted a huge bunch of gulls working about 300 yards away. Since it was too far to wade, I got the Curlew up in 8 inches of water, and planed toward the melee. Coming off plane about 100 yards away from the school, I was pleased to see that the reds quickly reassembled after breaking up temporarily from the boat noise.

I poled toward the school, and the guys deployed again. Again, Justin's fly found the tails first. This time,
he hooked up and kept the 25-inch red on the line. It was his first redfish on a fly, but I will wager not his last.

Great news for the Sparrow family! My brother Chip and his son Spencer, who have spin fished together for reds and trout since Spencer could walk, recently purchased their first saltwater fly rods -- seven-weight, TFO TICRs-- and took to the bay on July 2nd to try out their new gear. I was able to outfit them with some flies -- VIPs and Mother's Days, of course. Well, Spencer -- who was a star baseball player at Southwestern University with a batting average of .443 his senior year -- wielded his fly rod with customary grace, and landed his first redfish on a fly before the sun was barely above the horizon. Of course, it was a big one, too -- 29.5 inches! Meanwhile, Chip hooked up and lost a couple. The next day, however, Chip got his first red on a fly, too! I think it's safe to say that Chip and Spencer are "hooked" on saltwater fly fishing. Chip and I have fished together since our father first took us fishing on the Arroyo and the Laguna Madre over 45 years ago. Needless to say, I look forward to fly fishing with him and Spencer for another 45 years.

6/23/04 Powerful storms that we had last night brought an influx of fresh, cool water to the Bay. This morning, I started my first of three days with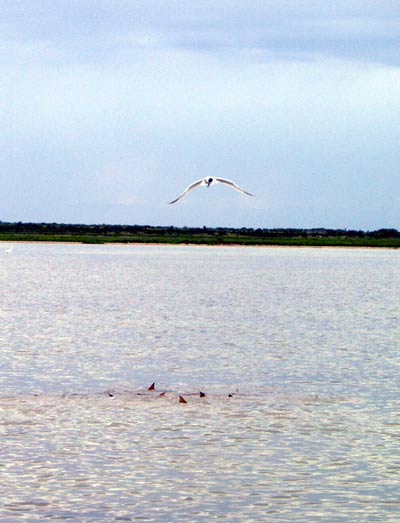 two former clients from Phoenix -- Jack Miller and Dario Travaini. The weather service called for rainy, breezy conditions. Instead, the winds were calm, and there wasn't a drop of rain all day, even though the sky remained overcast throughout. We headed into an area that's known for tailing pods during the summer when the tides are high enough, or the water cool enough to support the action. Pods were everywhere! We spent about three hours at that venue before heading to another west-side lagoon. I think the guys had caught four fish before we left -- all from the boat, and all on VIPs. We missed several others. I thought, "What a start!" We boated into another back lagoon, and shut down after seeing quite a few wakes. We didn't see much for a while, so I poled
west toward a shoreline, and wow...pod after pod began to appear. As the hours passed, the pods turned into tailing schools that were chasing and feeding aggressively on shrimp, and the schools were simply everywhere! It was a remarkable sight -- and sound, as the fish constantly exploded on the shrimp. I stopped poling, and just got out and pushed the Curlew around. Jack and Dario fished from the boat, and presented VIPs and Mother's Day Flies to one pod/school after another for five more hours. We stopped counting fish at some point. Most of the reds were around 24 inches, but Jack landed one -- his last for the day -- that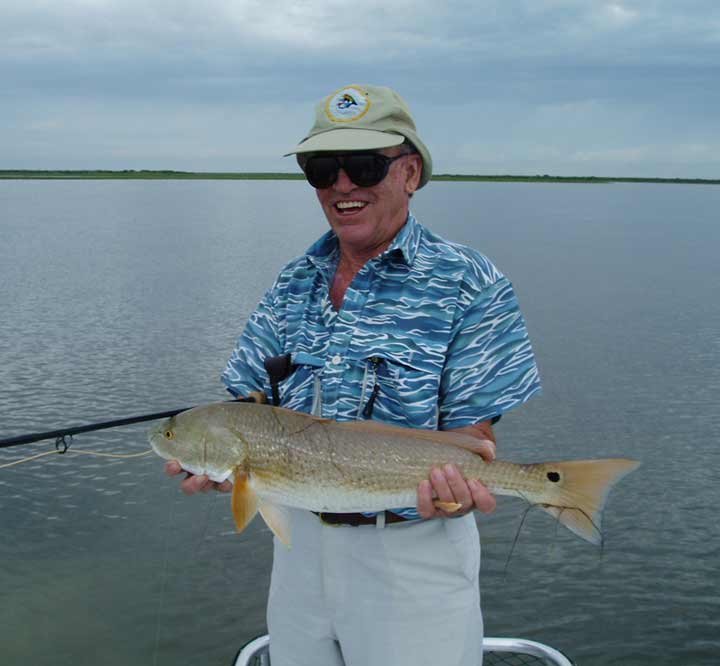 was 27 1/2 inches.

Next day, 6/24: Today proved to be more challenging. Returning to the same area, we found the tides had fallen considerably. The reds had broken up, and were tailing singly, or in small pods. Dario opted to wade, so we left him standing on a dead calm flat, contemplating the tails that were springing up all around us. I pushed Jack around for a while, and he managed to catch a couple of reds on VIPs. Meanwhile, Dario presented to several reds, and managed to catch one on a popper, too. The wind came up, but we had some sunshine for a while; so Jack and I poled downwind using the sunlight to reveal cruising reds, while Dario stayed behind and stalked on foot. Storms brought a premature end to the day, but the guys -- who have fly fished extensively in numerous saltwater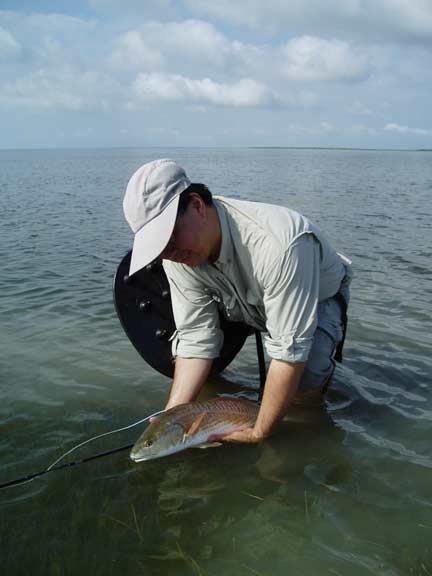 settings -- were pleased with the opportunties, and the results.

While Jack and Dario and I were targeting tailing redfish, Kathy was also guiding nearby out of our second Curlew. Given the dead calm conditions, Kathy elected to wade her client, believing that approaching the tailing fish would be more difficult from the boat. Her client -- Gavin Wong from L.A. -- had never fly fished on the Lower Laguna, but quickly adapted to the demands of the fishery, and landed four reds on VIP poppers before the action subsided. Needless to say, Gavin was very happy with his success, and promised to return soon.

6/21/04 Over the weekend, we hosted Jim and Patty Carlisle from Tulsa. Jim had never fly fished in saltwater, but was an experienced trout fisherman, and an excellent caster. So he was well-positioned to do well on the Lower Laguna.

Saturday morning dawned with a slight southwest breeze. We headed onto the east flats, but saw little signs of gamefish, so I headed north, hoping to find redfish heading upwind and tailing on a shallow flat
that is one of our principal summertime westside venues. After seeing some wakes of retreating gamefish, I shut down the Curlew and poled downwind, giving the fish time to settle. Jim, meanwhile, got ready to cast from the casting platform. It wasn't long before we saw the first redfish snaking through the grass, and tailing intermittently. Jim got a few shots from the boat -- to singles and small pods. Patty got into the action, as well, helping us spot fish that were working upwind toward the boat.

We got off the boat, and I worked with Patty while Jim went off on his own. As it turned out, the fish weren't plentiful as we'd hoped, so we got back on the Curlew and headed north. By this time, the slight breeze had subsided, creating the best and worst of conditions. In the dead calm, the redfish began to tail. And they were as difficult to approach as I've ever seen them.

We spent a couple of hours wading north, stalking tail after tail. Jim finally got within casting distance of a big red, and presented his Mother's Day Fly perfectly. The fish went after it, but Jim missed the strike. For a newcomer, Jim was "right in there," getting closer and closer to the fish, and beginning to connect. Wading alongside him, I noticed a couple of tails about 100 yards to the north. Studying them, I spotted several more sprouting up nearby.

"A pod!" I announced somewhat speculatively, and we begin hiking toward the tails. As we got closer, the "pod" turned out to be a small school of 20-30 fish, I would guess, that were heading for us. Jim got into position, and finally cast his fly to the edge of the line of tails. One surged forward and took the fly, but Jim missed him. Casting
again to the edge of the school, Jim immediately hooked up -- on a nice trout. (As you may know, trout often encircle podding redfish, so if you cast near the edge of a school, you'll often catch a trout.) The school reacted to the commotion by blowing up. After releasing the trout, we approached the area where the school had been tailing, and Jim spotted a couple of reds. Casting to them, he briefly hooked up again.

On Sunday, we went back to the same area, but the fish had not moved onto the shallowest flat. We headed further north to an area where huge schools of mullet gather in the early morning. During the summer, the redfish and trout will be among the mullet, providing a great blind casting opportunity on windy mornings. And, on calm mornings, the game fish can often be seen leaving the mullet schools and cruising on top of the water into the shallowest, grassiest flats to the south. We hoped to have some of both types of action.


Jim began blindcasting a VIP along the edge of the mullet stream. For about two hours, he enjoyed fairly constant action. I don't how many strikes he had, but he landed four reds before the action subsided.

Then we headed to the south, and visited a couple of places before finding numerous reds cruising over turtle grass. It is one of the most beautiful places on the LLM, as you can see. Jim stalked several fish before hooking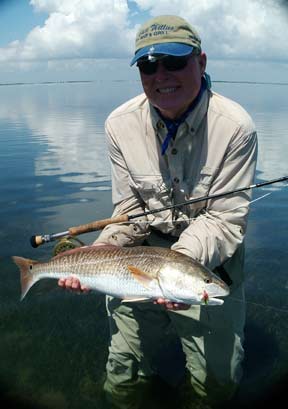 into a nice 25-inch red that was traveling with four or five others.

It was a magical day, and the LLM was intoxicatingly beautiful. Jim and Patty opted to go in after lunchtime, simply because the day had already given them so much. It was a pleasure guiding a couple who were so visibly moved by the beauty of the LLM, and I wasn't surprised to hear that they plan to return.

6/16/04 On Monday, I guided Mike Milam, his grandson Chuck, and his buddy Dave from central Texas. None of the guys had ever fly fished, and so it was quite challenge for them to take on the Lower Laguna Madre -- a fishery that has been called "the Superbowl" and "Pebble Beach" by anglers who have been humbled by the Mother Lagoon. I wasn't sure if the guys would last the morning with their fly rods, and so -- upon request -- I stored some spin gear below the deck, must as I hate to have "hardware" aboard the Curlew. But the guys were all bowhunters, and so they weren't inclined to take the easy path. Indeed, they stuck with it, and all said that they wanted to do it again.

By midmorning, we'd stumbled upon small tailing pods of reds in one of my favorite west-side venues. After practicing their casting on the dock the night before, they guys were almost ready for the challenge. Each of them stalked tailing fish, and had the flies within reach of the fish, but redfish in less than a foot of water have a way of not seeing a fly, even if it's reasonably close. So the encounters were enticing, but not gratifying.

Mike is coming back next week with another group. I suspect that he might get his first red on a fly at that time.

I had the pleasure of guiding our old client and neighbor Jim Posgate yesterday. If anything, Jim must be a bit spoiled by now, given his penchant for having "story book" days when we go out; so yesterday was a balancing act, of sorts, because we just had an "ordinary" great day on the water. We didn't really find the fish until midmorning when we stumbled upon them on the east side, coming off the sand into deeper water. We got into this action last year, and I expect we'll be fishing east at daybreak for the next couple of weeks, at least.

On one of his first casts off the boat, Jim put his VIP in front of a "V" coming out of the sunrise, and a nice trout lunged out of the water to take it. I went over to get a photo, but the trout shot out of Jim's hands just as I was pushing the shutter release. Oh well, imagine a sizeable trout and a smiling angler.

I've guided Jim so many times that he knows what to do just as soon as we find the fish; so he often
urges me to join him with my rod. After he released his trout, I got my five weight out, tied on a Mother's Day Fly, and moseyed around near the boat. We started seeing some big redfish tails popping up, but mostly all we saw were subtle waking fish, showing a tip of a tail, or a snakelike
movement on the surface. I casted to one such disturbance, and pow...a 25-inch red took it. I did get a photo of the fish in the water. You can see how beautiful the water and grass is on the east side.

We headed east onto the sand, and spent the rest of the day out there. By the end of the day, we'd caught about 8 ladyfish on the sand in the 2 lb. range, and casted to quite a few reds, too.

Today, I had the pleasure of taking out a great group of local guys -- Jim Burkholder, Steve Shepard, and Jerry Whitson. Again, it was hard to find the fish in the usual spots early, but by midmorning, we found a passel of small reds and fished for them for about two hours. I don't know how many reds they landed, but it must have been a dozen or more, along with a few ladyfish. Here's Jim with his first red on his own-tied fly.

When that action subsided, we went to another west-side venue known for its big reds, and waded downwind in a grassy, clear lagoon. Everyone had multiple shots at cruising reds, but they were tough. Three reds and one trout were
landed, though. Then we headed east, where we spent the rest of the day casting to sparse reds, a couple of trout and plenty of ladyfish. Two trout in the 20+ inch range were caught, along with a couple of reds and a bunch of ladies.

6/12/04 I have been gravely remiss in not keeping you up to date on our fishing. We had a bunch of great guys here last weekend, led by Cam Kronenberg from Austin, and Bret Burford from Ft. Worth. Kathy and I co-guided that group over three days. My only excuse in not updating this report sooner is that I've been working on articles this past week for Fly Fisherman and Tide Magazine. That work is done, now, so maybe I can keep up with the fishing report a little better.

Kathy and I didn't have any charters this weekend -- even though the lodge was full! -- so we fished for fun together yesterday, and I took out two old clients and friends, Henry Bone and Jason Gusoskey from
Austin. Jason had brought his boat down, but I invited him and Henry to join me today on the Curlew. Jason wanted to catch some trout, so we blind casted poppers near the Intracoastal and caught a couple of nice trout on VIPs before heading west onto a flat where he and Henry did real well yesterday. It was already blowing about 12-15 mph at daybreak, but we casted to tailing and waking reds and trout (yes, tailing trout!) for about two hours before the action subsided. We had almost constant action, even though the reds ran small. We probably landed somewhere in neighborhood of 15 fish, including a couple of reds around 24 inches, and a couple of 17-19 inch trout. Jason, who had the hot rod, lost a big trout, too. Sorry, no pictures of our catches: I was having too much fun fishing!

We headed for the sand about 9:30 to fish for world record ladyfish. Henry and Jason knew of Kathy's and my IGFA ladyfish records, and hoped to get one themselves. Three tippet classes were easily beatable (8, 16 and 20), so we all rigged up with eight-pound tippet with the agreement that whoever caught the biggest ladyfish would weigh in a new world record -- as long as it beat the current one of about 2 lbs. While we all caught several ladyfish, Henry caught the largest on the 8 lb. tippet. -- a 2 3/8 lb. fish. Then we all switched to 16 lb. tippet, and he caught the largest again. So, Henry has a record -- or two -- as long as no one has weighed in larger fish since the IGFA records were last updated. The fish in this photo may not look impressive (nor does "Genghis" Bone, for that matter: Joe MacKay thinks that Henry should sue me for this terrible picture), but consider that I was using a 5 wt with about 75 yards of backing. I was nearly spooled three times on fish that were smaller. Ladyfish are greatly underestimated, and I hope that Kathy's upcoming article in Saltwater Fly Fishing, titled by us "A Much Maligned Lady," will help to elevate the reputation of this amazing fish.

We saw quite a few reds on the sand over the course of four hours of wading. My best shot at another record ladyfish was interrupted when the only redfish that was traveling with the pack of ladies took my Mother's Day fly. It just wasn't my day!

Yesterday, Kathy and I went out about 10 a.m., principally to fish the white sand for whatever was out there. We had full sun, and were eager to wade the breathtakingly beautiful clear water. However, as we reached the mouth of the Arroyo, I suggested we fish a spot that was nearby for redfish. I'd caught a 30+ inch red
there last week (see 6/2/04 below), and thought we might catch a few reds there before heading onto the sand.

Sure enough, the fish were in there. We landed five reds in about an hour. Nothing big, but they were all in about 10 inches of water, affording us classic sight casting to tailing and cruising fish. Henry and Jason fished north and west of us, and caught about 15 reds between them.

Henry and Jason headed for the sand about the same time we did, and fished a couple of miles to the south of us. We all caught ladyfish on the sand, but the reds were extremely tough to please (just as they were today)! Henry finally caught a couple of reds using a Clouser with lead eyes. The tide was pretty high, and consequently it was hard to get the flies down to where the fish were, and they just weren't going out of their way to chase flies, like they sometimes do.

Last weekend, Cam and his group came in from four different cities and two states -- Colorado and Texas. The occasion was Cam's birthday, and he invited several friends to join him at Kingfisher. He and Bret were experienced coastal fly fishers, but the other three guys were brand new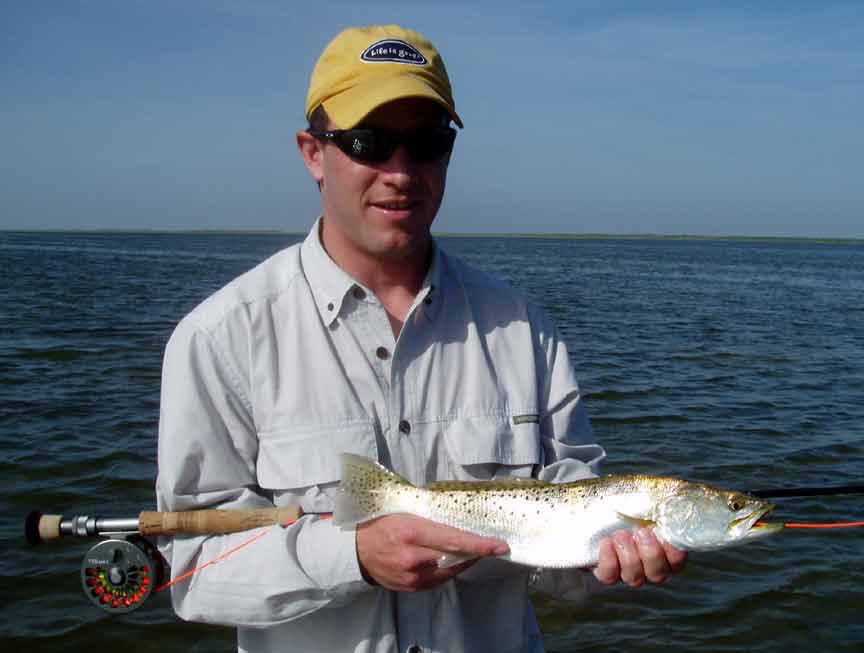 to it. The group had some pretty good fishing, and two of them -- Kevin Perry and Cole
Harmonson -- caught their first saltwater species on a fly rod. Kevin caught two fine trout on VIPs, and Cole caught a ladyfish and his first red. (I took some photos of Cam and Bret with reds they caught on Saturday, too, but my computer ate them.)
The conditions were pretty tough for beginning fly fishers. We started each day with windy conditions, and by the time it was noon, the wind was about 20 mph. Although we found quite a few fish, it was virtually impossible to fish from the boat, so we all waded -- both in westside venues, and on the sand. If I could describe this group in two words, it would be: Tenacious and optimistic. They never quit, and they believed. When you have both qualities, you can succeed the first time on the Lower Laguna. Without them, you need less wind and more luck. It was a real pleasure guiding this group, and we hope to see them again down here.

6/2/04 Each month, I spend the night on the bay during the full moon. It gives me a chance to appreciate the beauty of the Lower Laguna, and to do some fishing the following day. Last night, I anchored behind Rattlesnake Island, where I spent the night during a tournament in 1999, and fished for big trout with poppers under the full moon. I didn't catch any trout then, nor did I catch any last night either, but it's a special experience, anyway.

When I got up, I ran over to Horsehead Island, and took a hike up the bluff that I've seen hundreds of times, but never climbed. What a view of the bay from there! As you can see, there's a pole up there -- It's made of concrete and looks ancient. I'm not sure what purpose it once served, but I intend to find out.

I walked back to the boat -- there yonder along the shoreline, and fished for a while near the boat.
Casting blindly (the sun was still a bit low for sight casting) with a white VIP, I missed two reds, caught a red, and then caught two trout -- the first one being about 24 inches long. I dragged her back to the bank where I laid her against my TFO TICRx five-weight and took this photo before I released her. A beautiful fish!

If that wasn't enough to make my day, the redfish I caught 30 minutes later would have been. I headed north to scout some areas where I hadn't been fishing much. Poling along a bank, I began to spook one redfish after another, so I got out and waded. There were big reds all over the place. But they were as spooky as I've ever seen them. It wasn't surprising, since last night was a cloudless night, and the full moon shone brightly from dusk til dawn. The fish probably fed all night long.

But I'm not one to give up. After having one large red ignore my spoon fly, and two more spook from the noise of my VIP, I switched to a Mother's Day Fly, which is comparatively unobtrusive. A few moments later (literally!), this big 30 1/4" red swam up. I cast to him twice, and he seemed oblivious to the fly. But then I dropped the fly on his head, and let it sink. One twitch later, and he ate it. It was quite a fight on the five-weight, but I eventually dragged him onto the bank and photographed him. Then I weighed him on my boga grip before releasing him -- 10 lbs. on the nose! My rod looks like like a kid's toy alongside the fish, doesn't it?

I could see other redfish downwind of me -- big ones -- but I went back to the boat and poled out of the area, so they wouldn't be disturbed. I hope to take come clients there in the next few days.

As if that wasn't enough to make my day, I went out on the sand and saw a lot of ladyfish. So I rigged up 2-lb. tippet to go after a tippet-class world record. I have the 4-lb and the 12-lb already, and Kathy has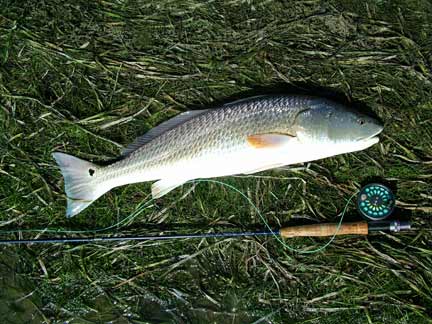 the 16-lb women's record.

They were all over -- big ones, too. It was tedious rigging up 2-lb. class tippet in 20 mph wind, but I finally managed to do it. I tied a Mylar Fly onto my 12 lb shock tippet, and headed downwind.

I broke off on the first three ladyfish. All of them were over 2 lbs.. After losing the Mylar Fly, a Boone Spoone (ouch! -- $5.99), and a Mother's Day Fly, I tied on one of my homemade spoons. Of course, every time I broke off, I had to re-rig the 2-lb. class tippet and a shock tippet. It took a full 15 minutes each time. No Bimini twists, mind you, just loop-to-loop connections.

Finally, I hooked a ladyfish that I was able to land after a 25 minute fight. He/she was a "mere" 1 lb. 2 oz. I landed a second one about the same size, and released it. The current world record on the 2 lb. tippet is 3.1 lbs., which was an incredible catch. It would be next to impossible to land such a fish in shallow conditions like we face on the LLM. The fish run horizontally, and then jump, pulling against the line, and pow...it's over. Landing such a fish in deeper water might be possible, but I am not optimistic given our shallow conditions. But I'll keep trying, just for fun.

As I walked back to the Curlew, redfish and trout began showing up on the sand. I could tell that by mid-afternoon, it would really be "hot." But I'd been away from home since the previous night, and it was time to celebrate the end of a great day of fly fishing.

In summary, I found fish everywhere I went. The tides are still low, so we're getting into the summer pattern of low tides and clear water. With full sun, we should be sight casting west-side venues that have been too deep and murky, and fishing the edge of the sand for everything that swims. We have a great month ahead of us.

5/28/04 The bay is suddenly awash with small redfish. This often happens in the spring, when a new cohort of redfish reaches a certain length where it can survive on the flats. The larger reds are out there, too, but the falling tides are causing the pods to break up and to redistribute. Our classic June through August action -- widespread individual tailing reds -- will soon commence.

Kathy and I double guided on our two Curlews yesterday. She had the pleasure of guiding Mike and Lisa Allen from Austin, and I had a great day with Stuart Pielop from Austin, and Jonathan Feifs from Durham.

We'd planned to caravan to the same spot, but on second thought, I felt it was better to try different venues
and then to compare notes via our VHF radios. We cover a lot of water this way, and double our chances of being "on the fish."

Kathy went directly to a blindcasting area, where we often do well (see 5/23/04 report below), while I went south and explored some areas where we'd been finding tailing pods and schools early in the morning.

The tides have fallen significantly in the past week, so the dynamics of the bay system is shifting to the summer pattern, where the fish are congregated more to the central part of the bay, and ranging west and east as the tides support movement into the shallower lagoons. It's still not as low as it will be in late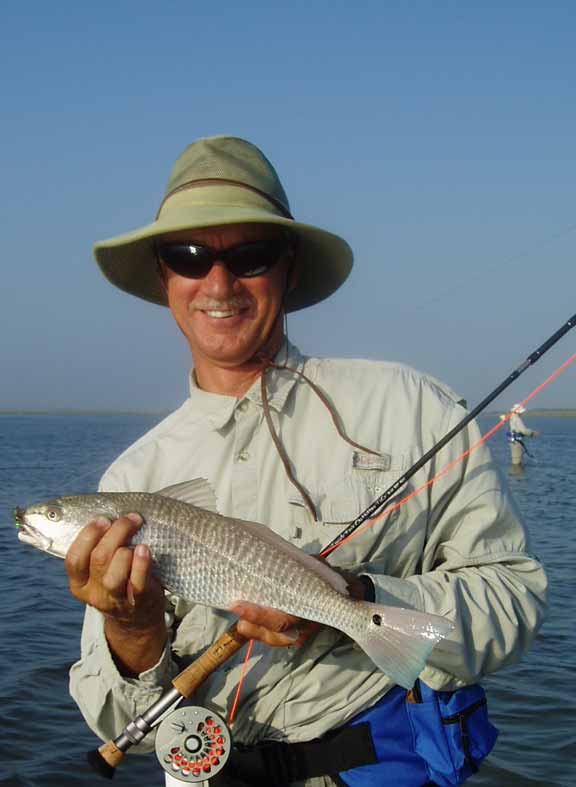 June through August, but it's heading that way.

On the way to my first spot, we ran into a large school of big reds in about 18 inches of water that were loosely surrounded by several other pods, as well. We've fished this school many times over the last month or so, and they run from 24-28 inches. Because it was already windy, I knew that it would be difficult to keep track of the school, given the depth of the water. Still, we eventually committed to a downwind wade. Nothing came of that, except one missed strike on a VIP. Kathy meanwile called me and said that Lisa had caught her first redfish on a fly! Tempted to go back, but unsure that one redfish was a "trend" that we could trust, I continued with my original plan, and stopped in a lagoon that has been holding a school of reds for the first couple hours of every day. Sure enough, it was there, but the wind made it impossible to follow the school in its sweeping course over several acres. I encouraged the guys to blindcast poppers, while waiting for the school to show up. Jonathan finally got his fly into the edge of some visible
reds, and missed the strike on the VIP.

About that time, Kathy raised me on the VHF, and said that Lisa had caught her fourth red! She added that that the fish were small, but plentiful. So we headed for the area where Kathy was anchored. We waded into the shoreline, just as Mike hooked up on his second red. They were using Motaher's Day Flies exclusively.

Using a spoon fly to start off, Jonathan had the hot rod, but bad tippet material defeated him. He broke off twice before we realized that the tippet material would not hold a knot. Then he missed two strikes on a MDF. Meanwhile Stuart was making frustrated sounds, having the best cast of all four persons, but oddly enough, remaining strikeless. Jonathan finally landed his first red on a fly about the time the small redfish action subsided.

Kathy and I headed east onto the sand, where we all spent a couple of hours wading the crystal clear water. The fish weren't plentiful, but we had some
opportunities. Kathy had to head in with her clients -- being on a half day -- while I headed north with my guys. I was eager to fish north for the first time in a couple of weeks. With the water levels falling, and the wind at only 15 mph, I knew it would be clear enough and shallow enough to do some sight casting up that way.

We found reds tailing upwind in glassy, 12-inch water. It was windy, however, and floating grass made line management nearly impossible. Still, both guys stalked several fish, and Stuart finally broke the ice with a nice trout that was feeding alongside a redfish. Later he caught a 22" red that was cruising a shallow bank.

It was a great day -- Four clients caught their first reds, and were eager to do it again.

5/25/04 Kathy and I took our neighbor, Rex White, fishing with us this afternoon about 3:30. We'd been writing all day, and the impulse to fish the white sand hit us about the same time. Even though it was blowing well over 20 mph, we headed east all the way to the Padre Island shoreline. There weren't many fish to be seen, so we gritted our teeth and turned upwind for about 8 miles to a place where I thought there might be some fish along the Island shoreline. We put Rex right up against the shelf, and Kathy and hopscotched downwind, taking turns bringing the boat down.

Rex casted to four reds that were heading upwind, and caught two on his own spoon fly tie. Meanwhile, I waded out from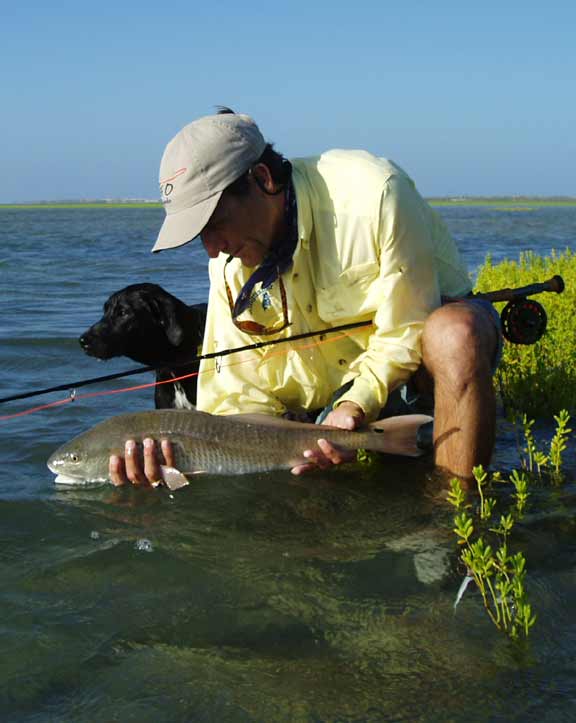 the Island shelf, and didn't see any fish for quite a while. Kathy and I took turns giving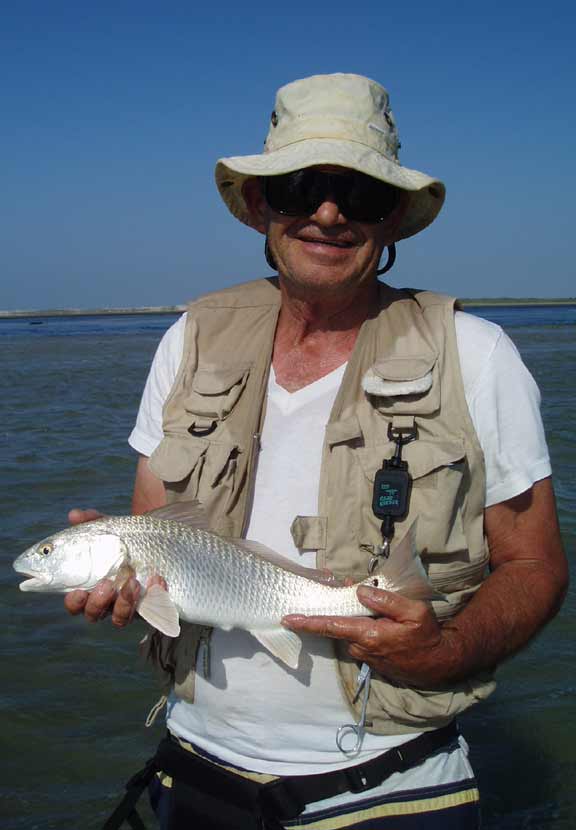 Lily (our Lab) a chance to romp up and down the Island. We weren't concerned about catching fish, just enjoying a beautiful afternoon in a place that looks like the Bahamas, and giving Rex a chance to spot some reds along the Island's edge.

Just before we decided to leave, I had two shots at some 24-25 inch reds. The first hit my Mother's Day Fly, and just wasn't there when I strip struck. I switched to a tiny size 6 orange Boone Spoon, and within a few minutes saw another red "crabbing" upwind, head down. I made a poor cast, and the fly landed beyond the fish, but I lifted my rod and dragged the spoon back in front of the red. He rose like a bass and hit it near the surface. I was lucky that he didn't thumb his nose at me!

Kathy and Lily came over to take a picture. Here's Lily and me before we let the redfish go. I'm surprised that we got Lily to stand still long enough to pose.

5/23/04 My brother and I went out scouting this morning (Sunday) for only about three hours. There were hardly any boats out at all, and I'm not sure why. Our objective was to blindcast one area that is often full of reds. While I encourage my clients to blindcast only as a last resort, and will travel 80-100 miles in a day looking for visible targets, it's good to know about places where blindcasting can be an effective fallback option.

Arriving at the designated spot about 6:45 a.m., I waded about 50 feet from the boat and began casting a VIP popper. Although I missed a strike, I decided to switch to a spoon fly, because of the wind was effectively drowning out the noise of the popper. I had just received some complimentary "Boone Spoons," a new series of spoons made by Earth Kind, so I opted for a tiny, ultralightweight gold spoon. Even though it was light and easy to cast, it stayed below the surface sufficiently to work magic.

Before we headed in before 9:00, I'd caught six reds, two trout (one 24 inches long), and a ladyfish that would have been a tippet class world record if I'd kept it. But because I'd fogotten my boga grip (we were on Chip's boat), I couldn't do a catch and release weigh-in of the ladyfish, so I let her go. Meanwhile, Chip caught eight reds on his spin rod -- 17 fish between us in less than three hours! We both lost several more.

I kept the trout on the stringer so I could get a photo. When we got back to the boat, she was still very alive and ready for release, so I laid out the cameras, and slipped her off the stringer. Chip took one shot with the 35mm, and then I said, "I think we need the flash." So I reached for the camera, to activate the pop-up flash, and...I let go of the trout.

"Where is the fish?" Chip exclaimed.

I looked back, expected her to stilll be there. "Darn, I forgot she was off the stringer," I answered. "Well, at least she's free," I added, even though I'd hoped to detain her for another minute or so.

"You're worse than I am!" Chip said, referring to any number of screwups that we have committed unilaterally or collaboratively while fishing. I had nothing smart to say this time, but he'd better watch out! I'll be giving him hell the next time he leaves the plugs out, takes off with the anchor in the water, or forgets his tackle box for the upteenth time. In fact, as I seem to recall...
There are many locales on the LLM which have sufficient concentrations of fish to support blind casting with a fly rod. But except for casting along the edge of the ICW -- a great strategy for trout during the spring and summer -- you normally need a fairly long cast in order to cover enough water -- that is, a consistent cast over 60 feet. Once you can cast that far, a whole new world opens up.

5/19/04 I've been guiding almost continuously for over a week. Kathy has, too, on our second Curlew. So we've got a lot to share.

Last Friday, I had the pleasure of guiding Dr. Kent Hamilton and his son Rhodes, from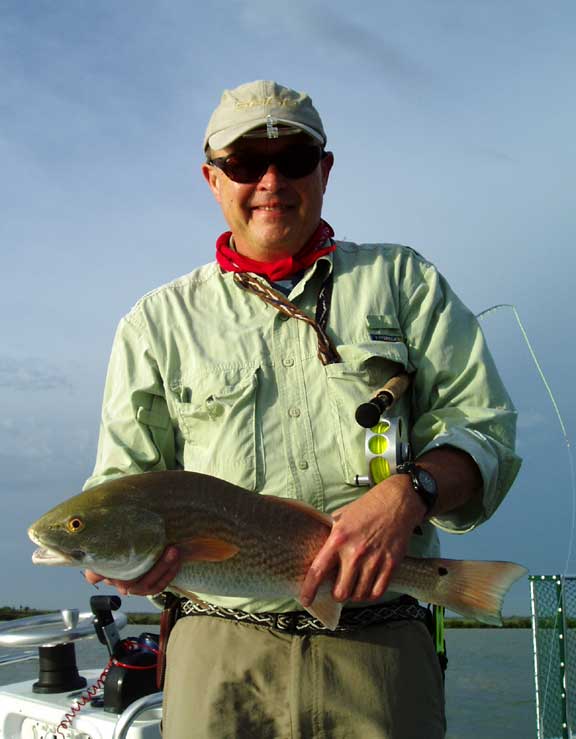 Dallas. Kent came down a year ago with another son, David, and found the action challenging, even though David caught his first redfish at that time. This time, he and Rhodes did quite well on their first day on the water, landing four reds between them. Here's a shot of Kent with his first redfish on a fly, and Rhodes with his first red on a fly. (We give certificates now, by the way, so it's something to look forward to, if you fish with us.)

Kent and Rhodes had a double hookup right at dawn, casting into a large pod with gulls overhead. It was one of those magical starts. A while later, we headed to another west-side venue, where a single gull was working over redfish. Rhodes slipped into the water, and headed for the area. A redfish appeared briefly, but it was windy, and difficult to keep the location of fish in view. But Rhodes waited, and then casted to a boil, and wham! A red took the chartreuse VIP. It was the way things are supposed to happen.

The tides have been risen again, making sight casting difficult in our "standard" fishing spots, so we have had to venture into areas that are normally too shallow to hold fish, much less boats.

Kathy guided Ben Jorden and Tommy Hanna from Beaumont on Saturday and Sunday, and they saw some superb podding action in a west-side venue where small to middlin' reds were podding. I took my clients there, too -- Doug Loescher and Henry Street from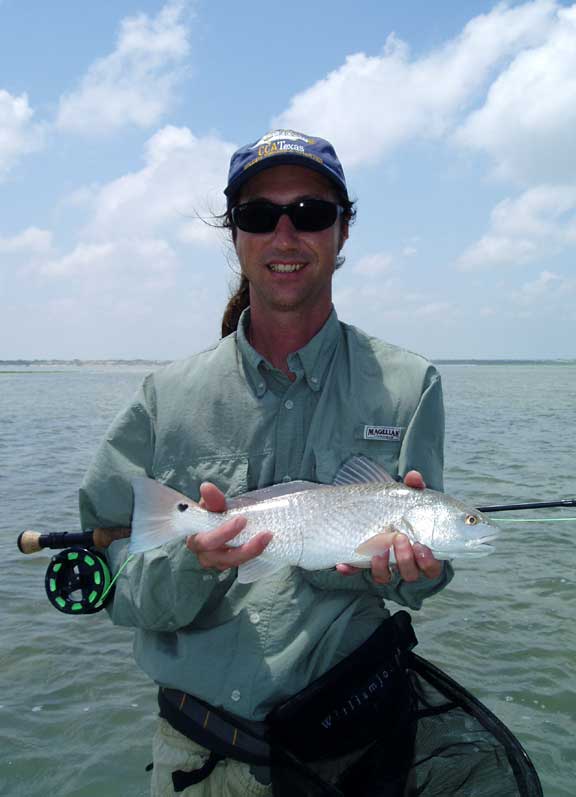 Alburquerque -- where they had the opportunity to cast to several tailing pods on Saturday afternoon and Sunday morning. Ben came down with one goal in mind -- to catch his first red on a fly. An active CCA member in the Beaumont area, he reaped the fruits of all of CCA's fine work by catching and releasing his first red on Saturday.

Today (Wednesday) and yesterday, I guided Tom Biddle and his partner Dexter from Houston. Tuesday dawned cloudy and windy, so I wasn't too optimistic about our chances of finding fish early. However, on our way north, I noticed some birds working over a spoil
bank, so I pulled over, and floated down to the melee. Redfish tails were sprouting under the birds, so Tom and Dexter slipped overboard and waded into the area. Dexter hooked up, and was suprised to see that he'd snagged a very large flounder -- another first on a fly. I estimated that the fish weighed around three pounds. Here's a shot of Dexter holding the flounder the only way you can to keep them from flopping -- by lifting them from underneath. They will stop struggling whenever you do this.

Tom and Dexter are seasoned Texas coastal fly fishers, so they didn't need much help from me. This morning, I took them to an inlet that has been holding a school of reds early in the morning for the last month, and sure enough, about 200 redfish were sweeping around the area. It was windy, and hard to follow the location of the school, but every once in a while, they would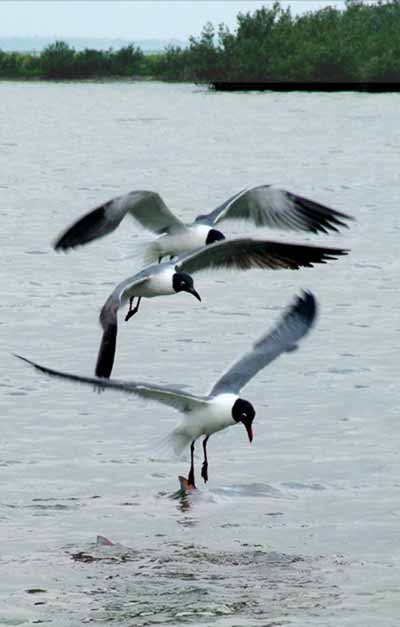 surge and show themselves. Dexter caught a nice 26+ fish, and released it. The guys went on to catch a few more reds later in the day. We found reds everywhere -- from westside venues where few boats have ever been, to the white sand right up against the Island.

Podding action seems to be falling off somewhat. The good news is that the fish will soon be breaking up, and feeding solitary style on the east side over grass, providing more shots at single fish. We've been seeing reds and ladyfish following sting rays on the sand, which should provide some exciting sight casting in the next two months.

Two large trout have been caught in the last week -- a 29" by my brother Chip using spin tackle, and a 29" trout by John Kautsch on his fly rod. Both fish were released, and no photos taken. But those guys will feel good for a long time, having caught and released such spectacular fish.