Prices for Kingfisher Services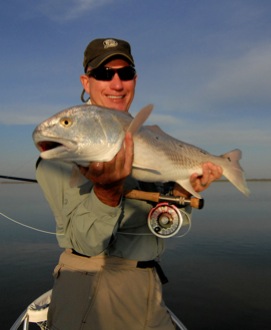 Groups welcome! Please call us or email Randy with your specific group's information and desired dates, and we will get back to you with options.


Guided Flyfishing
Prices: $500 for an extended half day (six hours) for one or two persons, or $600 for a whole day (eight hours+) for one to two persons. We do not take more than two clients per boat (fishing or non fishing), not only because the Stilt and Willet is rated for only three persons total, but we have found that three anglers usually catch
fewer
than two anglers. We want to provide the highest-quality fishing experience possible, and that means advocating for policies that may cost you more, but result in a far more enjoyable trip.

Clients often ask, "Do you prefer poling or wading?" We do whatever the visual conditions and our clients' preferences dictate. Let us know what your goals are, and we will adjust our approach to help you fulfill them.


We guide year round, so don't hesitate to contact us in the "off season." Some of our best flyfishing can be in the winter.



Master Flyfishing Instruction with Capt. Scott

Lucille Ball once said that she would rather regret the things that she'd done than the things she hadn't done. The Master Flyfishing Instruction program is about not holding back. So at this juncture in my life, when I don't want to be guiding 100 days a year, but want to make a difference in a few mens' lives, I now offer Master Flyfishing Instruction. I've always enjoyed working with passionate flyfishers who want to push the envelope of their knowledge and skills, and to experience new surprises in saltwater flyfishing. This is available for one angler at a time. The cost for this service is $850. It encompasses a dawn-to-dusk adventure on the Laguna Madre, comparable to two half days, or 12+ hours on the water. The MFI includes the following:


Fishing with me. I have always believed that the best way for you to learn advanced methods is for you to flyfish with me, in order for you to learn what's possible in every conceivable venue.

Learning advanced casting methods, including, in particular, the double-haul backcast, and the Heron Haul upwind cast. These casting methods will allow you to fish almost 360 degrees in moderate to strong winds.

Overcoming assumptions that impede your success, such as "the fish aren't eating," or "they're finicky." I will coach you on challenging these self-limiting assumptions.

Sight casting on the sand just before dark, a radical departure from the usual guiding schedule (seasonal).

The day includes a wine and cheese cerebration on the water at sundown.
Deposit and Cancellation Policy


Weather-related cancellation or rescheduling prior to arrival:
We are always willing to cancel your visit -- even up to the last minute -- if we expect poor weather conditions. The bottom line is: We want you to have a good time so you'll come back and refer your friends to us. If we consider it okay, and you don't, then we'd like you to reschedule your visit if it's a last-minute decision. Otherwise the standard cancellation policy is in effect.


Standard non-weather cancellations before arrival:

When you book a trip at Kingfisher, we do not run deposits, except for groups of four or more. However, we ask to be notified of non-weather related cancellations four weeks in advance.


Weather-related fishing cancellations after arrival:


Moderate to strong southeast winds are part of any average fly fishing day, so that alone does not justify cancelling the day. But if a strong windy cold front, a thundershower, or a tropical depression threatens, we will be the first to call off the fishing. If any of your guided fishing trips have to be cancelled due to weather after you have arrived, then the amount you would have paid for that fishing trip will be subtracted from your total bill.