Rods, Reels, Lines, and Flies
Scroll down to view selections and prices.
Our Shopping Cart accepts credit card payments and Paypal transfers. You will be transferred to Paypal for payment arrangements.

Temple Fork Fly Rods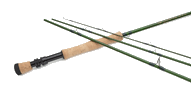 Lefty Kreh TICR Rods

Lefty designed this series for performance. Fast, powerful and smooth, these rods will deliver a fly with distance and accuracy limited only by the angler's skills.




Lefty Kreh TICRX Rods

Lefty designed the TiCr X Series to be a powerful angling tool. Rod weights 5-8 are designed to present flies at distant targets. Rod weights 9-12 have the power to launch larger flies and to lift an angry fish out of the depths. The reserve power in the TiCr X Series give these rods the ability to carry a lot of line in the air and can easily be over lined for close-in work. The X rod's blue finish spring to life in a little sunlight while the flor grade cork, oversized titanium oxide stripping guides, and uplocking reel seat with cushioned hoods top off this ultimate package of form and function.



BVK Fly Rods

BVK rods are fast action rods designed to excel in Presentation and Distance. The rich translucent olive blanks are topped with matching braided carbon fiber reel seats, our exclusive Tactical Series Stripping Guides*, ultra lightweight chromium-impregnated stainless snake guides and flor grade grips that are comfortably contoured and uniquely contrasted. Available in 3 - 10 weight.




Axiom Fly Rods

Through a proprietary process, Kevlar is sandwiched between two layers of carbon fiber pre-preg. This patented (US patent pending) process helps reduce the ovaling effect a rod blank experiences under load, creating an exceptionally smooth powerful rod with remarkable damping (tip bounce) qualities. The result is ultra high line speed with crisp, clean, accurate loops.
TFO's Axiom series feature a rich translucent blue blank accentuated with gold script and accents, Flor grade cork (reverse half wells on the 4 and 5, full wells with decorative burl rings on the 6-10), gun metal blue up-locking reel seat and large stripping guides with gold titanium oxide inserts.


Temple Fork Fly Reels


NEW BVK Super Large Arbor Reels
BVK reels are precision machined from bar stock aluminum. The clear silver anodized frames and spools are ported to eliminate excess weight. Equally at home in both fresh and salt waters, the super large arbor design provides faster line pick up and helps the maintenance free drag system work at a more constant pressure that standard arbor reels. Delrin/Stainless stacked discs make the drag silky smooth and the one way clutch bearing makes engagement instant and left to right hand conversion simple.
Jim Teeny Saltwater Sight Fishing Line

The New TSWS Salt Water Sight Fishing line, with new "HPC" coating (high performance coating), is designed with saltwater sight fishing in mind. In saltwater sight fishing situations, the "long cast" simply does not exist! Most fish we see are within forty feet and many are much closer. Jim Teeny designed this line with one purpose in mind: sight fishing in saltwater. Its taper will load the rod immediately, get the cast off quickly and will land softly on the water. Here is a line that is destined to become the workhorse of shallow, saltwater fishing. This fly line is superb for mangrove shoreline and saltwater flats fishing. Comes in Orange.